Who are we?
Short line railroads are a critical part of the U.S. freight network.
The nation's 603 short lines provide service for one in five cars moving each year. Operating 47,500 route miles, or 29% of freight rail in the U.S., these small business railroad entities play a vital role in the hub-and-spoke transportation network, providing the connection between farmers, manufacturers and other industries, and ultimately, the consumer. For large areas of rural and small town America, short line and regional railroads are the only way shippers can be directly connected to the national network, helping business and employment stay local.
Short lines are the All-American success story!
Short lines inherited track that had experienced years of deferred maintenance by their previous owners. Most short lines invest a minimum of 25% of their annual revenues in rehabilitation and maintenance, which is far more than almost any other industry in the country. Their ingenuity and investment has created a vibrant industry, serving a critical role in freight movement.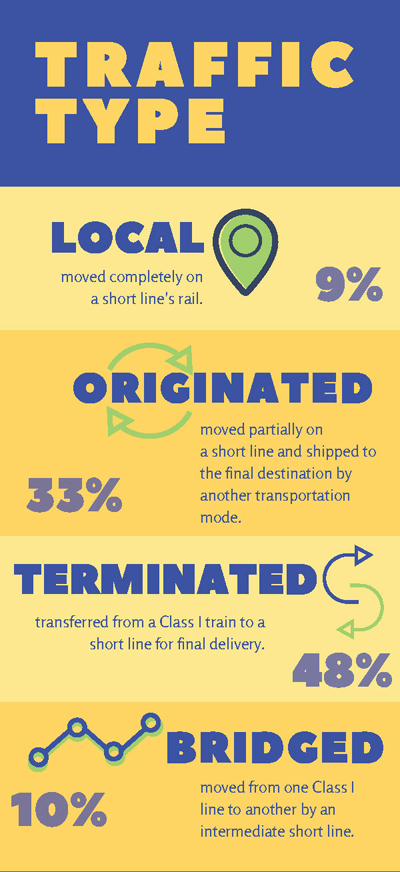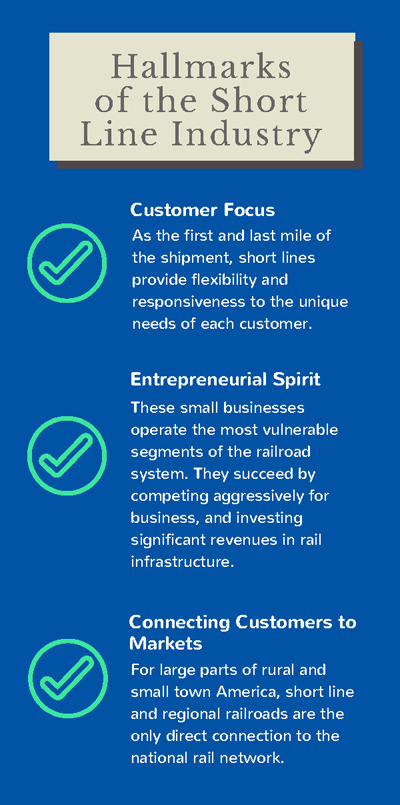 What is our role in the freight network?
Short line and regional railroads are a critical part of the freight transportation network, moving one in 5 carloads annually on the freight rail network. They partner with Class 1s and other short lines to serve the customer. Short lines most often provide first or last mile service for a longer journey. A smaller percentage (10%) are transferred (bridged) from one Class I to another by a short line, and 9% move solely on a short line or regional railroad network.