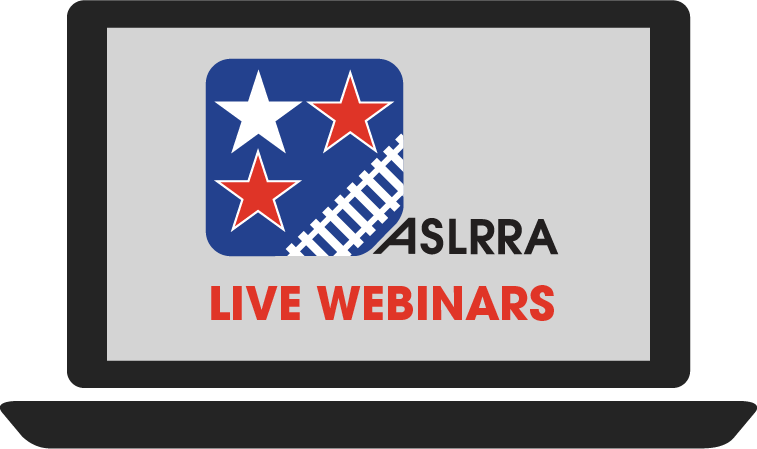 The ASLRRA is pleased to offer flexible training options that fit your busy schedule with our live and pre-recorded webinars. ASLRRA webinars will help you stay current on industry issues and acquire new skills!
Please select a webinar from the list below, sign in and register. After registering on the ASLRRA website, you will receive an email link to complete your registration on the the GoToWebinars platform. You must complete your registration at GoToWebinars in order to receive final instructions and join the webinar.
Online registration closes at midnight the day before the scheduled event. For assistance registering, please contact Danialle Lovik at dlovik@aslrra.org.
---
Upcoming Webinars
October 4, 2023
The aging workforce in the U.S. railroad industry creates risks for the loss of expertise and institutional knowledge. Succession planning alone, however, cannot fully address these risks. In 2022, the FRA funded a novel research project — Expertise Management for Safety Leadership Positions in the U.S. Railroad Industry — to address mitigating these risks. Expertise Management (EM) is a mature and under-utilized approach for identifying, capturing, and transferring expertise. EM builds on Cognitive Task Analysis methods that have been used successfully for training programs. This webinar will introduce the EM project, its unique approach, and its training products developed for the short line and regional railroad industry (e.g., Decision Games, Experts' Stories, and Job Aids). The webinar will include a brief demonstration of how these products can be utilized in existing or new railroad training programs. Attendees will have an opportunity to participate in Q&A at the end of the presentation.
---
October 11, 2023
Rail is a railroad's most important asset. Rails are put into service with the knowledge that someday they will have to be replaced. This webinar is focused on maintenance planning and practices designed to help optimize the life of your rail. Topics include: variables that cause premature rail replacement, maintenance planning, and rail grinding best practices to extend the life of rail. Attendees will have an opportunity to participate in Q&A at the end of the presentation.
---