---
Please Note:
Due to the ASLRRA Annual Conference and Exhibition next week, we will not be publishing Views & News on April 5. The newsletter will return April 12.
---
---

Last Call to Register for ASLRRA's Conference Before Prices Go Up Saturday -- Join Us in Welcoming Our New Board Chair
With some of ASLRRA's staff already on site in New Orleans to prepare for conference attendees' arrival, the countdown to the short line freight railroad industry's premier event has begun.
Registration prices will go up to the onsite rate on Saturday, April 1, though people will still be able to register and pay online. Secure a spot now and join us in celebrating the achievements of our short line railroads and their employees during our General Session. We will also induct our new board chair, Matt Walsh. He is the executive vice president of global corporate development at Genesee & Wyoming Railroad Services Inc.
Those who have already registered will receive a Know Before You Go email tomorrow with important information about the venue and the many events taking place from April 2 to 4. There will also be information sent directly to those who have signed up for the golf tournament or the port tours.
ASLRRA encourages all attendees to use the conference app. Access to the app allows participants to create a profile; build a personalized agenda by adding specific education sessions; schedule meetings and communicate with exhibitors, sponsors and other attendees; and receive important announcements throughout the event. Registered attendees should look for an app invitation email directly from EventMobi.
---

ASLRRA and Member Partners Advance Work on Grant-Funded Study
Last year, ASLRRA received funding through a Federal Railroad Administration (FRA) grant to study short line locomotive emissions and the use of fuel additives and fuel injectors. The project is called the "Evaluation of Non-traditional Methods of Reducing Locomotive Emissions for Short Line Railroads."
The project has two phases. The first phase includes a survey and inventory of the short line locomotive fleet, along with emissions testing. Specifically, the project will measure the exhaust emission profiles of common diesel-electric switcher and line-haul locomotives through field testing of non-traditional fuel technologies, including but not limited to additives and injectors.
ASLRRA is working with Michigan Technological University and members Lake State Railway and Chicago South Shore and South Bend Railroad in phase one. Phase-one testing is underway out at Lake State Railway with Michigan Tech researchers on-site and initial results will be shared with the industry next year.
ASLRRA plans to conduct the survey portion of the study soon. The Association's railroad members should expect to receive a survey in mid-April. ASLRRA encourages all recipients to aid these research efforts by completing the survey. Data collected will also be used to further the Association's government affairs priorities in Washington, D.C.
The second phase of the study will include more rigorous testing of locomotive emissions, with the goal to demonstrate more clearly the impact of emission-reducing technology through the use of controlled experiments and increased emphasis on scientific method and instrumentation accuracy.
The Association thanks Lake State Railway and Chicago South Shore and South Bend Railroad for volunteering their time to conduct research that will benefit the entire short line community.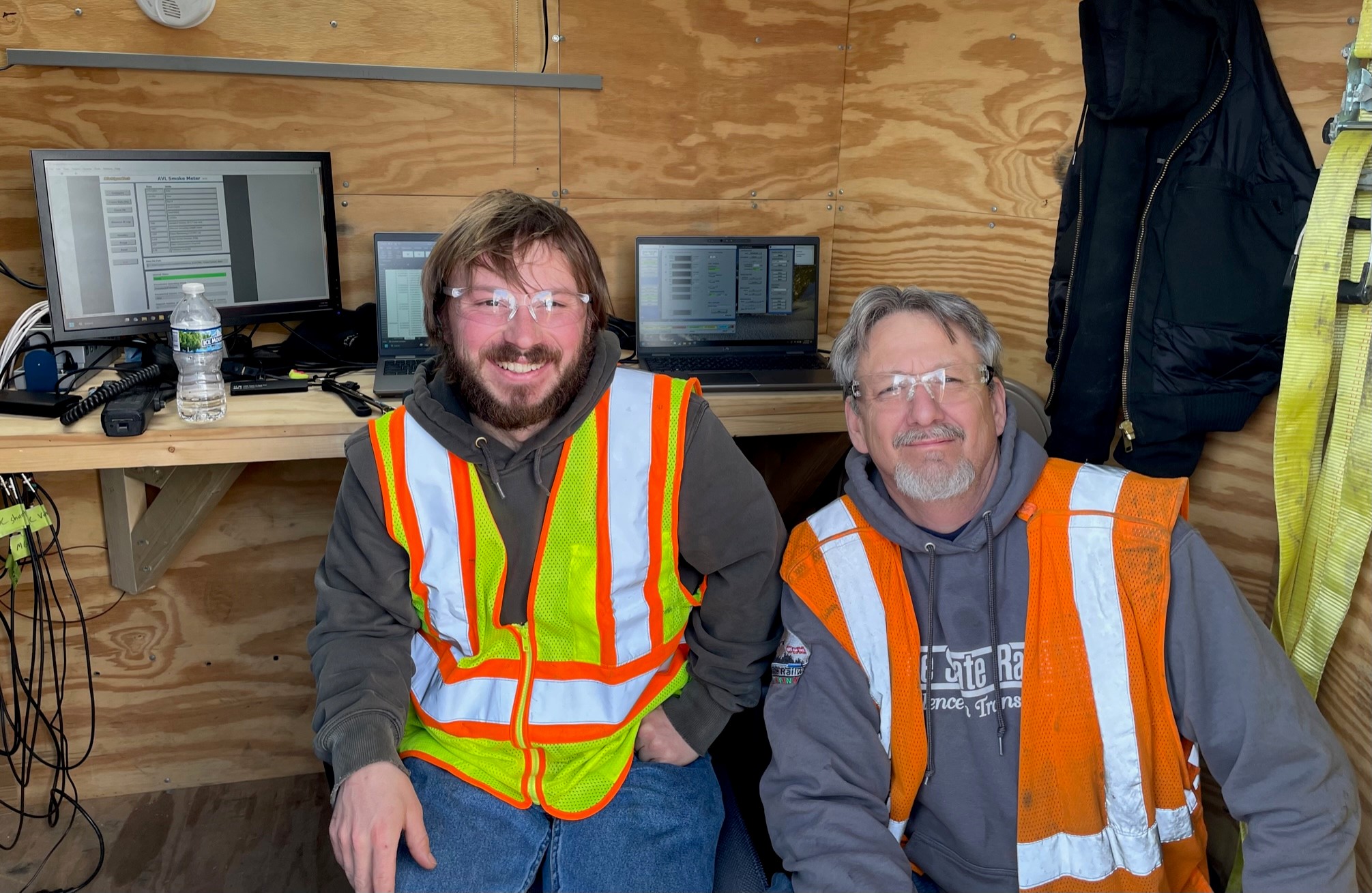 Above: Michigan Technological University's Zach Stanchina (left) and Lake State Railway's Roger Fuehring work to collect data on locomotive emissions for a study conducted through a partnership with ASLRRA, Michigan Tech, Lake State Railway and Chicago South Shore & South Bend Railroad. The study is funded by a Federal Railroad Administration grant.
Below: Emissions testing being conducted on a Lake State Railway locomotive.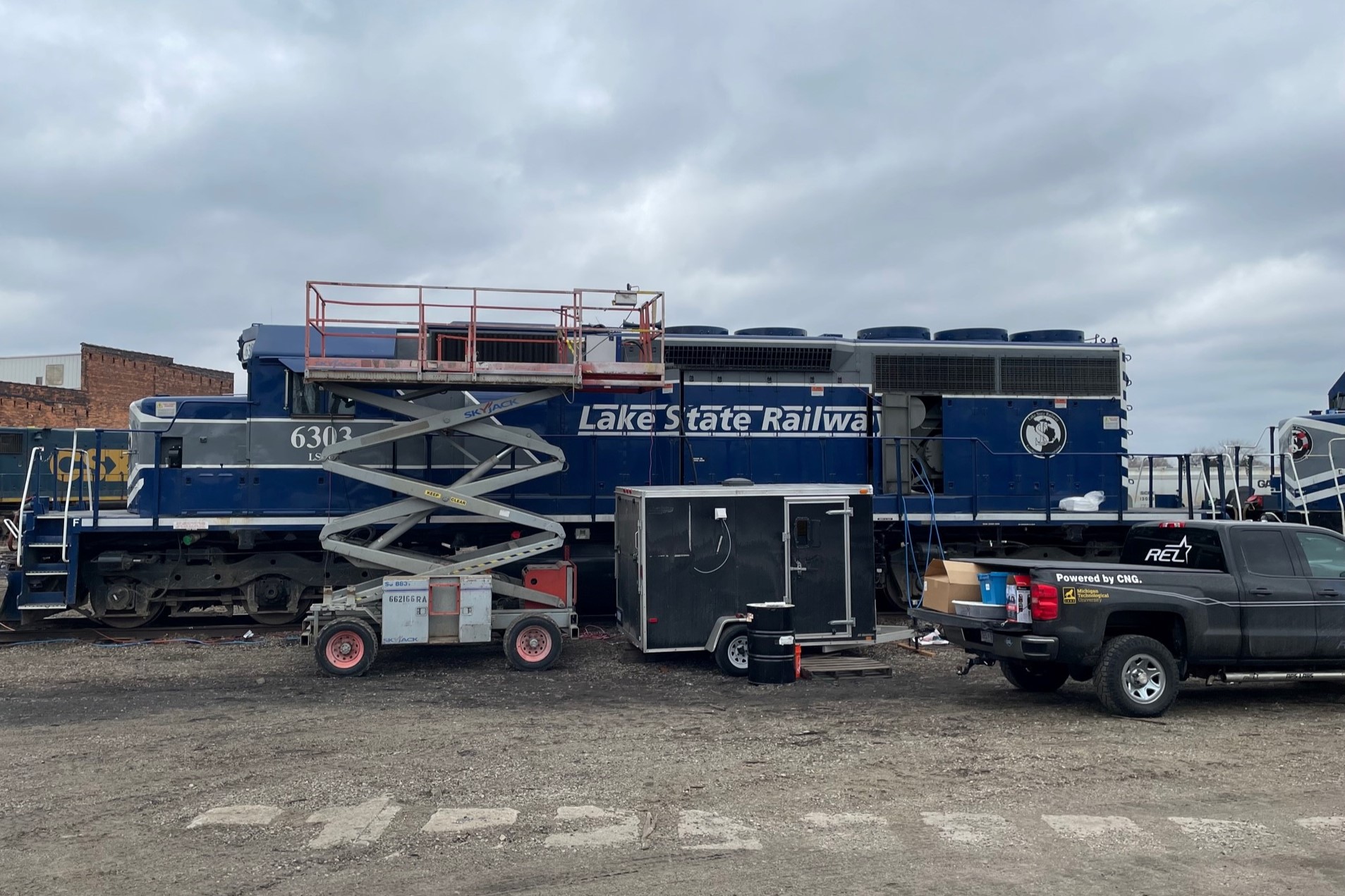 ---

PHMSA Advisory Recommends Tank Car Replacement
In a safety advisory notice issued March 22, the Pipeline and Hazardous Materials Safety Administration (PHMSA) recommends all who own or use DOT-111 tank cars in flammable liquid service, including those built to the CPC-1232 specification, should consider removing these tank cars from this service and replacing them with DOT-117 or DOT-117R specification tank cars as soon as practicable.
Further, carriers should consider the risks in the continued use of DOT-111 tank cars in flammable liquid service and determine whether applying HHFT requirements to fewer tank cars is appropriate to ensure safe operations.
Find a PDF copy of the advisory here. If you have questions, please contact ASLRRA's JR Gelnar or Jo Strang.
Yurasko Attends FRA RSAC Special Meeting
ASLRRA Senior Vice President, Law and General Counsel Sarah Yurasko attended a Federal Railroad Administration (FRA) Railroad Safety Advisory Committee (RSAC) special meeting on March 27. The FRA focused on safety concerns and initiatives resulting from last month's derailment on Norfolk Southern Railroad in East Palestine, Ohio.
Included on the meeting agenda was a discussion not only the events of the derailment but suggested safety improvements and possible RSAC tasks and actions. The RSAC discussed three proposed new task statements including: wayside defect detectors, expansion of the definition of a high hazard flammable train, and modernize braking regulations/increase use of ECP brakes.
RSAC members will vote on the new tasks in mid-April. ASLRRA is a voting member of RSAC with other representatives of railroads, rail labor organizations, shippers, suppliers and other government agencies.
---

---
USDA Rural Energy for America Program Offers Grants to Improve Energy Efficiency
The Rural Energy for America Program (REAP) provides grants and loans to agricultural producers and rural small businesses to fund renewable energy systems and make energy efficiency improvements. To help applicants better understand recent funding updates to the program, the U.S. Department of Agriculture Rural Development's Rural Business Cooperative Service will hold two webinars.
The March 31 webinar is a stakeholder call meant to provide an update on changes to the REAP under the Inflation Reduction Act.
The April 4 webinar is a training webinar that again explains how the REAP has changed and includes a question and answer session for participants. Follow the links for each webinar to register.
FRA Report Reveals Results of Train-to-Train Impact Tests
A report from the Federal Railroad Administration (FRA) describes results of train-to-train impact tests evaluating the effectiveness of crash energy management (CEM) components in improving crashworthiness for equipped locomotives in a wide range of potential collisions.
The tests took place in August 2022 at the Transportation Technology Center in Pueblo, Colorado. A CEM-equipped F40 locomotive pulling two M1 passenger cars impacted a stationary conventional F40 locomotive backed by two hopper cars. Results show that the CEM system kept the vehicles engaged and in-line, with no derailment and no signs of override.
Researchers declared the test a success, noting the CEM system worked as it was designed to control vehicle motion and deformation.
---

Kansas Lawmaker Notes Importance of CRISI in Senate Appropriations Hearing
On March 23, the Senate Appropriations Subcommittee on Transportation, Housing and Urban Development and Related Agencies held a hearing to review the Biden administration's fiscal year 2024 budget for the U.S. Department of Transportation (USDOT).
Transportation Secretary Pete Buttigieg testified before the committee on various aspects of the president's budget request. Near the end of the hearing Senator Jerry Moran (R-Kan.) spoke on the importance of short line freight rail to those in Kansas, particularly for the agriculture industry.
Moran noted specifically the way the Consolidated Rail Infrastructure and Safety Improvements (CRISI) program has provided $12 billion in grants to fund industry improvements and asked Buttigieg to discuss USDOT's commitment to the CRISI program. In response, Buttigieg expressed the USDOT's commitment to CRISI and noted the budget request of $510 million in addition to the $1 billion already appropriated to the program.
While ASLRRA is glad to see support for CRISI from the USDOT and acknowledgement of the program's popularity, the Association continues to advocate for the full authorized level of funding for the program – $1 billion. Such an investment would provide a full $2 billion for CRISI grants in fiscal year 2024, which is what the recent infrastructure law envisioned.
---

Know a company that would benefit from joining and participating in ASLRRA? Please contact ASLRRA's Senior Vice President of Membership and Business Development Kathy Keeney via email or on (202) 585-3439.
ASLRRA Welcomes Four New Associate Business Members
Three Companies Will Participate in Our ASLRRA Conference April 2-4

Drill Tech Drilling & Shoring, Inc., based in Antioch, California, offers a full line of mining/tunneling, drilling, slope retention, foundation, and marine services and is one of the largest foundation contractors in the United States. Founded in 1994, DTDS maintains headquarter offices in the San Francisco Bay Area as well as other regional offices in Los Angeles, Dallas, Denver, Kansas City and Baltimore. It has over 550 employees including a management staff of experienced, registered professional engineers and construction project managers specializing in the design and construction of specialty infrastructure projects. DTDS maintains a large fleet of heavy construction equipment that includes over 200 drill rigs, specialty tunneling equipment, numerous cranes, concrete pumps, and heavy earthmoving equipment. GM Rail Construction Nick Laviolette is our primary contact.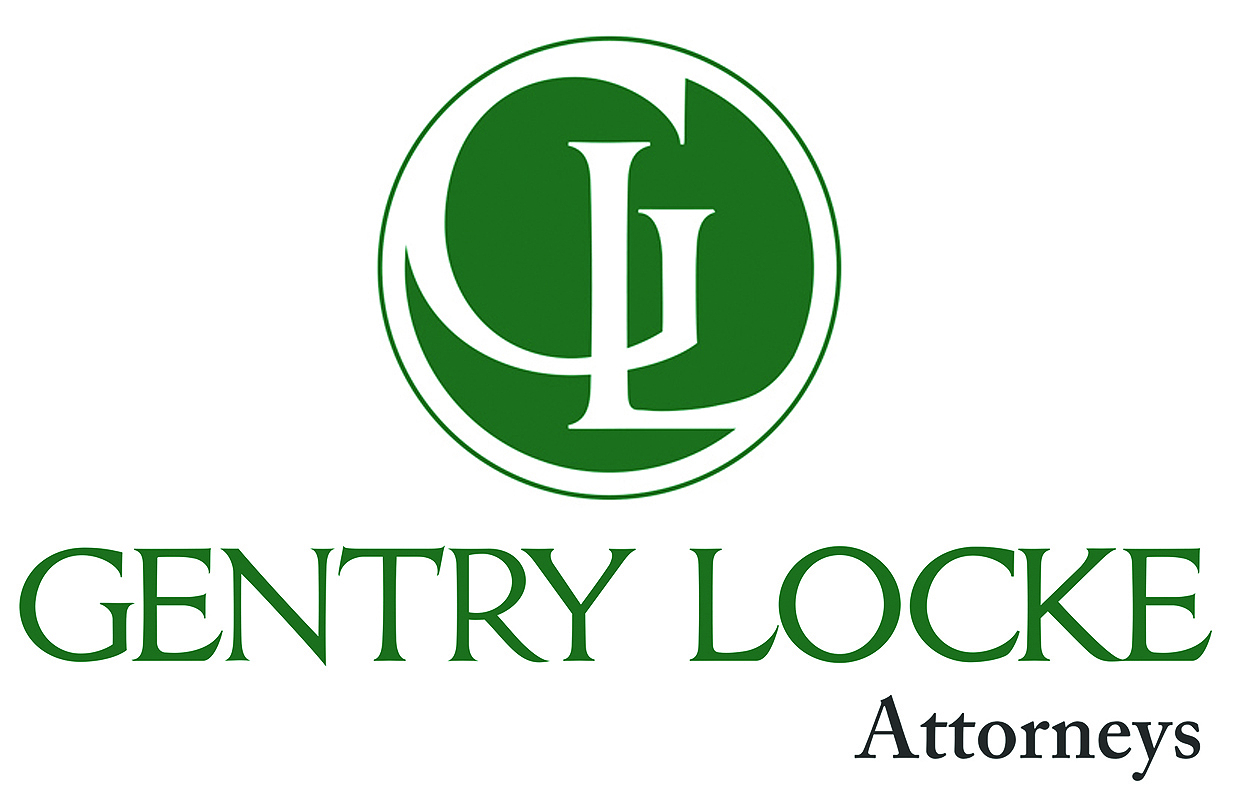 Gentry Locke Attorneys, with Virginia offices in Roanoke, Lynchburg, Richmond, and Norfolk, works diligently to keep transportation companies moving forward. It blends extensive industry knowledge with legal acumen to work with railroads of all sizes to keep the steel wheels rolling. Team members have worked in the business, including as chief legal officer of a Class I railroad. The practice extends to regulatory issues at the Surface Transportation Board, questions of federal preemption, transactional matters such as contracts, mergers and acquisitions, legislative matters, and litigation. Partner John M. Scheib, our primary contact, will be a featured speaker in an April 4 legal education track session at our annual conference in New Orleans. Contact John at (757) 916-3511 or scheib@gentrylocke.com.
---

---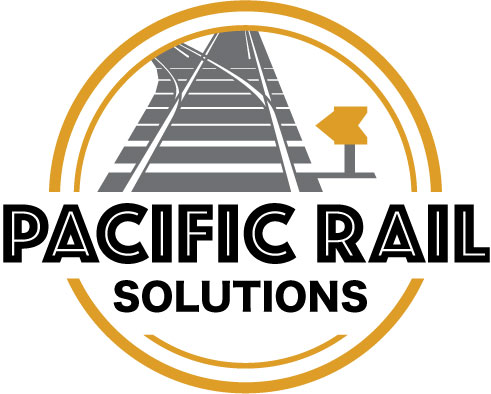 Pacific Rail Solutions, based in Portland, Oregon, is a railroad supply company focused on providing unique and effective safety signage around railyards, with a focus on switching movements made in railyards and industries. It also offers third-party track inspections, and safety classes for those new to yard movements. Business Manager Alec Capps is our primary contact. Learn more: visit Booth #829 in the expo hall during our annual conference that starts this weekend in New Orleans.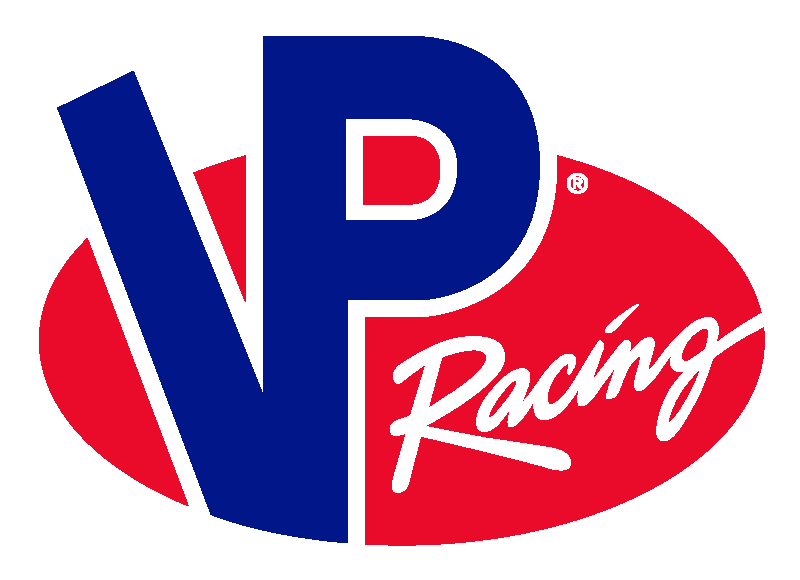 VP Racing, based in San Antonio, Texas, has fueled race champions in every form of motorsports for nearly 50 years. Its advanced technology and expertise have led to an exponential growth in VP's product line. This includes the VP Racing Ultra Power "Bio-Guard" Diesel Additive, a leading locomotive and heavy-duty equipment diesel fuel treatment that cleans and protects the entire diesel fuel system. Business Development Representative, Ron Wick, is our primary contact and can be reached at 812-239-6107. Learn why this is a must-have diesel additive for your business: visit Booth #930 in the expo hall during our annual conference that starts this weekend in New Orleans.
---

Crystal Gitchell Celebrates Five Years at ASLRRA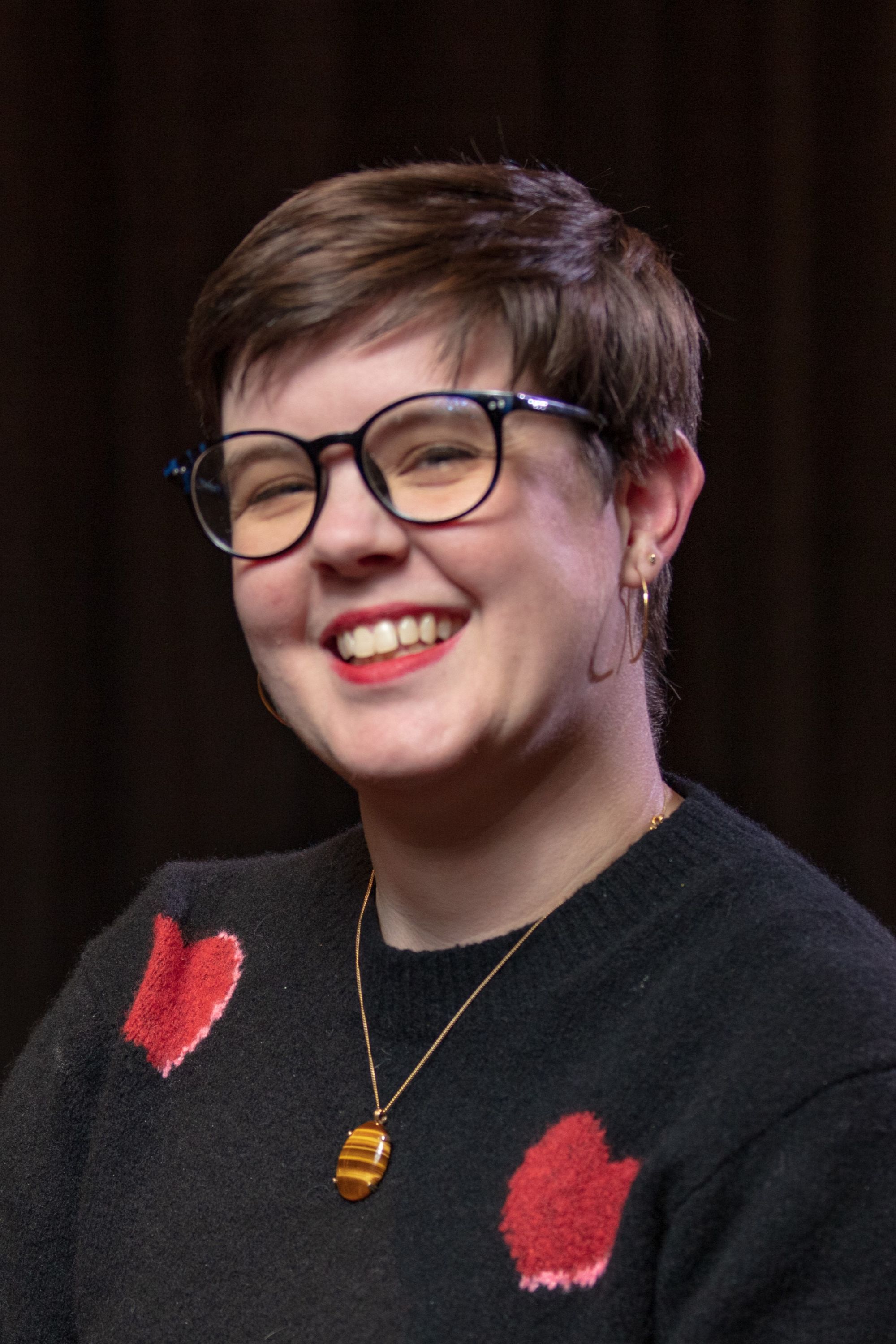 ASLRRA congratulates Assistant Vice President, Legislative and Regulatory Crystal Gitchell, who celebrates her five-year work anniversary this month. We recently asked Gitchell a few questions to get to know more about her and her role at the Association.
V&N: How did you get your start in the railroad industry?
CG: ASLRRA was my introduction to working in the rail industry. I previously worked in the trucking industry, where I would interact with short lines and rail suppliers who were lobbying against truck size and weight increases. Surprisingly, we were on the same side of the issue! I was introduced to the industry when I was a child, as my grandfather and great-grandfather both worked for the Chessie System in Richmond, Virginia.
V&N: What is the best part of your job? What is your favorite thing about the short line industry specifically?
CG: I really love outreach and educating policy makers on how their local short lines impact their communities. This can look like meeting with Congressional staff in DC, hosting a National Transportation Safety Board member at a railroad or representing the industry at transportation events. This industry has a great story to tell and people are usually excited to talk about small businesses.
V&N: What is the most surprising thing about your job and/or ASLRRA?
CG: It should not still surprise me, but I am excited by how many of our members are involved in government relations work we do in DC. Whether by attending Legislative Policy Committee meetings, speaking at hearings, or coming to DC to meet with their legislators face to face, our members are not afraid to let the folks in DC know their story.
V&N: As you look to the rest of the year and beyond, what are you excited about for railroading/member engagement?
CG: I am very excited to be meeting with legislators in-person again and connecting them with their local railroad. Members of Congress and Federal officials are excited to get back out on short line properties. Hosting an event is a great opportunity to meet with your member of Congress to tell them about your business and how their decisions impact your day-to-day life. Hopefully, we have a busy summer with many great photo ops!
V&N: What would our members be surprised to know about you?
CG: Outside of ASLRRA, I own a small business called Marchioness Vintage. I specialize in sourcing and selling clothing and fashion accessories from the 1880s-1980s.
---

---
Reminder to Supplier Members: Don't Forget to Vote
Voting is still open for a seat on the ASLRRA Board of Directors representing Associate Business Members (Suppliers). Voting information and instructions were sent to the primary contact at every supplier member company last week.
Please note that the online voting period will close at midnight on Sunday, April 2.
Only one vote is allowed per company membership. Please contact Kathy Keeney if you have questions or need a resend of your company's voting materials and instructions.
ASLRRA Preferred Provider ORR Safety is Now Würth
ASLRRA Member Discount Program Preferred Provider ORR Safety is now part of the Würth MRO, Safety, and Metalworking (MSM) Division and continues to provide Association members with important personal protective equipment (PPE) and related services.
The Würth MSM Division is a market leader in technology-driven safety and maintenance, repair and operations (MRO) programs. Würth's team of railroad specialists currently supports 196 short line railroads, rail industry contractors and six Class 1 railroad companies.
ASLRRA members benefit from exceptional, personalized service and discounted pricing on a huge assortment of products and equipment needed to implement an effective and efficient safety program. Offerings include foot and leg protection, signs, ergonomic products, hearing protection, clothing protection, eye protection, lighting and electrical products, hand protection, respiratory protection, storage containment and environmental spill cleanup, traffic control, head protection and much more.
Log in to the Würth MSM page on ASLRRA's Member Discount Program website to view the Würth online e-catalog and start saving today!
---

Baker, Radford Speak at Southeast Rail Forum
ASLRRA Vice President-Congressional Affairs Zach Radford and President Chuck Baker participated in the 2023 Southeast Rail Forum in Arlington, Virginia on March 23 and 24, respectively.
Radford participated in a panel discussion titled "Grants for Rail Projects: Availability/Implementation/Best Practices." He was joined by the Federal Railroad Administration's Deborah Kobrin and Caroline Decker of ASLRRA supplier member WSP.
Baker gave an update on the short line freight rail industry in the southeast region and beyond during a "State of the Industry" talk that featured representatives from the Association of American Railroads, the American Public Transportation Association, the Railway Supply Institute and CSX.
---

On-Demand Webinars
Find ASLRRA's Legal Webinars Online
ASLRRA features several legal webinars in the Association's On-Demand Webinar Library. Members can log in to find titles like:
Environmental Update – Who's on First?
Strategically Defending a FELA Toxic Tort Case
Section 889: Protecting the Security of the Railroad Supply Chain
Visit ASLRRA's webinar homepage and log in to view the nearly 200 on-demand offerings in the Association's webinar library. Most of the recordings also have a copy of the accompanying PDF presentation available for download.
Click here to learn more about ASLRRA's education offerings.
---

Gulf & Atlantic Railways More Than Doubles Railroad Portfolio With Acquisition
ASLRRA member parent company Gulf & Atlantic Railways, formerly known as RailUSA, will acquire three railroads from Midwest & Bluegrass Rail, expanding the company's portfolio to five railroads.
The three railroads Gulf & Atlantic will acquire are the Camp Chase Railroad (CAMY), Chesapeake & Indiana Railroad (CKIN) and Vermilion Valley Railroad (VVRR). They are located in Ohio, Indiana and Illinois, respectively. The company's existing railroads are the Florida, Gulf & Atlantic Railroad, which operates in Florida and Georgia, and the Grenada Railroad, operating track between Mississippi and Tennessee.
Click here for a calendar of industry events.
---
Views & News is published by American Short Line and Regional Railroad Association.
Please contact Amy Krouse, editor, with questions or comments.