---
Issue Highlights:
Headlines – Review tips for resubmitting unsuccessful FY22 CRISI applications for FY23/24
Regulatory – Updated documents and resources available from AAR, FRA, FAMES Committee
Legislative – ASLRRA evaluating newly proposed legislation, H.R. 5871, for effect on short lines
Announcements – ASLRRA welcomes new staff member Cameron Downs
ASLRRA Events – General Counsel Symposium offers CLE credits, committee members to participate in University of Kentucky panel
Out and About – New column by Baker emphasizes working through the dysfunction in D.C.
---
---

TODAY is the Last Day for Discounted Rates on Regional Meeting Hotel Rooms
Discounted hotel room rates for ASLRRA's Eastern and Southern Region Meeting end today. Attendees who have not yet secured a room or those who have not yet registered to attend the event are encouraged to take advantage of this opportunity before it is gone.
Attendees will enjoy general session presentations including a Short Line Leaders Panel featuring Genesee and Wyoming Railroad Services, Inc. President North America Michael Miller, R.J. Corman Railroad Group President and CEO Edward Quinn III and Gulf & Atlantic Railways CEO Ryan Ratledge. There will also be several networking opportunities, Sandhouse sessions for each region and suppliers and a special R.J. Corman Railroad facility tour and lunch after the meeting ends on Nov. 9.
Click here to register for the meeting, which takes place Nov. 7 to 9 in Lexington, Kentucky.
Tips on Revising and Resubmitting CRISI Applications for the Next Round of Grant Funding
This year's round of Consolidated Rail Infrastructure and Safety Improvements (CRISI) grants was very competitive. Out of 234 applications seeking $6.1 billion in funding, only 70 projects received the available $1.4 billion. ASLRRA encourages those who were unsuccessful in the FY22 round to consider resubmitting for FY23 and FY24.
Historically, resubmittals have done well in CRISI. ASLRRA's Richard Sherman, assistant vice president policy and industry affairs and in-house CRISI expert, provides some tips for railroads hoping to try again when the notice of funding opportunity is published in late 2023 or early 2024.
Get Debriefed: Based on communication with the Federal Railroad Administration (FRA), unsuccessful FY22 short line applications may have suffered from material weaknesses. Therefore, it is very important that applicants hear directly from the reviewers with a formal debrief before resubmitting. Schedule a debrief by sending an email to FRA-NOFO-Support@dot.gov. Include in the debrief request the applying organization's name and unique entity identifier (UEI), the agency application tracking number and the title of the project.
The FRA will hold office hours at ASLRRA's Eastern & Southern Regional Meeting in Lexington, Kentucky. On Nov. 8 from 1 to 5 p.m. meeting attendees can discuss their projects and a potential resubmittal with FRA representatives.
Review Project Fundamentals: Sit down with the core application team – often at least engineering, operations and commercial – and go through the scope (statement of work), schedule and budget. Key questions to ask include: Are these documents synchronized? What needs to be done to refresh the budget? Are updated quotes from vendors or your project engineer's estimate needed? What are your new project schedule assumptions and escalation adjustments to determine the year-of-expenditure costs?
Verify Concordance Of Information: After completing the initial review of project scope, schedule, and budget, verify harmony of those sections with the other parts of the application. Key questions to ask include: Did the text descriptions in the project narrative document match the statement of work? Are the budget figures and schedule assumptions reflected in the benefit-cost analysis and BCA technical memo? Do your project costs and matching calculations match in the narrative cover page table, in the form SF-424, and in the budget section of the narrative text? Did you submit a draft NEPA categorical exclusion (CE) worksheet or other NEPA documentation and did the core project data presented in that document fully align with the rest of your application?
Review What Was Actually Submitted: Base all application reviews on the application and attachments received by the FRA. This can be found in and downloaded from the applying entity's grants.gov account. It is not rare that unsuccessful applicants learn in a debrief that some key element of the application never made it, rendering the submittal ineligible. What an organization believes it submitted might not match what the FRA received.
Advance Project Development: A resubmittal is an opportunity to continue any necessary engineering work, which reduces risk and increases readiness in the eyes of the reviewers. These are important competitive factors. Often applicants can also continue working on National Environmental Policy Act (NEPA) due diligence, such as by performing correspondence cycles with state and local permitting agencies, or by conducting community outreach.
Refresh Letters Of Support: FRA does not want to see "recycled" letters of support from prior CRISI applications or applications for funding for the same project but through other federal programs. Letter writers can also be sensitive about use of previously written letters and their support may not be the same for a revised application in a new cycle of the grant program. Request new letters from all your project stakeholders.
Thoroughly Review the New NOFO and Supporting Materials: When the NOFO is released, review it thoroughly. The FRA expects the new NOFO to be substantially like the last cycle, but there will be some technical changes and possibly impacts of appropriations law. The NOFO is the instruction manual. Follow the guidance diligently, to submit the most competitive application possible. The FRA will provide new CRISI webinars and updated frequently asked questions when they release the NOFO, all of which should be reviewed.
Start Work Early: With the new NOFO expected as soon as December, it is never too early to organize and start working on your resubmittal. The time will go by quickly, especially if the NOFO is released around the winter holiday season.
---

---
---

AAR Makes a Change to Its Circular OT-55-R on Hazardous Materials Transportation
The Association of American Railroads (AAR) has made one change to its Circular No. OT-55-R, which provides recommended railroad operating practices for the transportation of hazardous materials.
In the updated circular, AAR's Safety and Operations Department removed hazard zone A from section III, Yard Operating Practices, item B. Now, the item lists only toxic inhalation hazard (TIH) hazard zones B, C and D when discussing coupling of certain loaded placarded tank cars. The circular is effective Oct. 1 and replaces all previous versions.
FRA Posts Drug and Alcohol Program Resources Online
An updated post-accident testing flowchart and a medication training and policy toolkit are the two newest drug and alcohol program documents available via the Federal Railroad Administration's (FRA) eLibrary.
The flow chart, which is effective for 2023, helps railroads and contractors determine whether an employee must undergo a drug or alcohol test after a railroad accident. The chart also offers some detail as to who is required to be tested in certain circumstances. There is a separate flow chart for accidents and incidents that take place at highway-rail grade crossings.
The toolkit, available as a downloadable PowerPoint file, contains information about the use of prescription medication, over-the-counter drugs, dietary supplements and herbal remedies by safety-critical rail employees. The presentation is divided into modules and allows railroads to insert company policies and guidelines for customized training.
FAMES Safety Alert Reminds Railroaders of Fourth Quarter Incident Spike
Now that it is October, the Federal Railroad Administration's Fatality Analysis of Maintenance-of-way Employees and Signalmen (FAMES) Committee has issued a safety alert concerning the spike in fatalities that usually occurs in the fourth quarter of a calendar year.
The safety alert reminds roadway workers to be hyper vigilant in these last few months of 2023, especially with regards to the application of on-track safety protection. Although the committee has not determined a clear reason for a spike in roadway worker fatalities in the fourth quarter, data shows that 36 percent of all fatalities between 1997 and 2022 occurred in the fourth quarter. Almost half of those fourth-quarter fatalities occurred in October.
As a reminder, ASLRRA posts all FAMES alerts and other industry safety notices on its website. This page is now called "Safety Alerts, Reports and Advisories" and has a new URL, so be sure to update any bookmarks linking to it.
---

---
---

ASLRRA Staff to Review Newly Proposed Bill, H.R. 5871, Establishing Minimum Crew Size and More
Representatives Melanie Stansbury (D-N.M.) and Jamaal Bowman (D-N.Y.) have introduced the Rail Worker and Community Safety Act (H.R. 5871). The bill, one of several to arise in the aftermath of the Norfolk Southern derailment in East Palestine, Ohio, claims to make improvements to federal rail safety regulations.
The proposed changes in H.R. 5871 include mandating two-person crews on all Class I railroads, changing rules concerning transportation of hazardous materials by rail, establishing regulations concerning the use of wayside detection technologies and more.
The text of the bill is not yet publicly available. Once able, ASLRRA's government affairs team will review the bill for its impact to short line railroads and engage with members of Congress regarding any concerns about the bill's provisions.
California Governor Passes Laws Requiring Emissions Reporting by Big Businesses
California Governor Gavin Newsom has signed two state laws requiring big businesses to report their greenhouse gas emissions and prepare climate-related financial risk reports to be published on company websites.
California Senate Bill 253 would require the California Air Resources Board (CARB) to develop and adopt regulations requiring businesses making over $1 billion annually and doing business in the state to publicly disclose information concerning their statewide greenhouse gas emissions and obtain assurance from an independent third-party provider that the information is accurate.
Senate Bill 261 would require businesses with revenues exceeding $500 million and operating in California to develop reports on their climate-related financial risks and make those reports available to the public on their websites.
Although these are state laws, ASLRRA staff is reviewing them carefully for their impact to short lines and to determine potential repercussions for the nationwide rail network. In addition, California often leads the nation in environmental laws, serving as a model for other states. Therefore the Association is making sure to keep close watch on any developments related to the bills.
House Speakership Battle Delays Funding Talks
Although passage of a continuing resolution gives Congress until Nov. 17 to agree on a long-term spending bill to fund government operations, the ousting of House Speaker Kevin McCarthy (R-Calif.) prevents the House from taking up any spending bills until a new speaker is elected.
Until a speaker has been elected, budget talks will not be renewed in earnest. Though it is not clear when the full House will vote on a speaker, it is possible such a vote can take place as early as today.
While the speaker battle plays out, the Senate will likely move forward as soon as this week with several appropriations measures, including the transportation spending bill.
---

ASLRRA Welcomes Researcher Cameron Downs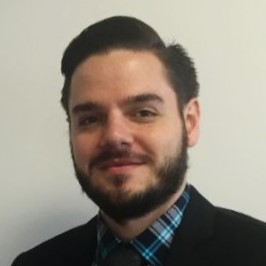 The Association welcomes its newest staff member Cameron Downs, who has been named Director of Data & Research. He will report to ASLRRA Vice President, Data and Technology Fred Oelsner.
A researcher focused on generating industry data and analysis and how those data sets can be used to advocate for industries, Downs's work at ASLRRA will involve the management of ASLRRA's surveying efforts, governing and updating key industry data resources, and helping the ASLRRA team utilize those resources as effectively as possible.
Downs brings experience in a broad selection of research topics including surveying, consumer research, industry economics, data analysis, and knowledge management. Prior to joining ASLRRA, he served as the primary researcher for the Hearth, Patio, and Barbecue Association. He holds a bachelor's degree in cultural anthropology from the University of Maryland-Baltimore County and a master's degree in applied anthropology from American University.
Watco, G&W Demonstrate Commitment to Recruiting Veterans
With Veterans Day a month away, ASLRRA is featuring the stories of member companies that make it a priority to hire, recognize, support and engage U.S. military veterans, National Guard members and reservists in the workplace and the broader community. ASLRRA is currently accepting nominations for its annual Veterans Engagement Award, and the members featured here comprise last year's award finalists.
Recognizing the value of hiring employees who are U.S. military veterans or members of the National Guard or reserves, ASLRRA member parent companies Watco and Genesee and Wyoming, Inc. (G&W) have both put in significant effort to engage the military community. But beyond recruiting, these organizations participate in programs that offer internships to military members transitioning to the private sector; recognize current employees who have or do serve; and make donations to a variety of organizations dedicated to supporting military members, veterans and their families.
In 2022, Watco established an entirely new program, Military Outreach and Hire, that connects transitioning active-duty military members, National Guard members and reservists with career opportunities at Watco. The company also supports veteran-owned small businesses that help service members find post-service employment and make a smooth transition between careers.
Watco's veteran recruiting efforts also include visits to military installations from the East Coast to the Midwest for hiring events, with plans to expand these visits to places further west. Overall, the company supported 28 different veteran hiring events last year. Watco also guarantees soldiers a job interview as a corporate partner of the Army's Partnership for Your Success (PaYs) program. Online, a career webpage for veterans enables service members to learn about working at Watco from fellow veterans who are current Watco employees.
To bridge the gap between active duty and private employment, Watco's military-veteran recruiter not only works to bring in these employees but helps support those who are moving from one role to the next. Watco's Army-approved Career Skills Program provides internships to soldiers looking to acquire industry skills and the company is working toward becoming a member of the Department of Defense (DOD) SkillBridge program, again providing internship opportunities to transitioning service members.
Watco recognizes its military-affiliated employees in the November issue of its monthly newsletter. The company has also donated thousands of dollars to nonprofit organizations that support the military and last year donated proceeds from its annual Independence Day t-shirt sale to USA Cares, which supports post-9/11 military veterans, service members and their families.
Like Watco, fellow G&W takes great strides to mentor and recruit military members. Last year G&W posted 939 jobs on 10 different military- and veteran-focused job boards. The organization also has engaged HireMilitary, a staffing service for transitioning military members, spouses and veterans.
G&W is also a member of the American Corporate Partners (ACP) network, a nonprofit helping ease the military-civilian workplace transition. This partnership provides several ways for G&W to engage the military community. G&W posts jobs on ACP's job board and has presented virtual events to military members to talk about careers at the company. G&W has even participated in an event hosted by ACP that shared best practices for hiring and retaining veterans and military spouses, and more than 69 G&W employees have served as volunteer mentors in ACP's Veteran Mentorship Program. As a result of these efforts, G&W hired 112 veterans in 2022, comprising 14 percent of all new hires that year.
To support veteran organizations, G&W has made several charitable donations to nonprofits like Veterans Outreach Center, Inc., Disabled American Veterans, and the Wounded Warrior Project.
ASLRRA is proud of its members and their efforts to demonstrate positive policies toward U.S. veterans. These examples from Watco and G&W offer only a small glimpse of the larger effort across the Association's membership to support military members and their families. ASLRRA is eager to shine a light on its members' efforts through the Veterans Engagement Award and encourages all those who have implemented programs like those described above to nominate their companies for the award. Submit a nomination using this online form. The winner will be honored at ASLRRA's Annual Conference and Exhibition in Kansas City, Missouri, which will be held March 24 to 26, 2024.
---

---
Members Receive Preferred Pricing on Drug and Alcohol Testing Services with Spark TS
Spark TS is the exclusive Preferred Provider of drug and alcohol testing services in the Association's Member Discount Program. Spark TS's expert team has built a program to support railroads and contractors in finding the most effective strategies to manage their company, Part 219, and other DOT-regulated programs.
Spark's drug and alcohol program services include clinic and mobile and onsite testing services; laboratory and medical review officer (MRO) services; electronic chain of custody forms; and third-party administrator (TPA) - random testing and consortium.
Visit www.aslrra.org/discounts and click on the Spark TS logo to learn more.
Apply Retroactively for an ASLRRA Scholarship to Take Stress Off of Small Railroad Budgets
Those who participated in ASLRRA's recent Leadership Development Training – Regulatory Module in September, which was co-located with the Association's Central and Pacific Region Meeting, can apply for a scholarship retroactively, potentially enabling reimbursement for certain costs incurred to attend the training seminar.
For small railroads, ASLRRA's scholarship program offers a way to stretch the company's limited resources so that employees to take advantage of important training opportunities while allowing railroads to direct funds to other key projects.
These scholarships provide up to $1,200 to help employees of small railroads offset registration fees and costs for travel and lodging. Funds may be used for a range of industry-specific training supporting regulatory compliance and safety training.
Click here to learn more about ASLRRA's scholarship program, or here to apply for a scholarship through a brief online form.
---

General Counsel Symposium offers CLE Credits and Committee Members Will Visit the University of Kentucky
The General Counsel Symposium, held Nov. 7 to 8, offers attendees seven hours of continuing legal education (CLE) credit, an option individuals can add on while registering. In addition, members of the General Counsel Committee are participating in a panel discussion before an audience of law students at the University of Kentucky School of Law. The panelists will discuss their legal careers and highlight the benefits and opportunities of a career in rail and symposium participants are welcome to attend.
Click here to register – the discounted hotel block rate expires tonight!
The Finance and Administration Seminar, meant for finance and human resource employees, will take place Nov. 8-9. Both events co-located with ASLRRA's Eastern and Southern Region Meeting. Attendees of these events can take advantage of the networking opportunities provided by the Eastern and Southern Region Meeting, though registration is separate for all three events.
ASLRRA is still inviting sponsors for both the General Counsel Symposium and the Finance and Administration Seminar. Sponsors receive a variety of benefits including increased visibility at the events and recognition in the Association's communications.
---

---
---

Baker's Railway Age Column Talks About Advancing Short Line Interests Despite D.C. Dysfunction
ASLRRA President Chuck Baker's most recent column in Railway Age magazine focuses on the Association's continued efforts to advocate on behalf of its members despite the current turmoil in Washington, D.C.
Baker discusses ASLRRA's work on different bills and other legislative efforts, including the Surface Transportation Board's proposed rule on reciprocal switching; the appropriations process and garnering robust CRISI funding; the Short Line Railroad Disaster Relief Act and the five-year Farm Bill, which must be reauthorized this year.
Find Baker's article on page 50 of the digital issue here.
Staff Shorts – Who is Where in the Railroad World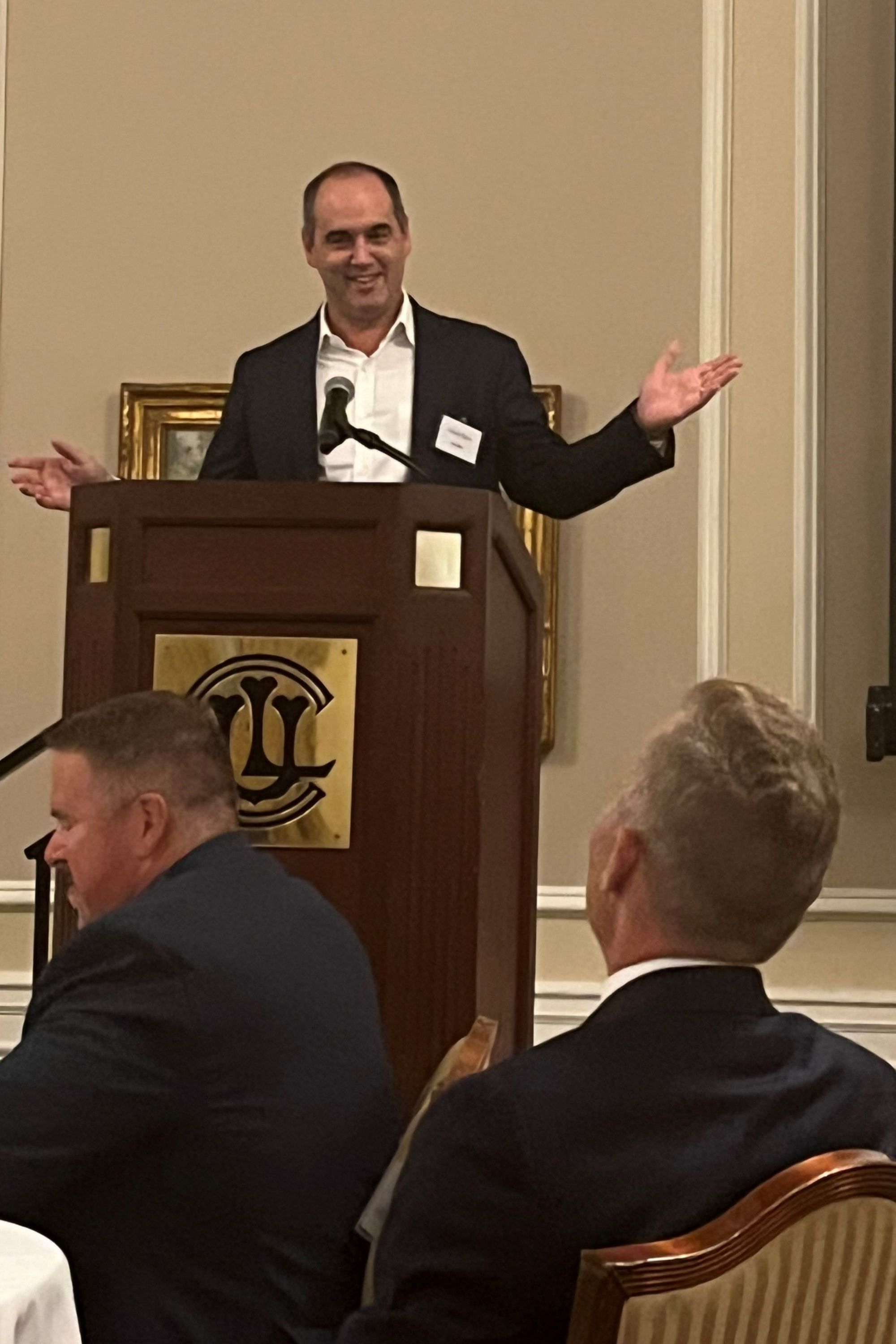 Left: ASLRRA President Chuck Baker gives a speech at a dinner hosted by the Western Railway Club.
ASLRRA's Jo Strang traveled with the Environmental Protection Agency's locomotive emissions study team to visit Association member Indiana Northeastern Railroad and learn more about short line locomotives and maintenance practices. The information gathered is meant to help inform EPA regulations and potential new rules.
Chuck Baker was in Homewood, Illinois for CN's revived Short Line Conference. The conference featured a full day of sessions led by CN senior executives, a social gathering with approximately 50 CN railroaders and 50 short line representatives out in Chicago's West Loop, and then a morning full of individually scheduled meetings. CN's message to meeting attendees was three-fold: CN is back and stronger than ever; CN is committed to sustainable growth; and CN wants to grow with its dozens of short line partners.
Baker also was the featured speaker at a dinner hosted by the Western Railway Club at the Union League Club of Chicago. He gave a general overview of ASLRRA's work and talked about economic, legislative and regulatory issues like CRISI grants, pending rail-related bills and the current appropriations process.
Crystal Gitchell attended the American Association of State Highway and Transportation Officials (AASHTO) Council on Rail Transportation Annual Meeting in San Diego, California. She spoke at their Freight States meeting on short line policy priorities.
---

On-Demand Webinars
Further Railroad Knowledge Any Time With On-Demand Webinars
ASLRRA offers almost 200 webinar recordings in its On-Demand Webinar Library, covering a wide range of topics from regulatory compliance to environmental programs to the grant-application process. Members can access these webinars at any time, making them perfect for squeezing in educational opportunities whenever and wherever possible.
Most of the recordings also have a copy of the accompanying PDF presentation available for download. Visit ASLRRA's On-Demand Webinars Page and log in to access a complete list of all ASLRRA's nearly 200 webinar recordings.
Click here to learn more about our education offerings.
---

Click here for a calendar of industry events.
---
Views & News is published by American Short Line and Regional Railroad Association.
Please contact Amy Krouse, editor, with questions or comments.