---
Issue Highlights:
Regulatory – ASLRRA comments respond to STB proposed reciprocal switching rule
Legislative – Senate passes THUD spending bill, House has yet to vote on theirs
Announcements – ASLRRA profiles feature Veterans Engagement Award winner Pacific Harbor Line, scholarship winner Matt Barkley
Webinars – Alaska Railroad to discuss building a drone program in new upcoming webinar
Industry News and Events – Transportation legend Mort Downey dies at 87
---
---

Over 450 Railroad Professionals Attend ASLRRA's Regional Meeting in Kentucky
The meeting rooms at the Hyatt Regency Lexington were bursting at the seams with railroad professionals attending ASLRRA's Eastern and Southern Region Meeting. The meeting, which kicked off yesterday and concludes tomorrow, opened today with a general session honoring President's Safety Award winners and featuring a robust lineup of industry speakers.
Also taking place this week are the General Counsel Symposium and the Finance and Administration Seminar, ASLRRA's focused events bringing rail-specific information to legal, finance and human resources professionals in the industry.
Follow this link to view pictures from today's events, and check again tomorrow for more images from the final day of the meeting.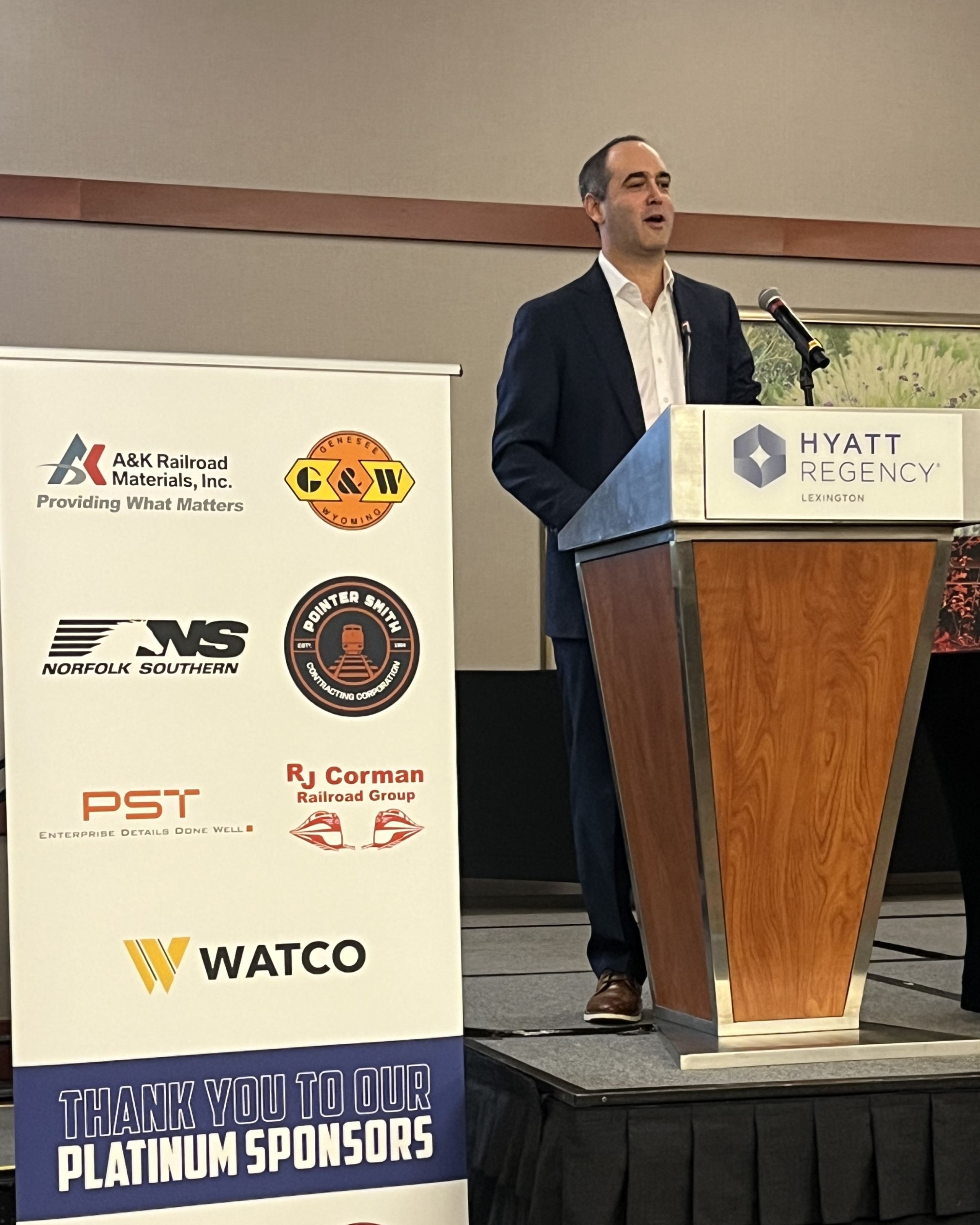 ASLRRA President Chuck Baker introduces participants of the Short Line Leaders Panel, one of several engaging talks held during the Wednesday General Session at the Association's Eastern and Southern Region Meeting.
---

---
---

ASLRRA Asks STB to Clarify Definition and Provide Notice to Short Lines
ASLRRA has filed comments with the Surface Transportation Board (STB) regarding the STB's proposed rule mandating reciprocal switching.
The STB has proposed already in the rule proceeding to exclude short line railroads, however the ASLRRA said the STB should modify its definition of "affiliated companies" to ensure short lines are not inadvertently swept into the rule.
And to enable short line railroads to continue providing excellent customer service, the Board should also include a requirement that short line railroads be notified of switches impacting their traffic.
RRB Q&A Discusses Division of an Employee Annuity in the Event of Divorce
The Railroad Retirement Board's November edition of its Question and Answer (Q&A) series focuses on how a railroad retirement employee annuity could be considered marital property subject to legal partition in cases of divorce, annulment or legal separation.
The Q&A defines legal partition orders and explains how it is different from an order of garnishment. Also included is a description of the information required for the RRB to consider a partition request valid, which railroad retirement employee annuity components can be partitioned, and what happens to the partitioned annuity after remarriage or the railroad employee annuitant's death.
FRA's Research Office Opens Submission Period for Research Proposals
The Federal Railroad Administration's (FRA) Office of Research, Development and Technology (RD&T) has issued a Broad Agency Announcement (BAA) soliciting ideas for research topics on U.S. freight and passenger rail operations.
The FRA is seeking proposals for projects in one of five main research divisions: track, rolling stock, train control and communication, human factors and railroad systems issues, including workforce development. Proposed projects should work to develop technologies that will directly impact the safety and efficiency of freight and passenger rail operations.
ASLRRA has applied for and received a BAA grant from the FRA to test non-traditional methods of reducing locomotive emissions on short line railroads. The Association has worked with the Michigan Technological Institute on this project for the last two years, looking to acquire information on cost-effective methods for reducing short line emissions. There is currently no industry-wide data on this issue.
The deadline for concept papers is Jan. 16, 2024. The FRA has compiled a list of proposed research topics, which can be found here. The agency also produced a webinar about research program funding. A copy of the webinar presentation is here, while a recording of the webinar, titled "Federal Railroad Administration (FRA) Funding for Research Programs Webinar" is here under the Research tab.
MARAD Announces Port Infrastructure Grant Recipients
The U.S. Maritime Administration (MARAD) announced recipients of fiscal year 2023 (FY23) Port Infrastructure Development Program grants. Several winning projects have rail components.
Port Panama City in Florida will receive funding to design and construct a warehouse with a rail spur extension to serve it. ASLRRA member Bay Line Railroad serves the port, connecting it to Class I railroads CSX and Norfolk Southern.
In North Carolina, the Port of Wilmington will use its PIDP award to relocate a vehicle entrance away from neighborhood surface streets and a busy two-track at-grade railroad crossing. ASLRRA member Wilmington Terminal Railroad is the port's local service provider and conducts switching services at the rail crossing, which can block inbound trucks and cause the severe traffic backlogs that this PIDP-funded project is meant to alleviate.
PIDP grants fund projects that improve the movement of goods into, out of, around or within a port. Eligible projects include those with rail infrastructure components, and ASLRRA has encouraged members with port operations to consider partnering with eligible entities on PIDP applications.
---

---
---

Legislative Round Up – The Latest Happenings at ASLRRA and on Capitol Hill
Senate Bill Passes, House Bill Stalls
Last Wednesday the Senate voted 85-15 to pass its version of the spending bill for the Transportation, Housing and Urban Development (THUD) as part of a three-bill appropriations package that also included the Military Construction, Veterans Affairs, and Related Agencies (MilCon-VA) and Agriculture, Rural Development, Food and Drug Administration, and Related Agencies (Agriculture-FDA). The THUD bill would make $500 million available for the Consolidated Rail Infrastructure and Safety Improvements (CRISI) grant program above the $1 billion already guaranteed by the Infrastructure Investment and Jobs Act (IIJA).
The House was scheduled to vote on its version of the THUD spending bill yesterday, but plans changed after concern was raised about the bill's proposed cut in funding for Amtrak. THUD Chairman Tom Cole (R-Okla.) expressed hope the bill would be passed by the end of the week. The House bill would provide about $230 million for CRISI above the IIJA-guaranteed $1 billion.
ASLRRA Legislative Committee Meets in Lexington
ASLRRA's Legislative Committee held an in-person meeting in conjunction with the Association's Eastern and Southern Region Meeting taking place in Lexington, Kentucky. The committee discussed several important issues, including plans for next year's advocacy event in Washington, D.C., which is tentatively scheduled for May.
---

Pacific Harbor Line's Support of Veterans Embodies Rail Industry's Positive Military Policies
Veterans Day is Saturday, and ASLRRA concludes its series of member stories with a profile of Pacific Harbor Line, who was awarded the Veterans Engagement Award at the Association's 2023 Annual Conference and Exhibition in April. ASLRRA is currently accepting nominations for its Veterans Engagement Award, with the winner to be recognized at the upcoming annual conference in March 2024.
When it comes to its workforce, Pacific Harbor Line (PHL) has demonstrated a commitment to recruiting veterans and members of the National Guard and military reserves. Such hiring efforts include attending job fairs for veterans and having a table at local veterans' events to introduce attendees to PHL and its employment opportunities. The railroad also coordinates with the Pacific Gateway Workforce Innovation Network to identify military-affiliated candidates. As a result, approximately 25 percent of PHL's employees have served or are serving in the military, and a recent class of new hires set a record with 55 percent of incoming employees identifying as military veterans.
In recognition of its efforts to support employees who are also members of the National Guard or reserves, PHL has received the Pro Patria Award and the Patriot Award from the Employer Support of the Guard and Reserve, an office of the Department of Defense. PHL offers one-on-one support for employees while they are out on active duty and makes sure their families are doing well in the service member's absence. To honor all its military-affiliated employees, PHL highlights them in the railroad's annual newsletter, which is distributed to the hundreds of companies with which PHL does business.
"Short line railroads have long recognized the value that military veterans bring to our industry," said ASLRRA President Chuck Baker. "Pacific Harbor Line has emerged as a leader in recruiting, recognizing, and supporting veterans and their families as they build careers in short line freight railroading. Bringing veterans into the short line environment is a win-win-win-win for the employee, the railroad, the industry, and the country. We're so pleased to recognize PHL's efforts in this field."
ASLRRA is proud of its members and their efforts to demonstrate positive policies toward U.S. veterans. ASLRRA encourages all those who have implemented programs like those described above to nominate their companies for the award using this online form. The Veterans Engagement Award recognizes an ASLRRA member employer that demonstrates positive policies toward U.S. veterans and who implements unique programs and practices to hire, recognize, support and engage with veterans in the workplace and the broader community. The winner will be honored at ASLRRA's Annual Conference and Exhibition in Kansas City, Missouri, which will be held March 24 to 26, 2024.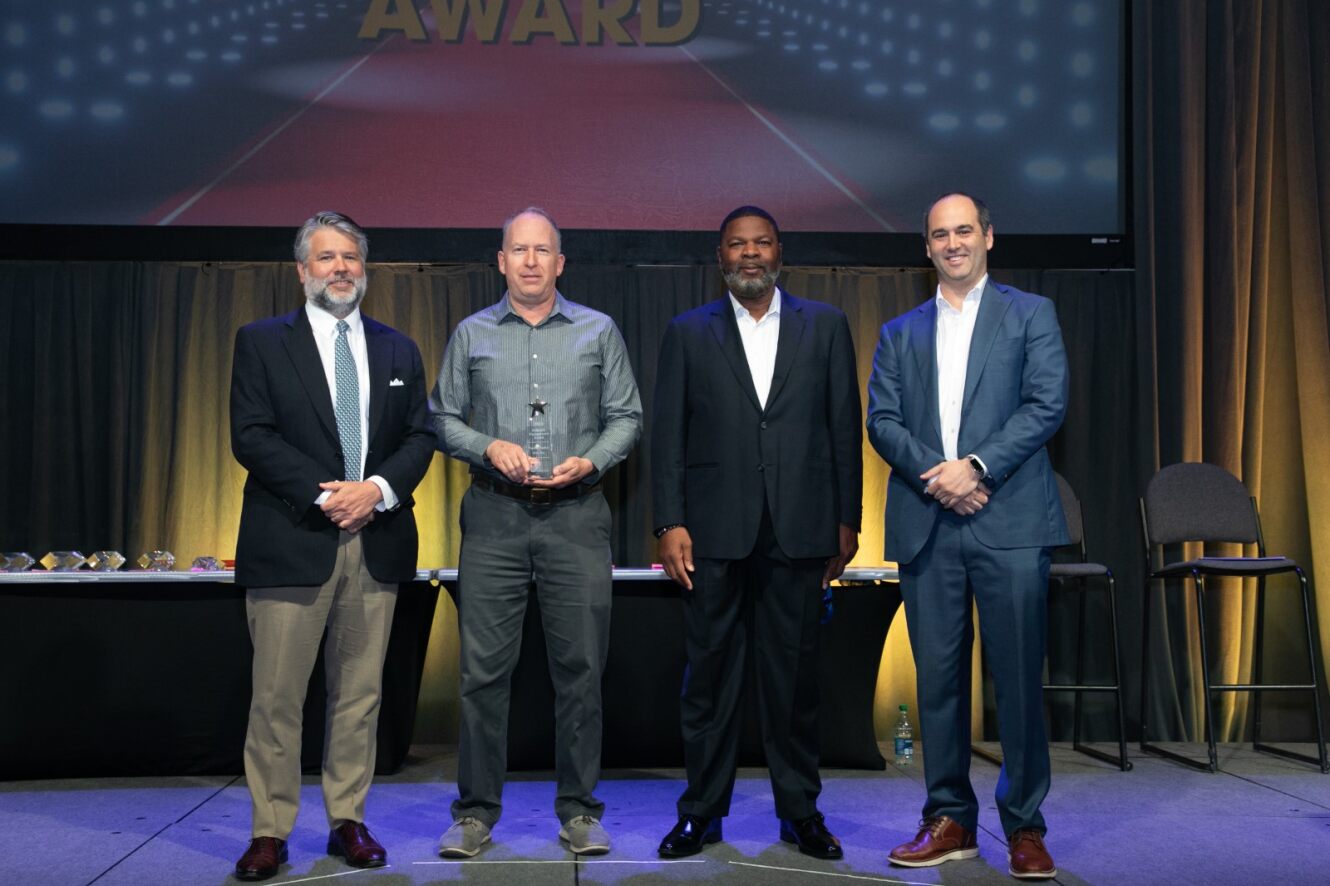 ASLRRA honored member Pacific Harbor Line at the Association's Annual Conference and Exhibition in April. PHL won ASLRRA's Veterans Engagement Award for its efforts to recruit, hire and retain military service members and veterans.
Two Days Left to Complete Critical Data Request: ASLRRA's Revised Locomotive Fleet Survey
ASLRRA has revised its locomotive fleet survey and sent a simplified version to primary contacts at member railroad companies. The Association asks members to return the survey by Friday, Nov. 10. The data collected supports the Association's efforts to address regulatory threats to the industry regarding locomotive emissions; make valid arguments to seek small railroad-specific exceptions; and ask for targeted funding assistance to improve the small railroad locomotive fleet. Those with questions about the survey should contact ASLRRA's Fred Oelsner or Cameron Downs.
---

---
Scholarships Provide Essential Funding to Railroad Employees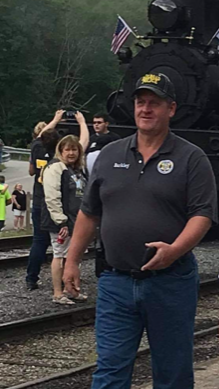 For railroad professionals who are new to their roles, navigating federal regulations can feel overwhelming. But through ASLRRA's scholarship program, small-railroad employees can receive funding to attend the kinds of training opportunities that are vital to their railroad's compliance efforts.
Matthew Barkley of ASLRRA member Durbin and Greenbrier Valley Railroad is the Federal Railroad Administration (FRA) officer at his company, where he is responsible for making sure all employees are up to date with their forms and other FRA requirements. He attended ASLRRA's training on hours of service and engineer and conductor qualification and certification and was awarded a $1,200 ASLRRA scholarship to help pay for it.
In an email interview, Barkley noted how the scholarship process, from application to award, was very user friendly. He found out about the scholarship from ASLRRA's head of education Sabrina Waiss, who reached out to him directly to let him know that Durbin and Greenbrier Valley Railroad qualified as a small railroad, making him an eligible applicant.
Barkley's scholarship, which covered registration fees and travel and lodging costs, was important for Durbin and Greenbrier Valley. Barkley was happy to have the scholarship because, for his small railroad, "any assistance is greatly appreciated."
ASLRRA scholarships can be used for a range of industry-specific training supporting regulatory compliance and safety. Click here to learn more about ASLRRA's scholarship program, or here to apply using a brief online form. Applications are accepted on a rolling basis and funding can even be awarded retroactively for an eligible event that has already taken place.
ASLRRA Members Can Access Employment Screening Services Through ISB Global Services
ISB Global Services (ISB) provides Association railroad and supplier members with a suite of employment background screening products allowing them to gather appropriate and accurate information while remaining compliant with privacy legislation.
Companies can use ISB as a one-stop shop for employment screening services including employment history verification, education and professional credential verification, domestic terrorism watchlist searches, motor vehicle records search and more. ISB is also able to provide cargo loss and supply chain security tools and mobile identity verification for secure access to facilities.
Members can access product details and members-only pricing by logging in to ASLRRA's Member Discount webpage. To join ASLRRA's Member Discount Program, contact ASLRRA Senior Vice President, Education and Business Services Sabrina Waiss.
---

Yurasko Moderates Panel at Women in Rail Event
On Nov. 2, ASLRRA's Sarah Yurasko was in Chicago to participate in a Women in Rail conference sponsored by Railway Age and Railway Track and Structures magazines.
Yurasko served as a co-moderator for a panel discussion on employee resource groups (ERGs). The panel discussed what ERGs are and how to start them, and addressed how they support and address diversity, equity and inclusion initiatives.
Several other representatives from ASLRRA member railroads spoke on panels at the event, including Anacostia's Peter Gilbertson, R.J. Corman's Ed Quinn, Patriot Rail's Don Itzkoff, Watco's Rachael Peterson, MxV Rail's Kari Gonzales and others.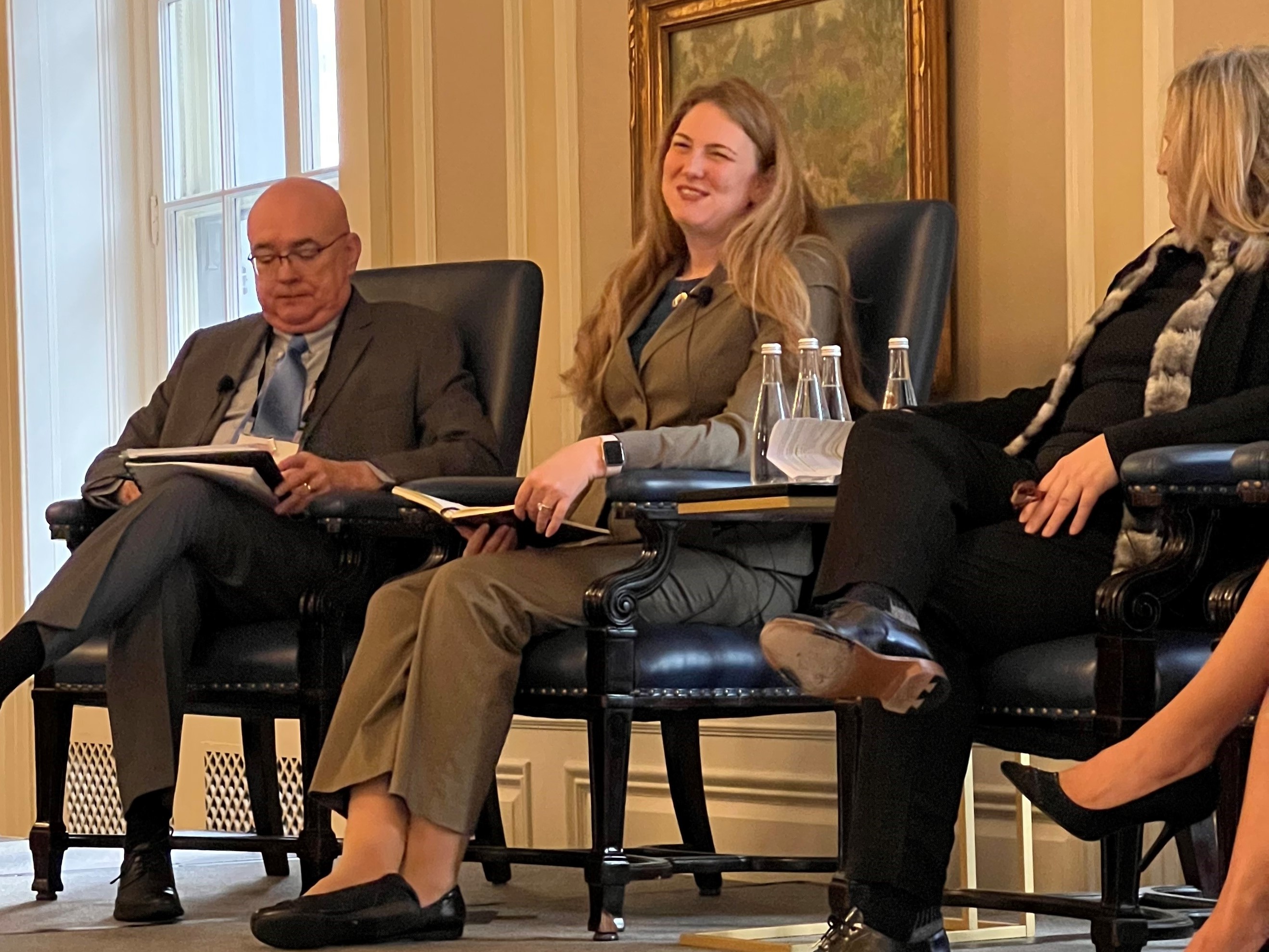 ASLRRA's Sarah Yurasko (center) was co-moderator of a panel discussion at a Women in Rail conference in Chicago.
---

Upcoming Webinars
Join us for this popular presentation by the Alaska Railroad, originally presented during ASLRRA's joint committee meeting in Anchorage earlier in 2023. Attendees will learn how to build a successful drone program for their organization, based on insight, tips and lessons learned from Alaska Railroad's Director of Signal & Telecom, Joe Carlton. Registered attendees will have an opportunity to participate in Q&A at the end of the presentation.
On-Demand Webinars
Recorded Webinar Series Gives Overview of Railroad Retirement Eligibility and Benefits
Information from the Railroad Retirement Board (RRB) is important to ASLRRA members and webinars on the subject are popular. ASLRRA joined with the RRB to present a three-part series on railroad retirement eligibility and benefits and the recordings are available online. The following titles can be found in ASLRRA's On-Demand Webinar Library:
RRB General Eligibility and Employee Benefits
RRB Spouse Benefits and Working After Retirement
RRB Survivor Benefits and General Information
Visit ASLRRA's webinar homepage to view these on-demand offerings and many more in the Association's webinar library.
Click here to learn more about our education offerings.
---

Transportation Leader Mort Downey Dies at 87
Mortimer Downey, former deputy secretary of the Department of Transportation (USDOT) and a legend in the transportation world, died on Nov. 2 at the age of 87. He was the USDOT's longest tenured deputy secretary, devised a funding strategy to revive New York City's transit system and was a sought-after advisor for transportation leaders and agencies.
Downey, who was born in Springfield, Massachusetts, graduated from Yale University before taking a job as a management trainee at the Port Authority of New York and New Jersey. During his 17 years there he was involved with the Port Authority's takeover of the Hudson and Manhattan Railroad, which became the PATH system.
In 1975 Downey moved to Washington, D.C. to be the House Budget Committee's transportation analyst, then joined the U.S. Department of transportation as assistant secretary for budget and programs. Downey returned to New York to work at the Metropolitan Transportation Authority (MTA), becoming executive director by 1986.
Downey became deputy secretary of transportation in 1993 under President Bill Clinton, a role he held until 2001. In this role he helped initiate reforms to Amtrak and draft the Transportation Equity Act of 1998.
The Washington Metropolitan Area Transit Authority appointed Downey to its board of directors in 2010, and he served as board chair from 2015 to 2016. Downey has advised public agencies on transportation and infrastructure issues across the U.S. and worldwide. He also was active with rail advocacy group OneRail Coalition, the Coalition for America's Gateways and Trade Corridors and the Eno Center for Transportation and was president of the National Academy of Public Administration.
Click here for a calendar of industry events.
---
Views & News is published by American Short Line and Regional Railroad Association.
Please contact Amy Krouse, editor, with questions or comments.