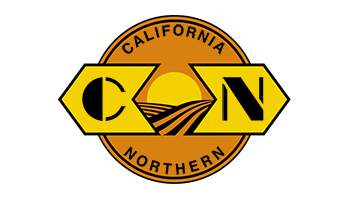 California Northern Railroad
Genesee & Wyoming's California Northern Railroad secured a $3.7 million grant from California's Bay Area Air Quality Management District to purchase two new Tier 4 low emission locomotives that reduce diesel emissions by 80 percent compared to the two circa-1976 locomotives that were replaced.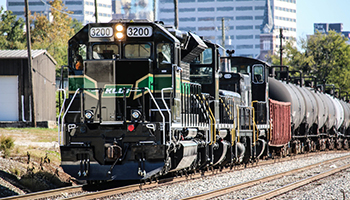 Knoxville Locomotive Works
Knoxville Locomotive Works (KLW) began designing its own line of locomotives in 2008 and has become the preferred near-zero emission single engine locomotive solution, offering low emissions, low fuel consumption, and superior tractive effort performance. Most recently KLW was awarded EPA Tier 4 emissions certifications for its SE Series four and six axle locomotive designs.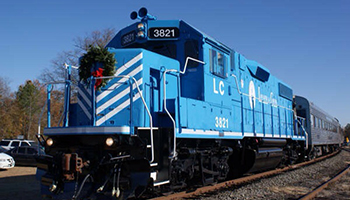 Lancaster & Chester Railroad
The Lancaster & Chester Railroad ships 281,500 tons of soybeans, soy meal and soybean oil a year between the South Carolina cities of Chester, Fort Lawn and Kershaw. That move uses an average of 80,000 gallons of fuel per year. A comparable truck move would use over 320,000 gallons of fuel.
---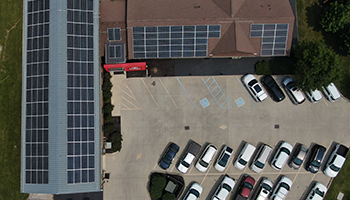 INRD's Sustainability Efforts Go Beyond Locomotives to Lightbulbs and F-150s
ASLRRA member The Indiana Rail Road Company (INRD) is taking its sustainability efforts beyond the tracks, implementing environmentally friendly technology in many aspects of company operations and showing how these steps, big and small, produce significant results.
At the core of railroad operations are the trains that move goods. INRD uses technology to lower fuel consumption and reduce greenhouse gas emissions. The mother-slug locomotive configuration is one way INRD increases efficiency. It enables one diesel engine to do the work of two, while providing double the tractive power. Fuel consumption, exhaust emissions and noise pollution are reduced, and time between servicing and refueling is extended.
Engine idling is a significant source of pollution, so many INRD initiatives focus on reducing idling. INRD employs ZTR's SmartStart system to monitor locomotive and environmental conditions and determine whether it is safe to shut down the locomotive engine. SmartStart technology has helped INRD reduce its fuel and oil consumption, emissions and restart exhaust smoke while collecting data on fuel management and savings.
To maximize operations in the winter, INRD installed Hotstart Idle Reduction Systems. These auxiliary power units heat locomotive water and oil and charge batteries, making sure the locomotive is warm and ready to go without keeping the engine on.
Installing Medha electronic governors in locomotives has further improved fuel efficiency, allowing INRD to control engine speed with precision. Having this strict control ensures the engine is operating under optimal conditions and not using excess fuel when it is not needed, such as during start up.
Physical technology helps reduce emissions, but data collection is also an important aspect of eco-friendly operations. The Wi-Tronix IoT platform helps INRD collect and analyze data with artificial intelligence, video analytics and machine learning, so that INRD can monitor each locomotive's fuel consumption and send mechanics to examine any locomotive idling for over two hours. The program has helped INRD reduce the idle fuel consumption of its entire locomotive fleet by 50 percent in August 2021 compared to August 2020.
The effort put into efficient operations goes beyond locomotives. INRD has spent the past several years converting lights in offices and around rail yards to LED bulbs. Not only do LED lights last longer and use less energy, they also emit very little heat, making them safer.
But INRD is replacing more than light bulbs. A new company initiative will build a more eco-friendly fleet of company vehicles, replacing the standard Ford F-150 trucks currently in use with hybrid versions. INRD will start the process with its taxi service fleet, hoping to complete the transition in the next three to five years.
INRD facilities also demonstrate the company's environmentally friendly focus. To help power the new LED bulbs, at least at its Indianapolis headquarters, INRD completed installation of rooftop solar panels in July. The panels are expected to provide almost half the energy used at INRD headquarters, cutting energy costs.
INRD's state-of-the-art locomotive maintenance facility has also undergone a conversion to LED lighting, but it is the way the facility processes water that makes it stand out. A unique oil-water recycling system collects all contaminated water, oily wastewater and petroleum products and treats it for release into local sewers, cleaning dirty water far beyond what is dictated by state regulations. A separate system captures all storm runoff from the facility's buildings, which amounts to 36,000 square feet of roof, and drains it directly into a storm-water sewer system and then into state waters. Catching runoff and diverting it immediately to the sewer prevents it from becoming contaminated before it enters state waters and helps INRD avoid runoff-related erosion on its property.
Finally, INRD looks beyond company boundaries to advance other sustainability initiatives. INRD is a founding member of the Repurposing Carbon Consortium, formed in part with researchers at Purdue University. The goal of the consortium is to determine new uses for waste railroad ties, of which the U.S. rail industry produces 21 million each year.
INRD "prides itself on investing ahead of the growth curve and envisioning tomorrow's opportunities. When looking to the future, INRD strives to be a sustainable organization wherever possible," said company officials in a statement. The efforts of INRD are a testament to the diverse ways railroads address environmental concerns in their operations, and how it can start with something as simple as changing a lightbulb.
---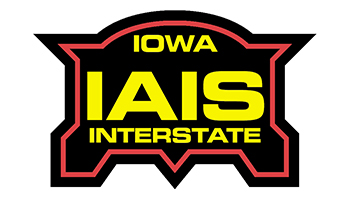 IAIS Looks to Technology and Data Collection to Move Goods as Efficiently as Possible
The efforts of ASLRRA member Iowa Interstate Railroad (IAIS) to make its operations more environmentally friendly began over a decade ago with new locomotives. Over the years, IAIS has continued to focus on upgrading its fleet to improve fuel efficiency with cutting-edge technology that both optimizes engine operations and enables better data collection and information application.
In 2008 IAIS began investing in more fuel-efficient, modern locomotives, buying 12 brand new GE (now Wabtec) ES44AC GEVO locomotives. They allowed IAIS to move more freight with fewer running locomotives on each train, meeting customer demands while driving down fuel usage. Currently, IAIS maintains a fleet of 20 ES44ACs, and all the units are equipped with automatic engine shutdown/start-up (AESS) technology, reducing engine idling.
With its older fleet equipped with smart start technology, IAIS started to review other proven fuel-saving enhancements. In 2012, IAIS installed fuel-saving injectors that result in less fuel consumption, a cleaner burn and extended component changeout cycles. To further improve the performance of its older locomotives, an ongoing project will retrofit this fleet with auxiliary power unit (APU) technology enabling IAIS to operate engines more efficiently during periods of cold weather.
In late 2016, IAIS installed its first Wi-Tronix asset monitoring system, Violet. IAIS was the first railroad to retrofit its fleet with the Violet system, and since then the benefits have been unmatched. Monitoring the fleet in real time offers more visibility to IAIS systems, operations, and mechanical departments, and the system also keeps a historical database for a large collection of asset events.
Data collection is a key part of managing efficient operations, and more recently IAIS has started to take advantage of its data by building in-house dashboards so information can be viewed by location, asset and train symbol. Using the visual measurement data allows operating departments to make sound decisions when it comes to train meets, crew calling, asset utilization and more, having a positive impact on IAIS's carbon footprint reduction by highlighting areas of focus for cutting idle times.
Moreover, in the last calendar year, IAIS has implemented Wabtec's Trip Optimizer (TO) technology. A smart cruise-control system for trains, TO is Environmental Protection Agency (EPA) certified for 10 percent fuel savings. Not only does the system automatically control throttle and brakes to reduce fuel burn and provide efficient and consistent train handling, it collects and provides data from the onboard system that IAIS can use to identify key performance indicators and improve energy management.
IAIS is more than a business. It is a member of the of the communities it serves, so being a safe, environmentally conscious community member is key. In addition to all the other steps it has taken, IAIS recently partnered with the EPA's SmartWay program to communicate to friends, neighbors, and customers the impact the company has on the environment and the ways it will continue to make improvements for future.
---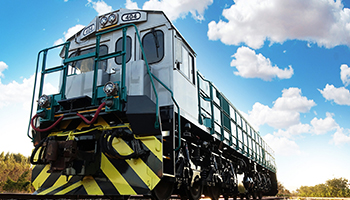 Pacific Harbor Line Fights Carbon Emissions with Advanced Technology
Another of Anacostia's railroads, Pacific Harbor Line (PHL), has been at the forefront of sustainability for years. PHL was designated an Environmental Protection Agency (EPA) SmartWay Transport Partner in 2015 for its commitment to being environmentally efficient and cost-effective.
In the years since, PHL has only worked harder to incorporate environmentally friendly technology and infrastructure. Its fleet incorporates several EPA tier 3 and 4 locomotives, which meet the highest standards for reduced harmful emissions. PHL plans to test and acquire more tier 4 locomotives that can later be upgraded to higher-tier standards.
PHL also recently began a pilot program to test Progress Rail's zero-emission, zero-idle EMD Joule battery electric locomotive in all types of service at the Ports of Los Angeles and Long Beach. The railroad is also testing locomotive injector technology to further reduce pollution.
When running its locomotives, PHL utilizes low-sulfur fuels and fleet-wide shut-down devices, all of which contribute to more eco-friendly operations. PHL uses diesel exhaust fluid (DEF) to reduce the amount of hazardous nitrogen oxides emitted from diesel engine exhaust pipes.
Beyond using DEF in its own equipment, PHL has also partnered with a producer of DEF, AzureDEF, to convert raw material shipments from truck to rail. Making the conversion helps AzureDEF reduce its carbon footprint, and working with PHL has allowed AzureDEF to improve the efficiency of its supply chain.
The Pacific Harbor Line Railroad moves 5,000 tons of interchange traffic daily from Wilmington to Long Beach, CA. That move uses an average of 36,500 gallons of fuel per year. A comparable truck move would use 521,220 gallons of fuel.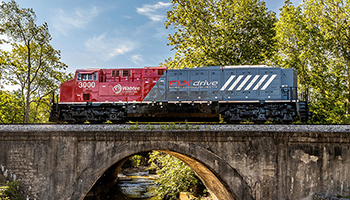 Battery-Powered Locomotives Move onto Real-World Tracks
Talking about battery-powered trains often makes people think of basement models or children's toys. But just as electric cars and trucks are becoming more mainstream, U.S. companies are developing battery-powered locomotives that they hope will become a common sight on rail lines nationwide.
ASLRRA member Wabtec has developed a FLXdrive Battery Locomotive, winner of the 2021 Fast Company's World Changing Ideas Award in the transportation category. The locomotive runs on 18,000 battery cells, and every time the train brakes, that energy is captured to recharge the batteries.
Wabtec's locomotive recently wrapped up participation in a test project with BNSF, which was funded by a grant from the California Air Resources Board. The FLXDrive operated as part of a hybrid consist with two of Wabtec's Tier 4 diesel-electric units, running a 13,320-mile route across hilly terrain in San Joaquin Valley. San Joaquin Valley is classified as a non-attainment area with air quality worse than national standards.
Test results showed that using the FLXDrive in the consist reduced fuel consumption and emissions for the entire train by over 11 percent, meeting Wabtec's expectations for efficiency performance. That reduction amounts to 6,200 gallons of fuel saved and 69 fewer tons of CO2 emissions released.
Other technology on the train helped further reduce emissions, with the diesel locomotives switching off as the train pulled into a rail yard, allowing the train to run in "near-zero emission" mode. Wabtec's Trip Optimizer system was also used, calculating the most efficient way to run the battery-electric locomotive along the route and how much to charge the battery at the trip's end.
---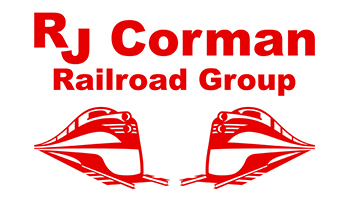 R.J. Corman Railroads Work Together to Connect Customers Seamlessly
Taking a hard look at customer service can improve an operation's environmental footprint.
R.J. Corman's Memphis Line (RJCM) and Central Kentucky Lines (RJCC) have streamlined rail service for customers Novelis and Logan Aluminum, enabling easy shipping for their aluminum products. RJCM and RJCC provide direct rail service between the companies, and intra-plant switching services at product origin and destination.
Specialty equipment, including a custom railcar for aluminum ingots, a 30-ton overhead crane and 35-ton forklift capacity enable the railroads to improve customer inventory cycle times. Administrative services also build transparency and ease into the process, with weekly calls between customers and R.J. Corman's operations and commercial teams playing a crucial part.
Altogether, R.J. Corman is able to offer Novelis and Logan Aluminum quality service while moving the equivalent of 29,900 truckloads annually. This results in an approximately 14,784-ton reduction in greenhouse gas emissions each year.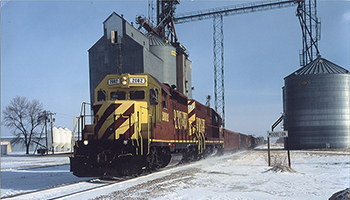 Red River Valley and Western
The Red River Valley and Western (RRVW) has calculated that in 2020 the railroad moved one ton of freight 496 miles on one gallon of fuel.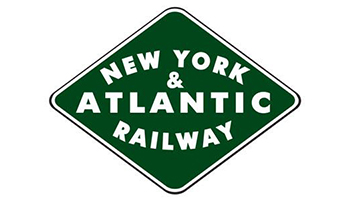 Anacostia's Railroads Make Cross-Country Shipments Easier and Eco-Friendly
Anacostia's railroads provide environmentally friendly and reliable service to their customers. With Newhaven Distribution (NHD), Anacostia's railroads bring goods across the country to New York, blending freight rail with last-mile truck delivery for efficient service that significantly reduces harmful emissions.
By using rail to bring tomato paste from California and rice from Arkansas to New York, Newhaven Distribution reduces carbon dioxide emissions by 8,955 tons – for every truck shipment. Taking those same truck shipments off the road allows NHD's goods to bypass highways, making roads safer and less congested for local motorists.
Once the products reach New York, Anacostia's New York and Atlantic Railway (NYA) can quickly offload them for distribution, using cross-dock warehouses at key rail locations. And, despite the many moving parts to this entire process, NHD is easily able to monitor much of its business with NYA online.
---