---

NTSB Will Hold Community Meeting and Investigative Hearing in East Palestine in June
The National Transportation Safety Board (NTSB) will hold a community meeting and an investigative hearing concerning the Norfolk Southern derailment and hazardous materials spill. Both events will take place in June at East Palestine High School in East Palestine, Ohio.
On June 21, prior to the hearing, the NTSB will hold a community meeting for residents of East Palestine and the surrounding areas. Individuals will be able to meet with NTSB Chair Jennifer Homendy and ask questions about the NTSB and the agency's investigative process. A website for the community meeting outlines the event and includes a chart of topics that Homendy will be able to discuss. The agency emphasizes it cannot answer questions concerning information outside its authority, including those about water or air quality, potential health impacts, damage to property, lawsuits and more.
The community meeting will take place in person only, with no online streaming available. Participants will be able to submit their name, in person, at the event to ask a question.
The investigative hearing will take place June 22 and 23, with the event live-streamed on the NTSB's YouTube channel. The public is only invited to observe the hearing. During the hearing NTSB board members, investigative staff and designated parties to the hearing will ask questions of witnesses, who will be testifying under oath. The hearing will focus on several topics, including the initial emergency response, the decision to vent and burn the vinyl chloride tank cars, freight car bearing failure modes and wayside detection systems and more.
More information about the hearing can be found on the website dedicated to the event.
State Agencies Provide Important Grant Opportunities to Short Line Railroads
Both the North Carolina Department of Transportation and the Ohio Rail Development Commission have awarded infrastructure improvement grants to ASLRRA members, underscoring the importance of state-level grant programs to short line railroads.
Five ASLRRA members – comprising all of the funding recipients – will receive approximately $2.1 million in grants through the North Carolina Department of Transportation's Freight Rail and Rail Crossing Safety Improvement (FRRCSI) Program. The funding, which will be matched by the railroads, will go toward infrastructure improvement projects affecting 78.2 miles of track.
Aberdeen, Carolina and Western Railway Company, Alexander Railroad Company, Carolina Coastal Railway, Chesapeake and Albemarle Railroad and Charlotte Western Railroad will use funding for infrastructure work that includes drainage system and bridge improvements, track upgrades and more.
In Ohio, the Columbus and Ohio River Rail Road will receive up to $750,000 to improve capacity at the railroad's Newark Yard to accommodate an anticipated increase of 4,000 carloads in 2023 and 2024. The grant will also help fund the installation of two radio-controlled switch machines at interchanges in Zanesville. This technology will prevent railroad employees from having to perform switches manually, helping alleviate blocked crossing issues.
Although federal grant opportunities like the Consolidated Rail Infrastructure and Safety Improvements (CRISI) program offer significant amounts of funding for short line railroads, competition for these grants is fierce and, for fiscal year 2023, the application window is not anticipated to open until winter.
State programs, then, can be another crucial source of financial support for short lines. This is especially true in places like Ohio where applications for grants and loans are accepted and approved on a rolling basis. And North Carolina previously awarded another $12 million in rail infrastructure grants to 12 short lines as recently as December 2022, with all of the five ASLRRA members receiving grants this month also receiving funding in that earlier round.
While short lines may already be preparing an application package in anticipation of the CRISI notice of funding opportunity release, ASLRRA encourages its members to consider different funding opportunities as well. The Association's Member Discount Program features three Preferred Providers that can offer varying levels of assistance with the grant application process at competitive pricing. With infrastructure playing such a crucial role in small railroads' operational safety and efficiency, short lines cannot afford to leave any money on the table.
---

Updated Part 217 Model Program Available Online to ASLRRA Members
Updates to ASLRRA's Part 217 model program are now available to members online thanks to the efforts of ASLRRA Vice President, Safety and Compliance JR Gelnar, Rio Grande Pacific Corporation Director, Safety, Training and Regulatory Compliance Mitch Harris and Spark TS President Katie Inouye.
Recent insights regarding Part 243 periodic oversight requirements necessitated changes to the Part 217 model program. Contact Gelnar at jrgelnar@aslrra.org with any questions about this model program or other ASLRRA compliance templates.
ASLRRA offers a number of templates and resources to help members comply with federal regulations under Title 49 in the Code of Federal Regulations (CFR). Members must log in to the ASLRRA website to access these resources, which can be found in the Compliance Templates section of the Safety and Compliance home page.
---

---
FRA Technical Report Examines Use of Different Locomotive Horn Patterns
The Federal Railroad Administration (FRA) has released a technical report studying the feasibility of using different locomotive horn sounding patterns at places where grade crossings are closely spaced.
The study was meant to address issues with 49 CFR Parts 222 and 229, also known as the horn rule, which requires use of locomotive horns at public highway-rail grade crossings. When two or more crossings are spaced less than a quarter of a mile apart, complying with this rule using the standardized horn pattern would result in disruptive near-continuous sounding of the horn.
Study results suggested that it may be feasible to only sound the locomotive horn on approach to the first of several closely spaced grade crossings, which would eliminate the need for repeated sounding of the horn. However, more analysis is needed on the topic, in addition to studies of the impacts of altering the locomotive horn pattern of repetition.
---

Baker Featured in Article Critical of Legislation Allowing Heavier Trucks on Highways
ASLRRA President Chuck Baker recently weighed in on legislation allowing heavier trucks on federal highways in an article for Railway Age magazine's website.
Baker spoke with Railway Age Editor in Chief William Vantuono about two bills passed by the House Transportation and Infrastructure (T&I) Committee, H.R. 3372 and H.R. 2948. The former, which Baker dubs the "really bad one," would increase allowed truck weight to 91,000 pounds, while the latter would increase the maximum weight for auto-hauler trucks to 88,000 pounds.
The article features Baker's insight into both bills and general concerns with allowing heavier trucks on roadways. In particular, Baker notes the potential for more frequent and more deadly crashes, and increased damage to roads and bridges that heavier trucks would cause – and these damages are paid by taxpayers, not the trucking companies.
ASLRRA has been working to inform members of Congress and other stakeholders about the problem of passing legislation like H.R. 3372 and H.R. 2948. Last week the Association sent a letter to T&I Committee members urging them to reject both bills. ASLRRA also joined the Coalition Against Bigger Trucks (CABT), of which the Association is a member, in sending a letter to the leaders of the T&I Committee noting the potential negative consequences of any legislation allowing increases to truck size and weight. And the issue of truck size and weight was a key talking point during meetings with congressional offices on Short Line Railroad Advocacy Day, which was held May 17.
The Association continues to share its concerns about these bills with lawmakers and encourages ASLRRA members to join the outreach effort. Individuals can share ASLRRA's letter with their federal representatives, reminding them not only of the harms of heavier trucks but also the fact that a wide variety of groups, including law enforcement officials, independent truckers, labor unions and others also oppose such legislation. Contact ASLRRA's Zach Radford, Crystal Gitchell or Richard Sherman for help with these efforts.
---

---
---

ASLRRA Joint Committee Meeting to Take Place in August in Alaska
ASLRRA will hold its Joint Committee Meeting in Anchorage, Alaska on August 21 to 23. The meeting offers Association members, particularly those who serve on ASLRRA committees, to gather and discuss issues impacting the short line and regional railroad industry across a number of key topic areas.
The event will feature a general session meeting with all committee members, followed by individual committee meetings the next day.
ASLRRA members who are not a part of committees but are interested in learning more about how they work and potentially joining one are welcome to attend. Follow this link to learn more or register.
Members Reminded to Complete Locomotive Surveys
ASLRRA reminds its railroad members to complete the locomotive surveys recently sent via email. The data collected is needed to support the Association's efforts to push back on future regulatory efforts on emissions, make credible recommendations to regulators for small railroad compliance and funding for new requirements.
The data will also be used to help inform ASLRRA's emissions study, which the Association and its partner Michigan Technological University are currently conducting. In another survey benefit, railroads should also be able to use the survey to ensure compliance with current Environmental Protection Agency recordkeeping requirements.
Those with questions about the survey should contact ASLRRA Vice President, Data and Technology Fred Oelsner.
Registration for Regional Meetings Expected to Open Soon
ASLRRA's fall events include its two regional meetings, the Finance and Administration Seminar and General Counsel Symposium and a Leadership Development Training Seminar. Registration for these events is expected to open in the next two weeks.
ASLRRA will hold a Leadership Development Training Seminar-Regulatory Module in conjunction with the Central and Pacific Region Meeting, which will be held Sept. 26 to 28 in Long Beach, California. The Leadership Development Training Seminar has a regulatory focus.
ASLRRA's Eastern and Southern Region Meeting will take place Nov. 7 to 9 in Lexington, Kentucky. The Association will also host its Finance and Administration Seminar and General Counsel Symposium in conjunction with the Eastern and Southern Region Meeting in Kentucky.
Short Line Training Center Brings Online Learning and Simulator Training Directly to Railroads
The Short Line Training Center, a collaborative project between ASLRRA and Iowa Northern Railway Company (IANR), is a comprehensive training resource available to all short line railroads. It combines an online Learning Management System (LMS) and a Mobile Technical Training Center to deliver essential regulatory, compliance and safety courses and materials to railroad employees. The project is funded by a Federal Railroad Administration (FRA) grant.
Participation in the program allows a company to take advantage of training in different ways: online through the LMS, onsite at a company location with the mobile center and in person at Iowa Northern Railway.
The LMS is an online platform/hub that provides and tracks industry-specific training and assessments. Users can access these resources at any time, including in conjunction with on-site simulator training. Existing courses include ASLRRA's 22 Part 243 Model Programs and FRA drug and alcohol reasonable suspicion and post-accident toxicological testing training videos. Programs slated for launch this year include the General Code of Operating Rules (GCOR), Designated Supervisor of Locomotive Engineers (DSLE) and various virtual reality simulations.
The Mobile Technical Training Center is equipped with two FRA Type II locomotive simulators plus classroom space for six students and an instructor, and can deliver personalized, instructor-led seminars and locomotive simulator training on location anywhere in the continental U.S.
Training in person at Iowa Northern Railway's Training Center in Waterloo, IA offers access to four FRA Type II locomotive simulators and full classroom facilities for up to 30 students.
Learn more about the Short Line Training Center online or contact Sabrina Waiss for more information.
ASLRRA Members Benefit from Coalition Health Plan with HUB International
The Coalition Heath Plan is specifically designed for ASLRRA members looking for a solution to reduce their medical premiums and simplify the healthcare experience for their employees. Partnering with HUB International puts ASLRRA members at the center of a vast network of experts who provide risk services, claims management, and compliance support. Visit ASLRRA's Member Discount Program page and select Employee Health Insurance to start saving today!
---

Richard Sherman Attends Gala Honoring CPKC Executive
ASLRRA Assistant Vice President of Policy and Industry Affairs Richard Sherman joined ASLRRA supplier member HDR Vice President and Senior Professional Associate Kevin Keller and the Association of American Railroads Assistant Vice President of Policy and Economics Luisa Fernandez-Willey at the U.S.- Mexico Chamber of Commerce Good Neighbor Awards Gala in Washington, D.C on May 24th.
The event, held at the Organization of American States Building, recognizes individuals and organizations in the U.S. and Mexico whose work has helped strengthen the bond between the two countries. This year's awardees included Keith Creel, president and CEO of the new Canadian Pacific Kansas City (CPKC), recognizing the enhanced rail connections and service expected between Mexico, the US and Canada thanks to the recent merger.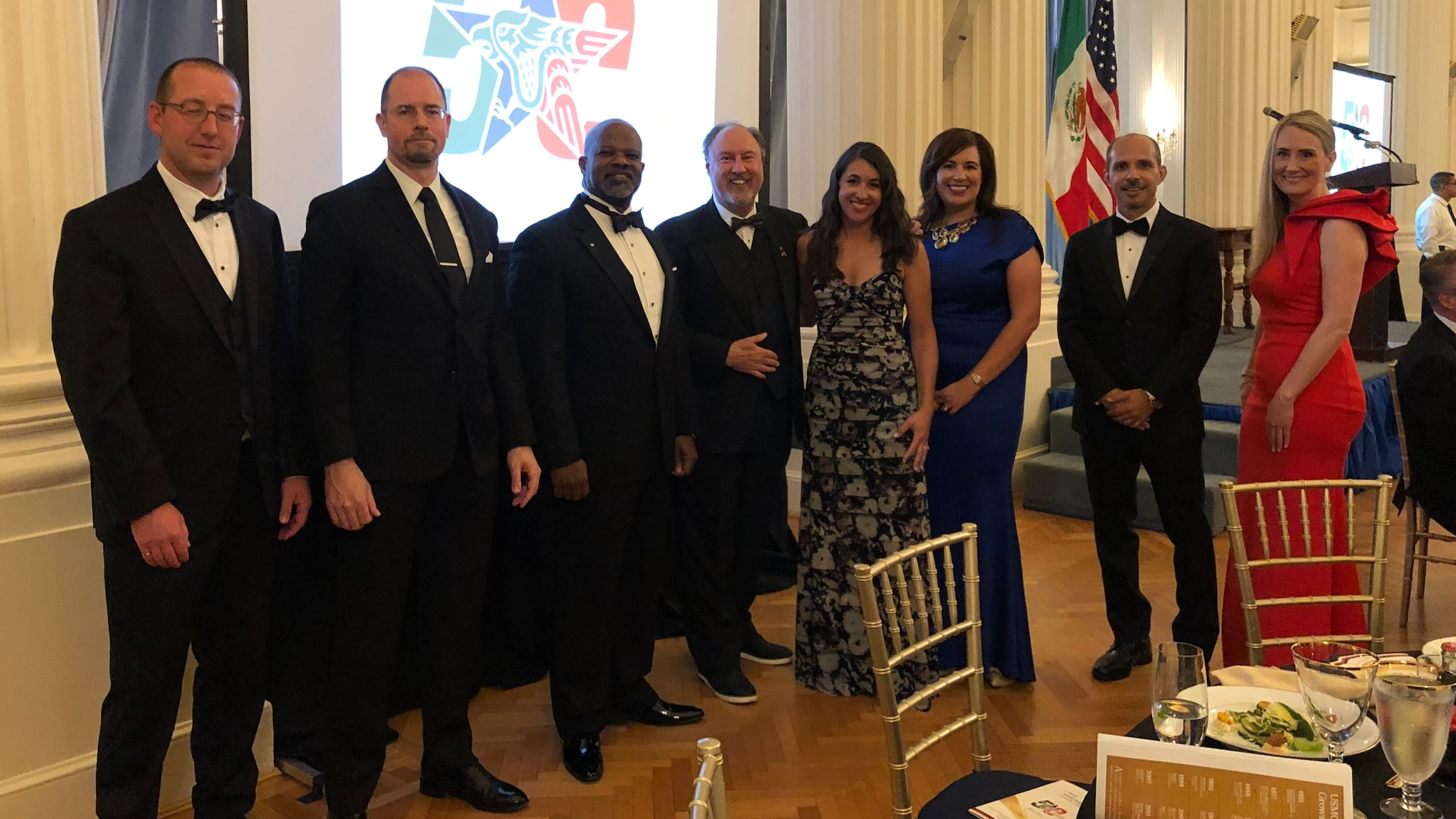 ASLRRA's Richard Sherman (second from left) attended the U.S.- Mexico Chamber of Commerce Good Neighbor Awards Gala on May 24th with Kevin Keller of ASLRRA member HDR, Inc. (fourth from left).
Jo Strang Participates in NEMA Meeting
On May 23 ASLRRA Senior Vice President Safety, Regulatory and Environmental Policy Jo Strang attended a National Electrical Manufacturers Association (NEMA) meeting to discuss issues concerning railroads and electrification.
Meeting participants received updates from the U.S. Department of Energy on the national power grid and the Federal Railroad Administration, CN and Union Pacific on decarbonization efforts. One highlight of the meeting was mention of ASLRRA members Pacific Harbor Line and Sierra Northern Railway and their use of emission-reducing technologies in their operations.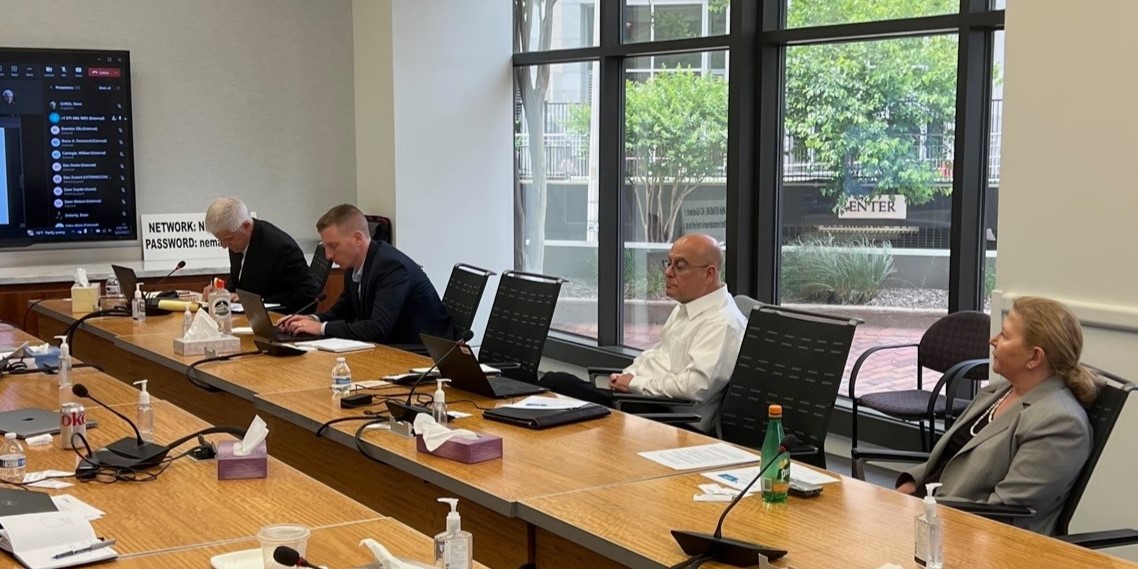 ASLRRA's Jo Strang (far right) listens to a presentation during a meeting of the National Electrical Manufacturers Association on May 23. The group discussed issues related to railroads and electrification.
Chuck Baker Travels to BNSF Corporate Headquarters for Short Line Caucus
This week, ASLRRA President Chuck Baker traveled to Atlanta, Georgia and Chicago, Illinois for two railroad industry meetings.
First, Baker was in Atlanta to attend Norfolk Southern's annual short line meeting. He then will travel to Chicago for the North American Rail Shippers Association (NARS) annual meeting, where he will introduce the speakers for the legislative update and short line update, Adam Nordstrom of Viking Navigation and Dean Piacente of OmniTRAX, respectively.
---

---
---

On-Demand Webinars
ASLRRA's In-House Experts Offer Webinars to Bolster Understanding of Regulatory Issues
ASLRRA's own subject-matter experts have presented several webinars on regulatory issues, including Federal Railroad Administration (FRA) requirements. ASLRRA members can access these recordings in the Association's On-Demand Webinar Library. Look for titles like:
Emergency Docket Waivers
FRA Penalties and Violations
FRA Regulatory and Program Requirements for Short Lines, Parts 1 and 2
Many recorded webinars also feature copies of the presentations available for download. Find these and nearly 200 other recorded webinars online at ASLRRA's webinar homepage.
Have an Idea for a Future Webinar?
ASLRRA also welcomes suggestions for new webinar content. Members with industry-specific expertise can contact Senior Vice President, Education and Business Sabrina Waiss to discuss opportunities for presenting educational content via the webinar platform. Thanks to generous sponsors, the Association's webinars are generally free to members.
Click here to learn more about ASLRRA's education offerings.
---

July 25-27: Short Line Safety Institute to Hold Leadership Development Training
The Short Line Safety Institute (SLSI) has opened registration for a second summer Leadership Development Training course, which will be held July 25 to 27 in Hollidaysburg, Pennsylvania. There are 12 spots available in this course, for which there is no attendance fee.
SLSI's Leadership Development Training is meant to help railroad managers at all levels of experience improve their leadership skills through interactive sessions. Participants will come away with new and improved communication and coaching skills, the ability to deliver more effective and constructive feedback and more.
Visit the SLSI's leadership development page here, or watch this video to learn more about the training program.
Short Line Safety Institute Welcomes New Manager of Program Support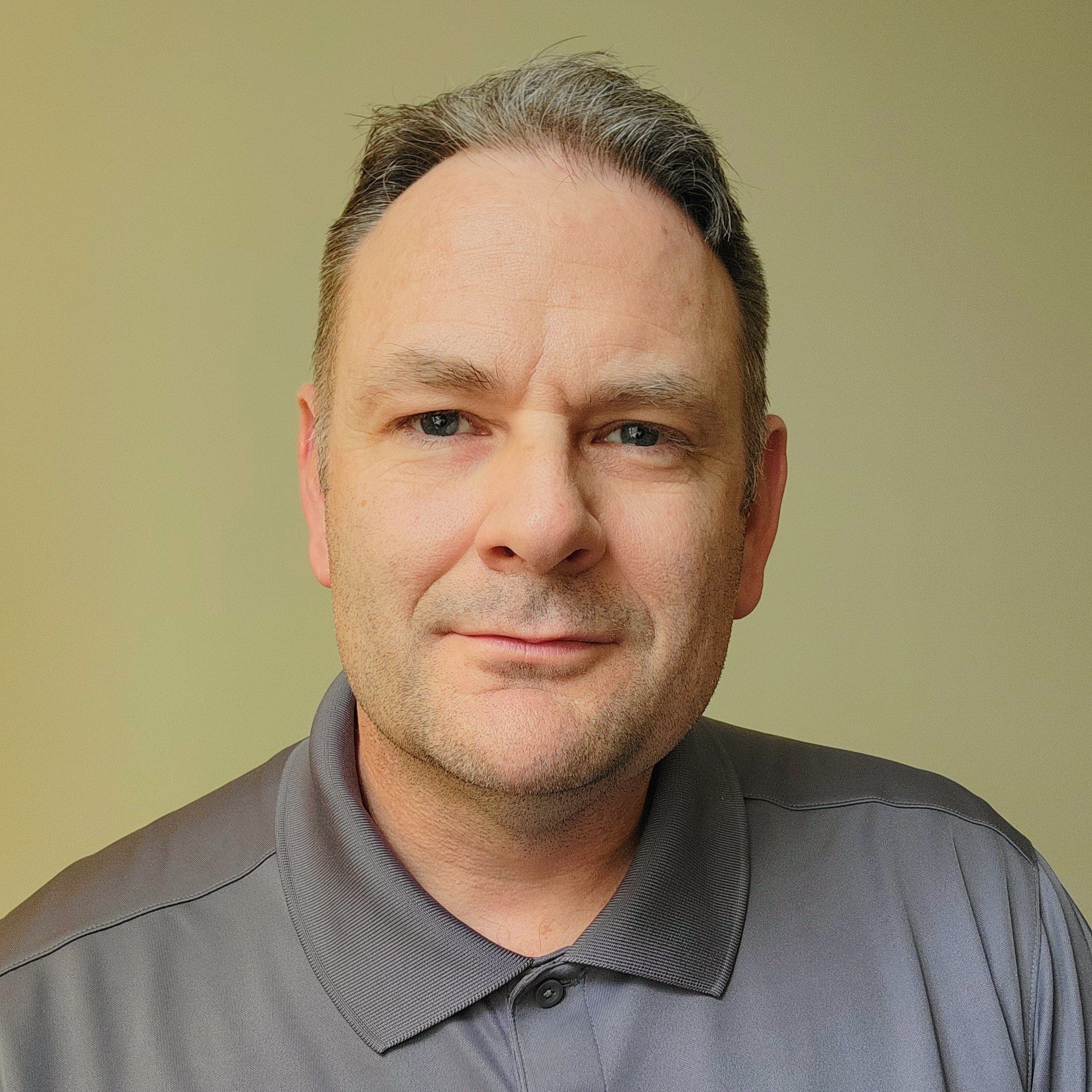 The Short Line Safety Institute has selected Ryan Risdon as the organization's new manager, program support.
Risdon brings more than 25 years of experience in railroad safety administration, compliance and emergency response management, adding to the SLSI staff's more than 600 years of hazardous materials safety experience.
In his role, Risdon will be instrumental in providing support to both the safety culture and hazardous materials training programs. Each of these programs has grown steadily, adding new elements such as Leadership Development Training, Transportation Emergency Response Plans (TERP) and Assistance for Local Emergency Response Training (ALERT) to address safety gaps in the short line railroad industry.
"We are excited to have Ryan aboard," said SLSI Executive Director Tom Murta. "He brings significant and diverse experience in managing the challenging environment of railroading from both the employee and contractor perspectives. In addition, his more than fifteen years as a firefighter and EMT volunteer will provide meaningful insight into how we can best serve the training needs of emergency personnel who may be called to the scene of a railroad incident."
Click here for a calendar of industry events.
---
Views & News is published by American Short Line and Regional Railroad Association.
Please contact Amy Krouse, editor, with questions or comments.