In This Issue:
We feature a profile of Jo Strang, SVP Safety, Regulatory and Environmental Policy in this issue. She celebrates her 10th year this month with ASLRRA. Learn how she got her start in railroading in our Announcements section
---

ASLRRA Asks PHMSA to Extend Comment Period by 60 Days for NPRM Hazardous Materials Real-time Train Consist Information
The American Short Line and Regional Railroad Association (ASLRRA), on behalf of itself and its member railroads, petitioned the Pipeline and Hazardous Materials Administration (PHMSA) for a 60-day extension of the time to submit comments in response to the Notice of Proposed Rulemaking (NPRM) in Docket No. PHMSA-2016-0015 (HM-263): Hazardous Materials: FAST Act Requirements for Real-Time Train Consist Information. ASLRRA stated that the ruling will have substantial impact on small business railroads, and the additional time will enable the Association to gather adequate information in order to respond.
As noted in last week's Views and News, ASLRRA believes the rule oversteps the mandates of Congress, as short lines were not included in statutory requirements in the FAST Act.
Consider Inviting a Member of Congress to Your Facility During the August Recess!
Both the House and Senate are scheduled to leave town 7/28 and not return until 9/5 in the Senate and 9/12 in the House. Now is the time to consider inviting members of your Congressional delegation to your railroad. ASLRRA's Government Affairs team is happy to help connect you with staff for any office if you'd like. Contact ASLRRA Assistant Vice President, Legislative and Regulatory Crystal Gitchell for assistance.
See the RJ Corman Visit announcement under Legislative for a great example of a visit!
Interested in learning more about ASLRRA's Advocacy work? You can find our positions on key issues in the Advocacy section of our website. Many pages have downloadable support materials, and are designed to educate Congressional Staff members and the media.
---

ASLRRA Files Comments On FRA's Supplemental Notice of Proposed Rulemaking on Breathing Apparatus
ASLRRA joined Association of American Railroads in filing comments to the Federal Railroad Administration's (FRA) Supplemental Notice of Proposed Rulemaking (SNPRM) on Emergency Escape Breathing Apparatus. The Notice proposes to amend 49 CFR part 227 to include requirements for the provision of emergency escape breathing apparatus (EEBA) when there are railroad personnel occupying a locomotive cab of a freight train transporting a hazardous material that would pose an inhalation hazard in the event of release during an accident.
The filed comments cite multiple issues that remain inadequately addressed in the proposal including the lack of safety benefit justifying this rule, fully accounting for costs associated with program management, insufficient time for compliance for Class II railroads, and burdens for small railroads. In addition, the comments note that the FRA has exceeded the congressional directives of rulemaking provided in section 413 of the Rail Safety Improvement Act of 2008 (RSIA).
---

---
---

As Congress readies for the final push of working days prior to the August Recess, ASLRRA is tracking several pieces of legislation that will have impact for Short Lines, including:
Rail safety legislation: Senate Majority Leader Chuck Schumer (D-NY) has continued to speak publicly about his desire to move forward the Brown-Vance rail safety bill (S. 576). The bill would need 60 votes to clear a procedural hurdle and be considered on the floor. On the House side, the ASLRRA's Legislative Policy Committee members and ASLRRA's Government Affairs team continue to engage with offices to show concern about the Senate measure should it pass the Senate and move to the House — or if the House takes up any of the several safety bills that have been filed since the East Palestine derailment.
Bipartisan support for disaster relief legislation grows: We continue building support for the Short Line Railroad Relief Act (H.R. 3782). This bill now has 17 cosponsors, including very strong Republican support and growing Democratic Support, including Earl Blumenauer (D-OR), and Angie Craig (D-MN) who have decided to back the bill. ASLRRA continues to seek cosponsors for the bill. For more information on this effort, visit our webpage.
Common carrier bill re-introduced. Before recess, Sen. Tammy Baldwin (D-WI), along with Sen. Roger Marshall (R-KS), refiled a version of a measure Sen. Baldwin has pursued in previous years: the Reliable Rail Service Act (S. 2071), which would lead to significant changes to the definition of common carrier. While this is much more focused on Class I carriers and is driven by the ag industry and shippers, ASLRRA will continue to engage as appropriate.
Higher Blends Infrastructure Incentive Program (HBIIP) Awards and NOFO for Future Awards Announced
Last week, the USDA announced winners of awards from the Higher Blends Infrastructure Incentive Program (HBIIP). The purpose of the HBIIP is to significantly increase the sales and use of higher blends of ethanol and biodiesel by expanding the infrastructure for renewable fuels derived from U.S. Agricultural products, and industry that is particularly reliant upon short lines for service. The list of winners, including 59 projects for a total of $25 million, is available here. In addition, USDA released a Notice of Funding Opportunity (NOFO) today for future funding awards. The deadline for applications will be each quarter, closing at 4:30 p.m. Eastern time on the last day of each quarter. USDA anticipates making $90M available each quarter. If you want to learn more about this opportunity, USDA is hosting a webinar tomorrow, Thursday, July 6, at 3:30 Eastern. Register here.
RJ Corman Hosts USDOT Secretary Pete Buttigieg For RAISE Announcement in Lexington, KY

Left to right: R. J. Corman Railroad Group Director of Government Affairs William Downey, R. J. Corman Railroad Group Commercial Development Manager April Colyer, U.S. Transportation Secretary Pete Buttigieg, R. J. Corman Railroad Company President Ray Goss, R. J. Corman Railroad Company VP of Transportation John Phillips, and R. J. Corman Railroad Company VP of Mechanical Todd Comer.
The U.S. Transportation Secretary Pete Buttigieg announced a RAISE grant for the City of Lexington on Thursday at R. J. Corman Railroad Company Central Kentucky Yard in Lexington, Kentucky.
The U.S. DOT will distribute $8,120,000 for a project to reconstruct and widen a railroad overpass on North Broadway in Lexington. This project will enable the addition of sidewalks and other roadway improvements along this important corridor. The funds will also increase the vertical clearance under the railroad overpass, which is part of R. J. Corman Central Kentucky Lines' operation, a partnership with CSX.
"We worked with R. J. Corman [in preparation for this grant application], our hosts today. They wrote a letter in support of our plan to improve the overpass," said Mayor Linda Gorton. "Rebuilding the railroad overpass will remove barriers, increase mobility, enhance safety, and improve the economic vitality of the area."
"Two years ago, right on the other side of the trains behind us, we were able to fund major improvements to the Central Kentucky Railroad, including a new freight facility, track rehabilitation, switch replacement, and better grade crossings," said Buttigieg.
A Consolidated Rail Infrastructure and Safety Improvements (CRISI) grant was awarded in 2022 to R. J. Corman Railroad Company to benefit the R. J. Corman Central Kentucky Lines (RJCC).
---

---
---

Jo Strang Celebrates 10 Years with ASLRRA
Jo Strang, SVP Safety, Regulatory and Environmental Policy has served the ASLRRA for 10 years. Jo represents the Association on a variety of national transportation industry committees, and advocates for members in regulatory matters. Jo advises and represents the Association's members nationally in regulatory matters, including on the Federal Railroad Administration's Railroad Safety Advisory Committee. She currently serves as Chair of the Board of Directors of Operation Lifesaver International, Chair of the Transportation Research Board's AR70 Committee (Railroad Safety), on the advisory committee for the railway engineering programs at University of Delaware and Penn State Altoona, and as the staff liaison for ASLRRA's Safety & Training and Environmental Committees.
"She has brought enhanced professionalism and credibility to the regulatory team at ASLRRA and has an acute knowledge of the government rulemaking processes. In addition, Jo has been a great mentor and boss – she is one of the most caring individuals I have ever known," said JR Gelnar, Vice President Safety & Compliance, ASLRRA.
We had the opportunity to sit down with Jo this week to talk about her ASLRRA experiences.
Q: How did you get your start in the railroad industry?
My career in transportation began with the U.S. Army, where I spent five years prior to joining the Federal Railroad Administration (FRA). I've done several stints at the FRA – including doing enforcement work in the field as the Deputy Regional Administrator in Chicago. I then took a position with the National Transportation Safety Board (NTSB) running the railroad accident division. I returned to the FRA to run Financial Assistance and Research & Development Office of the Deputy Associate Administrator, which led me to be asked to temporarily run the Office of Safety (the first female to do so). I ended up being the longest serving AA for Safety in the history of the agency.
I was honored to receive many awards including the first DOT Technology Transfer Award for my work in crash energy management and the Presidential Rank Award for running all of FRA during the transition to the Obama Administration. I also started the safety data initiative, opening safety data for use by developers and analysts on a project with the White House, where it was my privilege to work with the Chief Technology Officer of the United States. In many of these roles, I was the first female to be selected for those responsibilities. It is good to see so many more women in railroading today. As an aside, I met President Obama's dog, Bo, and got to eat at the White House mess in the process!
Q: What has been the initiative that you've been most proud of over the past ten years?
Starting the Short Line Safety Institute! As an industry, we knew we needed to focus on safety culture and did benchmarking with the Nuclear Regulatory Commission, NASA and DuPont with a lot of feedback and guidance from ASLRRA's Safety and Training Committee. We began a pilot program with help from the FRA's Office of Research & Development and relied on their expertise to develop the protocols for evaluating Safety Culture on short line railroads. Seeing the SLSI take off and flourish is very gratifying.
Advocating for, and beginning an ASLRRA Committee focused on environmental issues was another moment of pride, along with the Association joining Smartway as an Affiliate Member. The Environmental Committee is now one of our most active Committees, leading the way in environmental issues and emissions reductions.
Q: What do you enjoy most about your work at ASLRRA?
I love short lines and short line railroaders. They have an amazing "can do" attitude and can nimbly respond to any request I have. I enjoy helping them on matters of regulation, enforcement fairness, and safety and environmental practices.
Q: As you look to the rest of the year and beyond, what are you excited about for railroading/member engagement?
Continuing to advocate for our members with the Federal government in safety and environmental policy. Seeing the results of our research projects and hoping to influence public policy to protect the American public.
Q: What would our members be surprised to know about you?
I am an avid sea kayaker and try to get out on the ocean every day I can. In addition to my volunteer roles related to railroading, I assist in fundraising for the most awesome camp on Mount Desert Island, Maine — Camp Beech Cliff.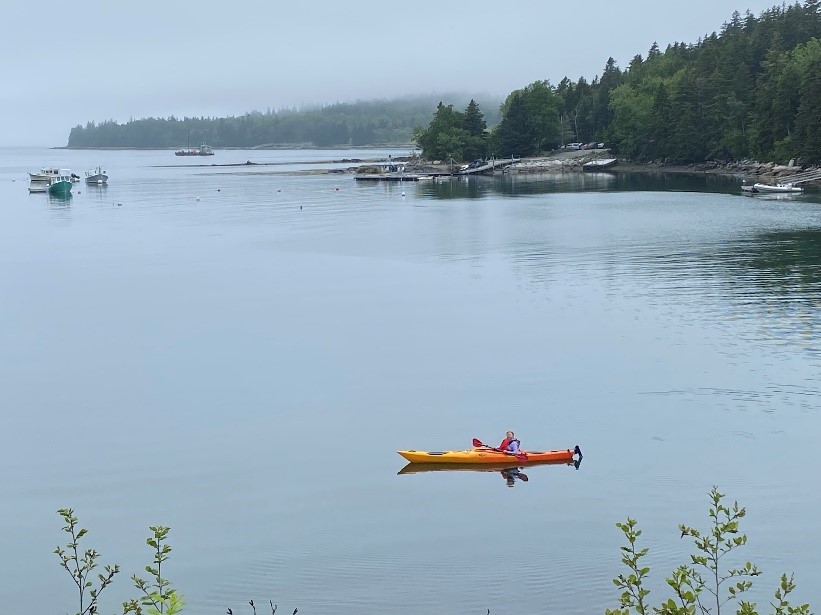 Jo Strang kayaking in Seal Cove, Maine.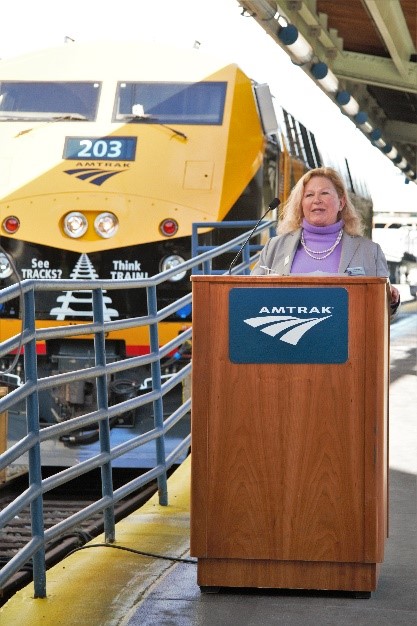 Jo Strang presenting on behalf of OLI.
Members Receive Preferred Pricing on Drug and Alcohol Testing Services with Spark TS
Spark TS is the exclusive Preferred Provider of drug and alcohol testing services in the Association's Member Discount Program. Spark TS's expert team has built a program to offer drug and alcohol testing services and programs to support railroads and contractors in finding the most effective strategies to manage their company, Part 219, and other DOT-regulated programs.
Spark's drug and alcohol program services include clinic and mobile and onsite testing services; laboratory and medical review officer (MRO) services; electronic chain of custody forms; and third-party administrator (TPA) - random testing and consortium.
Spark is passionate about helping railroads and contractors meet FRA drug & alcohol testing requirements, delivering key differentiators for drug and alcohol testing services including railroad industry-specific DAT expertise, online tools and key national partnerships. Visit ASLRRA's Member Discount Program page and click on the Spark TS logo to learn more!
Join ASLRRA's Member Discount Program as a Preferred Provider
ASLRRA is expanding the Association's Member Discount Program (MDP) to include Preferred Providers of electronic record-keeping, background screening, and payroll processing services. Plus, we're adding new providers to the grant writing services category.
ASLRRA is actively seeking proposals from member companies interested in participating in the program. Please contact Sabrina Waiss for the latest Request for Information (RFI) on the above-listed categories, or to recommend and discuss a new category of products and services for consideration.
---

Reminder: ASLRRA Joint Committee Meeting Registration Still Open
The work of the Association is guided by our Committees — if you are a member of a Committee, or interested in joining one, registration is still open for the Joint Committee Meeting in Anchorage, Alaska on August 21-23.
The meeting offers ASLRRA committee members an opportunity to gather and discuss issues impacting the short line and regional railroad industry across a number of key topic areas.
ASLRRA members who are not a part of committees but are interested in learning more about how they work and potentially joining one are welcome to attend. Follow this link to learn more or register.
ASLRRA's Regional Meetings are Open for Registration with Add-On Opportunities!
The Central and Pacific Region Meeting will be held Sept. 26 to 28 in Long Beach, California. In addition to the Region Meeting, consider attending the Leadership Development Training – Regulatory Module, co-located at the event, and hosted from September 26-27.
The Eastern and Southern Region Meeting will take place Nov. 7 to 9 in Lexington, Kentucky. The Association will also host its Finance and Administration Seminar and General Counsel Symposium in conjunction with the Eastern and Southern Region Meeting in Kentucky.
On November 9, 2023, RJ Corman will host a tour and lunch at their facility. Add this event on during the registration process.
Join the R. J. Corman Railroad Group in celebrating their 50th Anniversary with a delicious lunch prepared by their culinary team, followed by a guided tour of their headquarters in Nicholasville, Kentucky.
The tour will take you through R. J. Corman's 2,200-acre property, including stops at their shop complex, an R. J. Corman Material Sales yard, an R. J. Corman Railroad Services Emergency response division, and the R. J. Corman Signaling wiring shop. Don't miss out on this exciting event!
The Association continues to welcome sponsors for all fall events. Sponsorships come with many benefits for companies, including mentions on ASLRRA's website and social media profiles. Companies looking to sponsor ASLRRA's regional meetings should contact ASLRRA's Vice President, Meetings Amy Westerman.
---

---
---

ASLRRA's Fred Oelsner, Vice President, Data and Technology, attended the 2023 AAR Research Review in Pueblo, Colorado on June 27-28. The research review was hosted by MxV and featured updates on industry research efforts, and tours of MxV's new testing and training facilities.
---

Upcoming Webinars
Senior Policy Executive Adviser to the National Drug and Alcohol Screening Association Patrice Kelly will speak with webinar participants about the U.S. Department of Transportation's (DOT) newly published final rule to permit oral fluid drug testing. The rule will take effect when two laboratories are certified by the Department of Health and Human Services to conduct oral fluid testing. There are also other changes to the DOT's regulation for the procedural aspects of drug testing. This webinar is scheduled for 90 minutes to allow ample time for questions at the end of the presentation.
Other speakers include Mitch Harris, Vice President Safety & Compliance, Rio Grande Pacific Corporation; Holly Rainwater, CEAP, DOT Substance Abuse Professional (SAP), Lifeloc Master Trainer, Vice-President Drug and Alcohol Programs, Spark TS and Jo Strang, Senior VP, Safety, Regulatory, and Environmental Policy.
In this webinar, Loram Technologies Data Sciences Manager Brian Barthel and Quality and Production Manager Mitchell Christensen will focus on maintenance planning and practices designed to help optimize the life of your rail. Topics discussed include variables that cause premature rail replacement and rail grinding best practices to extend the life of rail.
Sponsored by Loram Technologies.
On-Demand Regulatory Webinars Presented by Subject Matter Experts
The following regulatory sessions, presented by Jo Strang, SVP Safety, Regulatory & Environmental Policy, JR Gelnar, VP, Safety & Compliance, and Sarah Yurasko, SVP and General Counsel are available in the On-Demand library. PDFs of all presentation materials are also available for download:
ASLRRA's online resource library offers nearly 200 webinar recordings on a variety of topics, from industry-specific finance, human resources and legal issues to business development, strategic communications and more. Log in here to search the library.
Have an Idea for a Future Webinar?
ASLRRA also welcomes suggestions for new webinar content. Members with industry-specific expertise can contact Senior Vice President, Education and Business Sabrina Waiss to discuss opportunities for presenting educational content via the webinar platform. Thanks to generous sponsors, ASLRRA's webinars are generally free to members.
Click here to learn more about our education offerings.
---

LRW Accepting Applications for the Connie Sumara Memorial Scholarship
The League of Railway Women are accepting scholarship applications for the 2023-2024 academic year. The deadline to submit your application is July 17th. The Connie Sumara Memorial Scholarship is awarded to a woman in the rail industry, seeking to further their education. The Future of Railroading Scholarship is awarded to students who will make an impact in the rail industry through their educational endeavors.
For more information and an application click here.
Click here for a calendar of industry events.
---
Views & News is published by American Short Line and Regional Railroad Association.
Please contact Amy Krouse, editor, with questions or comments.