---
Issue Highlights:
Regulatory – The FRA publishes a table identifying climate-related funding opportunities for rail projects
Legislative – ASLRRA submits a written statement for EPW hearing focused on rail emissions
Announcements – Views & News BOGO ad sale ends July 31
Out and About – Association staff visits member railroads
Webinars – New webinar added: 2023 Mid-Year Economic Update on Aug. 9
Industry Events – Five slots available for SLSI Leading Forward Class in August
---
---

Provide Feedback on Views & News by Completing a Brief Survey
ASLRRA is gathering feedback on its weekly Views & News e-newsletter to learn more about how readers perceive the newsletter and the information it provides. Please follow this link to complete a brief, five-minute survey.
Survey results will help the Association's communications team learn more about reader preferences and interests and understand whether changes are needed to help the newsletter better meet readers' needs.
---
ASLRRA Committee Profile: The Supplier Committee Offers a Unique Perspective and Valuable Insight
There are 14 standing committees that guide the work of the Association. With several committees gathering at the Joint Committee Meeting in Alaska in August and the regional meetings in the fall, we are telling readers about the many contributions of these groups to ASLRRA.
Most of ASLRRA's fourteen committees have supplier representatives as members. But you might not know that suppliers have a committee of their own as well.
The Supplier Committee, one of ASLRRA's newer committees – formed in 2016, was created by the ASLRRA board of directors in recognition of the growing support the Association receives from suppliers in terms of membership dues, sponsorships, and exhibit hall booths. In short, giving suppliers a greater voice and profile at ASLRRA.
The Committee is responsible for:
Addressing the needs and unique concerns of railroad industry suppliers, contractors and consultants to include assisting in the formulation of programs and services and enhancing existing programs that are of the greatest use to them.
Serving as a sounding board for guiding ASLRRA decisions on timing, location, layout of annual exhibition as well as sponsorship and networking opportunities.
Coordinating with other ASLRRA committees to ensure that the concerns and interests of suppliers are considered and addressed in initiatives they undertake.
Helping staff identify and develop cooperative opportunities to showcase supplier products and services to advance the short line industry.
Increasing, retaining and engaging ASLRRA membership for suppliers.
Any individual working for a supplier member company that's in good standing at ASLRRA can join the Committee. The committee, which currently has 28 members, is made up of representatives from small and large companies and includes a mix of firms that provide software, technology, administrative, mechanical, engineering, and consulting products/services.
The committee's officers are Chair Erika Bruhnke, vice president – training at RailPros, Vice Chairman Shea McLaughlin, senior director of sales at PS Technology, and Secretary Debbie Taylor, executive recruiter with Edna A. Rice, Executive Recruiters. ASLRRA's Kathy Keeney serves as staff liaison to the committee. Those who are interested in learning more or joining the committee can contact Keeney.
The committee meets at least four times a year – in person at the annual conference and at one of the fall regional meetings and via Teams for the other two meetings. The committee will give a presentation at next month's Joint Committee meeting in Anchorage and will hold a meeting at November's regional meeting in Lexington, Kentucky.
The list of the Committee's many proud accomplishments includes creating videos promoting attendance at ASLRRA events and the value of ASLRRA membership to suppliers, welcoming new supplier members, and encouraging more networking opportunities at events. On the education front, the Committee planned and moderated a well-attended procurement breakout session during this year's annual conference in New Orleans.
---

FRA Publishes Updated Chart Identifying Funding Sources for Climate-Related Rail Projects
A Federal Railroad Administration (FRA) chart includes links to applicable programs, brief program summaries and lists of eligible applicants for funding sources for climate-related rail projects. Some of the programs mentioned, other than familiar ones like Consolidated Rail Infrastructure and Safety Improvements (CRISI) grants, Port Infrastructure Development Program (PIDP) grants and Rebuilding American Infrastructure with Sustainability and Equity (RAISE) grants, include those from other federal agencies like the Department of Energy, U.S. Department of Agriculture and the Environmental Protection Agency.
ASLRRA's Member Discount Program features grant-writing Preferred Providers who can help with the application process for a variety of funding programs. The Association's subject-matter experts can also provide general information to help members navigate the world of federal funding sources. Contact ASLRRA's Assistant Vice President, Policy and Industry Affairs Richard Sherman with questions.
UPS, Teamsters Reach Tentative Agreement, ASLRRA Signed Letter to Biden Administration Concerning Dispute
Yesterday the International Brotherhood of Teamsters and UPS reached a tentative five-year agreement, avoiding a nationwide strike that would have started on Aug. 1.
Prior to yesterday's agreement, ASLRRA joined a letter sent by the U.S. Chamber of Commerce to President Joe Biden encouraging the Biden administration to help facilitate an agreement between UPS and the Teamsters.
The letter, signed by dozens of organizations representing shippers, manufacturers and others, as well as many state and regional chambers of commerce, highlighted the potentially devastating effects a strike by UPS workers would have on the national economy. UPS moves roughly $3.8 billion in goods per day, which comprises about one fourth of all packages shipped across the U.S. daily.
Terms of the agreement include pay raises this year and over the next five years, installation of air conditioning in new delivery vans, an end to forced overtime on drivers' scheduled days off and more.
---

---
---

Senate Passes THUD Appropriations Bill
On July 20 the Senate Appropriations Committee approved the fiscal year 2024 Transportation, Housing and Urban Development, and Related Agencies (THUD) appropriations bill. ASLRRA's government affairs team identified several points in the bill that affect railroads.
The bill provides $572 million for Consolidated Rail Infrastructure and Safety Improvement (CRISI) grants, which is more than the fiscal year 2023 spending total. The $572 million is in addition to the $1 billion guaranteed by the Infrastructure Investment and Jobs Act (IIJA).
Also receiving funding were RAISE and Port Infrastructure Development Program (PIDP) grants. The Railroad Crossing Elimination (RCE) program did not receive any additional funds. There was also a significant increase in funding for the Federal Railroad Administration's research and development and safety and operations divisions.
ASLRRA and CABT Seek Help Distributing Letter to Government Officials for Signatures
The Coalition Against Bigger Trucks (CABT), of which ASLRRA is a member, is encouraging local government officials to sign a letter addressed to members of Congress urging them to oppose legislation that would allow longer or heavier trucks on interstate highways.
CABT sent a version of the same letter to Congress in 2019, signed by over 1,000 local government officials. The coalition has renewed its efforts to gather signatures for another letter this year, as the House Transportation and Infrastructure Committee recently passed two bills, H.R. 3372 and H.R. 2948, that would increase the allowed truck weight to 91,000 pounds and the allowed auto-hauler truck weight to 88,000 pounds, respectively. Additionally, the appropriations bill recently passed by the Senate Appropriations Committee includes two provisions that would allow heavier trucks in certain scenarios.
ASLRRA joins CABT in asking individuals to share the 2023 letter with their elected officials and encouraging them to sign it. Those looking to share the letter can copy and send this link. History shows this type of grassroots effort is instrumental in advancing smart freight policy.
Written Statement from ASLRRA on Locomotive Emissions Focuses on Potential Harm of CARB Rule
ASLRRA submitted a written statement for today's hearing, held by the Senate Environment and Public Works Committee's Subcommittee on Clean Air, Climate and Nuclear Safety, titled "Cleaner Trains: Opportunities for Reducing Emissions from America's Rail Network."
A memo from committee staff said that the hearing is supposed to focus on "current federal locomotive multipollutant emissions standards and how changing these standards could affect American jobs, public health, and the environment."
In anticipation of a discussion during the hearing of the pending California Air Resources Board (CARB) rulemaking on locomotive emissions, ASLRRA's written statement focuses on the enormous harm CARB's rulemaking could bring to short line railroads in California as well as how the proposal conflicts with established federal law; creates a massive unfunded mandate that threatens to shut down small railroads in California that can't afford the cost of compliance; fails to recognize basic facts of short line rail economics and business practices; and could shift significant freight volume from rail to truck – actually increasing greenhouse gas emissions and imposing new dangers on America's roadways.
While the committee does not have jurisdiction over CARB, it does have jurisdiction over the Environmental Protection Agency (EPA), which will play a role in allowing CARB's policies to move forward. ASLRRA's government affairs team will continue to monitor the situation and advocate on behalf of member interests.
---

---
---

Christmas in July Sale Offers Discounted Newsletter Banner Ads – Book by July 31, 2023!
Looking to raise your company's profile before thousands of railroad industry buyers and influencers? Launch a product or new brand? The holidays have come early for your company as ASLRRA unveils a buy one/get one (BOGO) special offer for banner ads in our weekly digital newsletter, Views & News. The newsletter reaches more than 10,000 ASLRRA member contacts and other railroaders every week – providing valuable high visibility for your company and message.
Just book your new ads by July 31 and schedule them to run by the end of 2023. It's that simple. Contact ASLRRA's Kathy Keeney on (202) 585-3439 for more details. Limited time offer; subject to placement availability.
Members Receive Preferred Pricing on Drug and Alcohol Testing Services with Spark TS
Spark TS is the exclusive Preferred Provider of drug and alcohol testing services in the Association's Member Discount Program. Spark TS's expert team has built a program to support railroads and contractors in finding the most effective strategies to manage their company, Part 219, and other DOT-regulated programs.
Spark's drug and alcohol program services include clinic and mobile and onsite testing services; laboratory and medical review officer (MRO) services; electronic chain of custody forms; and third-party administrator (TPA) - random testing and consortium.
Visit www.aslrra.org/discounts and click on the Spark Training Solutions logo to learn more.
Access ASLRRA's Program Templates to Aid Compliance with Federal Regulations
To help members fulfill federal regulatory requirements, ASLRRA has developed a variety of compliance templates for different parts of 49 Code of Federal Regulations (CFR). Some of the areas of focus include:
Part 213 (Continuous Welded Rail)
Part 214 (Roadway Worker Protection)
Part 228 (Hours-of-Service)
Part 232 (Brake System Safety Standards)
These are only a few of the template programs available to members in the Safety & Compliance section of the ASLRRA website. Members can log in under "Compliance Templates" and choose from a variety of resources. Additional information concerning requirements for record retention, contractor safety training and more can be found in this section.
All templates are available at no cost to railroad members, and select templates are available free to associate business members and for a fee to non-member railroads. Visit www.aslrra.org/safety to access the complete collection of safety and compliance tools, resources and information available from the ASLRRA.
ASLRRA Regulatory Training for Leaders to be Held at Regional Meeting, Scholarships Available to Help Cover Costs
ASLRRA will offer its Leadership Development Training – Regulatory Module at the same location as the Association's Central and Pacific Region Meeting. The leadership training will take place Sept. 26 to 27 in Long Beach, California, overlapping with the regional meeting.
ASLRRA's leadership development seminar covers a broad selection of topics, including an overview of the federal agencies that regulate railroads and a discussion of federal legislation and leadership qualities for managers. The course will also discuss the Code of Federal Regulations (CFR) Part 217, Part 218, Part 219, Part 225, Part 228, and Part 243.
ASLRRA offers scholarships of up to $1,200 to help employees of small railroads offset registration fees and costs for travel and lodging. Click here to learn more about the scholarship program, or here to apply for a scholarship. Applications are accepted and processed on a rolling basis.
---

Hear From PHMSA's Associate Administrator for Hazardous Materials at November's Regional Meeting
Attendees at ASLRRA's Eastern and Southern Region Meeting in Kentucky will have the opportunity to hear from William S. "Bill" Schoonover, associate administrator for hazardous materials safety at the Pipeline and Hazardous Materials Safety Administration (PHMSA).
Schoonover serves as PHMSA's senior career official for hazardous materials safety oversight. Previously, he served as the deputy associate administrator for field operations, leading PHMSA's comprehensive oversight program including enforcement, special investigations, outreach and engagement, investigator training through PHMSA's five regional offices, and coordination of activities with modal partners. His 35-year career in hazardous materials safety includes 20 years at the Federal Railroad Administration.
ASLRRA's meetings team continues to add industry- and subject-matter experts to the slate of speakers at each regional meeting. Find an agenda, including a list of educational sessions and speakers, at each regional meeting's registration page.
The Association welcomes sponsors for all fall events. Companies looking to sponsor ASLRRA's regional meetings should contact ASLRRA's Vice President, Meetings Amy Westerman.
---

---
---

ASLRRA Staff Tours Facilities of Delmarva Central and Winchester and Western
Last week and this week several members of ASLRRA's staff visited ASLRRA members Delmarva Central Railroad and Winchester and Western Railroad Company, respectively.
During both visits, staff engaged in discussions on short line operations and business development activities with railroad representatives. Staff also learned more about how various regulations have impacted local railroads.
The Association appreciates the hospitality of its members and embraces the opportunity to learn more about the organizations it represents, enabling ASLRRA staff to gain valuable first-hand knowledge.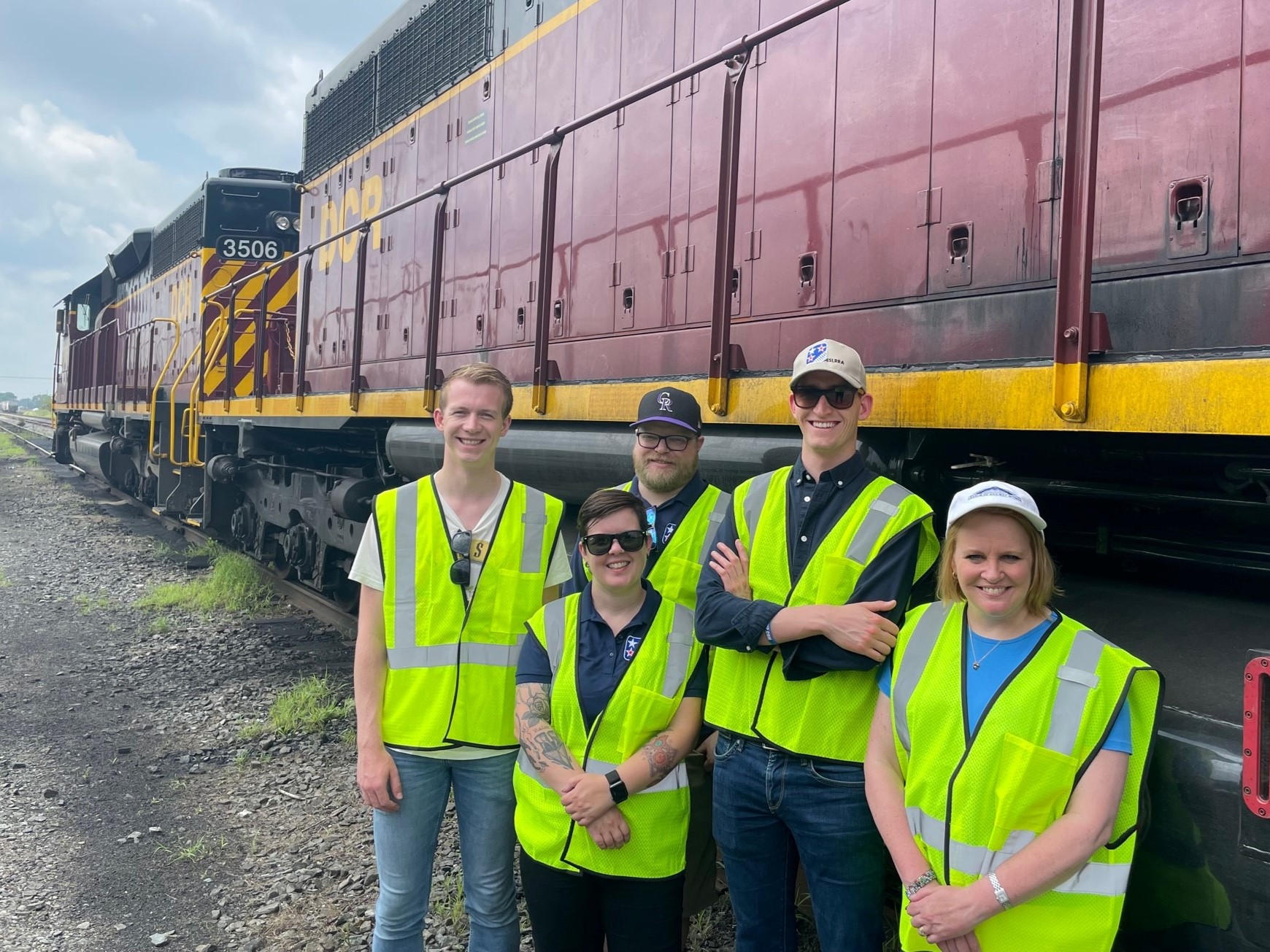 ASLRRA staff and interns visited member Delmarva Central Railroad last week.
Senior Advisor Mike Ogborn Testifies Before Colorado Transportation Legislation Review Committee
On July 24, ASLRRA Senior Advisor Mike Ogborn testified at the Colorado General Assembly interim Transportation Legislation Review Committee hearing as part of a railroad panel addressing safety issues. Ogborn's presentation to the committee's 25 legislators explained how short lines work to address safety issues and ensure safe operations.
---

Upcoming Webinars
Join Association of American Railroads (AAR) economists Luisa Fernandez-Willey and Dan Keen for a discussion of what happened with freight traffic and the economy in the first half of 2023 and learn what economic indicators to watch for as we close in on the fourth quarter and year-end.
Most short-line freight railroads are very familiar with the FRA's CRISI grant program. But there are other federal grant programs that can support freight rail investments which could be a fit for a short line railroad project. In this webinar, ASLRRA's Richard Sherman and Zach Radford will survey these programs, discussing elements like eligibility, match requirements, schedules and historical award patterns.
In this webinar, Loram Technologies Data Sciences Manager Brian Barthel and Quality and Production Manager Mitchell Christensen will focus on maintenance planning and practices designed to help optimize the life of your rail. Topics discussed include variables that cause premature rail replacement and rail grinding best practices to extend the life of rail.
Sponsored by Loram Technologies.
On-Demand Webinars
Review the Basics of Part 225 with On-Demand Webinars
ASLRRA works with the Federal Railroad Administration (FRA) to produce resources for Association members, including webinars discussing regulatory compliance. One popular webinar series covers 49 CFR Part 225, Railroad Accidents and Incidents, and recordings of those webinars can be found in ASLRRA's On-Demand Webinar Library. Look for the following titles:
Part 225 Back to Basics, Part 1: Injuries
Part 225 Back to Basics, Part 2: Rail Equipment
Part 225 Back to Basics, Part 3: Highway-Rail Grade Crossing
These webinars are only a few of the over 170 recordings available on a wide variety of topics including finance, human resources and technology. ASLRRA members can access the On-Demand Webinar for free while non-members can purchase a subscription. Click here to access the webinar library today.
Click here to learn more about our education offerings.
---

August 22-24: Five Spots Available in Short Line Safety Institute Leading Forward Class
The Short Line Safety Institute's (SLSI) Leading Forward – Skills Development for Railroad Professionals class, formerly known as Leadership Development Training, will be held from Aug. 22 to 24 in Chattanooga, Tennessee, and five spots are available.
Like all SLSI's training opportunities and resources, this course is offered at no charge to railroads. Click here to register for the course.
Once registration is full, those still interested can email SLSI Director of Safety Culture Programs Sam Cotton at slsi@shortlinesafety.org to join a waitlist. Railroads can also host a regional or railroad-specific leadership training event. Contact Cotton to discuss scheduling such an event.
SLSI also communicates directly with subscribers to inform them of organization news, including new safety and hazmat tips. Sign up to receive SLSI communications at the bottom of the home page here.
Click here for a calendar of industry events.
---
Views & News is published by American Short Line and Regional Railroad Association.
Please contact Amy Krouse, editor, with questions or comments.