---
Issue Highlights:
Regulatory – OMB issues Buy America guidance; New FRA Safety Bulletin focuses on recent fatality
Legislative – ASLRRA member Kanawha River Railroad host senator staffers
Announcements – ASLRRA welcomes suggestions from members for new webinar content
ASLRRA Events – New education sessions added to General Counsel Symposium
Industry News and Events – FRA's second-annual Rail Share event scheduled for November
---
---

ASLRRA Committees Meet in Alaska
Ten of ASLRRA's 14 standing committees wrapped up their joint session today in Anchorage, Alaska. On Tuesday, attendees heard presentations from the General Counsel, Insurance, Mechanical, Locomotive, Young Professionals, Technology, Small Railroad, Supplier, Environmental, and Engineering Committees on recent activities and future plans. Each committee also met separately on Wednesday.
Tuesday's events also featured special presentations by Alaska Railroad representatives, including an overview of their drone program and the railroad's history. In addition, attendees received an update on the new Department of Transportation oral fluids testing rule and the Short Line Training Center, a joint project between the ASLRRA and Iowa Northern Railway Company.
ASLRRA extends a special thank you to the Alaska Railroad, which provided outstanding facilities and a special train ride on Monday, and sponsors ESRI, Spark TS, Wabtec Corporation, PS Technology, Railcomm, and Cedar AI for making the meeting possible, and to the Association's Technology Committee for their contributions in the planning and management of the meeting.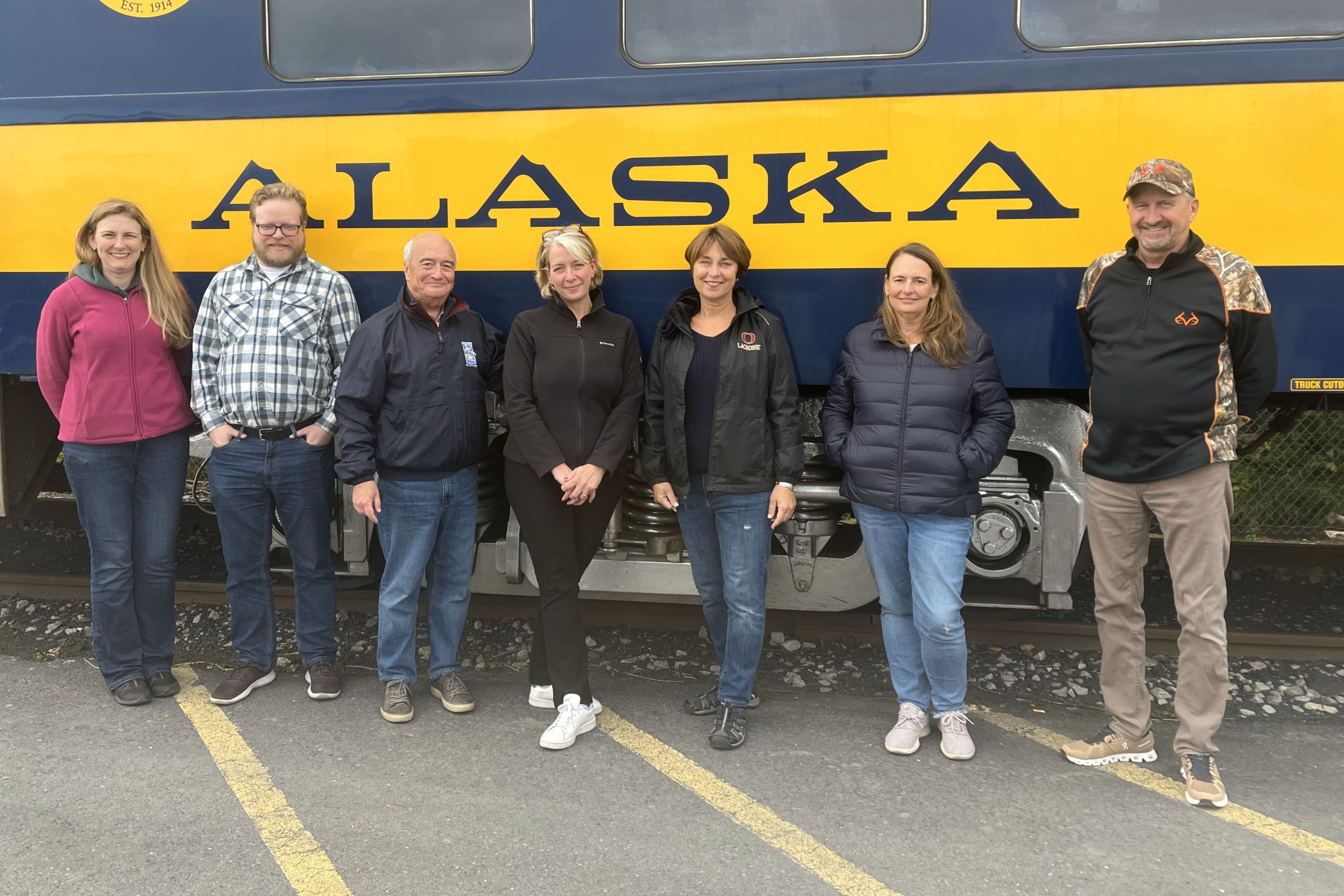 Several ASLRRA staff members participated in a day-long train excursion hosted by Association member Alaska Railroad for meeting attendees.
STB Announces Openings on Advisory Committee
There are six vacancies on the Surface Transportation Board's (STB) Rail Energy Transportation Advisory Committee (RETAC), two of which are reserved for representatives of Class II and III railroads.
The vacancies are for three-year terms ending in 2026. Individuals can nominate themselves for the position, with nominations due Sept. 15.
The RETAC is a federal advisory committee with energy and rail industry stakeholders who provide policy advice to the STB and promote open communication on issues like rail performance, capacity constraints, infrastructure planning and development, and effective coordination among suppliers, railroads, and users of energy resources.
Those who are considering submitting a nomination should contact ASLRRA's Zach Radford to convey their interest.
---

---
---

OMB Releases Build America, Buy America Guidance
The Office of Management and Budget (OMB) has released a notification of final guidance concerning requirements under the Build America, Buy America Act (BABA), which is part of the Infrastructure Investment and Jobs Act (IIJA).
A new section of the guidance provides clearer, more consistent guidance about how federal agencies can apply the domestic content procurement preference for infrastructure projects. There is also information about determining the cost of components of manufactured products and proposing and issuing Buy America waivers. The effective date for this revised guidance is Oct. 22.
Recipients of federal funding like Consolidated Rail Infrastructure and Safety Improvements (CRISI) grants and Railroad Crossing Elimination (RCE) grants are subject to the BABA provisions. The Federal Railroad Administration (FRA) has a Buy America website meant to help railroads understand the law's requirements. Included on the site are answers to frequently asked questions and a link to a webinar presentation made in June.
FRA Grants 15-Day Extension for Comment Period on Proposed Certification Rules
The Federal Railroad Administration (FRA) has again met ASLRRA halfway in approving an extension of the comment period for two proposed rules concerning certification of dispatchers and signalmen. The Association asked for an extra 30 days to submit comments and the FRA agreed to 15.
The new deadline for comments is Sept. 14. ASLRRA initially asked for a 60-day extension of the comment period in July, but the FRA only granted 30. On July 24, the FRA provided additional information in the rulemaking docket to support the agency's regulatory impact analysis. This delay in providing the information prompted ASLRRA to submit its second extension request. The Association intends to comment on both proposed rules.
The rules would require railroads to develop certification programs for signal employees and dispatchers and submit those programs to the FRA for approval prior to implementation. Railroads would need to develop a process to train signal employees and dispatchers and verify their skills, as well as a process to revoke their certification.
FRA Safety Bulletin Provides Recommendations After Fatal Accident Involving a Close Clearance
A new Safety Bulletin from the Federal Railroad Administration (FRA) concerns an Aug. 6 fatality of a conductor trainee during a yard shoving move.
The trainee and conductor were both riding on the same side of two intermodal well cars when the movement approached three parked locomotives on an adjacent track. The shove movement continued despite the track centers becoming narrower. The conductor was able to position himself to pass the locomotives but the trainee could not and received fatal crushing injuries.
In the Safety Bulletin, the FRA asks railroads to review the dangers of close clearances with employees, especially when they are riding moving equipment. Specific recommendations include suggesting railroads review their training programs to ensure employees are adequately prepared to identify and deal with dangerous situations. Railroad should also identify close clearance tracks where employees should not ride equipment and post those findings, and consider marking all permanent close/no clearance situations with highly visible signs.
TSA Allows More Time for Comments on Security Vetting of Transportation Employees
The Transportation Security Administration (TSA) has extended the comment period on its notice of proposed rulemaking (NPRM) concerning security vetting of certain transportation employees, including some railroad workers.
Comments on the proposed rule are now due Oct. 1. ASLRRA staff is reviewing the rule and intends to comment.
The proposed rule would mandate employees in what are deemed to be security-sensitive positions at certain railroads be vetted on their immigration status and against terrorist watch lists. Employees serving as security coordinators would also be required to submit to a criminal history check.
Small railroads currently required to comply with TSA's 2020 Security Training Rule would be among the railroads required to adhere to the new rule. TSA plans to levy a fee for each background check, with varying fees based on the complexity of the process and whether the employee has previously been vetted.
Updated Discretionary Grant Calendar Gives Dates for Funding Opportunities and Award Announcements
An updated discretionary grant calendar is now available on the Federal Railroad Administration website. The calendar includes anticipated publication dates for funding opportunities and award announcements.
Of note for ASLRRA members is the announcement of fiscal year (FY) 2022 Consolidated Rail Infrastructure and Safety Improvement (CRISI) grant awards, which is expected this month or next month. Then, at the end of the year, the FRA expects to release a combined FY23-24 NOFO for the next round of CRISI grant funding.
The notice of funding opportunity (NOFO) for FY23 Railroad Crossing Elimination (RCE) grants is expected in September or October, and the FY22-23 Restoration and Enhancement grant NOFO should follow in November.
Several Reports on Railroad-Related Research Newly Available on FRA Website
The Federal Railroad Administration (FRA) periodically publishes technical reports and research results in its FRA eLibrary, where it publishes all documents found throughout its website.
The FRA recently released a number of reports on findings from various studies, including several concerning tread buildup and railcar bolsters and side frames. Follow the links below to view each FRA report.
---

Senator Capito Staffers Visit ASLRRA Member Kanawha River Railroad
James Longley and Todd Gunter, staff members in the office of Senator Shelley Moore Capito (R-W.V.), recently sat down with representatives from ASLRRA member Kanawha River Railroad (KNWA) to discuss issues important to the railroad and the railroad industry in West Virginia and the U.S.
KNWA Interim General Manager Thomas Nicholson, Chief Mechanical Officer David Larch, Roadmaster Frank McKinney, Assistant Roadmaster Rodney Huffman and Trainmaster Brien Runyon spoke with Longley and Gunter about locomotive, rail car and track inspections, including digital inspections. The group also discussed lack of federal funding for flood damage repairs, defect detectors, federal regulations and labor issues.
The meeting offered KNWA's team an opportunity to share the short line perspective with those who work directly with congressional lawmakers, bringing lawmakers' attention to the unique needs and concerns of the nation's small railroads. Although Congress' summer recess is coming to an end, ASLRRA encourages its members to reach out to their congressional delegation to invite them and their staff on site visits. Doing so builds crucial rapport between railroads and those on Capitol Hill. Those railroads that may need help making initial introductions can contact ASLRRA's Crystal Gitchell for assistance.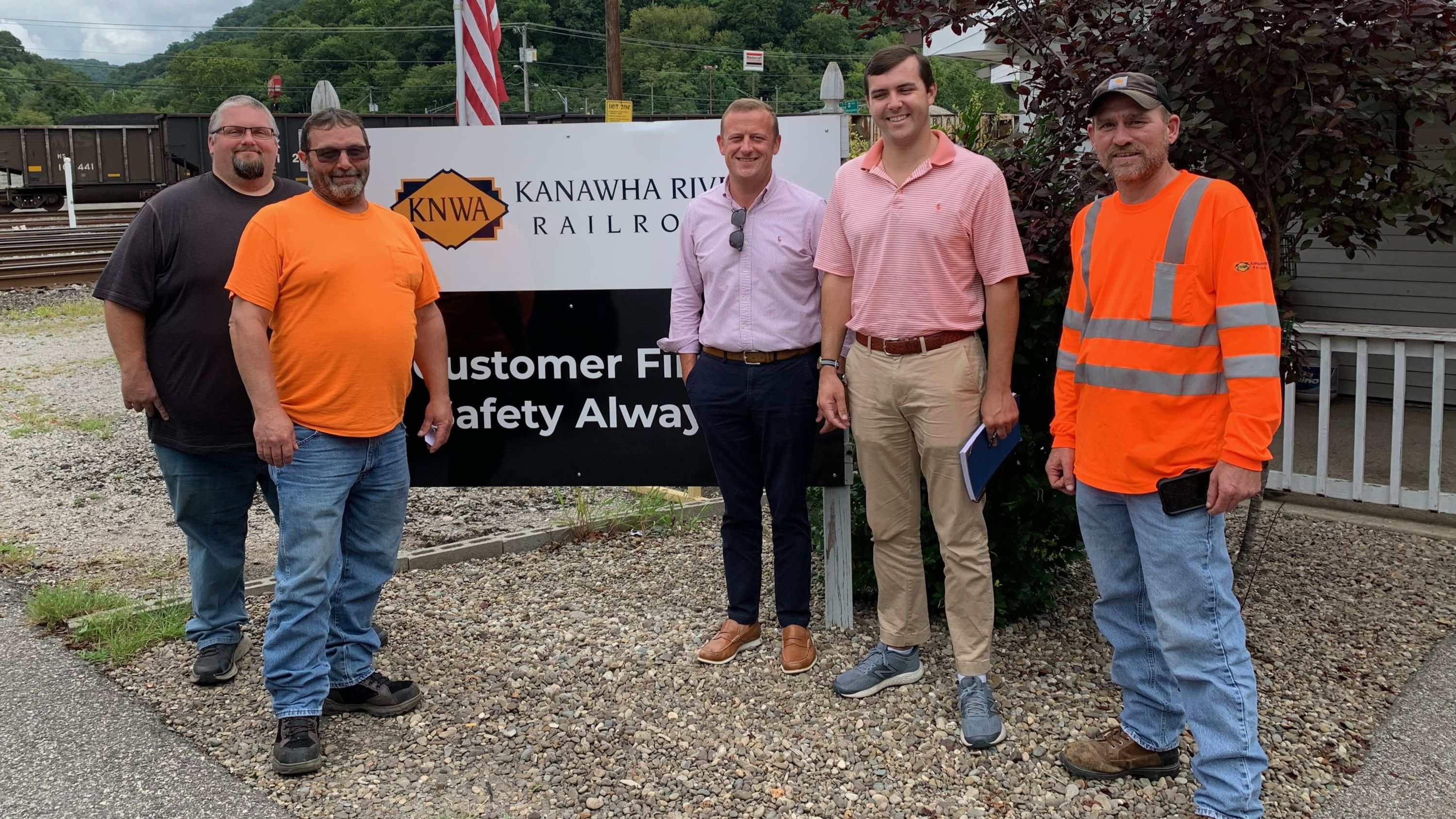 Meetings with lawmakers and their staff are an effective way for short lines to build relationships and communicate industry concerns. Recently, ASLRRA member Kanawha River Railroad (KNWA) hosted individuals from the office of West Virginia Senator Shelley Moore Capito. Pictured from the visit are (L to R) KNWA's Thomas Nicholson and Frank McKinney, Senator Capito staffers Todd Gunter and James Longley and KNWA's Rodney Huffman.
Local Government Leaders Write Letter Expressing Opposition to Heavier Trucks on Highways
Last week, the National Association of Counties (NACo), National League of Cities (NLC) and U.S. Conference of Mayors (USCM) sent a letter to the chairs and ranking members of the House Appropriations, Transportation and Infrastructure and Agriculture Committees opposing any federal increases to truck size and weight.
The letter makes several points, including the danger bigger, heavier trucks pose to local communities; the significant new infrastructure maintenance costs arising from damaged roadways caused by heavier trucks; and the current inability of many local governments to absorb new costs.
While some of the arguments brought forth in the letter are similar to those expressed by other organizations, including ASLRRA, the cosigners focus on their experience as local government administrators and leaders who must often bear the burdens imposed on their constituents by federal regulations. In particular, the group notes that while they are strongly supportive of bipartisan solutions to current supply chain issues, heavier and longer trucks are simply not the panacea many lawmakers envision.
---

---
---

Discount Program Offers Products and Services at Preferred Pricing
The money saved using ASLRRA's Member Discount Program Preferred Providers could pay for annual dues and then some. ASLRRA's Member Discount Program leverages the buying power of all association members to secure discounted pricing on essential business products and services.
From personal protective equipment and railroad tie inspections to drug and alcohol testing programs and grant writing services, ASLRRA's Discount Program Partners have you covered. Visit aslrra.org/discounts for details and start saving today!
Join ASLRRA's Member Discount Program as a Preferred Provider
ASLRRA is expanding the Association's Member Discount Program (MDP) to include Preferred Providers of electronic record-keeping, background screening, and payroll processing services. Plus, we're adding new providers to the grant writing services category.
ASLRRA is actively seeking proposals from member companies interested in participating in the program. Please contact Sabrina Waiss for the latest Request for Information (RFI) on the above-listed categories, or to recommend and discuss a new category of products and services for consideration.
Training Videos Help Members Comply with Federal Drug and Alcohol Training Requirements
ASLRRA strives to assist members with industry best practices and compliance throughout their operations by offering a wealth of safety and compliance resources. Training videos are a popular and important safety resource available as a direct download from the Association website.
The Post-Accident Toxicological Testing Video is an interactive training video that provides instruction on when and how to administer post-accident drug and alcohol tests. ASLRRA also offers a Reasonable Suspicion Drug & Alcohol Signs and Symptoms Video that provides detailed direction on drug and alcohol testing guidelines.
Visit www.aslrra.org/safety to access the full complement of safety and compliance tools, resources and information available from ASLRRA.
ASLRRA Seeks Members With Webinar Ideas
ASLRRA is always welcoming suggestions for new webinar content. Members with industry-specific expertise can contact Senior Vice President, Education and Business Sabrina Waiss to discuss opportunities for presenting educational content via the webinar platform.
Thanks to generous sponsors, the Association's webinars are generally free to members. While the webinars themselves focus on educational content, session sponsors receive visibility in various ways including logo placement in ASLRRA communications and a 60-second promotional video run at the beginning of the webinar.
---

Join Railroad Colleagues to Honor President's Award Winners at ASLRRA's Regional Meetings
One event unique to ASLRRA's regional meetings is the presentation of President's Awards for Outstanding Safety. At both meetings the Association will recognize member railroads in each region with the lowest accident frequency rate per person-hours worked.
Register today to join industry colleagues in recognizing safety excellence. Attendees at both meetings will also be able to participate in educational sessions, networking opportunities and sandhouse sessions. The Central and Pacific Region Meeting will be held Sept. 26 to 28 in Long Beach, California, while the Eastern and Southern Region Meeting will take place Nov. 7 to 9 in Lexington, Kentucky.
Four Presentations Added to General Counsel Symposium Agenda
Attendees at ASLRRA's General Counsel Symposium will have the chance to participate in several railroad-focused education sessions, including the following:
What's Cookin' at the Surface Transportation Board (STB)
An NTSB Investigation Case Study: East Palestine
What Happens When You Get Sideways With the Board
Effective Use of Indemnity Agreements to Shift Liability Away from the Railroad
ASLRRA's Finance and Administration Seminar will also offer railroad professionals in the finance and human resources sectors several options for engaging educational sessions.
Both the General Counsel Symposium and Finance and Administration Seminar are co-located with the Eastern and Southern Region Meeting held Nov. 7 to 9 in Lexington, Kentucky.
ASLRRA continues to welcome sponsors for its Finance and Administration Seminar and General Counsel Symposium. Contact ASLRRA's Vice President, Meetings Amy Westerman to learn more.
---

---
---

Upcoming Webinars
Most short-line freight railroads are very familiar with the FRA's CRISI grant program. But there are other federal grant programs that can support freight rail investments which could be a fit for a short line railroad project. In this webinar, ASLRRA's Richard Sherman and Zach Radford will survey these programs, discussing elements like eligibility, match requirements, schedules and historical award patterns.
In this webinar, Loram Technologies Data Sciences Manager Brian Barthel and Quality and Production Manager Mitchell Christensen will focus on maintenance planning and practices designed to help optimize the life of your rail. Topics discussed include variables that cause premature rail replacement and rail grinding best practices to extend the life of rail.
Sponsored by Loram Technologies.
On-Demand Webinars
ASLRRA's Experts Cover Important Regulatory Information in Recorded Webinars
ASLRRA's in-house subject-matter experts have presented several webinars focused on important regulatory topics. Recordings of these webinars are available at any time to ASLRRA members through the Association's On-Demand Webinar Library. Log in and search the regulatory category to find titles like:
Emergency Docket Waivers
FRA Penalties and Violations
FRA Regulatory & Program Requirements for Short Lines, Part 1
FRA Regulatory & Program Requirements for Short Lines, Part 2
Visit ASLRRA's On-Demand Webinars Page and log in to access a complete list of all ASLRRA's nearly 200 webinar recordings.
Click here to learn more about our education offerings.
---

Nov. 28-29: Second Annual Rail Share to Take Place in Missouri
The Federal Railroad Administration (FRA) will hold its second annual Rail Share forum Nov. 28 to 29 in Kansas City, Missouri.
This free event offers presentations, panel discussions, question and answer sessions and keynote addresses meant to enhance an understanding of industry initiatives and foster an environment that encourages sharing of safety best practices.
Click here to learn more about the event, find hotel information and register.
Click here for a calendar of industry events.
---
Views & News is published by American Short Line and Regional Railroad Association.
Please contact Amy Krouse, editor, with questions or comments.