---
Issue Highlights:
Regulatory – ASLRRA files comments on certification NPRMs; SBA to hold roundtable on DOL overtime rule
Legislative – Two new organizations sign on in support of Short Line Railroad Relief Act
Announcements – ASLRRA seeking Preferred Providers of electronic record-keeping, background screening and grant writing services
ASLRRA Events – FRA to hold office hours to answer grant questions at Central and Pacific Region Meeting
Out and About – ASLRRA's Sarah Yurasko featured in Vanguard Law Magazine profile
---
---

Rail Industry Bands Together to Help Operation Lifesaver Raise Awareness of Rail Crossing Safety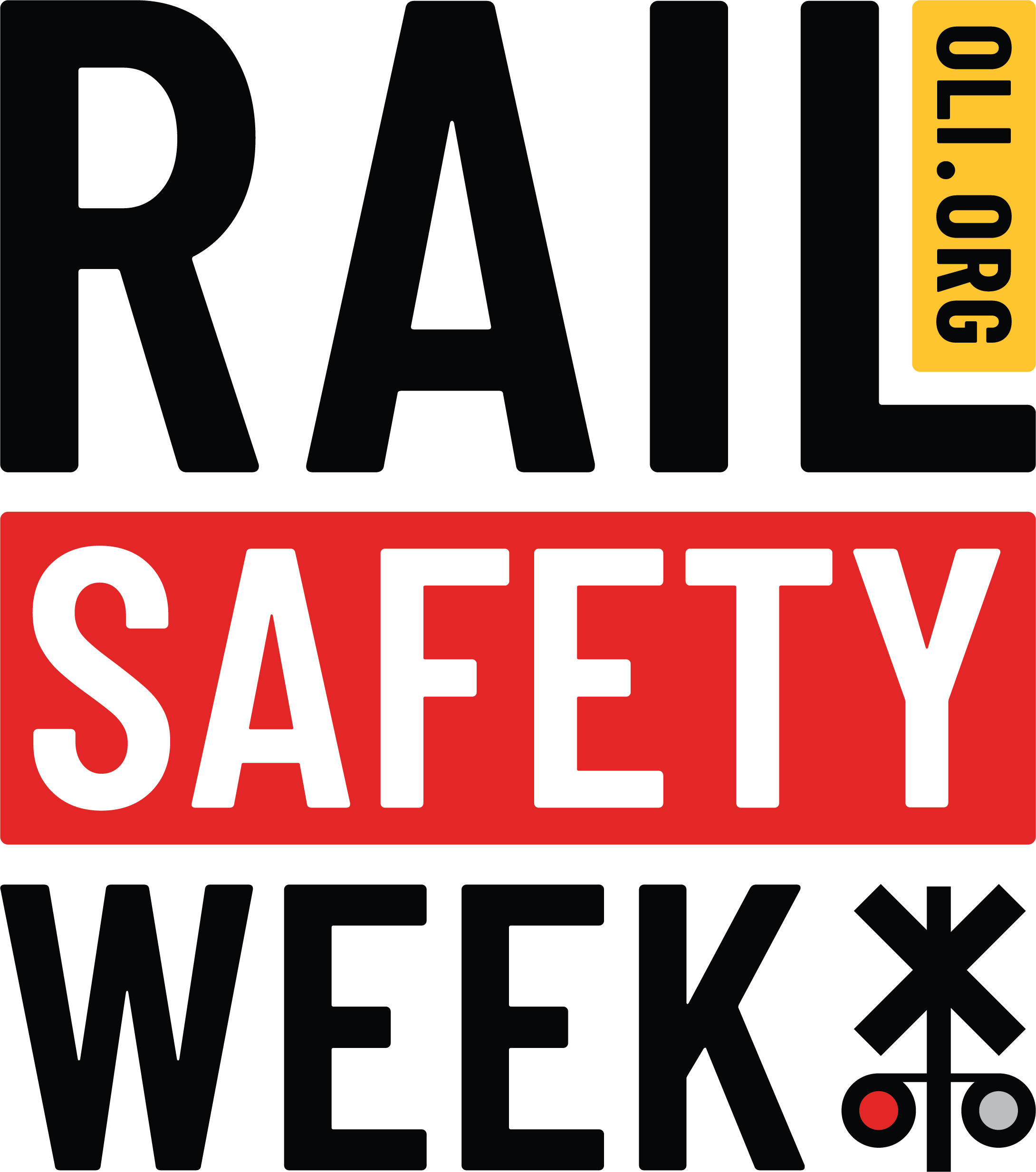 Operation Lifesaver, Inc. (OLI), Operation Lifesaver Canada and the Mexican Association of Railroads are focusing on public safety around railroad grade crossings across North America during Rail Safety Week, held Sept. 18 to 24.
ASLRRA joins the many rail industry organizations and stakeholders helping spread OLI's Rail Safety Week messages. Participants will share information about staying safe near railroad tracks and trains to groups including professional and school bus drivers, farmers, outdoor enthusiasts, photographers and more.
In line with OLI's themes for each day of the week, ASLRRA posts information and graphics to target certain audiences, share specific information and highlight important initiatives. One of the themes of the week is Friday's wear red for rail safety day, which encourages people to wear red for rail safety awareness. As in previous years, ASLRRA will share pictures of staff members in red.
OLI has organized Rail Safety Week since 2017, with Operation Lifesaver Canada joining in 2018 and Mexico in 2020. State-level Operation Lifesaver organizations also participate, mobilizing their local government officials, public and private partners and volunteers to engage online and at in-person events like Tuesday's Operation Clear Track.
Those looking to participate during this week can like and share the rail safety messages they see on social media. Individuals hoping to become more active in the rail safety education effort can become Operation Lifesaver Authorized Volunteers through their state programs. Find links to individual state organizations here.
---

ASLRRA Files Multiple Comments on Proposed Certification Rules
ASLRRA represented the interests of short line railroads in four responses filed this week to the Federal Railroad Administration's (FRA) notices of proposed rulemaking (NPRMs) concerning the certification of dispatchers and the certification of signal employees. The Association filed joint comments with the Association of American Railroads (AAR) for both the signal employee and dispatcher NPRM, joint comments with the National Railroad Construction and Maintenance Association (NRC) concerning the signal employee NPRM and standalone comments on the dispatcher NPRM.
In joint comments with AAR on signal employee certification, the associations say there is no safety gap identified that this rulemaking would close; point out that the action does not comply with Section 402 of the Rail Safety Improvement Act (RSIA) of 2008; is no longer necessary with widespread adoption of PTC; and more. Furthermore, ASLRRA and AAR argue railroads should not be responsible to certify non-employees.
In joint comments with AAR on dispatcher certification, the associations again note the lack of a safety gap the rule would address. In addition, the comments point out shortcomings in the NPRM's benefits statement, highlight inconsistencies in definitions with other regulations and identify implementation issues for railroads.
In joint comments with the NRC on signal employee certification, and in its own standalone comments on dispatcher certification, the comments argue that both NPRMs would have a significant impact on short line railroads and they fail to adhere to requirements of the Regulatory Flexibility Act as amended by the Small Business Regulatory Enforcement Fairness Act (SBREFA). They also say that that small railroads should not be required to certify non-employee individuals.
CISA's New Planning Workbook Helps Organizations Design Security Plans
The Cybersecurity and Infrastructure Security Agency (CISA) has released a new resource, the Security Planning Workbook. The workbook will help critical infrastructure owners and operators, like some railroads, develop a foundational security plan.
The workbook is intended for those involved with security planning for their organization and can be used by individuals with varying levels of expertise. Included in the workbook are descriptions of critical elements of security planning information, various resources and fillable fields to guide planning efforts.
Small Business Administration's Roundtables to Focus on DOL's Proposed Overtime Rule
In response to the Department of Labor's (DOL) proposed overtime rule, the U.S. Small Business Administration's Office of Advocacy will host two virtual roundtable meetings inviting feedback from stakeholders including small businesses, small non-profits and small governmental jurisdictions.
The meetings will be held Sept. 26 and 27 via Microsoft Teams. Individuals wanting to attend need to RSVP in advance. Both meetings will cover the same information, so people are asked to sign up for only one of the two meetings. The agency expects a large number of participants for both events.
Click here for more information, including a draft meeting agenda, topic summary and instructions on how to RSVP.
---

---
EDA Grant Award to Washington Port Highlights Different Grant Opportunities for Railroads
A recent grant awarded to the Port of Chehalis in the state of Washington serves as an example of alternative funding opportunities for railroads looking to complete infrastructure projects.
The U.S. Economic Development Administration (EDA) awarded $3.1 million to the port to help construct a grain storage and rail transload facility. The announcement serves as a reminder to short line and regional railroads that, even though they may not be directly eligible for a federal grant, partnerships with eligible entities offer a way to procure funding through programs that may have initially seemed out of reach.
ASLRRA's Zach Radford and Richard Sherman presented a webinar yesterday focused on different types of federal grant funding for railroads. A recording of that webinar will soon be available in ASLRRA's On-Demand Webinar Library for those who were unable to participate live.
ASLRRA's Member Discount Program also features grant-writing Preferred Providers who can assist in the preparation of grant applications for a variety of opportunities at all different levels.
FRA Publishes Technical Reports on Track Components, Operation Software and More
Four new technical reports from the Federal Railroad Administration (FRA) cover a variety of topics, including concrete crossties, the OPRAM software tool, moving block train control systems and vehicle dynamics simulations.
The FRA's Office of Research and Development works to improve transportation safety by conducting basic and applied research and developing solutions that address a variety of industry issues. See the list of newly released reports below with a link to each one. All of the FRA's research, development and technology (RD&T) program resources can be found in the FRA's eLibrary, with links to specific categories on the RD&T webpage.
High-Strength, Reduced-Modulus, High-Performance Concrete for Prestressed Concrete Crosstie Applications
This report studies the use of high-strength, reduced modulus (HSRM) concrete in concrete railroad ties as an alternative to high-performance concrete (HPC) with early strength development. HPC is currently the material of choice for prestressed concrete railroad ties, but they are prone to premature cracking and deterioration. The study shows HSRM ties are a cost-effective alternative to the current industry standard concrete and can increase tie service life.
Vehicle Dynamics Models for Derailment Incident Investigation
For this study, Sharma & Associates, Inc. created railway freight car and track layout models and wheel and rail profiles using VAMPIRE, a vehicle dynamics simulation software, to see how the models might work in simulations used when investigating derailments. These models were found to be useful in derailment investigations when vehicle/track interaction is considered a possible cause of the incident. Researchers can also simulate a specific derailment using track data collected from a site during an investigation.
Office Safety Checker for Moving Block Train Control Systems
For this project, the Transportation Technology Center, Inc. (TTCI) worked to create system engineering specifications for an Office Safety Checker (OSC) safety component, which is part of the Moving Block Office (MBO). Researchers created OSC documentation railroads can use in future development. According to the report, the OSC validates MBO and PTC Back Office Server (PTC-BOS) safety-critical functions, though it does not introduce functionality beyond what the MBO and PTC-BOS systems provide.
Operational Performance and Reliability, Availability, and Maintainability Analysis Model (OPRAM) Development
The TTCI also conducted this research to develop the Operational Performance and Reliability, Availability, and Maintainability (RAM) Analysis (OPRAM) tool. This tool helps railroads with decision making as far as when and where to deploy new methods of train control as defined in the Higher Reliability and Capacity Train Control (HRCTC) program. OPRAM is operated as a stand-alone application in a desktop environment and is easily installed.
---

More Organizations Express Support for Short Line Relief Act
The International Union of Operating Engineers (IUOE) and the American Road and Transportation Builders Association (ARTBA) have become the latest organizations to voice their support for the Short Line Railroad Relief Act, H.R. 3782.
The IUOE sent a letter to House Transportation and Infrastructure (T&I) Committee Chairman Sam Graves (R-Mo.) and Ranking Member Rick Larsen (D-Wash.) communicating the group's support for the bill, which would authorize creation of a fund to aid short lines affected by natural disasters and extreme weather events. IUOE also urges the T&I Committee to advance the bill.
In addition to IUOE, ARTBA and ASLRRA, the organizations supporting the bill are:
Association of American Railroads (AAR)
National Railroad Construction and Maintenance Association (NRC)
National Stone, Sand and Gravel Association (NSSGA)
Railway Engineering Maintenance Suppliers Association (REMSA)
Railway Supply Institute (RSI)
Railway Tie Association (RTA)
Twenty representatives, 16 Republicans and four Democrats, currently cosponsor the bill.
Government Shutdown Looms as House, Senate Prove Unable to Make a Deal
Congress is in disarray and the prospect of avoiding a government shutdown at the end of the month has become less likely after the Senate and House have failed to move any spending bills this week.
Hope that the Senate was moving toward passing a trio of spending bills were dashed after Republican senators objected to voting on multiple bills at a time. Included in that initial trio was the transportation, housing and urban development (THUD) bill, which covers funding for railroad-related programs like CRISI grants. The objection means the Senate has been unable to agree on a vote for any of its appropriations bills.
Meanwhile a group of Republicans drafted language for a continuing resolution (CR) that would extend the budget deadline by 30 days, but many Republicans in the House object to the CR, making it unlikely to succeed. Even if the House's stopgap measure did pass, the Democrat-controlled Senate would not support it, as it cuts funding to most domestic agencies by over 8 percent and includes controversial border-related provisions.
Overall, Washington seems headed for a shutdown starting Oct. 1, something pundits are saying would, at this point, take a miracle to avoid.
---

---
---

Let Us Know – What Fall Events Are You Planning?
ASLRRA wants to feature members that might be offering fall excursions or participating in other community events this season. Please reach out to our communications team with information about any fall plans, then watch for an article in an upcoming issue of "Views & News."
Become a Preferred Provider with ASLRRA's Member Discount Program
ASLRRA is expanding the Association's Member Discount Program (MDP) to include Preferred Providers of electronic record-keeping software and services. Plus, we're adding new providers to the background screening and grant writing services categories.
Member Discount Program Preferred Providers are carefully selected from ASLRRA's vetted supplier community and ASLRRA uses a wide range of marketing/sponsorship activities to ensure broad and consistent marketing and promotion of the program to association members.
ASLRRA is actively seeking proposals from member companies interested in participating in the program. Please contact Sabrina Waiss for the latest Request for Information (RFI) on the above-listed categories, or to recommend and discuss a new category of products and services for consideration.
Railroad Drug and Alcohol Education Materials Available for Download
ASLRRA members have exclusive access to downloadable Drug and Alcohol Educational Materials, including posters, a Part 219 educational brochure, affidavit templates and employer review documents, designed in consultation with subject matter experts on the association's Safety & Training Committee.
The members-only Educational Materials webpage also features links to webinar recordings discussing Part 219, including "Part 219 Education Materials and Correction Affidavits," "Overview on the Expanded Scope of Part 219," "Drug & Alcohol Rules & Regulations" and "The DOT's New Oral Fluid Testing Final Rule – What Do Employers Need to Know?", all available free to members in ASLRRA's On-Demand Webinar library.
---

FRA Staff Will Hold Office Hours to Answer Grant-Related Questions at Next Week's Regional Meeting
ASLRRA's Central and Pacific Region Meeting is exactly a week away, and the Association is putting final touches on the first of two region meetings being held this fall. Individuals can still register online for the event and in person at the venue, although registration fees have increased.
At this year's meeting, which takes place in Long Beach, California, staff from the Federal Railroad Administration's (FRA) Office of Railroad Development will hold office hours on Sept. 26 and 27, answering questions about federal grant programs including CRISI and the Railroad Crossing Elimination grant program. Those with pending applications, who are planning to apply or who want to learn more about the process are encouraged to stop by.
In addition to key speakers and a full educational schedule, the Association will honor winners of this year's President's Safety Awards during the general session. There are also numerous networking opportunities, committee meetings and more. Follow the link above to learn more about the meeting and view an agenda.
---

---
---

General Counsel Sarah Yurasko Talks About CARB, Crew Size and Short Lines in Vanguard Law Magazine Profile
ASLRRA Senior Vice President Law and General Counsel Sarah Yurasko spoke with online publication Vanguard Law Magazine about her work at the Association and what brought her to the railroad industry. The article also hones in on the California Air Resources Board's (CARB) in-use locomotive regulation and the Federal Railroad Administration's (FRA) two-person crew size mandates.
Yurasko talked about the problems with CARB's rule and the legal steps the Association and other rail industry organizations have taken to oppose the rule on behalf of their members and other stakeholders. She also gives insight into the Association's work on the Federal Railroad Administration's proposed rule mandating two-person train crews. In talking about these issues Yurasko shines a light on the interconnected nature of the railroad industry and shares how she's created an amicus brief framework to facilitate ASLRRA's ability to advocate on behalf of members when necessary.
Yurasko has felt drawn toward the transportation industry since participating in federal internships as a law student at the American University Washington College of Law. The article delves into Yurasko's path to ASLRRA and how she manages her role at the Association.
Staff Shorts – Who is Where in the Rail Industry World
On Sept. 13, ASLRRA Assistant Vice President, Legislative and Regulatory Policy Crystal Gitchell participated in the Coalition Against Bigger Trucks (CABT) advocacy event in Washington, D.C. She acted as a guide for participants along with staff from the Institute for Safer Trucking and also made sure to communicate the Association's opposition to any legislation allowing longer heavier trucks.
This week, ASLRRA President Chuck Baker participated in the GoRAIL President's Club event, meeting with Class I and Short Line senior executives and many industry suppliers in Wisconsin.
Also this week, ASLRRA Vice President, Safety and Compliance JR Gelnar traveled to BNSF headquarters in Fort Worth, Texas for a meeting of the Federal Railroad Administration's Fatality Analysis of Maintenance-of-way Employees and Signalmen (FAMES) Committee. The group analyzed three roadway worker fatalities and discussed updating previous recommendations and the committee's database.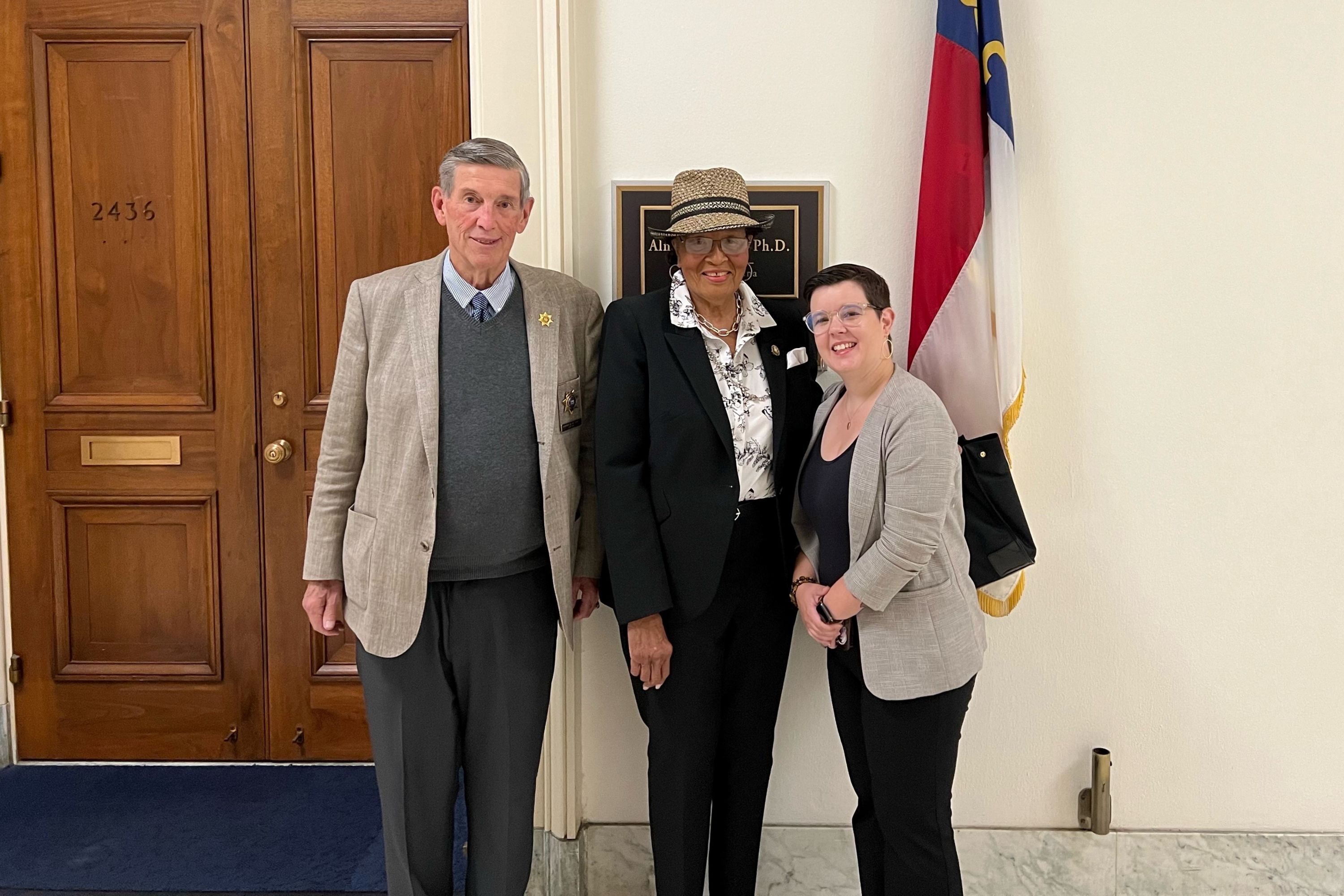 ASLRRA's Crystal Gitchell (far right) poses with Rep. Alma Adams (D-N.C.) and retired Sheriff Don Smith (far left) in front of Adams's office during a Coalition Against Bigger Trucks advocacy event on Capitol Hill.
---

Upcoming Webinars
The aging workforce in the U.S. railroad industry creates risks for the loss of expertise and institutional knowledge. Succession planning alone, however, cannot fully address these risks. In 2022, the FRA funded a novel research project — Expertise Management for Safety Leadership Positions in the U.S. Railroad Industry — to address mitigating these risks. Expertise Management (EM) is a mature and under-utilized approach for identifying, capturing, and transferring expertise. EM builds on Cognitive Task Analysis methods that have been used successfully for training programs. This webinar will introduce the EM project, its unique approach, and its training products developed for the short line and regional railroad industry (e.g., Decision Games, Experts' Stories, and Job Aids). The webinar will include a brief demonstration of how these products can be utilized in existing or new railroad training programs.
In this webinar, Loram Technologies Data Sciences Manager Brian Barthel and Quality and Production Manager Mitchell Christensen will focus on maintenance planning and practices designed to help optimize the life of your rail. Topics discussed include variables that cause premature rail replacement and rail grinding best practices to extend the life of rail.
Sponsored by Loram Technologies.
On-Demand Webinars
Recorded Webinars Feature Legal Content for Rail Industry Professionals
ASLRRA's On-Demand Webinar Library features recordings of legal webinars that may appeal to legal professionals in the railroad industry. Look for the following titles under the legal category:
Utility Crossings and Broadband Deployment
National Transportation Safety Board (NTSB) Investigations
Concerns Over Utility Crossings of Railroad Tracks
Visit ASLRRA's On-Demand Webinars Page and log in to access a complete list of all ASLRRA's nearly 200 webinar recordings.
Click here to learn more about our education offerings.
---

Click here for a calendar of industry events.
---
Views & News is published by American Short Line and Regional Railroad Association.
Please contact Amy Krouse, editor, with questions or comments.