---
Issue Highlights:
Regulatory – New FRA safety bulletin addresses worker fatality; PHMSA awards hazmat grants to SLSI
Legislative – Congress narrowly avoids government shutdown
Announcements – ASLRRA offers compliance templates for members
ASLRRA Events – Crisis communications breakout session added to regional meeting agenda
Out and About – Six ASLRRA staff members participate in various capacities at Railway Interchange 2023
---
---

Railroad Representatives, Shippers and Stakeholders Gather in California for ASLRRA Regional Meeting
ASLRRA held the first of its two regional meetings last week, the Central and Pacific Region Meeting in Long Beach, California.
The meeting was well attended, with overflowing seats in the general session and similar standing-room-only situations for breakout sessions like the panel on grant funding.
In addition to diverse education sessions and multiple networking opportunities, the Association recognized winners of this year's President's Safety Awards for the Central and Pacific Regions. Follow this link for a full list of winners.
The Association also welcomes two new board members who were elected for a three-year term by ASLRRA members at the meeting. Frank Forlini of the Spokane, Spangle and Palouse Railway will succeed outgoing member Alan Matheson of Tacoma Rail on the Pacific Region Board, while Tomeka Watson-Bryant of the New Orleans Public Belt Railroad will succeed Genesee & Wyoming Inc.'s Joe Arbona on the Central Region Board. ASLRRA thanks Matheson and Arbona for their hard work and dedication to the Association and the board.
Click here to view more photos from the Central and Pacific Regional Meeting. ASLRRA's next meeting is the Eastern and Southern Region Meeting, scheduled for Nov. 7 to 9 in Lexington, Kentucky. Click here to register for that meeting.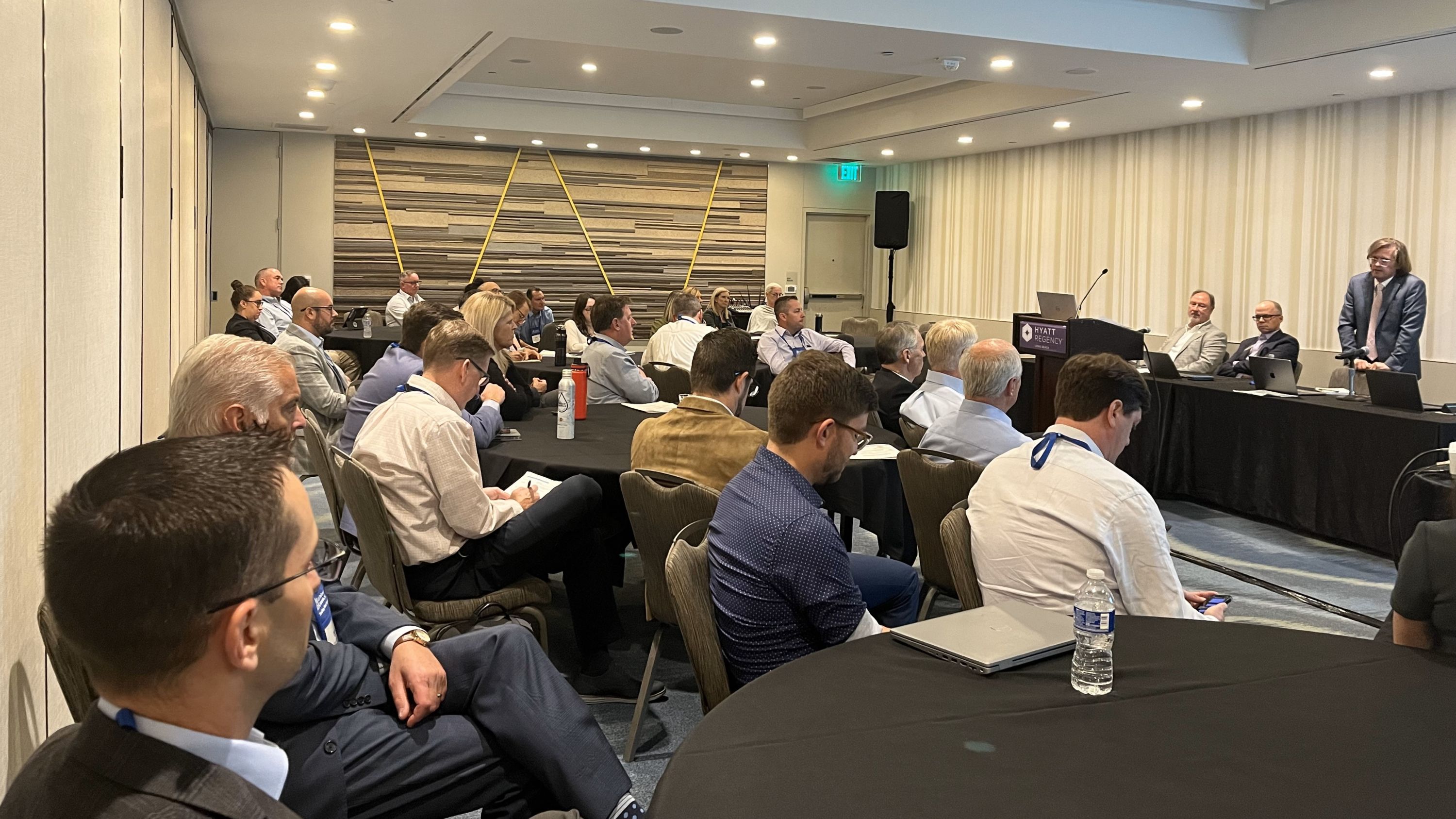 Regional meeting attendees filled the room for a breakout session on grant funding with HDR's Kevin Keller, Viking Navigation's Adam Nordstrom and ASLRRA's Zach Radford and Richard Sherman.
---

---
---

FRA Safety Bulletin Addresses Recent Fatality, Emphasizes Situational Awareness
A safety bulletin from the Federal Railroad Administration (FRA) concerns an accident that occurred in September, resulting in the death of a car department railroad employee with 19 years of experience. In addition to the FRA's safety bulletin, the National Transportation Safety Board recently issued a preliminary report for its ongoing investigation of the accident.
The employee was working in a railyard at night when he stepped into the path of a two-unit remote control locomotive consist. The operator was at the end of the consist, which was moving at or about 10 miles per hour, and did not see the employee. Headlights on the consist were illuminated and two warning strobe lights were activated.
The safety bulletin reminds railroad employees to maintain situational awareness when approaching or fouling railroad tracks; to always expect movement of trains, engines, cars or other equipment on tracks at any time; and to stop and look both ways before fouling or crossing a track or set of tracks. The FRA also encourages railroads to share this bulletin with all employees and directs railroads to a previous safety advisory discussing situational awareness.
The most recent FRA safety bulletin can be found on ASLRRA's website, which features a page dedicated to industry safety advisories, reports, notices and more.
ASLRRA Renames Safety Notifications Site
The Association recently changed the title of its industry safety notification page, which is now called "Safety Alerts, Reports and Advisories." Users who may have previously bookmarked the old page, "FAMES/SOFA/C3RS," should update their links with the new URL: https://www.aslrra.org/safety-compliance/safety-alerts-reports-and-advisories/. Find this page in the Safety & Compliance section of ASLRRA's website.
ASLRRA Urges Members to Prepare Applications for Next Round of CRISI Funding
Some ASLRRA members are gearing up to utilize funding acquired through Fiscal Year (FY) 2022 Consolidated Rail Infrastructure and Safety Improvements (CRISI) grants. But, with the CRISI notice of funding opportunity (NOFO) for FY23 and FY24 on the horizon, ASLRRA encourages those hoping to benefit from the next round of funding to begin preparing their grant applications now.
Those who submitted a CRISI application for FY22 and did not receive an award could benefit from a debriefing provided by Federal Railroad Administration (FRA) officials. Applicants can solicit this feedback by emailing FRA-NOFO-Support@dot.gov.
ASLRRA's website outlines a series of steps members can take to prepare CRISI grant applications. One of the first things a railroad can do is make sure it or the project partner applying on its behalf is registered in two federal systems, the System for Award Management (SAM) and grants.gov. Grant applicants must first be set up in SAM to register in grants.gov and all recipients of federal funds must be registered in SAM. All application materials are submitted through grants.gov.
ASLRRA's On-Demand Webinar Library includes CRISI-focused webinar recordings presented by subject-matter experts including representatives from the FRA. Members can log in to the library website and use the search term CRISI to find all webinars on the subject.
Companies seeking more hands-on support can contact the Association's Member Discount Program Preferred Providers Bergmann and HDR. These companies help members complete and submit various types of grant applications, including at the federal and state level, and provide exceptional service at competitive pricing. Click here to go to the Member Discount Program home page, then click on each individual grant writing Preferred Partner to log in and learn more about what they offer.
The FRA also provides resources for CRISI applicants. These resources, which can be found on the agency's CRISI webpage, include recorded webinars and answers to frequently asked questions.
Dual Benefit Payments are Focus of RRB's October Q&A
This month, the Railroad Retirement Board's Question and Answer (Q&A) series focuses on dual benefit payments, which occurs when a person is entitled to both a social security benefit and a railroad retirement annuity.
When a person is entitled to two benefit payments, it is generally the RRB that will issue a dual benefit payment after the Social Security Administration has determined how much of a social security benefit is due. There are no exceptions to the rule requiring reductions in railroad retirement annuity for social security benefits, and failing to disclose dual entitlement to the RRB can result in overpayment requiring reimbursement, sometimes with interest and penalties.
These dual payment rules can also apply to those eligible for federal, state or local government pensions, as well as those receiving spouse or widow(er) railroad retirement annuities. Follow the link above to learn more.
---

---
PHMSA Grants Help Fund Hazmat Training
The Pipeline and Hazardous Materials Safety Administration (PHMSA) announced over $30 million in grants through six grant programs will go to help states, territories, tribes and non-profits fund hazardous materials (hazmat) safety planning and incident response training.
The Short Line Safety Institute (SLSI) will receive $668,504 in Hazardous Materials Instructor Training (HMIT) grants, which will allow SLSI to continue to provide its Hazardous Materials Training Program at no cost to railroads.
SLSI also received $250,000 in Assistance for Local Emergency Response Training (ALERT) Grants to fund the organization's Emergency Responder Training program provided directly to first responders, also at no cost to them.
"The support of PHMSA has enabled the Short Line Safety Institute to provide meaningful and varied training programs that enhance a railroad's current training," said SLSI Executive Director Tom Murta. "The ALERT program has been especially impactful for railroads seeking to have a closely coordinated response with local first responders in the event of a HazMat incident. PHMSA grants have enabled the SLSI to conduct more than 121 training events to date, engaging 4,700 participants from 559 different organizations."
Other PHMSA grants include Hazardous Materials Emergency Preparedness (HMEP) grants awarded to states, territories and tribes for hazmat transportation incident response and emergency plans; Supplemental Public Sector Training (SPST) grants for train-the-trainer programs; Community Safety Grants (CSG) for organizations conducting national outreach and training for community hazmat response; and Hazardous Materials State Inspection (HMSI) grants to states to perform hazmat shipper inspections. View a list of all grants, grant descriptions and grant recipients in PHMSA's report here.
FRA Publishes Seven Technical Reports
Seven new technical reports from the Federal Railroad Administration (FRA) are available in the agency's eLibrary. Of note for ASLRRA members are two reports published Sept. 28 titled "Enhancing the Safety of Coupler Knuckles" and "Bearing Grease Degradation Related to Water and Roller Bluing."
In the technical report on coupler knuckles, the FRA wanted to "validate the finite element (FE) stress levels obtained during previous research through physical testing of a selected knuckle design." Validating the model allowed FRA researchers to further examine ways to improve knuckle fatigue life. Results of these tests showed that coupler knuckle fatigue life can be significantly improved by increasing the tensile strength for M-201 Grade E steel, which the FRA further noted would be the easiest change to immediately improve fatigue life. Also, increasing thickness at two key locations increased fatigue life even at the minimum tensile strength for Grade E steel.
In the report on bearing grease degradation, two investigations looked at ways to improve roller bearing operation safety on railcars. Research conducted by the Transportation Technology Center, Inc. (now MxV Rail) with partners Burlington Northern Santa Fe Railway, Timken Company and Amsted Rail Company, Inc. examined how water getting into bearings can cause grease degradation and lead to defects that shorten bearing service life. Related to this issue, the study examined the issue of bearing roller discoloration, known as "bluing" or "lube stain," and its effect on bearing performance.
Key results from the study show that water-related bearing grease degradation is different from other kinds of degradation, but more research is needed in that area. In addition, lube stain in bearings was not shown to have any effects other than surface discoloration, although, again, more testing is recommended.
The other reports published recently by the FRA include:
Find these reports by going to the FRA's eLibrary page and using the Document Type toolbar on the left to search for Technical Reports in the Reports category. The eLibrary includes all documents available on the agency's website, such as press releases, proposed rules, notices, bulletins and more.
CISA Marks Cybersecurity Awareness Month with Resources, Webinars and More
October is Cybersecurity Awareness Month. Throughout the month, the Cybersecurity and Infrastructure Security Agency (CISA) will provide toolkits, resources and other information to help reduce cyber threats and increase digital and online safety.
Every week, CISA will host cybersecurity webinars to discuss four important behaviors to improve online safety. The first webinar on Oct. 3 dealt with passwords and password managers. Future webinars will take place on Oct. 10, 17 and 24, and those interested in participating can register at this link. Discussion of these four behaviors, including using strong passwords, turning on multi-factor authentication, recognizing and reporting phishing and frequently updating software, is a key part of CISA's Cybersecurity Awareness Month messaging.
Learn more about CISA's Cybersecurity Awareness Month activities and resources on the agency's website.
---

Congress Averts Shutdown, Extending Budget Deadline to Mid-November
Congress defied oddsmakers on Sept. 30 by passing a continuing resolution just hours before the deadline, keeping the federal government funded at current levels until Nov. 17 and averting a government shutdown.
Lawmakers will still need to pass a long-term measure, or measures, before the new November deadline to keep the federal government funded through the rest of the federal fiscal year, which began Oct. 1 and runs through Sept. 30, 2024. ASLRRA will continue working closely with key members in both the Senate and House as they craft these measures, focused on ensuring robust funding for CRISI and other short line priorities.
With the continuing resolution passed, the Senate plans to return to its work advancing a number of Fiscal Year 2024 spending bills, including one for transportation, which it put on pause last week in order to focus on averting a shutdown. The House tentatively planned to begin considering its version of the transportation spending bill next week, but with a race for the speakership now likely to consume attention for an indeterminate amount of time, it is unclear when the House will recommence with consideration of spending legislation.
---

---
---

Preferred Provider ISB Global Services Offers Background Screening to ASLRRA Members
ISB Global Services (ISB) provides Association railroad and supplier members with a suite of employment background screening products allowing them to gather appropriate and accurate information while remaining compliant with privacy legislation.
Companies can use ISB as a one-stop shop for employment screening services including employment history verification, education and professional credential verification, domestic terrorism watchlist searches, motor vehicle records search and more. ISB is also able to provide cargo loss and supply chain security tools and mobile identity verification for secure access to facilities.
Members can access product details and members-only pricing by logging in to ASLRRA's Member Discount webpage. To join ASLRRA's Member Discount Program, contact ASLRRA Senior Vice President, Education and Business Development Sabrina Waiss.
Access ASLRRA's Program Templates to Aid Compliance with Federal Regulations
To help members fulfill federal regulatory requirements, ASLRRA has developed a variety of compliance templates for different parts of 49 Code of Federal Regulations (CFR).
Two important templates are ASLRRA's Roadway Worker and Bridge Maintenance Programs. Approved by the Federal Railroad Administration, the Roadway Worker Program not only contains the requirements for roadway workers, but also includes safety rules required for bridge workers and on-track equipment. The program is based on GCOR operating rules that can be easily modified to conform to any railroad operating rules, and guidance is provided to assist non-GCOR railroads in modifying the program. By utilizing this program, a railroad is in full compliance with all parts of Part 214.
ASLRRA's Bridge Maintenance Program was developed with input and guidance from the FRA to be compliant with Part 237. This program requires the railroad to insert specific information regarding their operations, physical infrastructure and geographic location, and multiple appendixes are included with the program to cover many of the documentation requirements regarding inspections and operating instructions.
Other topics covered by ASLRRA's compliance templates include:
Part 213 (Continuous Welded Rail)
Part 228 (Hours-of-Service)
Part 232 (Brake System Safety Standards)
All templates are available at no cost to railroad members, and select templates are available free to associate business members and for a fee to non-member railroads. Visit www.aslrra.org/safety to access the complete collection of safety and compliance tools, resources and information available from ASLRRA.
---

Education Session on Crisis Communications Added at Eastern and Southern Region Meeting
ASLRRA Vice President, Communications Amy Krouse will present an education session focused on crisis communications at the Association's Eastern and Southern Region Meeting, held Nov. 7 to 9 in Lexington, Kentucky.
The regional meeting will include six educational breakout topics and two general sessions with industry leaders covering critical topics for short line railroads. Each region will have an opportunity to meet for sandhouse sessions, and President's Safety Award winners will be honored. Click here for full schedule.
In addition to networking and social events held throughout the duration of the meeting, ASLRRA member parent company R.J. Corman Railroad Group will host meeting attendees for a 50th anniversary lunch and headquarters tour on Nov. 9 following scheduled education sessions. Add this item to your registration.
The General Counsel Symposium and the Finance and Administration Seminar, meant for legal professionals and finance and human resource employees, respectively, will also take place Nov. 7-9 and are both co-located with ASLRRA's Eastern and Southern Region Meeting. Attendees of these events can take advantage of the networking opportunities provided by the Eastern and Southern Region Meeting, though registration is separate for all three events.
ASLRRA is still inviting sponsors for both the General Counsel Symposium and the Finance and Administration Seminar. Sponsors receive a variety of benefits including increased visibility at the events and recognition in the Association's communications.
---

---
---

ASLRRA Staff Participate in Railway Interchange
The Association had a strong presence at Railway Interchange this week in both the exhibit hall and education sessions. Railway Interchange 2023, organized by the Railway Supply Institute, the Railway Engineering-Maintenance Suppliers Association (REMSA), Railway Systems Suppliers, Inc. (RSSI) and the American Railway Engineering and Maintenance-of-Way Association (AREMA) was held Oct. 1 to 4 in Indianapolis, Indiana.
JR Gelnar, Kathy Keeney and Mike Ogborn worked the booth during the three-day event, providing information on ASLRRA's offerings and upcoming conferences. Gelnar also participated in committee meetings.
Chuck Baker participated in a panel discussion, moderated by Peter Thomas of ASLRRA member Wabtec, that examined the Infrastructure Investment and Jobs Act (IIJA) and other funding opportunities. Crystal Gitchell spoke on a panel, moderated by industry analyst Tony Hatch, that examined the goal of net zero greenhouse gas emissions. She was joined on the panel by David Woodruff of CN, Molly Puga of ASLRRA member Cummins and Wabtec's Thomas.
League of Railway Women (LRW) President Sarah Yurasko took part in education and networking events organized by the LRW that included a networking event at ASLRRA member Indiana Rail Road.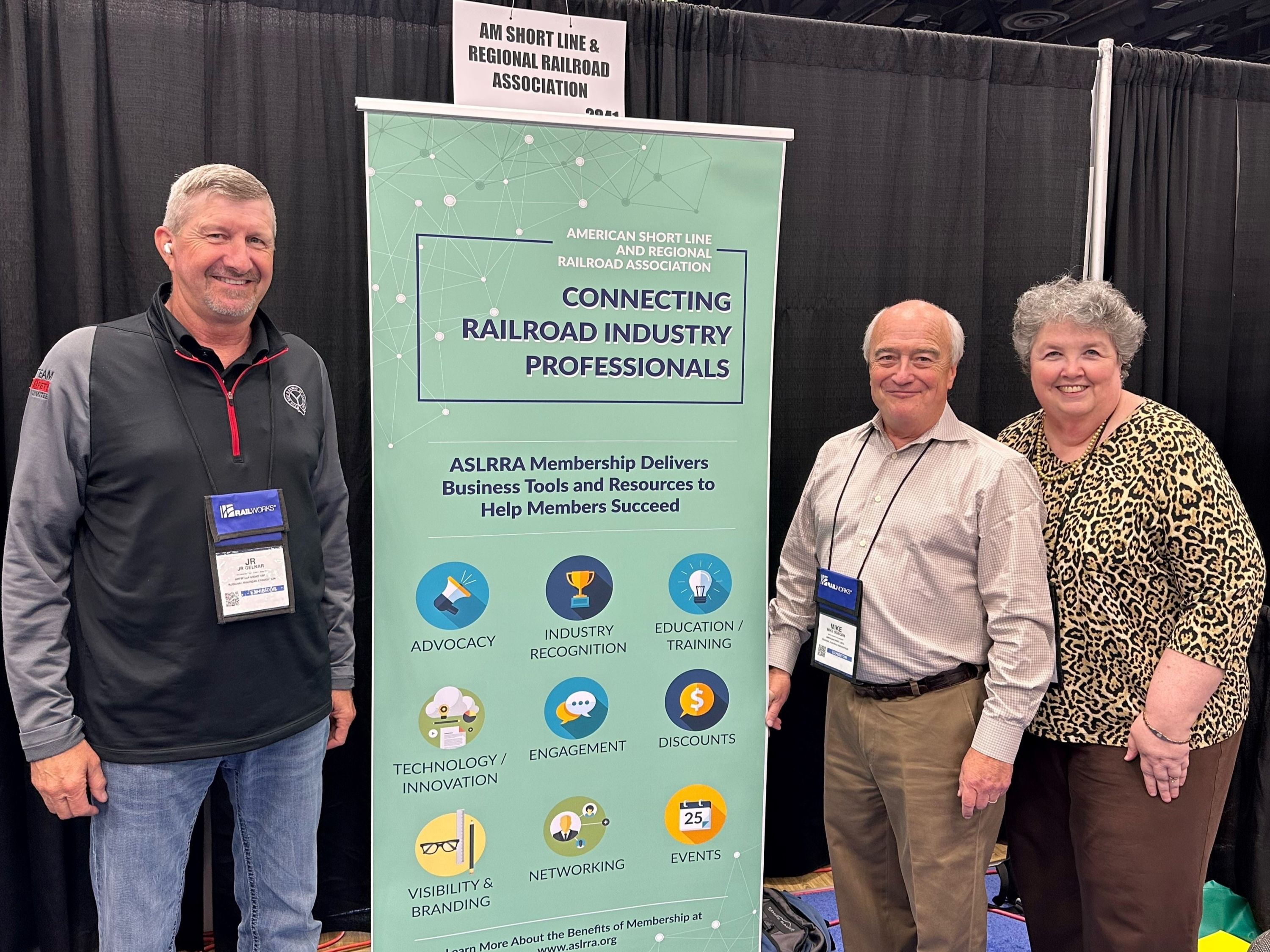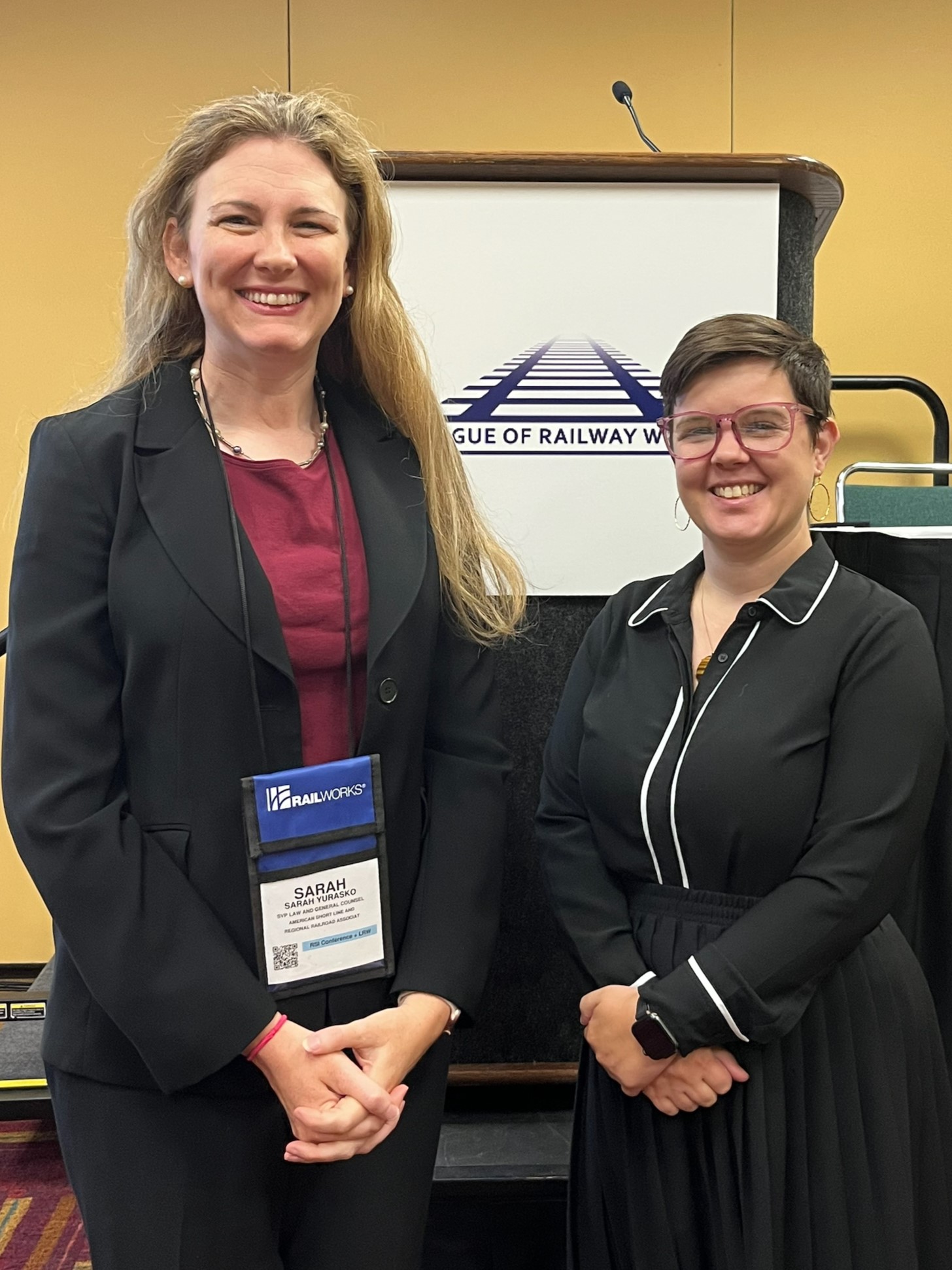 Top: ASLRRA staff members (L to R) JR Gelnar, Mike Ogborn and Kathy Keeney managed the Association's booth at Railway Interchange 2023.
Left: Sarah Yurasko (left) and Crystal Gitchell in front of the League of Railway Women sign. Yurasko, who is LRW president, led the organization's membership meeting held at Railway Interchange.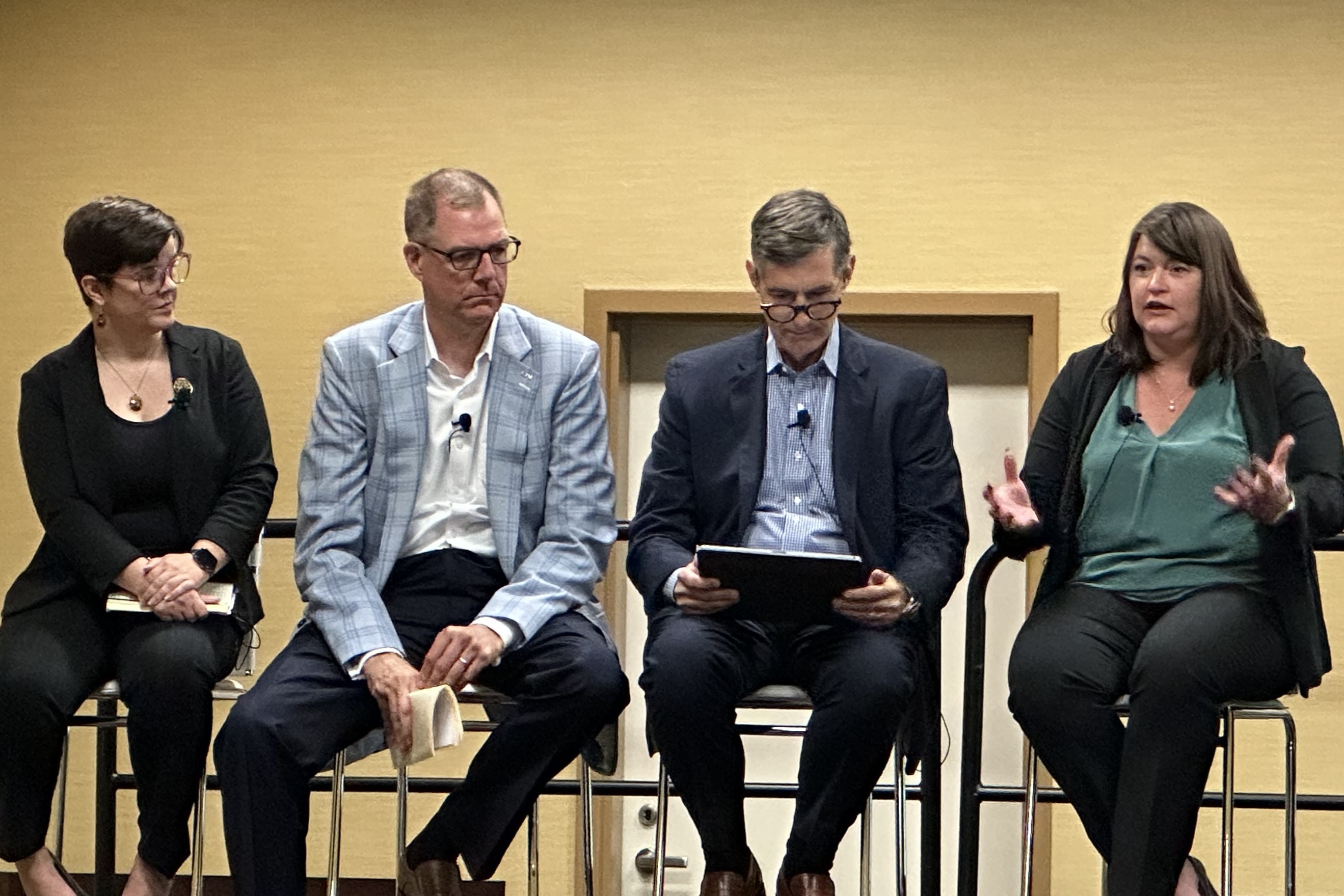 Crystal Gitchell (far left) participated in a Railway Interchange panel discussion on greenhouse gas emission reduction in rail.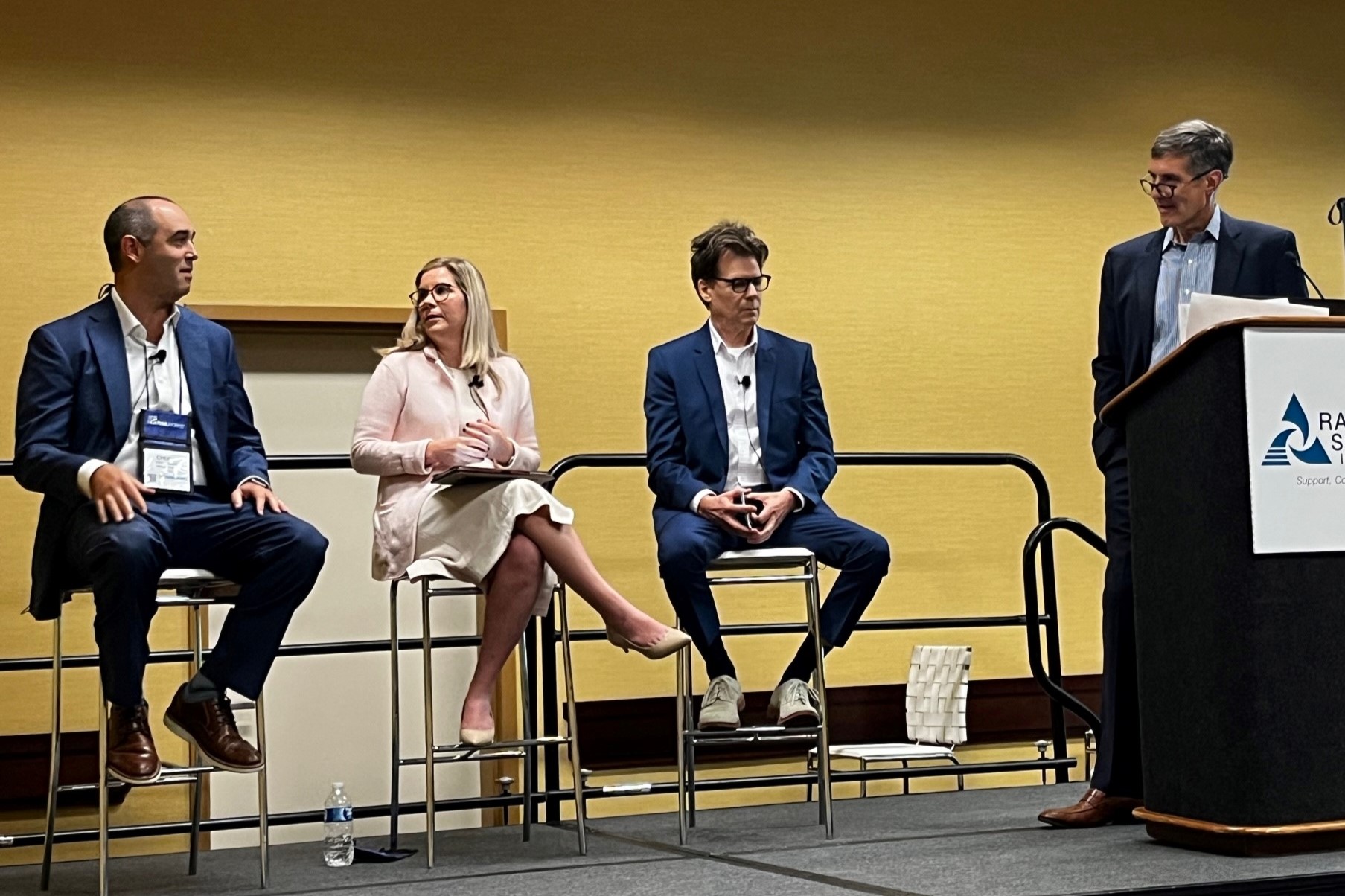 Chuck Baker (far left) spoke about IIJA grant opportunities during a panel moderated by ASLRRA member Wabtec's Peter Thomas.
---

Upcoming Webinars
In this webinar, Loram Technologies Data Sciences Manager Brian Barthel and Quality and Production Manager Mitchell Christensen will focus on maintenance planning and practices designed to help optimize the life of your rail. Topics discussed include variables that cause premature rail replacement and rail grinding best practices to extend the life of rail.
Sponsored by Loram Technologies.
On-Demand Webinars
Webinars by FRA's Experts Available as Recordings in ASLRRA's On-Demand Library
ASLRRA has worked with the Federal Railroad Administration's subject-matter experts to provide important regulatory and compliance information via webinar to Association members. Look for the following titles in ASLRRA's On-Demand Webinar Library:
FRA Updated Part 240/242 Audit Process
Part 243 Railroad Obligations with Contractors
Roadway Worker Protection (RWP) Hot Topics
Visit ASLRRA's On-Demand Webinars Page and log in to access a complete list of all ASLRRA's nearly 200 webinar recordings.
Click here to learn more about our education offerings.
---

Click here for a calendar of industry events.
---
Views & News is published by American Short Line and Regional Railroad Association.
Please contact Amy Krouse, editor, with questions or comments.