The ASLRRA has a series of publications available for purchase detailing information of importance dealing with railroad safety and security.
Post-Accident Toxicological Testing Video: An interactive training video produced by the industry with input from the FRA, which provides instruction on when and how to administer a post-accident drug and alcohol tests. To learn more, click here.
Reasonable Suspicion Drug & Alcohol Signs and Symptoms Video: This video provides guidance on drug and alcohol testing guidelines. Specifically, you will learn how to recognize possible impairment, what substances to test for, how to conduct a proper test, and steps to take in case of a positive test, among many other components. To learn more, click here.
Transportation Rail Incident Preparedness and Response (TRIPR) Training: Developed by PHMSA and the HAMMER group, TRIPR focuses on disaster management for emergency responders and interaction with railroads with a focus on flammable liquid trains. TRANSCAER has endorsed and will be distributing the training. To access the TRIPR website, click the button below.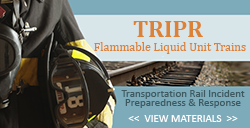 A fact sheet on flammable liquid unit trains has also been prepared by PHMSA. To access it, click here.
Industry Safety Initiatives: Currently, the ASLRRA is involved in two industry-wide safety initiatives: SOFA and FAMES.
For more information, contact JR Gelnar at jrgelnar@aslrra.org or 202-585-3436.