Challenging the Short Line Industry to be Ever-Safer – the History of the Jake Awards
The Jake Awards are named for the late Lowell S. "Jake" Jacobson, the former President and General Manager of the Copper Basin Railway. After achieving a perfect safety record for the CBRY in 1993, Jake realized that there was no award that recognized smaller railroads' safety records. He was passionate about promoting railroad safety and that passion inspired a generation of short line railroaders to work hard at improving workplace safety. He created an awards program to honor his fellow small-railroad colleagues and their commitment to safety. In 1999, the ASLRRA Safety Committee adopted the Jake Awards, and since then, has continued Mr. Jacobson's legacy of rewarding and drawing attention to the high safety standards of the small railroad industry. Each year, short lines compete vigorously for this honor, and the short line industry has become safer as a result.
Jacobson's commitment to safety did not stop with his work with the Copper Basin. In addition to instituting industry safety awards, and involvement in the ASLRRA, Jacobson served on the board of Arizona Operation Lifesaver, a nationwide non-profit public safety and education program which works to eliminate collisions and deaths at railroad crossings and rights-of-way.
Jacobson became the chief operating officer of the Copper Basin in 1986 when the short line was sold to Rail Management Corp. He served as president and COO for more than 30 years, retiring in February 2020. The short line operates a 54-mile line and seven-mile branch line in Arizona and interchanges with Union Pacific Railroad. Prior to joining the Copper Basin, Jacobson worked for Union Pacific Railroad for 29 years.
"Lowell "Jake" Jacobson was a legend in the railroad industry, and the Association's history is deeply entwined with Jake's. Garnering a Jake Award is a highly valued win for our members, recognizing their railroad's above-industry average safety performance, and reflective of the passion that Jake Jacobson had for safety, and his impact on our industry," said Chuck Baker, President, ASLRRA
In January of 1994, Jacobson was named Railway Age Magazine's Railroader of the Year. "If you don't know Jake, you should. This is a true railroader. He has a railroad where people matter, where people will go to the mat for him, where people come first, and where people will go a long ways to get things done, because they see Jake out front, leading by example and doing the things that a caring leader does," wrote Gus Welty, Senior Editor at the time.
The article details the actions of Jacobson during the Gila River flood of 1993, when the Copper Basin Railroad, and critical customer assets were nearly destroyed. Not only did Jacobson work tirelessly (literally, going with minimal sleep for weeks), to preserve assets, but he took care of his team by providing no interest loans to those who had been flooded out of their homes from his personal funds.
Jake Jacobson passed away in 2021 at the age of 80. He is fondly remembered by his many friends and ASLRRA members for his keen wit and story-telling abilities.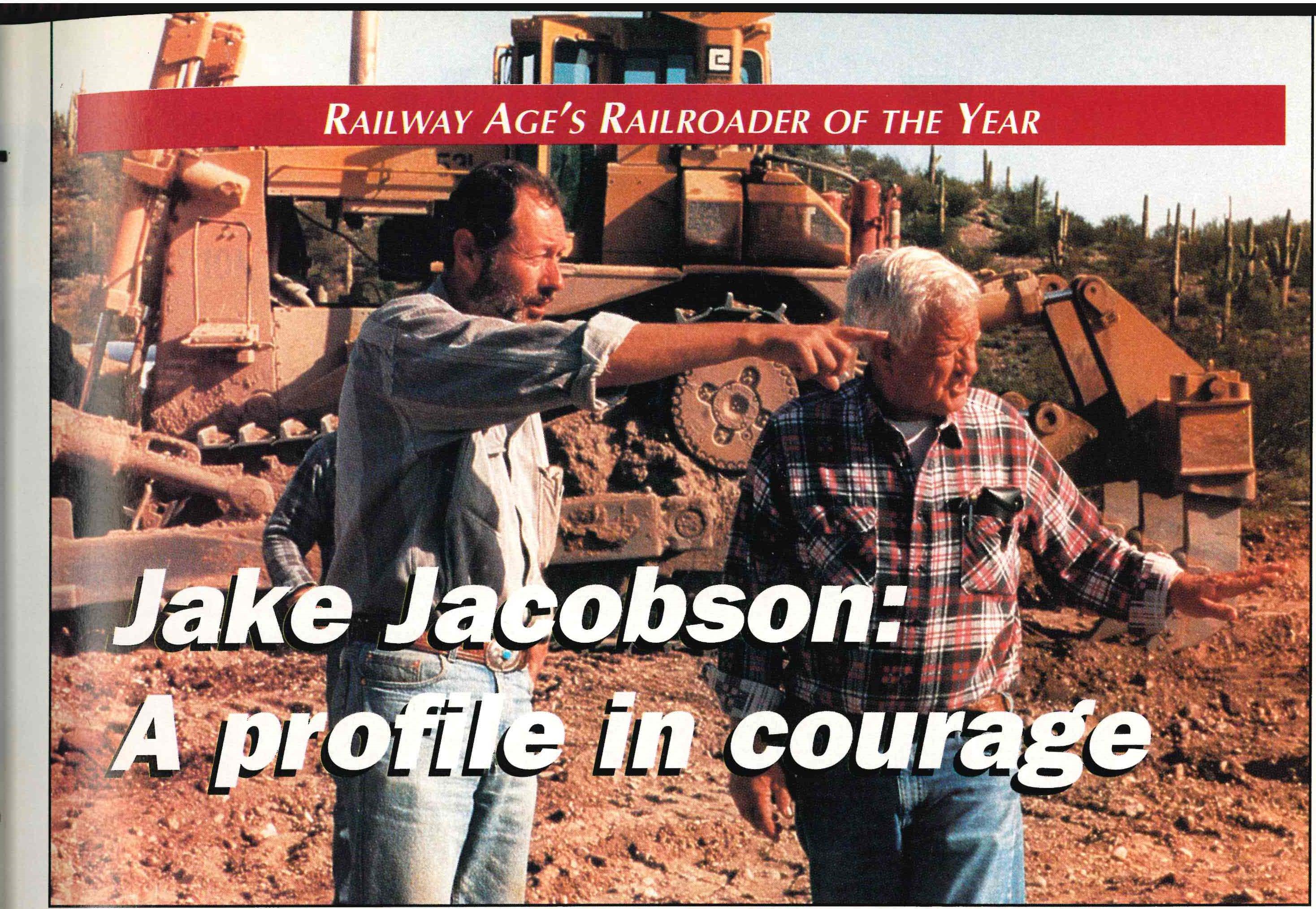 Jake Jacobson (left, with fellow flood-fighter Dick Dalton) runs a railroad where people will go a long ways to get things done, because they see him out front, leading by example and doing the things that a caring leader does.
Adam Nordstrom, Principal, Viking Navigation, LLC, recalled, "Whenever we spoke, Jake would say, 'It's a beautiful day in God's Country.' Back then, he meant the wide skies and stark beauty of the Copper Basin. I am sure he can say the same about where he is today with first-hand knowledge. Jake had an indomitable personality, Wild West charisma, and the belief that small railroads made the world a better place when every employee returned home safely. He was a Titan from the Age of the Short Line Renaissance who left his brand on our industry and on the hearts of those honored to work with him." Nordstrom led government affairs for the ASLRRA as a partner at the former Chambers, Conlon & Hartwell firm.
In 2021, the estate of Jake Jacobson established a scholarship for safety training. Information on the Scholarship can be found here.
To learn more about the Jake Awards, click here.