---

Norfolk Southern Identifies Loose Wheel Issue
While conducting cleanup of a March 5 derailment in Springfield, Ohio, Norfolk Southern Corporation identified a problem with loose wheels on a specific model and series of railcar, which could result in a derailment. According to the investigative team, the wheels came from a series of recently acquired cars from a specific manufacturer.
Although the cause of the derailment is still being investigated, Norfolk Southern informed the National Transportation Safety Board (NTSB) and Federal Railroad Administration (FRA) about the issue and took steps to remove affected cars from service until the wheelsets could be replaced.
In the wake of the Feb. 3 Norfolk Southern derailment in East Palestine, Ohio, federal agencies involved with regulating railroads and hazardous materials have issued a number of safety advisories, several of which include information important to short line railroads. ASLRRA will continue to provide safety recommendations to our members coming out of the NTSB investigations as we receive them.
The Pipeline and Hazardous Materials Safety Administration (PHMSA) issued a Safety Advisory Notice on railroad emergency preparedness. The Advisory alerts those engaged in the rail transportation of hazardous materials of their obligation to appropriately plan for emergencies and to share information about available emergency response resources. It also urges actions to ensure emergency responders are adequately equipped to respond to rail transportation incidents involving hazardous materials. ASLRRA has developed an Emergency Response Plan template for members that can be customized to meet the needs of a railroad. Download this resource, and other materials to assist in disaster preparedness.
PHMSA also issued a Safety Advisory Notice for tank car covers, which discusses tank cars equipped with aluminum manway covers and the possibility that those covers will melt when exposed to extreme heat, potentially contributing to improper functioning of pressure relief devices.
The Federal Railroad Administration (FRA) also issued a Safety Advisory for hot bearing wayside detectors (HBDs). The advisory recommends, among other things, that railroads review existing HBD system inspection and maintenance policies and procedures for compliance, as well as existing procedures for training and qualifying individuals responsible for HBDs.
---

FRA Supplemental Notice of Proposed Rulemaking Concerns Breathing Apparatus Standards
The Federal Railroad Administration (FRA) has issued a supplemental notice of proposed rulemaking (SNPRM) concerning emergency escape breathing apparatus standards.
The agency is proposing to expand regulations requiring railroads provide an emergency escape breathing apparatus to every train crew member and certain other employees occupying a locomotive cab of a freight train transporting hazardous materials that would pose an inhalation hazard in the event of an accidental release.
ASLRRA submitted comments on a 2010 notice of proposed rulemaking by the FRA concerning breathing apparatus standards. The Association's staff is reviewing the new SNPRM for its effect on short lines and plans to submit comments to the FRA.
RRB's March Q&A Compares Railroad Retirement, Social Security Benefits
In the March edition of its Question and Answer (Q&A) series, the Railroad Retirement Board (RRB) compares benefits available under the Railroad Retirement Act (RRA) and the Social Security Act.
For railroad employees with 30 or more years of creditable railroad service, benefits under the RRA are generally higher due to additional retirement taxes paid by employers and employees. The Q&A explains the differences in benefit rates at the end of fiscal year 2022 last September. For instance, at the end of fiscal year 2022, career rail employees received an average of $4,020 per month, while the average for all retired rail employees was $3,210. The average monthly benefit paid under social security was roughly $1,650 per month.
The Q&A also covers other information including differences in eligibility age requirements, disability, spouse and survivor benefits and payroll tax rates.
---

---
Railroad Retirement Board Offers In-Person Pre-Retirement Seminars
Railroad employees planning to retire soon can attend one of six pre-retirement seminars offered by the Railroad Retirement Board (RRB) at locations across the country.
The seminar helps individuals understand what benefits are available to them and what to expect during the application process. Registration is free, although parking fees for the venue may apply. All participants must register to ensure proper accommodations and materials for everyone.
Registration is now open for the RRB's pre-retirement seminars in April and May:
April 28 – Covina, California
May 5 – Cleveland, Ohio
May 12 – Omaha, Nebraska
May 19 – Denver, Colorado
Registration will open approximately 70 days before the remaining dates on the calendar:
June 9 – Kansas City
June 23 – Chicago, Illinois
FRA Publishes Safety Bulletin and Updated Civil Penalties Schedules and Guidelines Table
The Federal Railroad Administration (FRA) has published two documents with information relevant to ASLRRA railroad members: a safety bulletin concerning a recent switching accident and an updated table listing civil penalties schedules and guidelines.
The safety bulletin alerts railroads to a recent switching accident that resulted in a crew member's leg amputation. According to the FRA's preliminary investigation, a three-person team was switching loaded and unloaded tank cars to assemble an outbound train. The crew member was lacing air hoses in a siding when a cut of kicked cars coupled into stationary cars in the siding, causing movement of the stationary cars and resulting in loss of the crew member's leg.
The agency reminds railroads of factors involved in safe switching operations. This includes proper training and application of railroad operating rules when fouling equipment and proper job briefings and communications between crew members during switching operations. The agency also asks railroads to review its safety bulletin with employees to increase awareness of the hazards related to switching cars.
The FRA also issued an updated civil penalties table. The table includes the section of the Code of Federal Regulations (CFR) where the regulation is found, a description of the regulation, and the guideline penalty amount. The FRA has both a PDF version of the table and an Excel version available for download in its eLibrary.
---

Railroaders Meet Local Lawmakers at State Events, Similar to National Railroad Day on Capitol Hill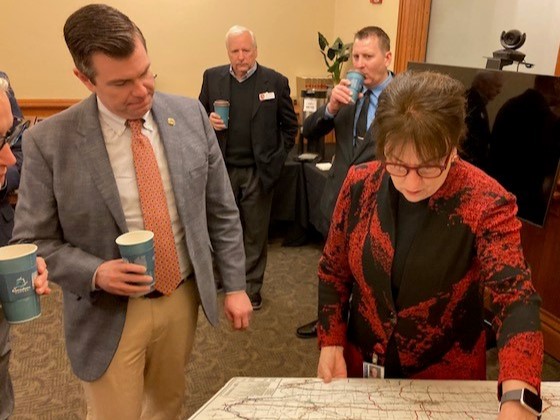 Iowa state Senator Annette Sweeney (right), who represents Hardin County, looks at a state rail map with Iowa Interstate Railroad President and CEO Joe Parsons. Iowa Interstate and several other ASLRRA members participated in a state-level short line and regional railroad breakfast to talk to local Iowa lawmakers about the short line rail industry.
On March 8, ASLRRA member Iowa Interstate Railroad hosted a short line and regional railroad breakfast at the Iowa state capitol in Des Moines with members of the state's House and Senate.
Representatives from Iowa Interstate Railroad and fellow ASLRRA members Cedar Rapids & Iowa City Railway, Burlington Junction Railway, Davenport Industrial Railway and Iowa Northern Railway participated, speaking with lawmakers about the economic impact of short line railroads in Iowa communities. The group also discussed the railroads' safety initiatives.
While Iowa's Department of Transportation has previously organized a similar event for all transportation modes, Iowa's short lines chose this year to host their own event to introduce legislators to the railroads' different and distinctive properties, emphasize their commitment to providing safe service and explain the detrimental effect of the pending one-size fits all legislation on the short line rail industry.
The Texas Railroad Association hosted a similar event on Feb. 14. During Texas Railroad Day at the Capitol, participants met with state legislators to discuss the local rail industry and its priorities.
Like these state events, Railroad Day on Capitol Hill connects railroad industry professionals and stakeholders with lawmakers, albeit at the federal level. Participants have an opportunity to meet their congressional representatives or senators, making a personal connection that puts a face to the industry and helps legislators better understand how their decisions in Washington, D.C. affect their constituents back home.
This year's Railroad Day on Capitol Hill takes place on May 17. It will begin with a grab-and-go breakfast at the Monocle Restaurant, where participants can meet with fellow attendees, gather materials for the day and pick up coffee and food. Meetings on Capitol Hill will run all day, from 9 a.m. to 5 p.m., and close with a reception at the Rayburn Building that is open to participants and congressional members and staff.
Click here to register for Railroad Day on Capitol Hill.
---

Know a company that would benefit from joining and participating in ASLRRA? Please contact ASLRRA's Senior Vice President of Membership and Business Development Kathy Keeney via email or on (202) 585-3439.
ASLRRA Welcomes Six New Associate Business Members
Look for a Few of These New Members at Their Booths in ASLRRA's Annual Conference Expo Hall

Cervello accelerates rail digital transformation by securing the industry's infrastructure and operations from cyber threats. Cervello provides extended visibility, security and management of all the assets connected to a critical network, combining OT, IoT, IT, and physical systems, turning the associated data into a powerful resource for contextual insights. The world's leading rail operators and infrastructure managers trust Cervello to increase customer and cargo safety, operational reliability, business continuity, and service availability. Learn more: https://cervello.security. Noga Livne, Marketing Operations Manager, is our primary contact.

Corys Inc., based in Jacksonville, Florida, is a leading supplier of training simulators in North America. Corys simulators are used for Locomotive Engineer Training Programs (LETP) at 5 of the 7 Class I freight railroads, the 4 large freight railroad holding companies, and 8 regional/short line freight railroads. Corys offers all styles of simulators for all types of rolling stock and can simulate any version of train control. Their simulators offer several levels of detail for CGI, including CGI developed from high-resolution, point-cloud Lidar survey data. VP-Business Development Greg Hayes is our primary contact. Learn more: visit Booth #844 in the expo hall during our annual conference next month in New Orleans.

Duos Technologies Inc, based in Jacksonville, Florida, provides a broad range of sophisticated machine vision and artificial intelligence solutions that analyze fast moving trains and trucks. Its Railcar Inspection Portal ("RIP®") automates and streamlines the railcar inspection process - improving overall safety and fleet health while targeting reductions in service interruptions. SVP - Sales & Marketing Matt Keepman is our primary contact.
---

---

JVC Kenwood, based in Dallas, Texas, is a premier supplier of multi-protocol two-way radio communications equipment to the rail industry. JVC Kenwood has designed a future proof, narrow band (NB) and very narrow band (VNB) digital radio protocol specifically for the Class I railroads. JVC Kenwood is positioned to support all rail customers regardless of size or scope and provide complete systems, mobiles and handheld portable radios. Western Region Sales Manager Sheryn Holliman is our primary contact. Learn more: visit Booth #443 in the expo hall during our annual conference next month in New Orleans.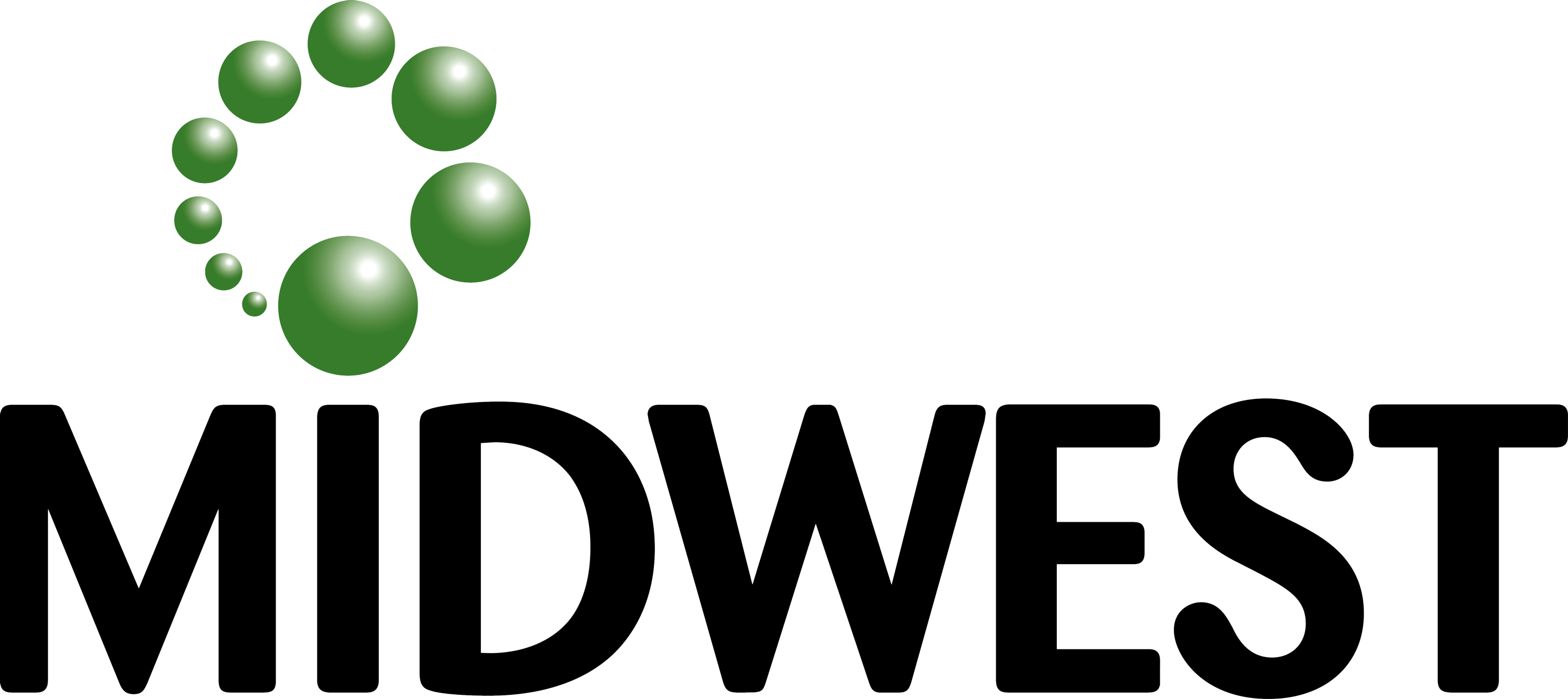 Midwest Industrial Supply offers the Glidex family of lubricants, anti-icing, and deicing products which ensure long-lasting lubrication on vital rail switches and vertical surfaces. Applied as a fluid, they remain in place and becomes static, providing a barrier that keeps metal components lubricated. Midwest is also the leading innovators in dust control that's advanced, science-based, and measurable. Only Midwest offers a complete system of chemistry plus application expertise for verifiable, long-lasting dust control for unpaved roads. Our primary contact is Rail & Transit Sales Manager Eric Vantiegham. Learn more: visit Booth #849 in the expo hall during our annual conference next month in New Orleans.

URETEK USA is the industry leader in rehabilitating track settlement without excavation due to poor and/or degraded subgrade conditions. Areas of concern such as mainline track, crossings, areas of high-water infiltration, areas of persistent settlement, can all be remediated utilizing the URETEK Deep Injection process. URETEK has over 30 years in business and over 100,000 successful projects worldwide! Its success comes from creating a long-lasting, structurally sound sub-ballast foundation system by truly improving and rehabilitating the load bearing capacity of the in situ underlying soils. Regional Manager Derek Berthelot is our primary contact. Learn more: visit Booth #724 in the expo hall during our annual conference next month in New Orleans.
---

ASLRRA's Conference Offers No Shortage of Networking Opportunities
Ask ASLRRA's small-business suppliers what they consider one of the top benefits of having an ASLRRA membership and they often respond with one word – networking. And no event provides a greater opportunity for making connections with small railroads and supplier companies than ASLRRA's Annual Conference and Exhibition.
The conference, held this year April 2 to 4 in New Orleans, Louisiana, offers many different ways for attendees to connect. These include
Register today for ASLRRA's Annual Conference. Do not miss out on this opportunity to reunite with old friends and make new one. As Lou Schillinger of ASLRRA supplier member United Shortline Insurance said about networking at ASLRRA's events, what used to be a "sea of faces" for him is now a "sea of friendships."
---

---
---

Access Disaster Preparedness Tools on ASLRRA's Website
With support from railroad and supplier members, ASLRRA has assembled essential templates and checklists to assist members in developing response plans that can be put in place and used as training tools before disaster strikes, as well as emergency response tools and resources to aid in the recovery process in the aftermath of a catastrophic event.
Available resources on the Association's Disaster Preparedness page include disaster planning, hazmat response and instructions on accessing an emergency docket, in addition to links to other government websites. ASLRRA members may download materials directly from the website. Find the Disaster Preparedness page under the Safety & Compliance tab.
ASLRRA also has a robust selection of recorded webinars available for members in the On-Demand Resource Library that may be used to prepare and train for emergency situations. Topics range from Crisis Communications and Media Training to Hazardous Materials Incident Reporting and Emergency Notifications Section Review.
ASLRRA's Drug and Alcohol Education Materials Include Downloadable Posters
ASLRRA's Drug and Alcohol Educational Materials page includes posters available for download, a Part 219 educational brochure, affidavit templates and employer review documents.
Developed with experts on ASLRRA's Safety and Training Committee, the materials are available to ASLRRA members under the Safety Training Resources section of ASLRRA's Safety & Compliance page. Each of the posters can be printed for use on railroad property and are meant to help ensure employees are aware of some of the rules and regulations concerning drug and alcohol use. Other resources help railroads, contractors and employees learn more about required compliance practices and drug and alcohol testing.
The educational materials page also features links to webinar recordings discussing Part 219, which can be found in ASLRRA's On-Demand Webinar library.
---

On-Demand Webinars Help with Regulatory Compliance and Safety and Operations Issues
ASLRRA members can find 83 recorded webinars in the Regulatory and Operations and Safety categories of ASLRRA's On-Demand Webinar library, focused on helping them understand federal regulations and compliance as well as issues related to things like rail analytics and railcar early warnings. Look for titles like
US EPA Locomotive Emissions Compliance (40 CFR 1033 and 1068)
FMCSA Drug and Alcohol Clearinghouse Requirements for CDL Drivers
Part 219 Education Materials and Correction Affidavits
Using AI Technology to Improve Grade Crossing Safety
Visit ASLRRA's webinar homepage and log in to view all the on-demand offerings in the Association's webinar library. Most of the recordings also have a copy of the accompanying PDF presentation available for download. ASLRRA members can access recordings for free at any time, while non-members can purchase a subscription.
Click here to learn more about ASLRRA's education offerings.
---

Short Line Safety Institute Seeking Manager of Program Support
The Short Line Safety Institute is looking to fill an open position for a manager of program support. The application period closes at 11:59 pm ET on March 23.
According to the SLSI's posted job description, the job's duties and responsibilities include working with senior leadership across various programs, including the Hazardous Materials Training Program, the Safety Culture Assessment Program, the Confidential Close Call Reporting System (C3RS), and other SLSI initiatives.
Please email cover letters and resumes to jobs@shortlinesafety.org.
Click here for a calendar of industry events.
---
Views & News is published by American Short Line and Regional Railroad Association.
Please contact Amy Krouse, editor, with questions or comments.