---
Issue Highlights:
Regulatory – FRA safety advisories discuss king pin assemblies and roadway maintenance machine safety
Legislative – Odds of shutdown grow; USDOT publishes guide for operations during funding lapse
New Members – ASLRRA welcomes one new, one returning member
Announcements – Nominations now being accepted for Veterans Engagement Award
ASLRRA Events – General Counsel Symposium features strong slate of speakers
Out and About – ASLRRA staff is in California for regional meeting
---
---

Short Lines Receive Record Funding from CRISI Grants
On Monday, the U.S. Department of Transportation (USDOT) and Federal Railroad Administration (FRA) announced the recipients of fiscal year 2022 (FY22) Consolidated Rail Infrastructure and Safety Improvement (CRISI) grants. Roughly half of this year's $1.4 billion in awards will go to small business freight rail projects, to the tune of $720 million.
"These awards make possible transformational improvements to short line rail infrastructure, pouring hundreds of millions of dollars into safety improvements, emissions-reducing technology, and track and bridge rehabilitation to enhance network resiliency, capacity, fluidity, and service to shippers," said ASLRRA President Chuck Baker.
Overall, short lines or their partners put forward 47 of the 70 projects receiving grants. These projects will rehabilitate hundreds of miles of track, repair or replace dangerously old bridges, construct sidings, upgrade or replace high-polluting locomotives and more. ASLRRA issued a press release regarding the awards, noting the many ways short lines will benefit from the grant program.
"The CRISI program is 'the people's program' for the short line rail industry. It is the only federal grant for which short lines are directly eligible, it invests enough in individual short line projects to truly move the dial, and generally requires realistic matching for small businesses," said Baker. "There are many to thank for this historic day – Congress for funding CRISI through the bipartisan infrastructure bill and the annual appropriations process, the FRA for the tireless work to select the applications and the upcoming work to advance the projects to completion, the many State DOT and local governments who partnered with short lines to present compelling and comprehensive applications, and the thousands of shippers that trust their business to short lines every day."
Also on Monday, Transportation Secretary Pete Buttigieg visited ASLRRA member Cornhusker Railroad in Grand Island, Nebraska to announce the CRISI grant awards, where he mentioned the important contributions of short line railroads in his speech. Cathcart Rail Chairman and CEO Casey Cathcart also spoke during the event. He described the importance of CRISI grants and how Cornhusker Railroad, which is owned by Cathcart Rail, will use their award to improve safety and service in part through track and grade crossing upgrades.
While ASLRRA is excited about the record amount of CRISI funding awarded to short lines for the FY22 cycle, the Association continues to work on behalf of its members to encourage similarly robust investment in the program through FY24 appropriations. According to Secretary Buttigieg, the FRA received applications for approximately $6 billion in project funding, far surpassing the $1.4 billion available.
Short lines submitting projects that were not chosen during this round of funding can gain more insight by writing to FRA-NOFO-Support@dot.gov, an email the FRA set up to debrief interested applicants. The FRA has also published a document answering frequently asked questions about pre-award authority concerning costs incurred after a grant award selection announcement but before the grant is obligated.
ASLRRA expects the FRA to release a combined notice of funding opportunity (NOFO) in the next few months for FY23 and at least part of FY24's available funding. The Association is eager to help its members position themselves to take advantage of this opportunity once it becomes available. There is a CRISI Grant Application Information page on ASLRRA's website, and members can also contact Assistant Vice President, Policy and Industry Affairs Richard Sherman at rsherman@aslrra.org to discuss a submitted application or an upcoming submission.
---

New FRA Safety Advisories Focus on King Pin Assemblies, Roadway Maintenance Machine Safety
The Federal Railroad Administration (FRA) has issued two new safety advisories, one concerning king pin assemblies in highway-rail grade crossing warning systems, and another focused on ensuring worker safety around roadway maintenance machines.
The first safety advisory warns railroads of the potential failure of king pin assemblies and advises railroads to inspect and replace all worn components in king pin assemblies. The advisory goes on to suggest railroads develop inspection and maintenance programs for these assemblies.
Described in the advisory is the way king pin assemblies can break if worn or damaged, increasing the likelihood that a crossing gate can fall suddenly, potentially injuring any individuals nearby. The advisory also contains images of defective king pins and king pin assemblies.
The second advisory focuses on the safety of roadway workers who operate or work near roadway maintenance machines (RMMs). In light of two incidents since 2021 where workers were struck and killed by RMMs on main line track, the FRA urges railroads to review rules and procedures meant to protect roadway workers.
Railroads and contractors should not only review and update rules but communicate any changes to employees and monitor employees for compliance with current and updated rules and procedures. Additional safety briefings would also be a way to increase worker awareness of the dangers of operating and working around RMMs.
ASLRRA publishes copies of agency safety alerts, bulletins, advisories and other notices on its website. Find these new FRA advisories and more by clicking here.
Technical Report from FRA Examines Vertical Split Rims on Railway Wheels
A technical report from the Federal Railroad Administration (FRA) focuses on the causes and prevention of vertical split rim (VSR), which is related to broken wheel rims – one of the leading causes of FRA-reportable wheel-related accidents.
Researchers focused on four areas for this projects: analyzing VSR rates in freight cars and locomotives; measuring residual stresses in new wheels; conducting a finite element analysis (FEA) of wheel stresses due to flaws; and creating a VSR in a laboratory setting.
The FRA's report presents conclusions for each of the areas studied, including that freight car wheels have a higher frequency of broken flanges or rims and that researchers were unable to recreate a VSR in controlled conditions.
---

---
---

Senate Introduces Its Own Stopgap Bill to Head Off Government Shutdown
Senate leaders released a 79-page continuing resolution Tuesday evening in an attempt to avoid a shutdown that would start on Oct. 1. Their stopgap bill would fund the government until Nov. 17, giving Congress more time to debate longer-term funding measures.
The Senate voted 72-18 to advance their measure, putting them on track to pass the bill later this week and send it to the House for their vote. The Senate's continuing resolution includes roughly $6.15 billion for the Defense Department and State Department to support Ukraine and $5.99 billion for the Federal Emergency Management Agency's disaster relief fund. The bill also temporarily extends authorization for the Federal Aviation Administration.
While the Senate does not usually propose its funding bills ahead of the House, the inability of the House to advance its own continuing resolution or any full-year appropriations measures has prompted the Senate to take action. Still, the addition of money for Ukraine in the Senate bill is a controversial move that threatens the bill's success.
While the Senate works on a stopgap measure, yesterday evening the House voted to advance four full-year spending bills for the Department of Defense, Department of Homeland Security, Department of State and the Department of Agriculture. However, that effort does not do anything to stop a shutdown. The general hope is that a vote to move the bills forward will encourage members to vote on and pass the House's own continuing resolution.
Department of Transportation Outlines Shutdown Plan
The U.S. Department of Transportation (USDOT) outlined its operation plan in the event of a government shutdown, identifying how a lapse in appropriations would affect each USDOT agency.
Information about the Federal Railroad Administration (FRA) begins on page 15 and includes a summary of significant agency activities that would continue during a shutdown. As many as 350 FRA employees could be furloughed. Work related to safety and general oversight, including investigations and inspections, would continue, but certain work related to grants and research and development, among other things, would slow down or cease completely.
Information about the Pipeline and Hazardous Materials Safety Administration (PHMSA) begins on page 19. Any pipeline safety activities not funded through the annual appropriations process would continue. Similar to the FRA, investigations, inspections and certain enforcement activities would continue, as well as actions necessary to address any imminent hazards that may arise during a shutdown. Activities that would cease include program development, rulemaking and research, and more.
Secretary Buttigieg Testifies Before House Committee on Transportation Issues
Last Wednesday, Transportation Secretary Pete Buttigieg testified during a hearing by the House Committee on Transportation and Infrastructure (T&I Committee) titled "Oversight of the Department of Transportation's Policies and Programs."
Although Buttigieg did not delve into specific short line issues, he spoke in depth about the Infrastructure Investment and Jobs Act (IIJA) and the projects that legislation is funding across the country. He specifically referenced projects in the districts represented by T&I Committee members.
Buttigieg also spoke about and answered questions concerning rail safety legislation introduced since the incident in East Palestine, Ohio and stressed the Biden Administration's support for these bills. However, ASLRRA remains concerned about the possible repercussions of pending legislation on short line operations.
Finally, Buttigieg spent time discussing a number of other transportation issues related to aviation, pipelines, electric vehicles and highway safety.
---

Know a company that would benefit from joining and participating in ASLRRA? Please contact ASLRRA's Senior Vice President of Membership and Business Development Kathy Keeney via email or on (202) 585-3439.
ASLRRA Welcomes One New, One Returning Associate Business Member
Diesel Electrical Equipment, Inc., based in Griffith, Indiana, specializes in the OEM repair and rebuilding, unit exchange and sale of locomotive electrical components and material. Components include contactors, reverser switches, controller mechanisms, master controllers and motorized transfer switches. It also offers a CIP program to support a cost-effective and sustainable method for increasing MU jumper cable usage. The company is W.B.E. and AAR M-1003 Certified. Our primary contact is Susan Pappas Gregory, who can be reached on (219) 922-1848. ASLRRA is pleased to welcome Diesel Electrical Equipment back to our membership rolls.
ECC Corporation, based in Cumberland, Rhode Island, is a full-service contractor with a strong commitment to supporting railroad construction/maintenance, with capabilities that rival many MOW departments. Its services encompass project management/owner representation/project oversight, inspections - project specific/track/signal, safety, roadway protection as well as signal and track design. Our primary contact is Director-Business Development Mark Renker, who can be reached on (508) 989-6856.
---

---
---

ASLRRA Accepting Veterans Engagement Award Nominations
In anticipation of ASLRRA's 2024 Annual Conference and Exhibition, the Association is accepting nominations for its Veterans Engagement Award.
The Veterans Engagement Award honors a member organization that demonstrates positive policies toward U.S. veterans and implements unique programs and practices to hire, recognize, support and engage with veterans in the workplace and the broader community.
Members may still be planning veteran-centered events through the rest of the year, so ASLRRA encourages these companies to keep track of their efforts and consider submitting a nomination in early 2024. The nomination process involves filling out a simple online form, which can be found here. Those with questions about the process should contact ASLRRA's Sabrina Waiss.
ASLRRA's 2024 Annual Conference and Exhibition will take place March 24-26 at the Kansas City Convention Center in Kansas City, Missouri. More information about the event will be coming soon, with registration expected to open in November.
ASLRRA Preferred Provider Loram Technologies Helps Members Save on Tie Inspections
ASLRRA member railroads can turn tie inspections into savings and safety with Loram's Aurora Track Inspection Technology. As an exclusive ASLRRA Preferred Provider, Loram offers discount pricing on its Aurora Track Inspection Technology featuring state-of-the-art imaging technology that scans track to reveal the specific condition of every tie along the way, pinpointing potential problems and marking their exact location.
All ASLRRA Member Discount Program Preferred Providers are carefully vetted companies committed to providing discounted pricing, special offers and guaranteed exceptional services on a range of industry-specific products and services. Visit the Member Discount Program page to view all Preferred Providers and learn how Loram's Aurora Track Inspection Technology can make your operations safer and more efficient.
Safety and Training Resources Cover a Number of Issues Important to Railroads
ASLRRA, along with various industry partners, has developed a number of safety and training resources that are available at no cost to Association members.
These resources include a post-accident toxicological testing video and a drug and alcohol signs and symptoms video. There are downloadable drug and alcohol educational materials, including posters, a Part 219 educational brochure, affidavit templates and employer review documents.
There is also a page on grade crossing inventory reporting information and a transportation rail incident preparedness and response (TRIPR) training factsheet.
---

General Counsel Symposium Presents Strong Lineup of Speakers
ASLRRA has added to its General Counsel Symposium, a targeted event featuring railroad-specific education sessions geared toward the industry's legal professionals.
The Association has added "FRA's Risk Reduction Program Rule: What Short Lines Need to Know" on Nov. 7, presented by Fletcher & Sippel, LLC's Elizabeth Bryant and Janet Gilbert and ASLRRA's Sarah Yurasko. And on Nov. 8, Peyton Wilson of Reifers, Holmes & Peters, LLC will give a presentation titled "The Power of Presumption and Avoiding Litigation." Symposium attendees can also register to receive continuing legal education (CLE) credits.
The General Counsel Symposium and the Finance and Administration Seminar, meant for finance and human resource employees, are both co-located with ASLRRA's Eastern and Southern Region Meeting. Attendees of these events can take advantage of the networking opportunities provided by the Eastern and Southern Region Meeting, though registration is separate for all three events.
ASLRRA is still inviting sponsors for both the General Counsel Symposium and the Finance and Administration Seminar. Sponsors receive a variety of benefits including increased visibility at the events and recognition in the Association's communications.
---

---
---

Staff Shorts – Who is Where in the Rail Industry World
Last week, ASLRRA Senior Vice President, Safety, Regulatory and Environmental Policy Jo Strang traveled to Ohio to participate in a roundtable hosted by Rep. Marcy Kaptur (D-Ohio). Participants met on Sept. 22 to discuss the future of rail in northern Ohio and the Great Lakes Region. Also in attendance were FRA Administrator Amit Bose, Amtrak CEO Stephen Gardner and other rail, labor and civic leaders.
ASLRRA Staff Convenes in California for Central and Pacific Region Meeting
ASLRRA is holding its annual Central and Pacific Region Meeting this week in Long Beach, California. The Association is also holding a Leadership Development Training Seminar – Regulatory Module this week, co-located with the regional meeting.
Next week's edition of the "Views & News" newsletter will feature a roundup of meeting highlights, including pictures of the ceremony honoring President's Safety Award winners.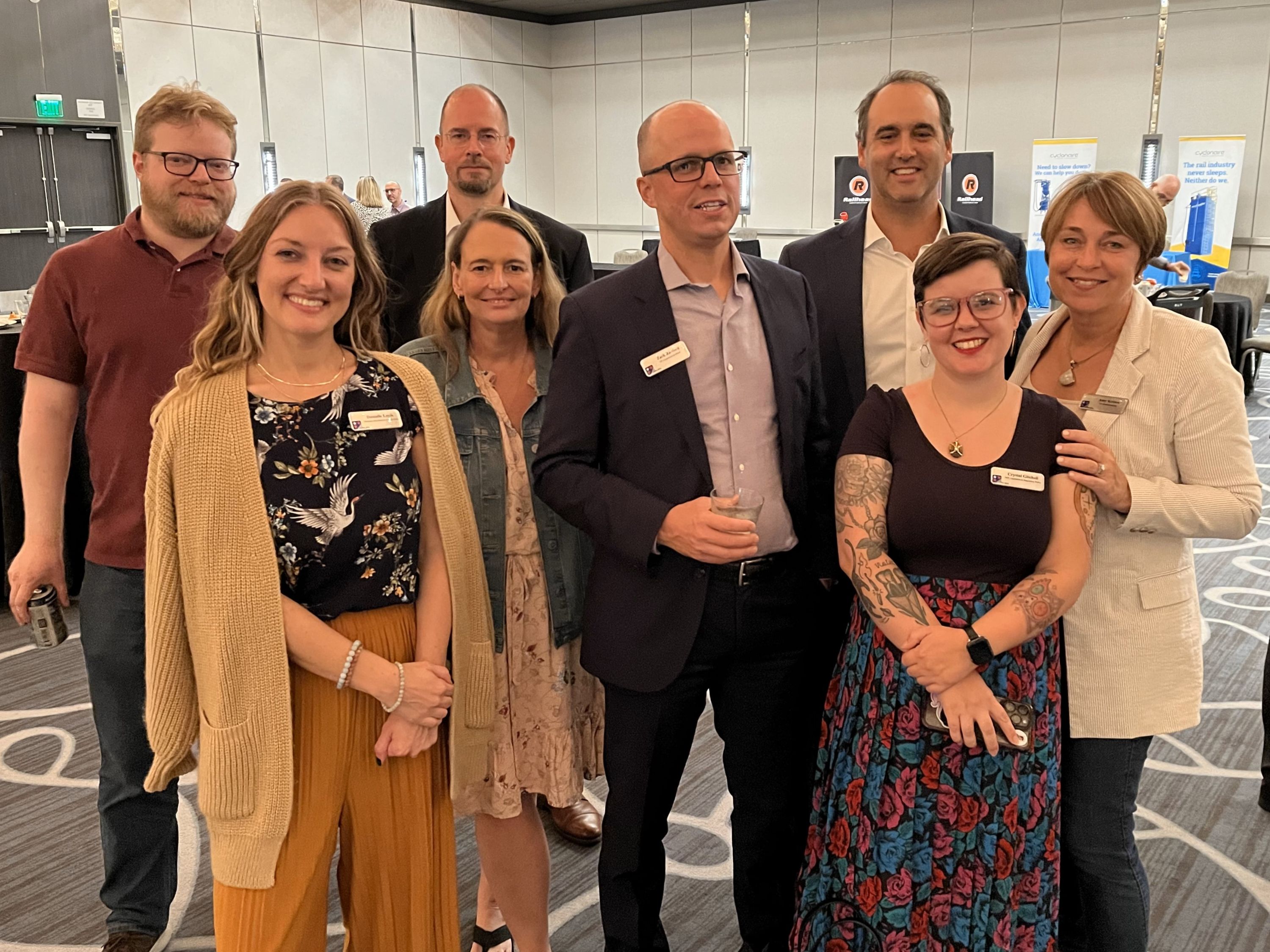 ASLRRA staff members (L to R) Fred Oelsner, Danialle Lovik, Richard Sherman, Amy Westerman, Zach Radford, Chuck Baker, Crystal Gitchell and Amy Krouse are in Long Beach, California for the Association's Central and Pacific Region Meeting. Not pictured: Sabrina Waiss, Wayne Whitaker, Mike Ogborn, Jo Strang and JR Gelnar.
---

Upcoming Webinars
The aging workforce in the U.S. railroad industry creates risks for the loss of expertise and institutional knowledge. Succession planning alone, however, cannot fully address these risks. In 2022, the FRA funded a novel research project — Expertise Management for Safety Leadership Positions in the U.S. Railroad Industry — to address mitigating these risks. Expertise Management (EM) is a mature and under-utilized approach for identifying, capturing, and transferring expertise. EM builds on Cognitive Task Analysis methods that have been used successfully for training programs. This webinar will introduce the EM project, its unique approach, and its training products developed for the short line and regional railroad industry (e.g., Decision Games, Experts' Stories, and Job Aids). The webinar will include a brief demonstration of how these products can be utilized in existing or new railroad training programs.
In this webinar, Loram Technologies Data Sciences Manager Brian Barthel and Quality and Production Manager Mitchell Christensen will focus on maintenance planning and practices designed to help optimize the life of your rail. Topics discussed include variables that cause premature rail replacement and rail grinding best practices to extend the life of rail.
Sponsored by Loram Technologies.
On-Demand Webinars
Grant Webinars Available as Recordings in ASLRRA's On-Demand Library
Recent ASLRRA webinars have explored CRISI grant funding and other federal funding opportunities. The most recent grant webinar presented by ASLRRA's Zach Radford and Richard Sherman is also now available in the Association's On-Demand Webinar Library. Look for the following titles below, and find more by searching for the keyword "grant" in the library search bar.
Beyond CRISI: A Survey of Federal Grant Programs with Freight Rail Eligibility
CRISI: A Workforce Development Project Case Study
FRA CRISI Funding: Locomotive Replacement Provision
Visit ASLRRA's On-Demand Webinars Page and log in to access a complete list of all ASLRRA's nearly 200 webinar recordings.
Click here to learn more about our education offerings.
---

Click here for a calendar of industry events.
---
Views & News is published by American Short Line and Regional Railroad Association.
Please contact Amy Krouse, editor, with questions or comments.