---
Issue Highlights:
Regulatory – RRB details earnings limit and benefit increases for 2024
Legislative – House continues to struggle with electing a speaker
Announcements – ASLRRA welcomes new legal and office administrator; Veterans profile features CSS and PowerRail
Out and About – Baker, Sherman and Radford speak at industry events
Industry Events and Announcements – Over half of Women in Rail honorees are ASLRRA-member employees
---
---

Preparing to Apply for the Next Round of CRISI Funding: First Steps and Administrative Tasks
The Federal Railroad Administration (FRA) plans to open the next notice of funding opportunity (NOFO) for the Consolidated Rail Infrastructure and Safety Improvements (CRISI) program sometime between December 2023 and February 2024. Applicants should have 90 days from that opening to the submittal deadline. That is less time than it seems, especially if the application period ends up crossing over the holidays.
To help ASLRRA members prepare for the next round of CRISI funding, the Association offers tips from Assistant Vice President, Policy and Industry Affairs Richard Sherman on items to undertake right now. Last week, ASLRRA reviewed the revise and resubmit process for applicants who might not have had a successful application in the Fiscal Year 2022 round. This week, Sherman reminds those preparing new applications about important first steps and administrative tasks.
Eligibility Determination: It is important to verify applicant eligibility early. This is especially true if it is the organization's first time applying, if there is an intent to change the applicant entity within the organization, or if the organization intends to partner with another entity that will make the application. Verify the plan against the eligibility criteria from previous cycle, which can be found in NOFO section C.1. Be careful when determining eligibility for municipal partners and consult with the FRA early if there are eligibility questions.
System Registrations: The applicant entity must be registered with the federal System for Award Management (SAM) and grants.gov. If it is the first time that an organization is being registered, this process can take a few weeks. Logins and passwords should be accessible to more than one person in the organization, because regaining access to an account is a time-consuming process. Organizations that were previously registered should check that their information is current, and the logins work in both systems. If planning to apply through a public applicant, verify that the applicant has both their accounts in order and determine now who will be responsible for submitting the application.
Begin Work with Vendors Early: There will be an unprecedented amount of funding offered through CRISI in the next cycle, north of $2 billion. In parallel, demand is now hitting the railroad supplier market for goods and services in support of projects funded through many other federal programs, CRISI included. All of this is competing for the limited pools of experienced talent that can provide professional services for engineering; materials, equipment, or contracting quotes; or grant writing support. Vendors of materials, contracting services and equipment do not have infinite capacity. Waiting until the NOFO opens to reach out to vendors may result in difficulty getting what is needed in the time available.
For more help with CRISI grant applications, ASLRRA's website features a page with information and resources, some of which is available only to members. The Association's Member Discount Program also includes grant writing Preferred Providers who can help members with grant applications for a variety of different programs. Also available are recorded webinars through ASLRRA's On-Demand Webinar Library; find them by searching for the keyword "CRISI" on the library homepage.
Those who are attending ASLRRA's Eastern & Southern Regional Meeting in Lexington, Kentucky can also meet with FRA representatives at the event. The FRA will hold office hours on Nov. 8 from 1 to 5 p.m., to discuss CRISI projects and applications and other grant programs.
ASLRRA Receives FY22 CRISI Grant for PTC Project
ASLRRA will be able to help create a back-office server system for short line railroads operating as positive train control (PTC) tenants on the Northeast Corridor (NEC) thanks to a fiscal year 2022 Consolidated Rail Infrastructure and Safety improvements (CRISI) grant from the Federal Railroad Administration (FRA). This grant award serves as an example of how the Association can collaborate with its members to pursue funding opportunities enabling the execution of safety improvement projects. Overall, the project will improve network fluidity, safety and performance in the NEC.
The Short Line PTC Performance Analytics and Security on the NEC Project will create a new cloud-based, back-office system to allow for remote management of security keys and PTC data. Currently, short lines operating as PTC tenants on the NEC must align with the hosts' Advanced Civil Speed Enforcement System (ACSES), which is different from what most Class I freight railroads use and requires tenants to physically board a PTC-equipped locomotive to upload security keys or download data. Completion of this project will reduce labor time working on board locomotives, provide advanced data processing and analysis and streamline reporting to meet federal data reporting requirements.
ASLRRA was the project's lead applicant, with member parent company Genesee & Wyoming Inc. and associate business member Wabtec Corporation. New Jersey Congressman Andy Kim supported ASLRRA's CRISI application and noted the positive effects the project will have on shipping efficiency in the NEC.
---

---
---

Railroad Retirement Board Announces Increases to Earnings Limits, Retirement Benefits in 2024
The Railroad Retirement Board (RRB) released financial updates for 2024, namely information on an earnings limits increase and an increase to railroad retirement benefits.
Earnings limits for railroad retirement annuitants are higher due to an increase in the average national wage. Annuitants who are under full retirement age throughout 2024 can now earn up to $22,320, an increase from $21,240 in 2023. The earnings limit for those reaching retirement age in 2024 is now 459,520 for the months before the month in which retirement age is attained.
Railroad retirement annuities will also increase in the coming year due to a rise in the Consumer Price Index (CPI). The Tier I portion will increase 3.2 percent, the percentage of the CPI rise, while the Tier II portion will go up by 1 percent. That means the average regular annuity will be $3,450 starting in January. Employee and spouse annuities will rise to $4,980 and widow(er)s eligible for an increase will receive $1,862.
FRA Final Rule Requires Cameras in Passenger Train Lead Locomotives
A final rule from the Federal Railroad Administration (FRA) requires installation of inward- and outward-facing cameras on all passenger train lead locomotives that provide scheduled intercity passenger or commuter service.
The Fixing America's Surface Transportation (FAST) Act required this regulation be made for passenger trains. The National Transportation Safety Board (NTSB) also recommended implementation of this requirement as a way to improve safety in the passenger rail industry.
Freight railroads are not included in this rule as they were not a part of the FAST Act mandate. The FRA notes in its press release on the rule that freight railroads have already voluntarily installed these types of recording devices "on a widespread basis."
EPA Webinar to Preview Clean Ports Program
The Environmental Protection Agency (EPA) will hold a webinar on Oct. 31 to give a first look at the EPA's new Clean Ports Program.
The Clean Ports Program, which builds on the EPA's Ports Initiative, will fund zero-emission port equipment and technology and help ports develop plans to reduce air pollutants at their facilities. Railroads that operate in and serve ports could benefit from this program and its funding for more environmentally friendly equipment.
The EPA anticipates a notice of funding opportunity (NOFO) for the program will be released around February or March 2024. Click here to learn more about and register for the webinar.
---

---
---

House in Disarray as Senate Works on Passing a Long-Term Budget
The House continues in its efforts to elect a new speaker after Rep. Steve Scalise (R-La.) withdrew from the race last week. Yesterday, the House held its first vote on Rep. Jim Jordan (R-Ohio), but Jordan was not able to get the 217 votes he needed to win. The House is expected to hold a second round of voting on Jordan's nomination today.
Without a speaker, the House cannot advance any spending bills. There is only a month left before the current continuing resolution expires, and Congress must pass a long-term budget or another extension before then or risk a funding lapse and government shutdown. Meanwhile the Senate is trying to advance its spending bills, grouping the transportation, housing and urban development bill with two other appropriations bills.
---

New Legal and Office Administrator Joins ASLRRA Team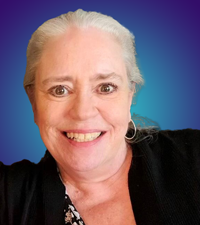 ASLRRA is happy to welcome Kathi Birch, the Association's new legal and office administrator. Birch will be responsible for a range of administrative and paralegal duties, and will report to Senior Vice President, Law and General Counsel Sarah Yurasko.
Birch will manage tasks related to human resources, accounting and law. This will include onboarding staff, receiving and processing invoices and conducting law research. She also provides administrative support to the Association's Board of Directors, Executive Committee and General Counsel Committee.
Birch brings over 30 years of experience in office administration, billing and legal support. She also brings experience in railroad industry operations and association management. She comes to ASLRRA from the Association of American Railroads where she spent seven years in several positions including finance and human resources administrator and senior executive assistant in the law department.
Support for Veterans from Chicago South Shore and South Bend Railroad and PowerRail Includes Public Displays
With Veterans Day a month away, ASLRRA is featuring the stories of member companies that make it a priority to hire, recognize, support and engage U.S. military veterans, National Guard members and reservists in the workplace and the broader community. ASLRRA is currently accepting nominations for its annual Veterans Engagement Award, and the members featured here comprise last year's award finalists.
Both ASLRRA members Chicago South Shore & South Bend Railroad (CSS) and PowerRail work to hire and retain members of the military. These companies also make it a priority to demonstrate their support for the Armed Forces, not just through internal policies and events but by creating prominent displays in offices and on company equipment.
CSS engages veterans and military members through recruitment efforts, hiring and in company practices. CSS works with the veteran representative at local Indiana employment offices and makes sure to encourage veterans to apply for open positions at the company.
In 2022, 18 percent of all CSS hires were veterans, and CSS made charitable donations to the Gary Sinise Foundation, the Wounded Warrior Project and Homes for our Troops. In addition, the railroad honors military-affiliated employees with a Veterans Day luncheon every year. CSS also displays a logo in support of service members on all its locomotives.
PowerRail's veteran and active-duty employees comprise nearly 12 percent of the company's total workforce and represent every branch of the Armed Forces except the Space Force. Two PowerRail employees are also active members of the National Guard. In recognition of their policies supporting their National Guard employees, PowerRail has received the Patriotic Employer Award from the Employer Support for the Guard and Reserve organization, and PowerRail Distribution received the Seven Seals Award for its work on behalf of active-duty service members.
As a recruitment tool, PowerRail has participated in a virtual employer seminar hosted by Pennsylvania CareerLink of Luzerne County. PowerRail's Tom Casper spoke about working at the company and the benefits available to veterans.
At PowerRail headquarters, the company is creating a veterans wall to highlight the company's service member employees. Powerrail has also held fundraising events on behalf of Veteran's Promise, a nonprofit organization in Pennsylvania that helps veterans and their families.
ASLRRA is proud of its members and their efforts to demonstrate positive policies toward U.S. veterans. Another way the Association shines a light on its members' efforts is through the Veterans Engagement Award. ASLRRA encourages all those who have implemented programs like those described above to nominate their companies for the award using this online form. The winner will be honored at ASLRRA's Annual Conference and Exhibition in Kansas City, Missouri, which will be held March 24 to 26, 2024.
---

---
Reduce Risk, Control Costs, and Streamline Your Supply Chain With Würth
Würth is ASLRRA's Preferred Provider of personal protective equipment (PPE) and related services and their customer-first approach to service and support has a long history. Since opening their doors, Würth has helped thousands of companies protect their employees and work with optimum efficiency for maximum output. Their team of railroad specialists currently supports nearly 200 short line railroads, rail industry contractors, and Class I railroad companies.
ASLRRA members can depend on Würth for quality safety and industrial products and exceptional customer service, plus discounted pricing on a huge assortment of products and equipment needed to implement an effective and efficient safety program. Offerings include foot and leg protection, signs, ergonomic products, hearing and eye protection, clothing protection, lighting and electrical products, storage containment and environmental spill cleanup, traffic control and much more.
Visit www.aslrra.org/discounts to view Würth's complete product offering and suite of services and start saving today.
Railroad Drug and Alcohol Education Materials Available for Download
ASLRRA members have exclusive access to downloadable Drug and Alcohol Educational Materials, including posters, a Part 219 educational brochure, affidavit templates and employer review documents, designed in consultation with subject matter experts on the association's Safety & Training Committee.
The members-only Educational Materials webpage also features links to webinar recordings discussing Part 219, including "Part 219 Education Materials and Correction Affidavits," "Overview on the Expanded Scope of Part 219," "Drug & Alcohol Rules & Regulations" and "The DOT's New Oral Fluid Testing Final Rule – What Do Employers Need to Know?", all available free to members in ASLRRA's On-Demand Webinar library.
---

Variety of Education Sessions Designed to Appeal to Diverse Group of Regional Meeting Attendees
Attendees at ASLRRA's Eastern and Southern Region Meeting will find expert speakers at the General Sessions on a variety of topics appealing to those with different interests and career fields.
In addition to a Short Line Leaders Panel moderated by ASLRRA President Chuck Baker on day one and a Shipper's Panel moderated by Baker on day two, there will be general sessions focused on hazardous materials transportation, Federal Railroad Administration (FRA) grants, Class I and Short Line Safety Institute (SLSI) updates, cyber security, railway safety trends, new rail technology and legislative and regulatory work on Capitol Hill. Afternoon Education Breakout sessions offer attendees the options to learn about FRA Part 243, SLSI research, crisis communications, safety and inspections data analysis, grant funding and virtual reality training.
The General Counsel Symposium, held Nov. 7 to 8, offers attendees seven hours of continuing legal education (CLE) credit for sessions covering topics like indemnity agreements and the FRA's Risk Reduction Program. The Finance and Administration Seminar, held Nov. 8 to 9, will feature sessions on topics like fraud prevention, employee financial freedom and sales tax trends. Both events co-located with ASLRRA's Eastern and Southern Region Meeting. Attendees of these events can take advantage of the networking opportunities provided by the Eastern and Southern Region Meeting, though registration is separate for all three events.
ASLRRA is still inviting sponsors for both the General Counsel Symposium and the Finance and Administration Seminar. Sponsors receive a variety of benefits including increased visibility at the events and recognition in the Association's communications.
---

---
---

Staff Shorts – Who is Where in the Railroad World
Chuck Baker and Richard Sherman attended the Virginia Railroad Association's annual fall meeting in Roanoke, Virginia on Oct. 12 and 13. At the event's opening night dinner, Baker introduced keynote speaker Jennifer Mitchell, who is deputy administrator at the Federal Railroad Administration. During Friday's general session, Sherman provided a Washington update to meeting attendees, discussing the Association's current work in the policy, legislative, legal and regulatory realms.
JR Gelnar was in Addison, Texas for a meeting of the Association of American Railroads' (AAR) Hazmat and Tank Car Committees. The Hazmat Committee discussed a number of topics, focusing on comments regarding Pipeline and Hazardous Materials Safety Administration (PHMSA) actions, while the Tank Car Committee reviewed multiple dockets.
Zach Radford spoke at the Railway Tie Association's (RTA) 105th Annual Symposium and Technical Conference being held this week. His focus was on the major policy challenges facing short lines in Congress and the ways organizations can work together as a freight rail industry to advance policy priorities.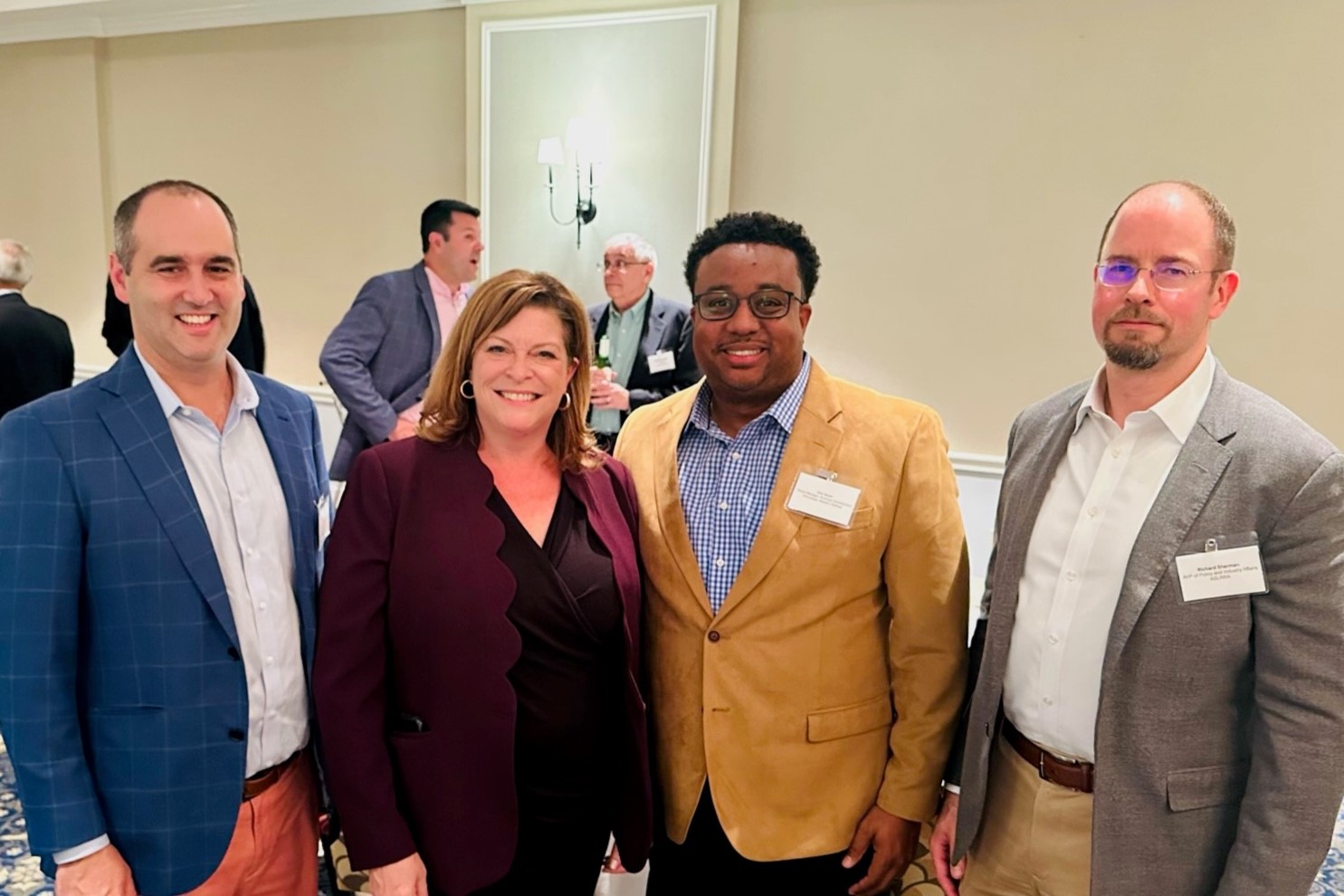 (L to R) ASLRRA President Chuck Baker, FRA Deputy Administrator Jennifer Mitchell, OmniTRAX Senior Business Development Manager Kirk Small and ASLRRA Assistant Vice President Policy and Industry Affairs Richard Sherman pose for a picture at the Virginia Railroad Association fall meeting in Roanoke.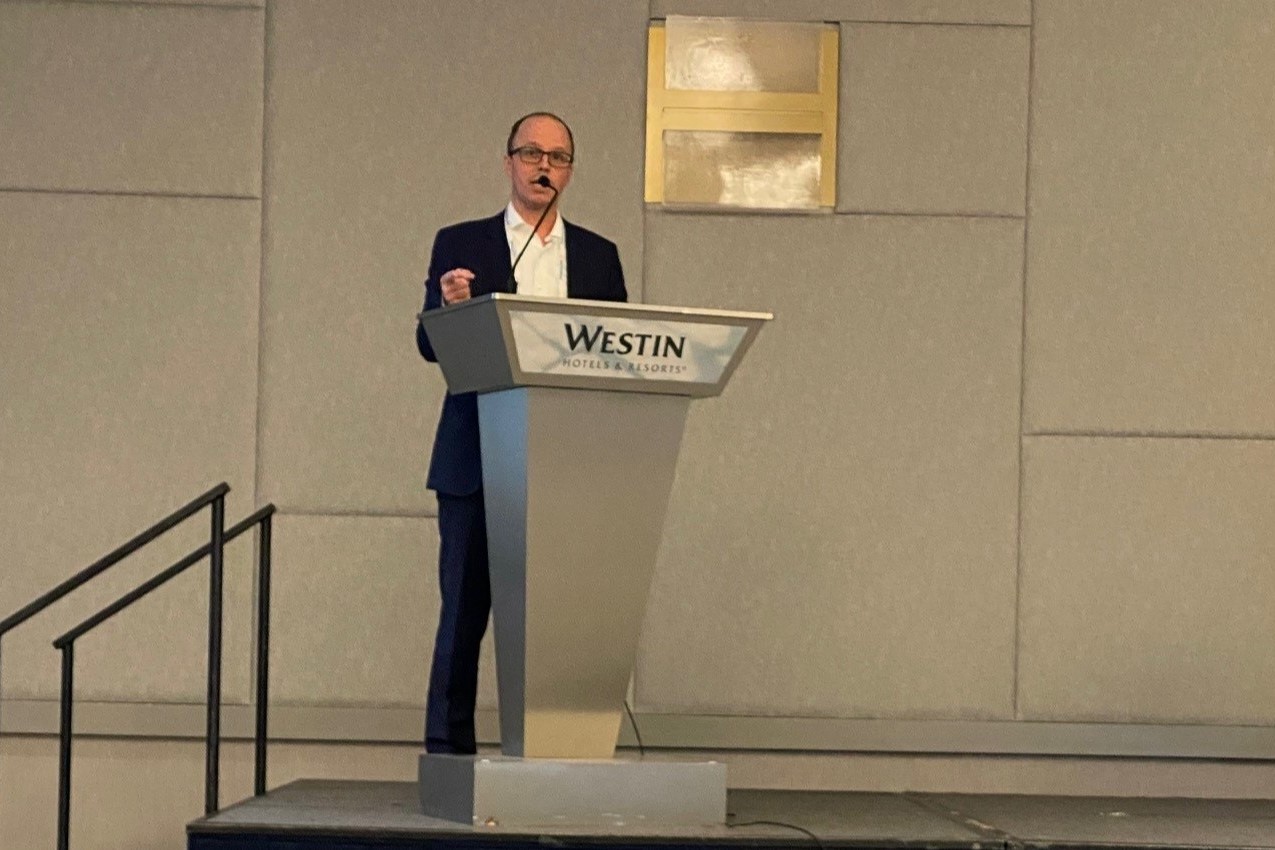 ASLRRA Vice President Congressional Affairs Zach Radford gives a legislative update at the 105th Annual Railway Tie Association Symposium and Technical Conference in Atlanta, Georgia.
---

On-Demand Webinars
Find ASLRRA's Most Recent Webinars in the Webinar Library
The Association has presented a wide variety of webinars so far this year, discussing topics like federal grant funding, regulatory compliance, project design and more. All of these most recent webinars are now available online in the ASLRRA On-Demand Webinar Library, where users can find both recordings and presentation materials.
Look for titles like:
US EPA Locomotive Emissions Compliance (40 CFR 1033 and 1068)
Update on Part 240-242 Audits and FRA Findings
2023 Mid-Year Economic Update – How it Started, How it's Going
The DOT's New Oral Fluid Testing Final Rule – What Do Employers Need to Know?
Trenchless Culvert Rehabilitation: Design & Installation Methodology
Visit ASLRRA's webinar homepage to view these on-demand offerings and many more in the Association's webinar library.
Click here to learn more about our education offerings.
---

Oct. 24-27 – NRSS Offers Third and Final Track Safety Standards Course of 2023
National Railroad Safety Services (NRSS) scheduled three training courses on Code of Federal Regulations (CFR) Part 213, Track Safety Standards, for 2023, and the final course will take place Oct. 24 to 26 in Latham, New York. The course aids the development and qualification of railroad track inspectors. Click here to register online for the course or click here for a downloadable pdf registration form. Attendance in each course is capped at 25.
Winners of 2023 Women in Rail Awards Include Many ASLRRA-Member Employees
This year's class of Railway Age magazine's Women in Rail award winners includes 12 employees of ASLRRA member companies. Three of the five honorable mention recipients also work for ASLRRA members.
The Women in Rail awards recognize those in the railway industry who demonstrate outstanding leadership, vision and innovation and who are active in their communities and working to drive industry change. Railway Age will honor this year's winners with a feature in the magazine's November issue.
ASLRRA congratulates this year's 23 honorees. The Association is especially happy to recognize member recipients, listed below in alphabetical order.
Jennifer Benton, Senior Vice President Commercial, Patriot Rail Company
Josie Curtis, Vice President, People Services, R. J. Corman Railroad Group, LLC
Lindsay Day, Director, Capital Markets, The Greenbrier Companies
Carla Ewing, Senior Vice President of Service Assurance, Watco
Kari Gonzales, President and CEO, MxV Rail
Lenora Isaac, Director of Rail and Transit Projects, RailPros
Catherine Pushchak, Assistant General Counsel of Litigation, Genesee & Wyoming Railroad Services, Inc.
Maite Ramos Gómez, Managing Director, Alstom in Mexico
Beth Smith, Executive Vice President-Freight Car, Leasing & Recycling, Progress Rail, a Caterpillar Company
Paula Taylor, Assistant Supervisor of Locomotive Engineers, Metra (Northeast Illinois Regional Commuter Railroad Corporation)
Nicole (Niki) Theophilus, Executive Vice President and Chief Human Resources Officer, Wabtec
Jannet Walker-Ford, Senior Vice President and National Transit and Rail Market Lead, WSP
Kirsten Watson, Vice President Government Relations and Transit Market Sector Leader, AECOM
Honorable Mention:
Audrey Carluer, Head of Engineering-North America, Alstom
Ari Ferrand-Rodgers, Director, Organizational Development, New Orleans Public Belt Railroad
Katie Inouye, CEO and Founder, Spark TS
Click here for a calendar of industry events.
---
Views & News is published by American Short Line and Regional Railroad Association.
Please contact Amy Krouse, editor, with questions or comments.