---
Issue Highlights:
Headlines – CRISI grants can fund locomotive projects reducing railroad emissions
Regulatory – TSA issues three rail cybersecurity directives
Legislative – ASLRRA continues Congressional engagement despite uncertainty
New Members – ASLRRA welcomes new supplier member Track Tech
Announcements – Scholarships help short line employees like Kim Fisher attend crucial training
---
---

Preparing to Apply for the Next Round of CRISI Funding: Building and De-Risking Projects
The Federal Railroad Administration (FRA) plans to open the next notice of funding opportunity (NOFO) for the Consolidated Rail Infrastructure and Safety Improvements (CRISI) program sometime between December 2023 and February 2024. To help ASLRRA members prepare for the next round of CRISI funding, the Association offers tips from Assistant Vice President, Policy and Industry Affairs Richard Sherman on items to undertake right now. This week, Sherman explores how railroads might build and de-risk their potential projects. One key takeaway? Start early.
Project Scope, Schedule, and Budget: Start to build these assumptions and documents in a coordinated fashion. Get the engineering, operations, and commercial teams together formally and early to develop the conceptual parameters of the project in these three dimensions.
Advance Engineering and Design: Some projects, like bridge replacement, yard expansions and new rail lines, require significant professional engineering and design work. Meaningful engineering work takes months to progress, from initial procurement of the engineering services to target level of engineering readiness by the time of submittal. Often, field surveys are required as well as exhaustive review and comment cycles on early deliverables. Get these resources in place and their work started as early as possible. Engineered projects differ greatly, but having at least "conceptual" engineering is a minimum to strive for. The further engineering is advanced, the higher readiness and less risk the project will demonstrate, which can increase competitiveness in the eyes of the agency reviewers.
Secure Quotes and Estimates: Begin building cost estimates as early as possible. Ideally the project budget is founded upon vendor quotes for materials and services or at least an experienced engineer's estimate. Ensure that the cost calculations consider federal requirements such as prevailing wage and domestic content requirements.
Due Diligence Environmental Risks: Become familiar with the FRA's categorical exclusions (CEs) under the National Environmental Policy Act (NEPA). All federally funded projects must go through NEPA. It is important to understand early the potential NEPA risks of the project and if the project could be a CE or another more burdensome "class of action," requiring either an Environmental Assessment (EA) or Environmental Impact Statement (EIS). Try to determine early if the project requires a federal permit, such as from the U.S. Army Corps of Engineers.
Due Diligence Rights to Land: Risk around land acquisition can be a major red flag for reviewers. It is important to establish early in the grant writing process if any land acquisition or rights to land will be required for project execution. Review the public property maps in the vicinity of the project if there is any question of an acquisition or easement being required to perform construction and carry out operations.
For more help with CRISI grant applications, ASLRRA's website features a page with information and resources, some of which is available only to members. The Association's Member Discount Program also includes grant writing Preferred Providers who can help members with grant applications for a variety of different programs. Also available are recorded webinars through ASLRRA's On-Demand Webinar Library; find them by searching for the keyword "CRISI" on the library homepage.
Those who are attending ASLRRA's Eastern & Southern Regional Meeting in Lexington, Kentucky can also meet with FRA representatives at the event. The FRA will hold office hours on Nov. 8 from 1 to 5 p.m., to discuss CRISI projects and applications and other grant programs.
CRISI Grants Offer Opportunity to Lower Emissions Through Motive Power Projects
Many short line railroads make efforts to adopt environmentally friendly practices, but the cost to procure some of the bigger and more technologically advanced equipment, like locomotives, can be prohibitive for these small businesses. Enter the CRISI grant program.
For railroads interested in motive power projects, CRISI is open for business. Awards from the fiscal year 2022 (FY22) CRISI funding round will go to upgrade or replace some 40 locomotives, benefiting at least nine ASLRRA member short lines. The projects receiving FY22 CRISI grants included both repowers to higher Environmental Protection Agency (EPA) tiers and zero emissions battery electric locomotives and complete locomotive replacements.
For example, the Modesto and Empire Traction Company in California will upgrade two high-polluting Tier 0 switching locomotives to be Tier 4 compliant. Member parent company Watco will convert eight Tier 0 locomotives to battery-powered units that will be used across the company's short lines, while Tacoma Rail will replace two diesel-electric switcher locomotives with two zero-emission battery-electric ones.
Potential CRISI applicants should know that the Federal Railroad Administration (FRA) wants applicants to propose motive power projects that result in "significant reduction in emissions." The graphic below summarizes the FRA's guidance on projects that can achieve this reduction, from tier-to-tier, and noting where scrapping of old replaced units should be proposed. A project does not have to result in a Tier 4 or a zero emissions locomotive, but rather must achieve the described significant reduction.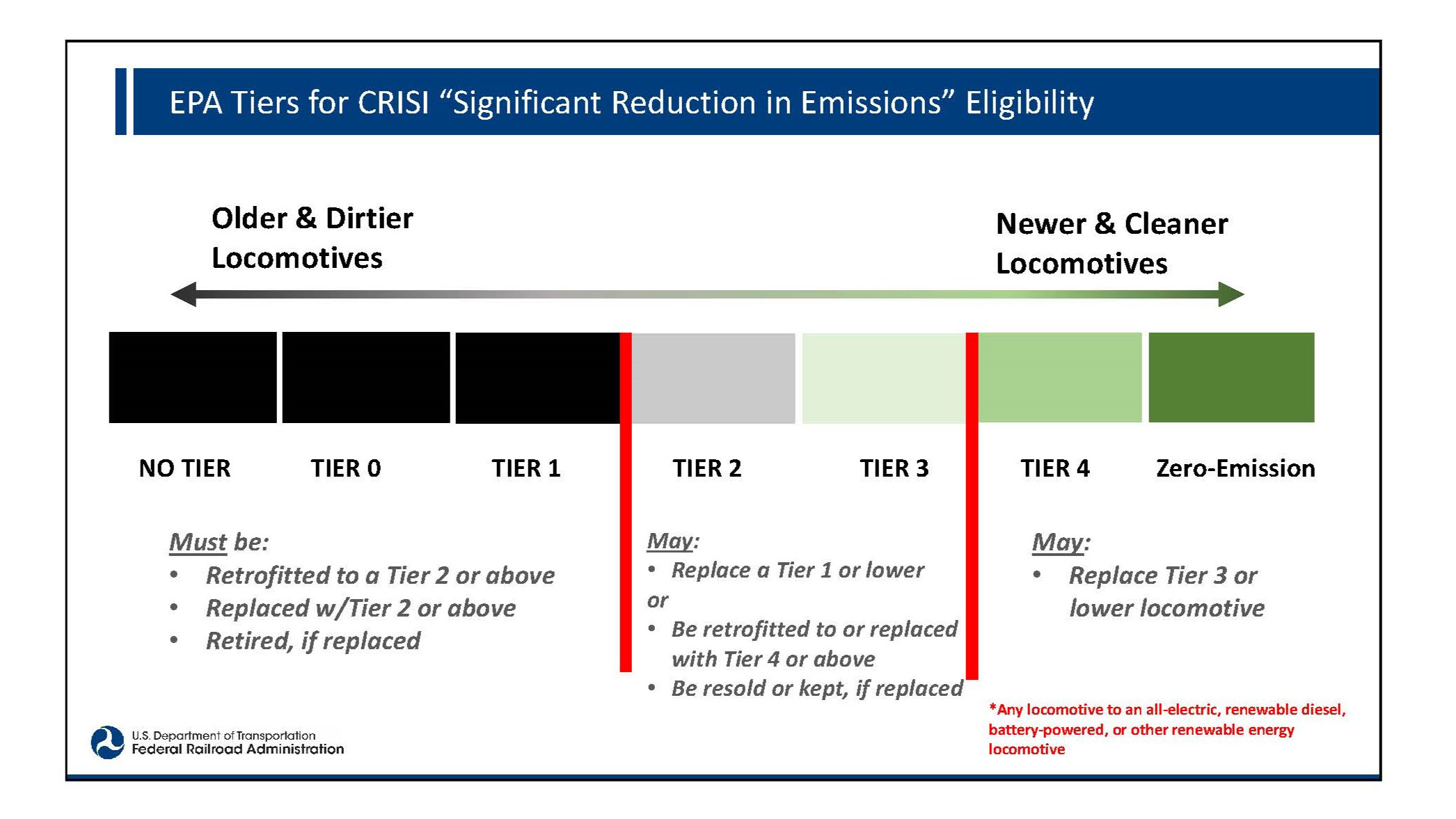 Note that for motive power projects, the process to "spec" a repower or rebuild, or to secure a solid quote for a new locomotive, can be time consuming. Repowers can involve a meaningful amount of engineering design work and coordination of rebuilders and suppliers of prime movers and other major assemblies. Motive power elements can be bundled with other project types. Several successful awards for FY 22 funds combined track, bridge or other work elements with motive power upgrades or replacements.
---

---
---

TSA Renews Railroad Cybersecurity Directives
On Monday, the Transportation Security Administration (TSA) renewed three security directives requiring certain passenger and freight railroads to perform certain tasks and provide information related to their cybersecurity. These directives were renewed for one year, which will be the third year some of the requirements have been in effect.
Any Class II or III railroad that is required to comply with these directives should have received the directives directly from TSA. Per feedback from TSA only Class II and III railroads covered by previous versions of these directives were included, though TSA reserves the right to notify additional railroads of their inclusion.
The renewed directives are largely similar to the previous round, but some changes include:
Enhanced requirements on annual exercises related to Cybersecurity Incident Response Plans
A more explicit notification to railroads that TSA has the authority to require them to include additional technology systems as Critical Cyber Systems
Refinements to provisions governing scheduling and revisions of railroad Cybersecurity Assessment Plans
Copies of the directives are available on the TSA website, as well as related cybersecurity information provided in TSA's Surface Transportation Cybersecurity Toolkit. Those with questions about these directives can contact ASLRRA's Fred Oelsner.
EPA Ruling Denies ASLRRA Request to Amend Non-Hazardous Secondary Material Standards
ASLRRA joined other petitioners in a request to amend the definition of non-hazardous secondary material standards in 40 CFR Part 241 to allow for the burning of railroad ties to create biochar, and also joined other petitioners in a request to reconsider the denial of the initial proposal in March of 2023. The EPA has noted that they intend to deny the reconsideration request. ASLRRA is disappointed with this result, having worked to amend this regulation since December of 2018.
ASLRRA and members of the ASLRRA Environmental Committee will continue to seek ways to improve the environmental impact of all aspects of railroading. If you are interested in the work of the Environmental Committee, please contact ASLRRA's Jo Strang or Committee Chair Sean Strong.
Three ASLRRA-Member Executives Appointed to STB Advisory Committee
The Surface Transportation Board (STB) has appointed six rail industry representatives to the Rail Energy Transportation Advisory Committee (RETAC). Three of the new appointees are executives at ASLRRA-member companies.
Leila Ford, vice president of sales and marketing for Genesee & Wyoming Railroad Services, Inc., and Edward Quinn, president and CEO of R.J. Corman Railroad Group, will serve as short line railroad representatives. Robert Zmudka, senior vice president and chief commercial officer of ASLRRA associate business member GATX will serve as a representative of the private railcar industry.
The other new appointees include at-large member Bryan Boaz of ExxonMobil, biofuel representative Sean Brewer of ADM and Class I railroad representative Sandra Ellis of CN. The RETAC provides advice and guidance to the STB on issues related to transportation by rail of energy resources such as coal, ethanol and biofuels. The committee comprises approximately 28 voting members representing stakeholders in the transportation, energy, labor and related sectors.
---

---
---

Work on Behalf of Short Lines Continues Despite Uncertainty in Congress
As Congress grapples with multiple issues, ASLRRA's government affairs team continues its outreach efforts on Capitol Hill, focusing on a number of short line priorities.
Just today, the House elected Rep. Mike Johnson (R-La.) as speaker. A relative newcomer to Congress, Johnson has never served in a leadership position or as a full committee chair. He was the Republicans' fourth nominee for the speakership.
Throughout the 22-day process to elect a new speaker, representatives' offices have been open and Association staff has continued to meet with them to discuss concerns about pending rail safety legislation, share ideas for the farm bill, advocate for the short line disaster relief bill, sustain interest in funding for CRISI grants and more. With a speaker in place, ASLRRA is hopeful that Congress can now move forward toward addressing matters important for the short line freight rail industry.
Last week, the House Committee on Transportation and Infrastructure held a hearing on the Highway Trust Fund (HTF). ASLRRA staff is keeping track of discussions related to the HTF, as the Association supports policy solutions that can restore the fund's solvency and develop a true user-pays system.
Meanwhile the Senate has reached an agreement on some funding bills and will move forward on a group of spending bills, also known as a minibus, that would provide money for military construction and veterans affairs, agriculture and transportation, housing and urban development departments. Senate Majority Leader Chuck Schumer (D-N.Y.) expressed hope that the Senate would start voting on the minibus today.
---

Know a company that would benefit from joining and participating in ASLRRA? Please contact ASLRRA's Senior Vice President of Membership and Business Development Kathy Keeney via email or on (202) 585-3439.
ASLRRA Welcomes Track Tech as Associate Business Member

Track Tech, Inc. is a full rail service company based in Calvert City, Kentucky. It offers construction services including new track construction, track maintenance, turnkey project management, rail/tie renewal, grade crossing renewal, turnout installation, surfacing, engineering, and track inspection. President Clint Johnson is our primary contact and can be reached on (270) 395-0770. Many thanks to our friends at Stella-Jones for recommending that Track Tech join ASLRRA
---

ASLRRA Asks Members to Complete Revised Locomotive Fleet Survey By Nov. 10
ASLRRA has revised its locomotive fleet survey and sent a simplified version to primary contacts at member railroad companies. As this survey has been changed, based on feedback from members, from the one sent out earlier this year, the Association asks railroads to complete the new survey even if they had submitted the previous version.
The data collected supports the Association's efforts to address regulatory threats to the industry regarding locomotive emissions; make valid arguments to seek small railroad-specific exceptions; and ask for targeted funding assistance to improve the small railroad locomotive fleet.
None of the records provided by railroads will be reported publicly at the locomotive or railroad levels, only in aggregate form based on locomotive types or other characteristics on a national, industry-wide basis. Those with questions about the survey should contact ASLRRA's Fred Oelsner or Cameron Downs.
Scholarships Help Railroads Afford Training for All Staff Who Will Benefit
When it comes to understanding railroad regulations and compliance, it is not only the employees who fall within the rules' scope who need to attend training. Support staff within a railroad company also benefit from understanding the code of federal regulations, and ASLRRA scholarships help members afford such training seminars.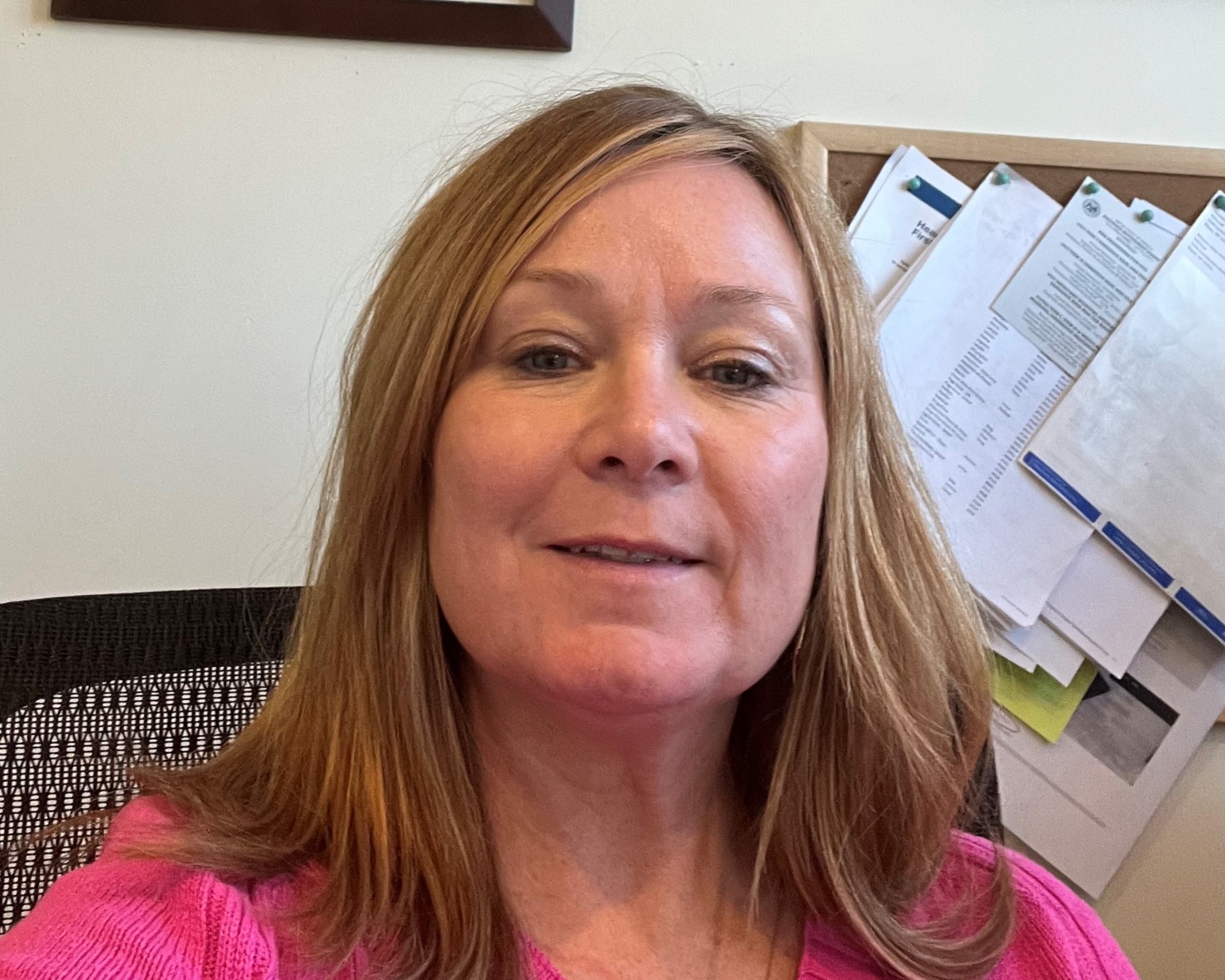 Kim Fisher, human resources manager at B&H Rail Corporation, attended ASLRRA's training seminar on the Federal Railroad Administration's (FRA) requirements under Part 228, hours of service, and Part 240-242, engineer and conductor certification and audit findings. To help offset the cost of attending the seminar, Fisher received a scholarship from ASLRRA worth $1,200.
For Fisher, attending the seminar has helped her in her human resources role because she is responsible for, among other things, ensuring employees subject to Part 240-242 are meeting training requirements. Improving her knowledge bolsters the company's overall safety culture and compliance efforts and getting a scholarship to help pay for the training is an added bonus.
In a telephone interview, Fisher explained how the scholarship afforded her company some flexibility in its budget, allowing money allocated to training to be used elsewhere. And the application process was easy and efficient, with information about scholarships readily available through multiple channels, such as the Association website.
ASLRRA scholarships can be used to pay for registration fees and costs for travel and lodging for a range of industry-specific training supporting regulatory compliance and safety. Click here to learn more about ASLRRA's scholarship program, or here to apply using a brief online form. Applications are accepted on a rolling basis and funding can even be awarded retroactively for an eligible event that has already taken place.
Overall, the resources available to small-railroad employees are valuable educational tools whether individuals are industry veterans or, like Fisher, relatively new to the railroad business. In addition to Part 240-242 training, Fisher has attended an ASLRRA Part 219 training seminar and taken advantage of ASLRRA's On-Demand Webinar Library and other resources on ASLRRA's website.
Become a Preferred Provider with ASLRRA's Member Discount Program
ASLRRA is expanding the Association's Member Discount Program (MDP) to include Preferred Providers of electronic record-keeping software and services. Plus, we're adding new providers to the background screening and grant writing services categories.
Member Discount Program Preferred Providers are carefully selected from ASLRRA's vetted supplier community and ASLRRA uses a wide range of marketing/sponsorship activities to ensure broad and consistent marketing and promotion of the program to association members.
ASLRRA is actively seeking proposals from member companies interested in participating in the program. Please contact Sabrina Waiss for the latest Request for Information (RFI) on the above-listed categories, or to recommend and discuss a new category of products and services for consideration.
---

---
---

Regional Meeting Offers Robust Education and Networking Opportunities – But Rates Rise on Halloween
The rate for ASLRRA's Eastern and Southern Region Meeting will go up on Oct. 31, though individuals will be able to continue to register themselves online even after the event has started on Nov. 7.
In addition to a robust slate of education sessions featuring a variety of industry and subject-matter experts, ASLRRA's Eastern and Southern Region Meeting offers multiple networking opportunities. Attendees can meet and interact with railroad and supplier members as well as industry leaders, government officials and other stakeholders.
ASLRRA member parent company R.J. Corman Railroad Group will also offer a lunch and tour on the last day of the meeting in honor of the organization's 50th anniversary.
The General Counsel Symposium and the Finance and Administration Seminar are co-located with ASLRRA's Eastern and Southern Region Meeting. Attendees of these events can take advantage of the networking opportunities provided by the Eastern and Southern Region Meeting, though registration is separate for all three events.
ASLRRA is still welcoming sponsors for both the General Counsel Symposium and the Finance and Administration Seminar. Sponsors receive a variety of benefits including increased visibility at the events and recognition in the Association's communications.
---

Staff Shorts – Who is Where in the Railroad World
Yesterday, Jo Strang and Sarah Yurasko participated virtually in a meeting of the Federal Railroad Administration's (FRA) Railroad Safety Advisory Committee (RSAC) Track Standards Working Group. They will also attend the general RSAC meeting in person tomorrow, with JR Gelnar dialing in on Zoom. FRA Administrator Amit Bose will provide opening remarks at the meeting, which will also feature updates on each of the RSAC working groups and the agency's other regulatory activities.
---

On-Demand Webinars
ASLRRA's Experts Cover Important Regulatory Information in Recorded Webinars
ASLRRA's in-house subject-matter experts have presented several webinars focused on important regulatory topics. Recordings of these webinars are available at any time to ASLRRA members through the Association's On-Demand Webinar Library. Log in and search the regulatory category to find titles like:
Emergency Docket Waivers
FRA Penalties and Violations
FRA Regulatory & Program Requirements for Short Lines, Part 1
FRA Regulatory & Program Requirements for Short Lines, Part 2
Visit ASLRRA's webinar homepage to view these on-demand offerings and many more in the Association's webinar library.
Click here to learn more about our education offerings.
---

Oct. 31 and Nov. 2 – Railinc Offers Introduction to Embargo Webinar
Railinc will offer webinars on the Association of American Railroads' (AAR) Embargo System on Oct. 31 and Nov. 2. Railinc recommends all Embargo users register for the free event.
The webinars will offer an overview of the Embargo application and other topics, including how to issue an embargo, requesting permits and hold notifications. Although the webinars are free, registration is required. Those interested in signing up for either of the webinars can email csc@railinc.com to request a registration link.
Click here for a calendar of industry events.
---
Views & News is published by American Short Line and Regional Railroad Association.
Please contact Amy Krouse, editor, with questions or comments.