---

ASLRRA Logs Near-Record-Breaking Numbers at This Year's Conference and Exhibition
ASLRRA put the big in Big Easy at this year's Annual Conference and Exhibition in New Orleans. From attendance to sponsor support to keynote speakers, big numbers, big energy and big names were the dominant themes at last week's event.
Support from sponsors broke records this year, while the exhibit hall was the second largest in conference history. Attendance, at 1,854, was also second highest ever, bested only by the conference marking ASLRRA's 100th anniversary and held in Atlanta, Georgia where the Association got its start.
The excitement of attendees was palpable, with many individuals eager to revive old industry connections and make new ones. Conference speakers were also well received, with particularly positive reviews for General Session keynote speaker CSX President and CEO Joe Hinrichs and standing room only for education session speaker Tony Hatch, a noted industry analyst.
The variety of educational sessions offered at the conference is always a popular feature, and for the first time participants could sign up to become Operation Lifesaver Authorized Volunteers (OLAVs) by completing in-person training at the conference. Twelve people received their certification in New Orleans.
The Association also recognized this year's big award winners. Jack Parliament was honored posthumously as the recipient of the Schlosser Distinguished Service Award, while Texas North Western Railway Track Inspector Raul Guerrero was named Safety Person of the Year and The Indiana Rail Road Company Director, Safety and Training Austin Milton was named Safety Professional of the Year.
Pacific Harbor Line took home both the Environmental Award and the Veterans Engagement Award, and the Business Development Award winners were Kiamichi Railroad, Reading Blue Mountain & Northern Railroad and the Strasburg Rail Road Company. ASLRRA also inducted Pete Claussen, Bruce Flohr, Edward Lewis and Richard Robey into the Short Line Railroad Industry Hall of Fame.
The Association is already looking forward to another great event next year. Mark your calendars now for the 2024 Annual Conference and Exhibition, which will be held March 24-26 in Kansas City, Missouri.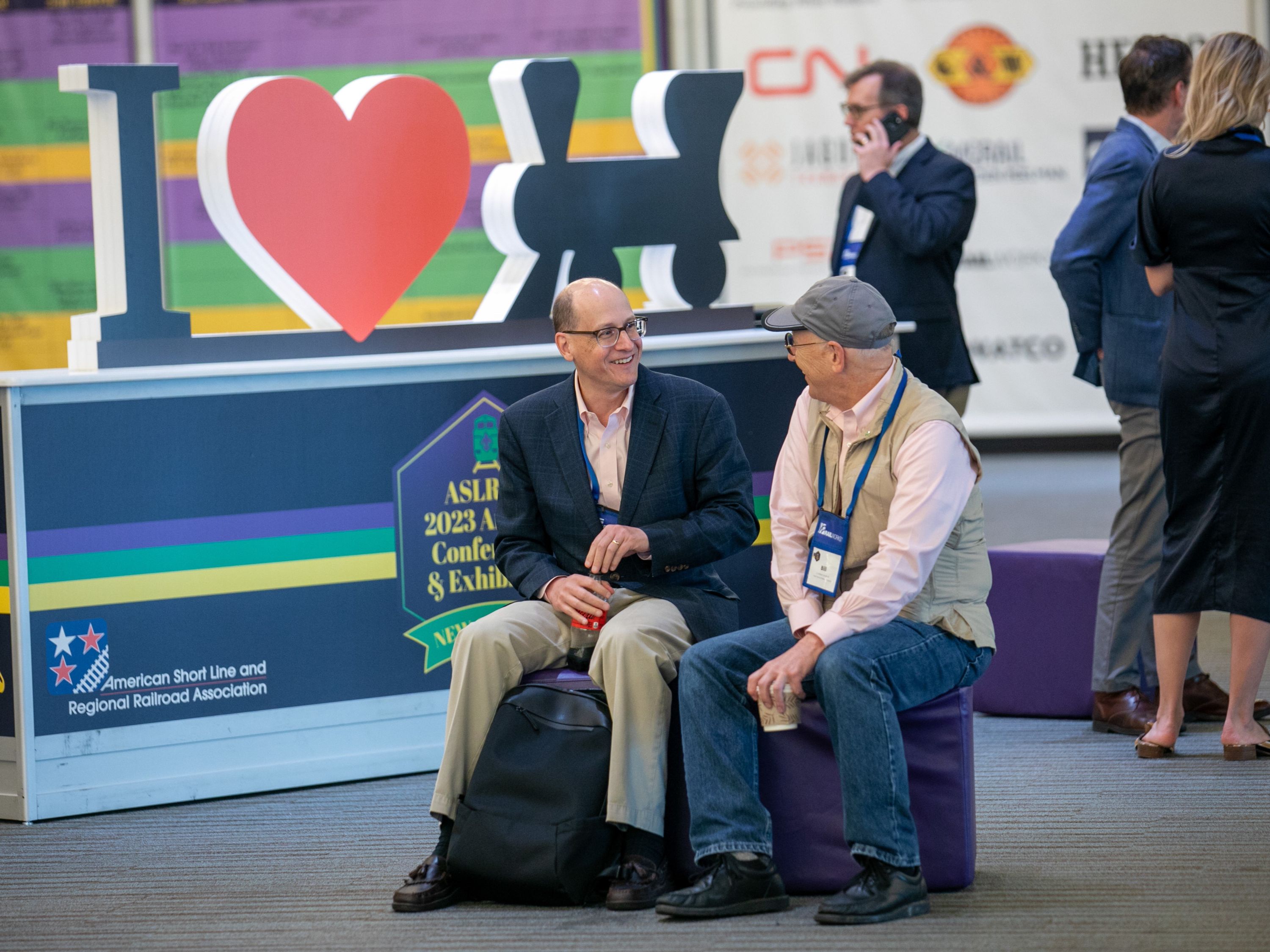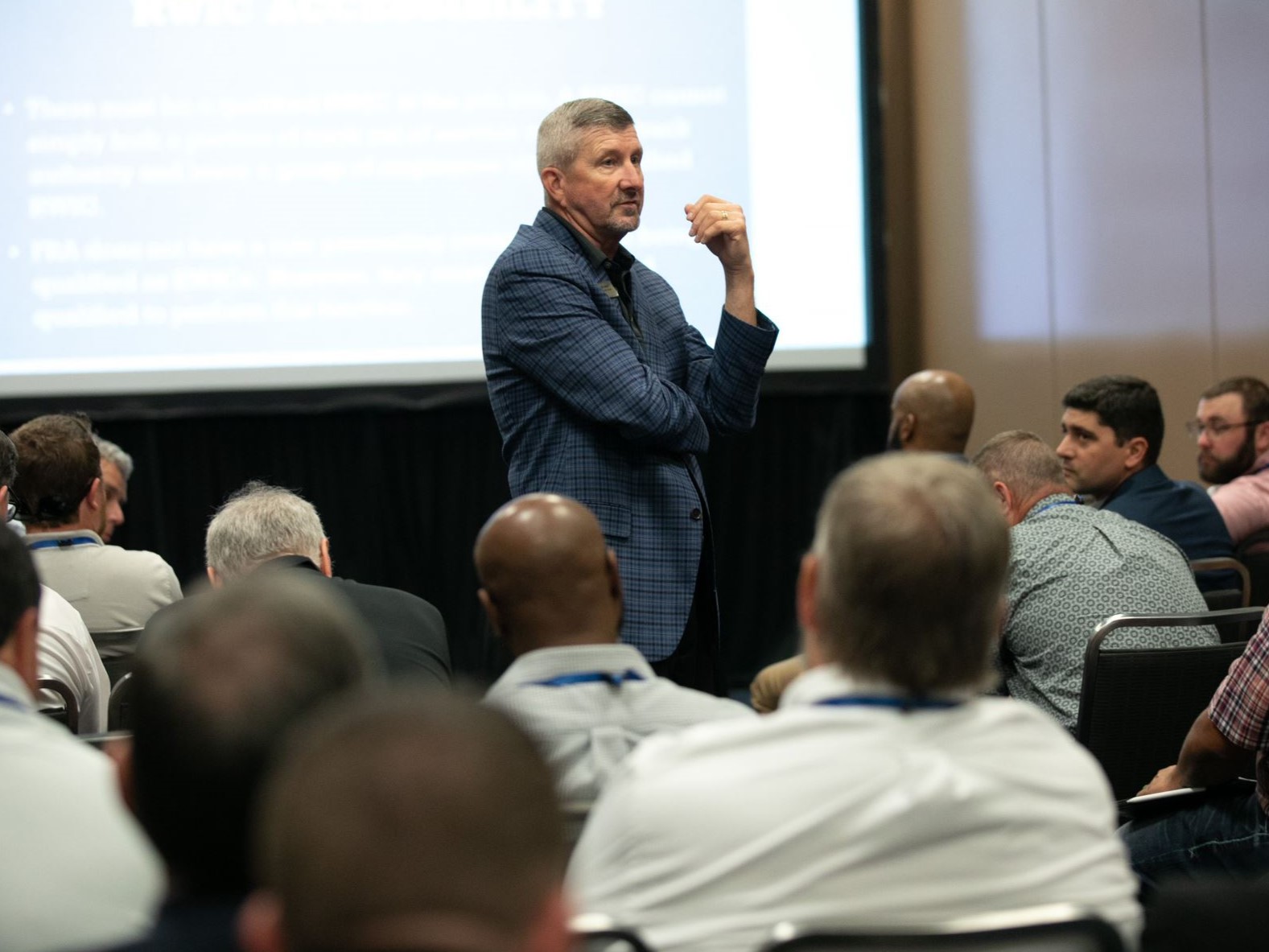 Above top: Conference attendees chat outside the Expo Hall.
Above: ASLRRA's JR Gelnar (standing) listens to a question during an education session.
Below top: A conference attendee talks with a McDonald Steel Corporation representative about products on display in the Expo Hall.
Below left: Raul Guerrero of Texas North Western Railway accepts the Safety Person of the Year Award.
Below right: Austin Milton of The Indiana Rail Road Company accepts the Safety Professional of the Year Award.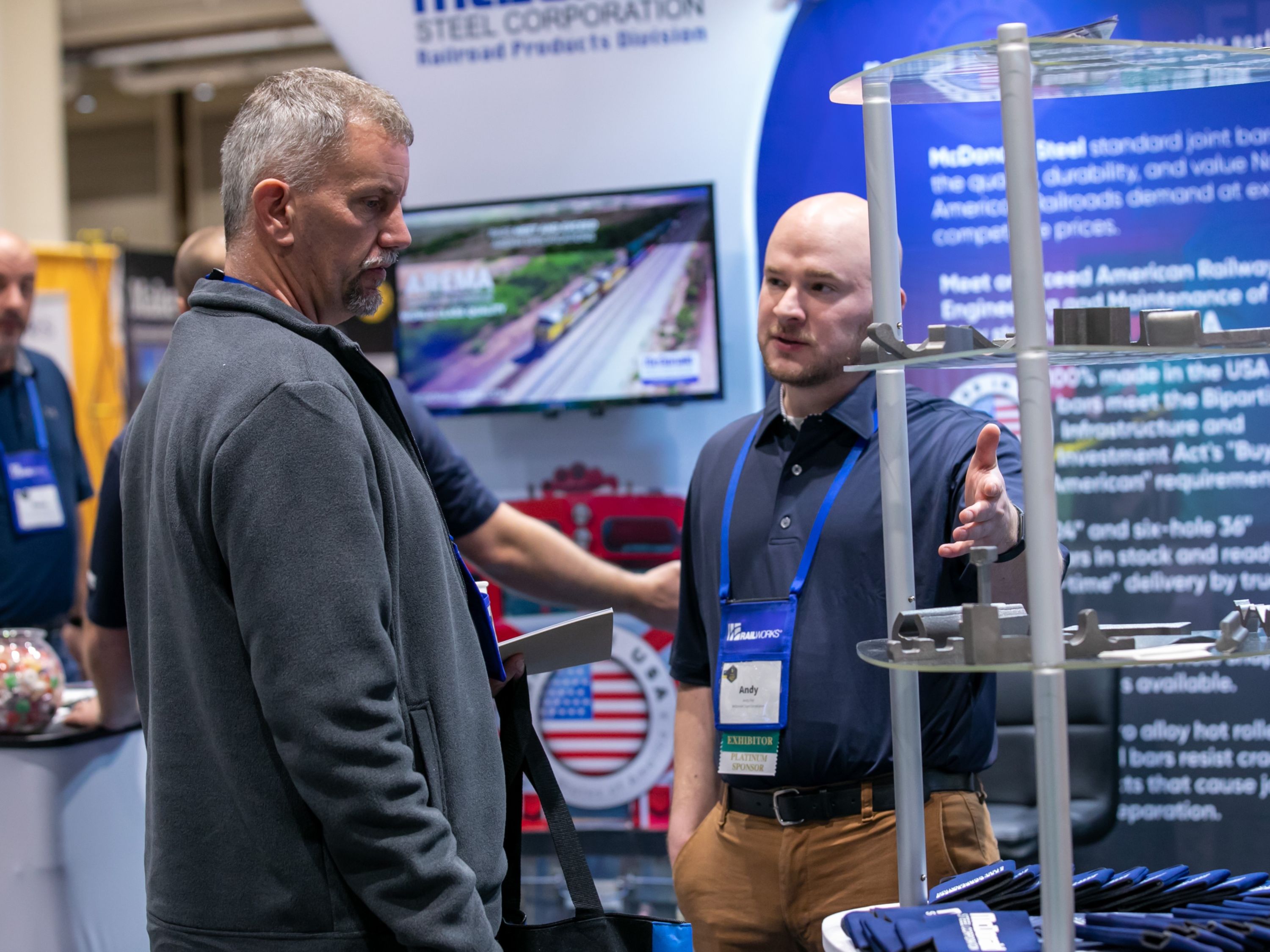 Association Announces Board Changes, Election Results
At its Annual Conference and Exhibition, ASLRRA recognized new Board Chair Matt Walsh, who is executive vice president, global corporate development at member parent company Genesee & Wyoming Inc. Walsh replaced Stefan Loeb, who resigned from the position after accepting a new role at Norfolk Southern.
Walsh's move to board chair and the departure of Iowa Northern Railway Company President Dan Sabin from his role as the at-large, small railroad representative has resulted in other changes to the ASLRRA Executive Board. R.J. Corman Railroad Group Executive Vice President – Commercial Affairs Justin Broyles is now board vice chair, Watco Senior Vice President and Chief Sustainability Officer Laura McNichol is the at-large, large railroad holding company board representative and Everett Railroad Company President Alan Maples is the at-large, small railroad board representative. Maples was also elected as Chair of the Small Railroad Committee.
ASLRRA thanks Loeb and Sabin for their service to the organization and congratulates the others on their new roles.
As ASLRRA vice chair Broyles will also take on the role of chair of the Short Line Safety Institute (SLSI). In addition Jared Martin, vice president, operations at Modesto and Empire Traction Company, joined the SLSI board as an at-large member.
ASLRRA also congratulates Kareen Gray, vice president of sales - regional railroads, short lines and ports at Wabtec Corporation, for her reelection to the Association board as associate board member representative. ASLRRA held online voting for this board seat in the weeks prior to the conference, with incumbent Gray emerging victorious from a field of seven other candidates from the railway supply community.
---

FRA's Most Recent Safety Advisory Addresses Train Makeup
On April 7 the Federal Railroad Administration (FRA) issued a safety advisory regarding train makeup and operational safety concerns. Given the current spotlight on rail safety, the advisory has been covered in other national news outlets, such as the Washington Post and on The Hill website.
In the advisory the FRA emphasized railroads' need to exercise due diligence and take proactive steps to address potential safety risks arising from train builds with various configurations, load and empty placement, distributed power arrangements and other factors. According to the FRA, there has been a rising trend in train build and makeup being identified as a potential cause or contributing factor in recent incidents.
The advisory reveals several common characteristics and patterns arising from the FRA's analysis of recent train accidents, including train length and the type of train involved. The FRA lists several recommended best practices for improved safety based on these findings. These include ensuring all personnel involved in train makeup decisions and operations are adequately trained and supervised; encouraging open communication and collaboration among all stakeholders; and developing and implementing strategies to mitigate risks associated with train build factors.
Railroad Retirement Board Q&A Focuses on Working After Retirement
The Railroad Retirement Board (RRB) published a second March installment of its question and answer (Q&A) series, this one focused on laws and rules governing railroad retirement benefit payments to annuitants who work after retirement.
The Q&A covers some of the most basic rules concerning work after retirement, including restriction of annuity payments if an annuitant does any work for an employer covered under the Railroad Retirement Act. If the annuitant works for even one day in a month for a covered employer, no annuity can be paid for that month.
The Q&A also notes no spouse benefits are payable in any month the employee's annuity is not payable, and, as with social security, annuitants whose earnings exceed certain exempt amounts are subject to deductions in benefits.
To learn more, follow the link above or view the RRB's frequently asked questions (FAQ) page in the Earnings & Working After Retirement section. Individuals can also call an RRB office toll-free at 1-877-772-5772 or schedule an appointment at their local field office.
---

---
FRA Publishes Grant Calendar, Answers to Frequently Asked Grant Questions
Two resources from the Federal Railroad Administration (FRA) offer information regarding the agency's grant programs.
First, a calendar of upcoming FRA publications outlines plans for publication of grant program notices of funding opportunity (NOFOs) as well as announcement of grant selections. Of particular importance to ASLRRA members is the decision by the FRA to release a combined fiscal year 2023 and 2024 Consolidated Rail Infrastructure and Safety Improvements (CRISI) program NOFO in December 2023 or January 2024. The NOFO would make approximately $2.5 billion available for eligible projects. The FRA also plans to announce fiscal year 2022 CRISI grant awards in August or September.
Second, the FRA released a document answering questions concerning certain FRA grant programs. Law requires a written agreement between a grant applicant and a railroad that owns rights-of-way to be used by a project funded by a grant subject to 49 U.S.C. § 22905(c)(1). These grant conditions apply to most FRA-administered grant programs, including CRISI and the Railroad Crossing Elimination Program.
While not legally binding, the FRA's document provides sample language that, if used, "will increase efficiency and consistency in the drafting, negotiation, and review of 22905 Agreements, while also ensuring statutory compliance."
---

Lawmakers Sign Letters Demonstrating Strong Bipartisan Support for Full CRISI Funding
Nearly 100 lawmakers in the House of Representatives signed a letter to House Transportation, Housing, Urban Development and Related Agencies (THUD) Subcommittee Chair Tom Cole (R-Okla.) and Ranking Member Mike Quigley (D-Ill.) calling for full funding of the Consolidated Rail Infrastructure and Safety Improvements (CRISI) program in the fiscal year 2024 THUD appropriations bill.
Representatives from 33 states and the District of Columbia, 72 Democrats and 26 Republicans, signed the letter, which was led by Rep. Tim Burchett (R-Tenn.) and Rep. Sylvia Garcia (D-Texas). The letter emphasized the importance of the CRISI program, especially in the funding it provides for crucial network upgrades and other projects that improve rail safety and strengthen the national supply chain.
A similar letter encouraging robust CRISI investments was sent to Senate THUD subcommittee Chair Brian Schatz (D-Hawaii) and Ranking Member Cindy Hyde Smith (R-Miss.). Twenty-eight senators from 20 states signed that letter, including 21 Democrats, four Republicans and all three Independents.
Encouraging lawmakers to sign letters supporting robust appropriations for CRISI is an annual undertaking for ASLRRA's government affairs team, and the number of letter signatories this year was significantly higher than last year. ASLRRA members also played a key role in encouraging individuals to sign. In addition, some lawmakers who did not sign these letters sent their own pro-CRISI letters and funding requests to their respective appropriations committees.
The Biden Administration has requested $510 million for CRISI, about half the $1 billion that could be authorized. The Federal Railroad Administration itself has described CRISI as the agency's most popular, oversubscribed competitive grant program. ASLRRA, its members and other rail stakeholders are eager to see CRISI funded at its fully authorized amount to allow the program to better meet demand.
FWWR Welcomes Railroad Subcommittee Chair Nehls for Ft. Worth Field Visit
On April 7 Representative Troy Nehls (R-Texas) visited the Class III short line and ASLRRA member Fort Worth & Western Railroad (FWWR). The Congressman is also the Chair of the House Transportation and Infrastructure Committee's Subcommittee on Railroads, Pipelines, and Hazardous Materials.
The visit was held at the FWWR's Hodge Yard Facility in northern Fort Worth. Rep. Nehls was hosted by FWWR President and CEO Kevin Erasmus, and the Congressman was accompanied by his staff Legislative Director, Mike Curto. They received a briefing on the background and operations of the railroad from the FWWR management team.
There was detailed conversation on a range of topics, including elements of railroad operating practices and equipment that are a focus of safety legislation that has been proposed in the U.S. Senate and the House of Representatives. Notably, there was extensive discussion on procedures for hazardous materials transportation by rail, on train inspection and rolling stock fault detection equipment and procedures, and on the relative differences in scale, operating practices, and risk profiles between the largest and smallest freight railroads.
The Congressman was also interested in FWWR's implementation of locomotive elements of positive train control, which is required for interoperability by several of their interchange partners, as well as in the role of federal grant programs such as CRISI and RCE, for short line freight railroad development and safety improvements.
Following the briefing, the Congressman received a tour of the railyard facility, a flat switching yard with an adjacent mechanical shop, including a walk-through of railcar inspection procedures on a hazardous material tank car. This was one of several rail-related visits in the region by Rep. Nehls that day, which included site visits to a commuter railroad and a railcar manufacturer. Field visits like these are critical due diligence for Chairman Nehls and his staff as his committee is preparing for the upcoming debates in the House to consider the scope, benefits, and costs of proposed new rail safety laws.
Hosting of Members of Congress for facility visits is one of the best ways that a short line railroad can actively and effectively support the federal policy goals of our community. There is no substitute for meeting the workers and management of short lines, and seeing the railroad in action, to educate policy makers. If you'd like to host a Member of Congress or other federal official for a site visit, and haven't done one of these before, feel free to reach out to Zach Radford zradford@aslrra.org, Crystal Gitchell cgitchell@aslrra.org or Richard Sherman rsherman@aslrra.org on our team with questions or for some pointers.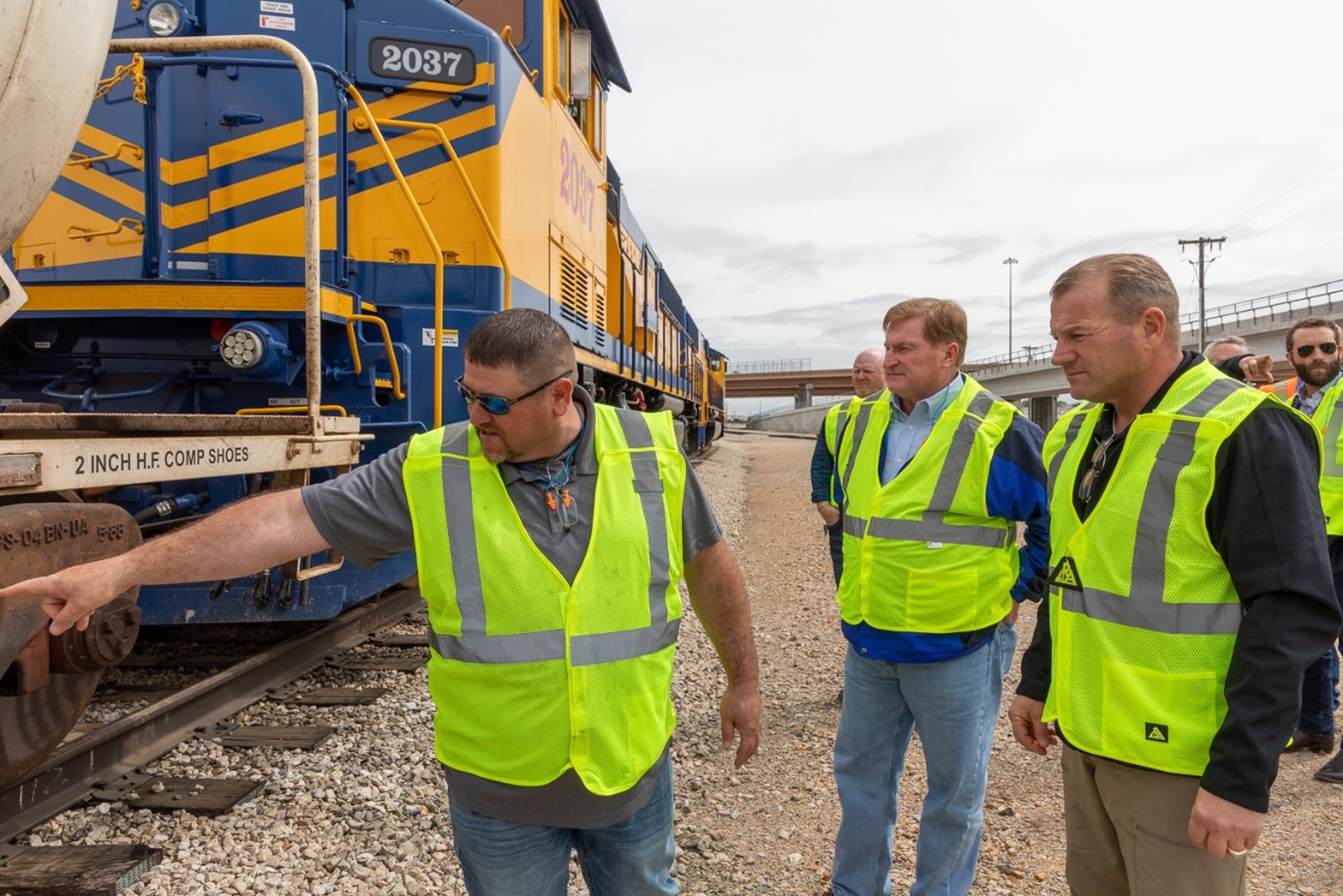 Chance Gibson, general director of operating practices at Fort Worth and Western Railroad (FWWR), describes inspection procedures on a DOT-111 tank car to Representative Troy Nehls (far right) with FWWR President Kevin Erasmus (second from right) looking on.
Newly Introduced Fetterman Bill is Sixth to Address Railroad Safety
On March 30, Senators John Fetterman (D-Pa.), Bob Casey (D-Pa.) and Sherrod Brown (D-Ohio) introduced the Railway Accountability Act to address what they contend are rail safety concerns following the Norfolk Southern derailment in East Palestine, Ohio.
The bill, which is the first piece of legislation Fetterman has introduced since becoming a U.S. senator in January, includes provisions governing train, locomotive and rail car inspections and directs the Federal Railroad Administration (FRA) to study and take steps toward mitigating wheel-related derailments and mechanical defects.
Fetterman's bill is the sixth proposed in Congress concerning the rail industry after the incident in Ohio. There have been three put forth in the House and three in the Senate. ASLRRA staff is keeping track of all of the bills, analyzing them for their impact to short lines and sharing concerns with relevant stakeholders and key congressional offices.
---

Know a company that would benefit from joining and participating in ASLRRA? Please contact ASLRRA's Senior Vice President of Membership and Business Development Kathy Keeney via email or on (202) 585-3439.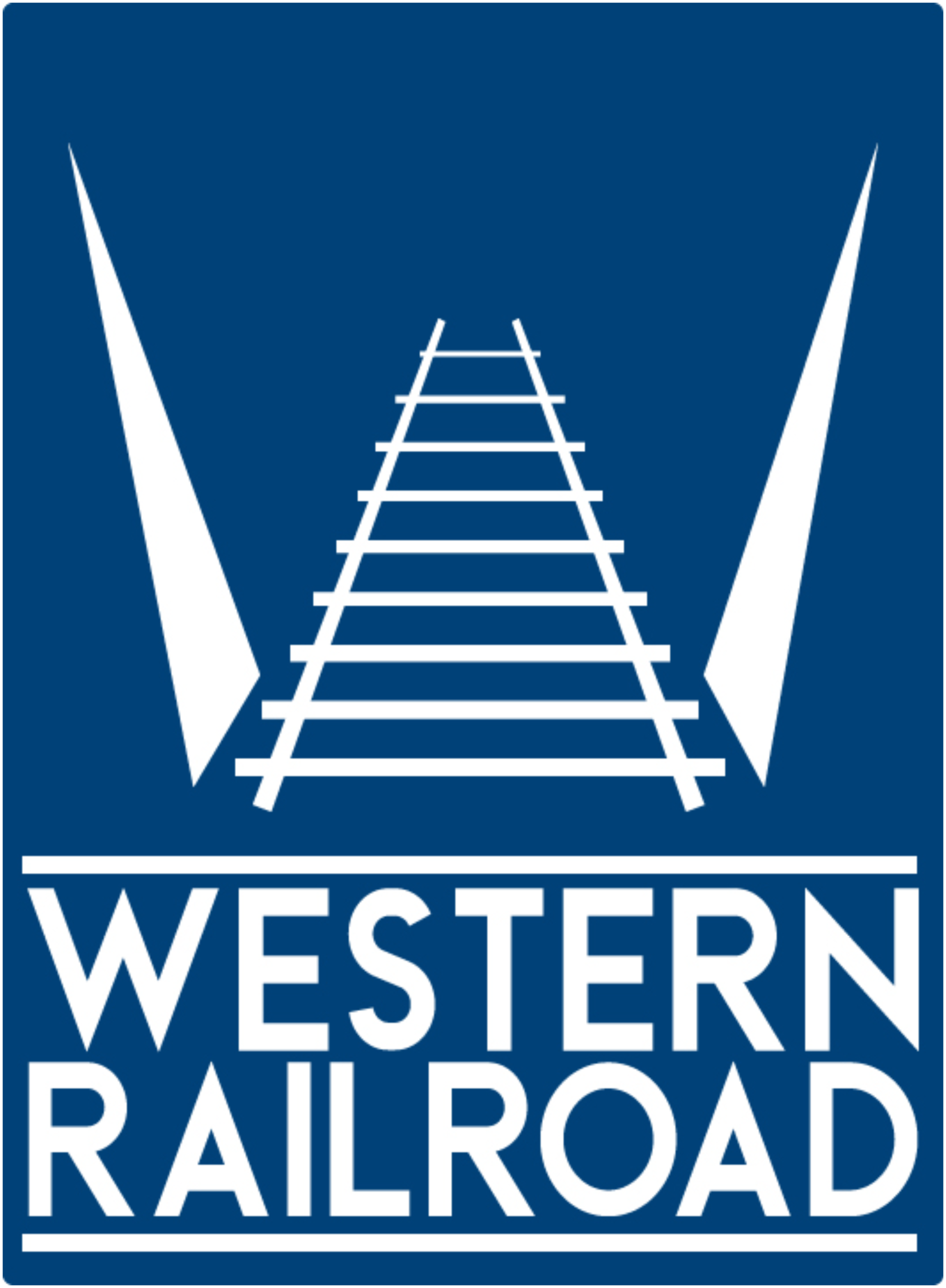 ASLRRA Welcomes New Associate Business Member WRR
Western Railroad Cars Inc. (WRR), with headquarters in California, was incorporated in 1991 to provide services to Mexican companies that needed specialized equipment. While it has strong expertise in the Mexican market, it supports operations throughout North America in the cement, food, mining and chemical industries and its fleet includes diverse types of railcars and locomotives. VP-Sales Alejandro López is our primary contact.
---

Grants Update: PIDP Applications Due, States Continue to be Source for Infrastructure Funding
Applications for Port Infrastructure Development Program (PIDP) grants are due April 28. A total of $662,203,512 is available this year for projects that help improve port and related freight infrastructure.
Certain rail projects can be eligible for PIDP grants, as funding can be pursued for projects located within the boundary of a port, outside a port boundary but directly related to port operations, or for intermodal connections to a port. Click here to view the PIDP notice of funding opportunity (NOFO).
In other grant news, several states announced recipients of their respective freight grant programs. A number of states have grant programs for freight rail projects, and ASLRRA encourages members to explore these funding options where applicable.
In New Jersey, six projects received a total of over $27.8 million under the 2023 Rail Freight Assistance Program. Projects by ASLRRA members New Jersey Rail Carrier and Consolidated Rail Corporation (Conrail) were part of this year's group of awards.
Minnesota's Department of Transportation awarded $6.95 million in Minnesota Rail Service Improvement program grants to nine freight rail projects, including ASLRRA members Minnesota Commercial Railway and Northern Lines Railway.
And in Illinois, ASLRRA member Terminal Railroad Association of St. Louis received project funding through the Illinois Competitive Freight Program, which disbursed roughly $200 million in National Highway Freight Program funds.
ASLRRA reminds its members that, through the Association's Member Discount Program, vetted Preferred Providers offer assistance with grant applications for a variety of funding opportunities.
Preferred Providers Bergmann, HDR and Global Train Services (GTS) have years of experience helping short lines apply for various funding programs and can help Association members while offering their services at special prices. Go to ASLRRA's Member Discount Program homepage and click on the Grant Writing Services link to learn more.
---

---
Short Line Training Center Brings Online Learning and Simulator Training to Railroads' Front Doors
The Short Line Training Center, a collaborative project between ASLRRA and Iowa Northern Railway Company (IANR), is a comprehensive training resource available to all short line railroads. It combines an online Learning Management System (LMS) and a Mobile Technical Training Center to deliver essential regulatory, compliance and safety courses and materials to railroad employees.
The LMS is an online platform/hub, accessible to users at any time, that provides and tracks industry-specific training and assessments. The Mobile Technical Training Center is equipped with two FRA Type II locomotive simulators plus classroom space for six students and an instructor, and can deliver personalized, instructor-led seminars and locomotive simulator training on location anywhere in the continental US.
In its first year of operation, the Mobile Technical Training Center was deployed to provide on-site training to 42 locomotive engineers at nine individual railroads. During one deployment, a customized course was developed and delivered on site to railroad employees in the mobile classroom, while other employees received locomotive simulator training, enabling the railroad to efficiently address employee training needs and eliminate costs associated with travel and downtime.
Training is also available at Iowa Northern Railway's Training Center in Waterloo, Iowa, where attendees have access to four FRA Type II locomotive simulators and full classroom facilities for up to 30 students.
Attendees at ASLRRA's Annual Conference and Exhibition in New Orleans had an opportunity to try the locomotive simulator (above) and tour the Mobile Technical Training Center (below).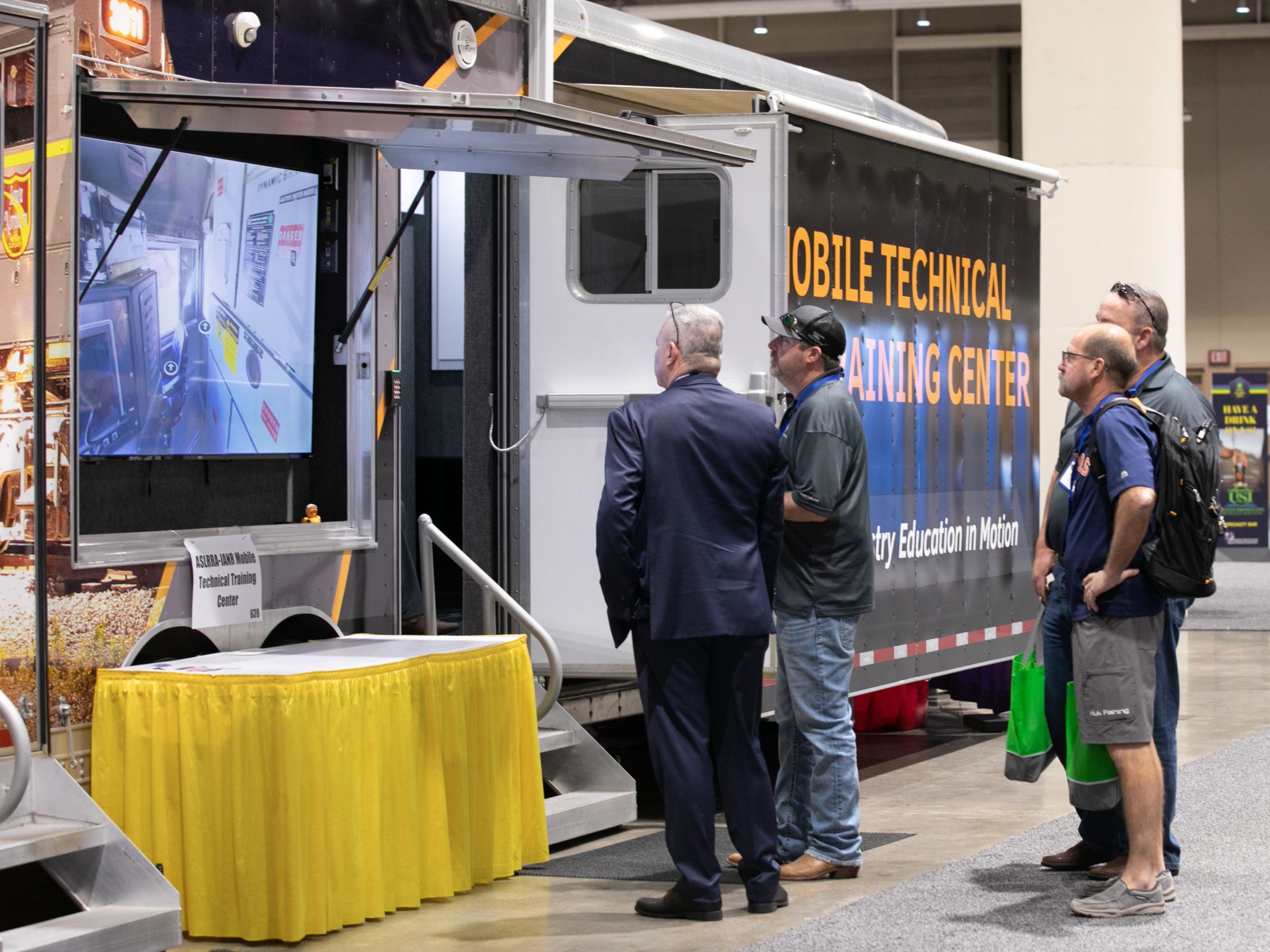 ---

ASLRRA Staff Participates in League of Railway Women Event
On April 4, several ASLRRA staff members participated in the League of Railway Women (LRW) Breakout Event: Personal Stories with Leaders in the Industry, held in conjunction with ASLRRA's Annual Conference and Exhibition in New Orleans, Louisiana.
ASLRRA Senior Vice President, Law and General Counsel Sarah Yurasko, who is also LRW president, moderated a panel discussion with several representatives from the Federal Railroad Administration (FRA) including Deputy Administrator Jennifer Mitchell, Chief Counsel Allison Fultz, Special Assistant to the Administrator Monique Stewart and Deputy Director, Regional Outreach Wynne Davis.
ASLRRA Senior Vice President, Safety, Regulatory and Environmental Policy Jo Strang participated in another panel with industry leaders including Mississippi Export Railroad Company President and CEO Kate Luce Bourgeois, Loram Maintenance of Way Vice President, Human Resources Susan Bobb and Anacostia Rail Holdings Corporate Senior Director of Business Development Kimia Khatami.
ASLRRA Senior Vice President, Membership and Business Development Kathy Keeney and Assistant Vice President, Legislative and Regulatory Crystal Gitchell also attended the event. Keeney is an LRW member and inductee in the LRW Hall of Fame, while Gitchell is an LRW board member.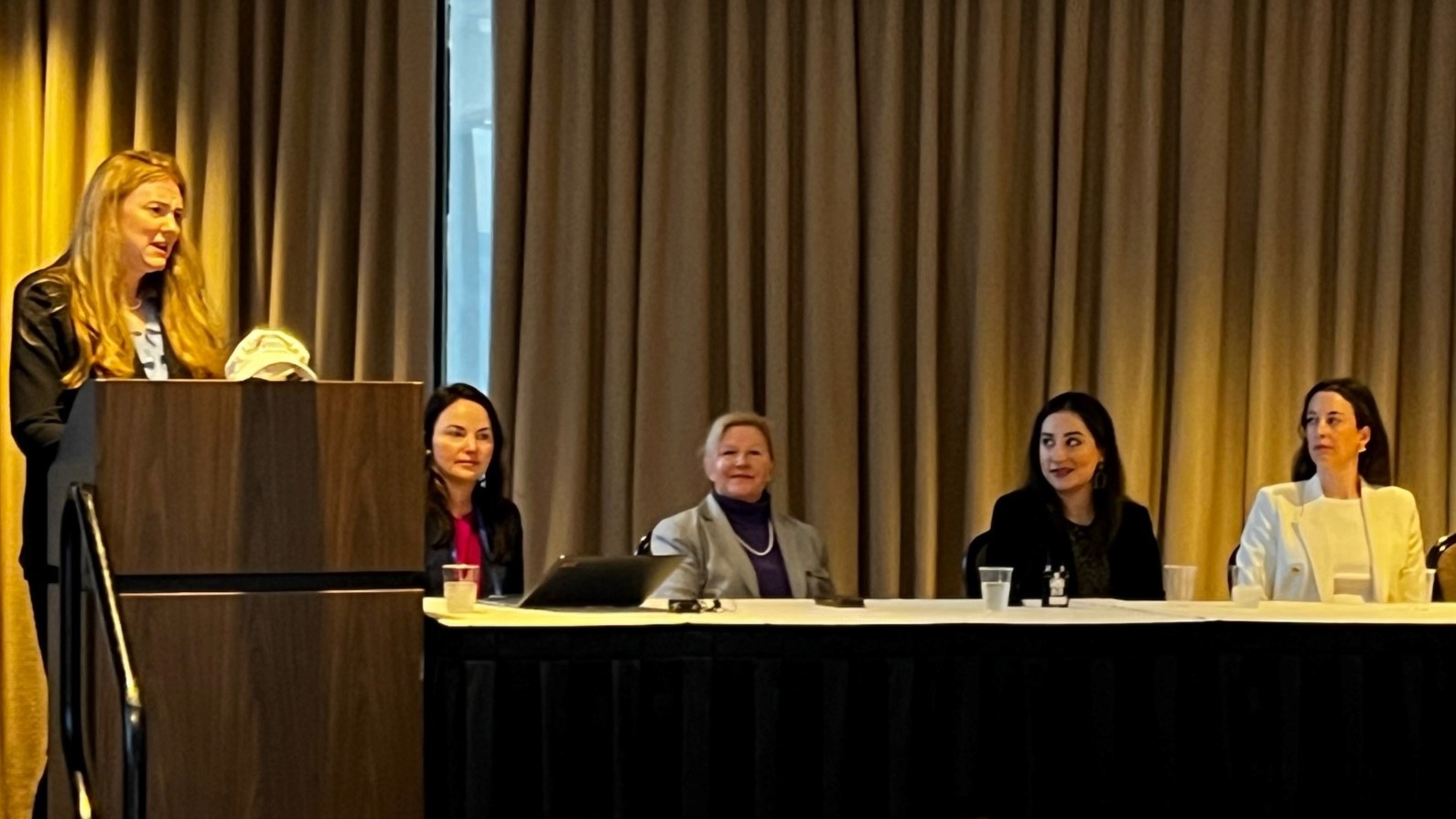 ASLRRA's Sarah Yurasko (far left) speaks alongside a panel that included ASLRRA's Jo Strang (third from left). Several Association staff members participated in a League of Railway Women event held in conjunction with the ASLRRA Annual Conference and Exhibition in New Orleans.
---

---
---

On-Demand Webinars
Recorded Webinars Help Railroads Communicate in a Variety of Situations
ASLRRA's On-Demand Webinar Library includes a Communications category with recordings that cover topics such as crisis communications and social media use. Find webinars presented by subject-matter experts, including:
Crisis Communications Fundamentals for Railroaders
Not in my Backyard: Responding/Reacting to NIMBYism in the Community
Using Social Media as a Business Development Tool
Most of the nearly 200 webinar recordings also have a copy of the accompanying PDF presentation available for download. Visit ASLRRA's webinar homepage and log in to view all the on-demand offerings in the Association's webinar library.
Click here to learn more about ASLRRA's education offerings.
---

Click here for a calendar of industry events.
---
Views & News is published by American Short Line and Regional Railroad Association.
Please contact Amy Krouse, editor, with questions or comments.