---

Registration is Open for Railroad Day on Capitol Hill – May 17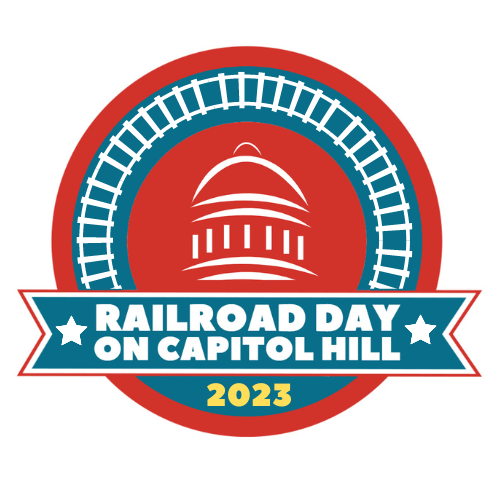 Registration is now open for the annual Railroad Day on Capitol Hill event, which will be held May 17 in Washington, D.C. This is the first time in two years that participants will be able to join lawmakers and members of their staff for in-person meetings.
Railroad Day on Capitol Hill has grown into one of the most organized and comprehensive industry days in Washington, allowing those in the freight rail industry to make connections with D.C. lawmakers responsible for formulating legislation that affects freight rail operations and business practices. Having these meetings sets the foundation for more and deeper discussions of freight rail interests, so ASLRRA encourages its members and their employees to consider participating in this year's events.
All Class I, II, and III railroad personnel, shippers, labor rail representatives, state and local government representatives are welcome to attend this event, as well as members from the supplier community who have an interest in furthering the policy priorities of the railroad industry.
In addition to registering for appointments with congressional offices, participants can attend an evening reception held after the day's meetings, which provides further opportunities to network with legislators, congressional staff and fellow railroad industry professionals. Click here to register today.
Short Line Safety Institute Now Offers First Responder HazMat Training for Railroad Incidents
In the event of an incident, rapid and careful coordination with area first responders is critical. Now, with a new training program developed and presented by the Short Line Safety Institute, railroads and first responders can be prepared to act quickly, together. This new training will strengthen the partnership between railroaders and first responders.
The Assistance for Local Emergency Response Training (ALERT) program allows advance collaboration, creating a plan for rapid deployment of an appropriate response to an incident.
ALERT provides a winning combination of instruction, hands-on training, and interactive experience-based discussions tailored to meet first responders' needs. Our expert instructors, who have 650+ years of combined experience in hazardous materials transportation safety, will cover:
Safety on railroad operating property
Safety considerations at the scene of a rail incident
Rail cars
Placards & markings
Understanding train documentation
For those railroads and agencies who want to put their response plan to the test, SLSI can build upon the training by designing an exercise or drill specific to their location and nearby rail operations.
Thanks to a grant from the Pipeline and Hazardous Materials Safety Administration (PHMSA), this program is offered at no cost to first responders or the hosting railroad.
Interested in learning more? Contact us at hmit@shortlinesafety.org to schedule.
---

---
---

ASLRRA and AAR Submit Comments Regarding TSA's Surface Cyber Risk Management ANPRM
ASLRRA joined the Association of American Railroads (AAR) in submitting comments to the Transportation Security Administration (TSA) concerning the agency's advance notice of proposed rulemaking (ANPRM) focused on cyber risk management in the pipeline and rail sectors.
The TSA requested input from stakeholders to guide the agency's efforts to develop its cybersecurity requirements for the pipeline and rail industries. In their comments, ASLRRA and AAR advocated that any regulations in this area should be performance-based, differentiate rail from other modes of transportation and be harmonized with other agencies. The associations also noted the regulations should work in partnership with the existing robust industry effort in cyber risk management.
FRA Pamphlet Discusses Employee Use of Prescription Drugs and Other Medications
The Federal Railroad Administration (FRA) has published a pamphlet discussing use and misuse of prescription and over-the-counter drugs and herbal medications by railroad employees.
The pamphlet gives a general overview of existing FRA regulations and federal drug schedules, discusses use of recreational or medical marijuana, offers common-sense guidelines and includes links to government websites with additional information.
The pamphlet is also available to members on ASLRRA's website.
FRA Authorizes Addition of More Railroads to Existing Hours-of-Service Waiver
The Federal Railroad Administration (FRA) has sent a notice to ASLRRA granting a request by the Association to expand regulatory relief under Docket No. FRA-2009-0078 to 13 additional railroads.
Railroads participating in the current daytime hours of service waiver should conform to the directions provided in the FRA notice. If a railroad wishes to be removed from the waiver, please notify ASLRRA Assistant Vice President, Legislative and Regulatory Crystal Gitchell at (202) 585-3442 or via email at cgitchell@aslrra.org.
---

ASLRRA Letter Urges DOT to Support Robust Funding Levels in the FY24 Budget Proposal
Today, ASLRRA sent a letter to Transportation Secretary Pete Buttigieg and Office of Management and Budget Director Shalanda Young urging the Department of Transportation's fiscal year 2024 budget proposal to include robust funding for programs vital to the short line freight rail industry.
The Infrastructure Investment and Jobs Act (IIJA) provides a guaranteed $1 billion for the Consolidated Rail Infrastructure and Safety Improvements (CRISI) grant program, which is a vital source of grant money for short line railroads to apply toward the completion of important infrastructure projects. This advanced appropriation does not include additional funding Congress has the power to authorize, up to $1 billion. ASLRRA encourages this full funding for the CRISI program.
The letter also calls for funding at fully authorized levels for the Local and Regional Project Assistance Program (RAISE), the Nationally Significant Freight and Highway Projects Program (INFRA), the Railroad Crossing Elimination Program (RCE) and the Port Infrastructure Development Program (PIDP). Although not directly eligible for these grants, many ASLRRA railroad members benefit from these programs through grants made to partner organizations.
Last, the letter asks Secretary Buttigieg and Director Young to support strong funding for the Short Line Safety Institute and Operation Lifesaver, two organizations that play a key part in supporting rail safety efforts throughout the U.S.
ASLRRA Welcomes Richard Sherman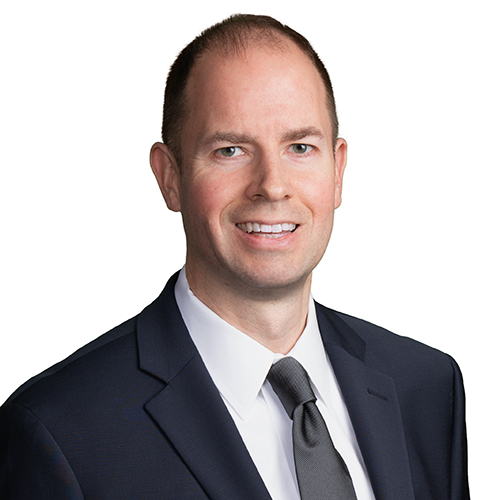 Richard Sherman has joined ASLRRA as the Association's new assistant vice president of policy and industry affairs. In his new role, Sherman will support the association's efforts in a broad range of policy areas, with a particular focus on capital projects, infrastructure funding programs and agency procedures.
Sherman has extensive experience in preparing federal grant applications, especially for freight rail projects. He has helped clients secure over $200 million in grant funding over 19 separate awards in the rail, maritime and highway sectors.
Sherman has also supported overseas railroad consultancy projects and performed work for national governments and multilateral non-governmental organizations (NGOs). He has led several U.S. Trade and Development Agency project preparation missions in the railway sector, including in North Africa, Central Asia and Latin America.
Sherman also served with the U.S. Army in Iraq during Operation Iraqi Freedom. He received his BA in international affairs from George Washington University and has an MA in public policy and graduate certificate in Spanish translation from American University.
ASLRRA members may know Sherman through his prior work at Blank Rome Government Relations and Chambers, Conlon & Hartwell, where he supported a range of transportation clients including ASLRRA.
Sherman can be reached at rsherman@aslrra.org.
Welcome aboard!
---

Know a company that would benefit from joining and participating in ASLRRA? Please contact ASLRRA's Senior Vice President of Membership and Business Development Kathy Keeney via email or on (202) 585-3439.
ASLRRA Welcomes New Associate Business Member E-Railspot

E-RAILSPOT, based in Sugar Land, Texas, is a marketplace resource for facilitating e-commerce for the global railroad industry. It supports buyers, sellers and shippers including procurement professionals, manufacturers, and suppliers through a robust online platform to create a "one-stop shop" to find everything you need spanning all industry segments (including locomotive, rolling stock, track, signaling, large equipment, or safety). It offers multiple ways to conduct buy-sell transactions including catalog listings of products/services, access to hard-to-find products via auctions, and the ability to create private or public Request For Quotes (RFQ). CEO Tim Brake is our primary contact and can be reached on (262) 758-4005. Please visit them in Booth #528 at our Annual Expo in New Orleans to learn more about them.
---

---
---

List of Conference Education Sessions Now Available Online
The Association is excited to unveil the full list of education sessions for ASLRRA's Annual Conference and Exhibition in New Orleans. Each year, conference attendees are able to hear from industry and subject-matter experts on a wide variety of topics important to those in the short line freight rail industry.
Conference education sessions cover 11 different subject areas, including engineering, finance, safety and operations, technology and the environment. In all, the conference offers over 40 hours of industry education.
New this year is an opportunity for attendees to become Operation Lifesaver Authorized Volunteers (OLAVs) through in-person training at the conference. Other sessions always in high demand include those focused on 49 CFR Parts 215, 271 and 243, as well as sessions discussing grant writing and the overall grant process.
DON'T MISS Early Bird Registration Deadlines for the Conference. Early bird registration for ASLRRA's Annual Conference and Exhibition expires on Feb. 15, at which point prices will increase for all rates and additional activities. Register today!
Attendees can also book their hotel rooms online in one of ASLRRA's hotel room blocks at the Hilton New Orleans Riverside or the Sheraton New Orleans. The cutoff date for booking a room in the room block is March 6 unless the block is sold out before then.
This Week's Featured Award: The Business Development Award
As the mom-and-pop businesses of the railroad world, short lines constantly have to hustle and innovate to make the most of business opportunities and capture market share. ASLRRA recognizes the hard work of its members through the Business Development Awards, which honor railroad members whose ideas to build business and promote economic development have been a success.
Last year, ASLRRA recognized three railroad members for their achievements. Allegheny Valley Railroad won for taking advantage of an opportunity to build a transload facility in the Pittsburgh area that would serve the local steel industry. CRANDIC Rail was honored for seeing opportunities for growth despite the COVID-19 pandemic, capturing business by mobilizing its fleet of boxcars and moving a record amount of boxcar traffic in 2021. The third winner, Union County Industrial Railroad, operates over a mere 18.2 miles and serves only eight customers, but with a strong commitment to the highest levels of customer service has been able to grow carloads 300 percent.
The Association is eager to highlight the success of its members through the Business Development Awards and is welcoming nominations for this year's competition. Nominations are due March 3 and the 2023 Business Development Award winner(s) will be recognized at ASLRRA's Annual Conference and Exhibition in New Orleans.
Send submissions to Amy Krouse, vice president communications, at akrouse@aslrra.org.
Other ASLRRA Awards Also Accepting Nominations
ASLRRA is continuing to accept nominations for its other annual awards, which are also due March 3. Winners of these awards will also be recognized at the Association's conference in April. Follow each link to find award descriptions, criteria and nomination forms.
---

Register for ASLRRA's July Training Seminar – Only 25 Spots are Available
Very limited space is available in ASLRRA's locomotive and car compliance training seminar, which will be held July 11 to 13 in Waterloo, Iowa.
There are only 25 spots in this training seminar. Federal Railroad Administration (FRA) representatives Patrick Merritt and Stephen Strong, along with ASLRRA's JR Gelnar and Iowa Northern Railway Company's Mark Vaughn, will provide classroom and hands-on field training explaining compliance requirements for locomotives and railcars.
Instructors will focus on 49 CFR Parts 215, 229 and 232 from a mechanical employee's perspective, discussing commonly found defects and recommended actions for compliance. This program is intended for short line railroad chief mechanical officers, shop foremen and inspectors. Click here to learn more or use this link to register.
Save Money on Tie Inspections with ASLRRA's Preferred Providers
ASLRRA member railroads can turn tie inspections into savings and improved safety with Loram's Aurora Track Inspection Technology. As an exclusive ASLRRA Preferred Provider, Loram offers discount pricing on its Aurora Track Inspection Technology featuring state-of-the-art imaging technology that scans track to reveal the specific condition of every tie along the way, pinpointing potential problems and marking their exact location.
A comprehensive tie inspection using Loram's Aurora technology provides a detailed report that enables a railroad to streamline capital maintenance programs and helps ensure their compliance reports are in line with industry regulations, while also helping them to plan repairs in the most efficient way possible.
All ASLRRA Member Discount Program Preferred Providers are carefully vetted companies committed to providing discounted pricing, special offers and guaranteed exceptional services on a range of industry-specific products and services. Visit ASLRRA's Member Discount Program page to view all Preferred Providers and learn how Loram's Aurora Track Inspection Technology can make your operations safer and more efficient.
---

---
ASLRRA's Drug and Alcohol Education Materials Include Downloadable Posters
Developed with experts on ASLRRA's Safety and Training Committee, ASLRRA's Drug and Alcohol Educational Materials page includes posters available for download, a Part 219 educational brochure, affidavit templates and employer review documents.
The materials are available to ASLRRA members under the Safety Training Resources section of ASLRRA's Safety & Compliance page. Each of the posters can be printed for use on railroad property and are meant to help ensure employees are aware of some of the rules and regulations concerning drug and alcohol use. The educational materials page also features links to webinar recordings discussing Part 219, which can be found in ASLRRA's On-Demand Webinar library.
---

ASLRRA's Sabrina Waiss and JR Gelnar Travel to Phoenix for Training Seminar
Last week, ASLRRA Senior Vice President-Education and Business Sabrina Waiss and Vice President-Safety and Compliance JR Gelnar traveled to Phoenix, Arizona to host the Federal Railroad Administration (FRA) Part 219 Drug and Alcohol Training Seminar.
Turnout for the seminar was strong and FRA Drug and Alcohol Program Specialists Sam Noe and Melissa Van Dermeir had lively and engaging discussions with the seminar's 75 participants.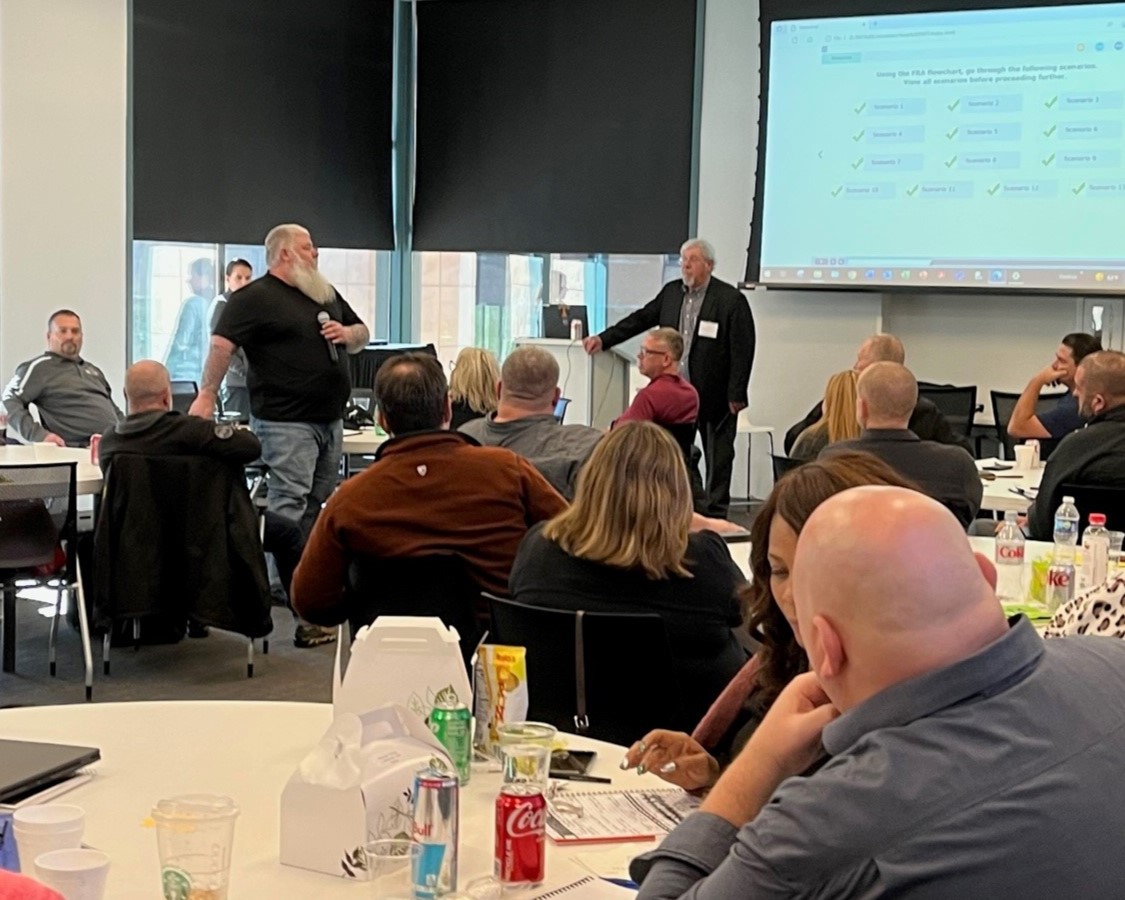 FRA Drug and Alcohol Program Specialist Sam Noe (standing, with name tag) fields a question from a participant at last week's Part 219 Drug and Alcohol Training Seminar in Phoenix.
Two ASLRRA Team Members Travel for Meetings This Week
ASLRRA Vice President-Safety and Compliance JR Gelnar and President Chuck Baker both traveled this week to attend meetings on behalf of short lines.
On Feb. 7 and 8, Gelnar attended a meeting of the Federal Railroad Administration's (FRA) Switching Operations Fatality Analysis (SOFA) Committee. Committee members reviewed two fatalities and worked on the development of a one-pager regarding shoving movements.
Baker joined nearly 50 short line and Norfolk Southern (NS) executives at NS's Brosnan Forest in South Carolina for a short line and NS marketing and business development session. Baker provided an association update to the group focused on legislative and regulatory opportunities and threats.
Baker, Sherman Meet Representative of England's Department for Transport at British Embassy
On Feb. 2, ASLRRA President Chuck Baker and new Assistant Vice President-Policy and Industry Affairs Richard Sherman met with Ian Napier, head of International Rail Trade and Engagement for England's Department for Transport. The meeting was held at the British Embassy in Washington, D.C.
---

Upcoming Webinars
This webinar will give an overview of the U.S. Department of Defense (DOD) Railroads for National Defense program and talk about rail lines designated as Strategic Rail Corridor Network (STRACNET) and Defense Connectors. Presenter Dan Zedack, project engineer with the Railroads for National Defense Program, will also discuss DOD's expectations for railroads designated as part of STRACNET and opportunities for DOD advocacy in Federal Railroad Administration discretionary grant programs.
This webinar is free for both ASLRRA members and non-members. Find a downloadable copy of the current STRACNET report and maps here.
On-Demand Webinars
ASLRRA's Recorded Webinars Feature a Series on Part 243 Compliance
Subject-matter experts from Rio Grande Pacific Corporation, Spark TS and ASLRRA presented a three-part webinar series focused on Part 243 compliance. Look for the following titles in ASLRRA's On-Demand Webinar Library:
Part 243: Part 1 - Initial Training Requirements
Part 243: Part 2 - Requirements for Compliance
Part 243: Part 3 - Discussion and Q&A
Find these and nearly 200 other recorded webinars covering a wide range of topics from regulatory compliance to environmental programs to the grant-application process in ASLRRA's On-Demand Webinar Library. Most of the recordings also have a copy of the accompanying PDF presentation available for download. Visit ASLRRA's webinar homepage and log in to view all the on-demand offerings in the Association's webinar library.
Click here to learn more about ASLRRA's education offerings.
---

March 2: League of Railway Women Holding Embracing Equity Symposium
The League of Railway Women will host the 2023 Embracing Equity Symposium on March 2 in Chicago. The symposium sessions will cover topics related to leadership, diversity, collaboration and improving business results. View an event schedule here or follow the link above to learn more or to register.
June 12-15: Damage Prevention and Freight Claims Conference Taking Place in Arizona
The MxV Rail Damage Prevention and Freight Claim Committee will hold its 2023 conference at the Omni Resort and Spa at Montelucia in Scottsdale, Arizona, June 12 to 15. More information and a conference agenda will be released this spring.
Click here for a calendar of industry events.
---
Views & News is published by American Short Line and Regional Railroad Association.
Please contact Amy Krouse, editor, with questions or comments.