---

ASLRRA Legislative Outreach Efforts Underway
Members of ASLRRA staff, including Vice President, Congressional Affairs Zach Radford, Assistant Vice President, Legislative and Regulatory Crystal Gitchell and Assistant Vice President, Policy and Industry Affairs Richard Sherman, have started meeting with the offices of members of Congress to inform them about the short line freight railroad industry and its priorities. Overall, the team plans on holding over 80 meetings over the next several weeks.
The meetings target freshmen members of Congress who might not be familiar with short lines and their operations; members of relevant committees and subcommittees like the Transportation and Infrastructure (T&I) Committee; and others who might have a shared interest in short line priorities. ASLRRA staff cover a variety of topics but focus in particular on funding for Consolidated Rail Infrastructure and Safety Improvements (CRISI) grants, truck size and weight legislation, the proposed two-person crew rule and the Association's other legislative efforts currently being developed.
While these meetings are focused on informing congressional staffers responsible for transportation and related issues, ASLRRA's team often has the opportunity to speak directly to representatives themselves. Rep. Eric Burlison (R-Mo.) briefly joined the discussion at his office on Feb. 2, providing an opportunity for ASLRRA staff to make a face-to-face connection.
To further relationship building with House members, Radford and ASLRRA President Chuck Baker recently sat down with Rep. Troy Nehls (R-Texas), chairman of the House T&I Railroads, Pipelines and Hazardous Materials Subcommittee, and members of Nehls' staff to discuss short line freight rail.
ASLRRA members and rail industry stakeholders can get personally involved with congressional outreach by attending Railroad Day on Capitol Hill on May 17. Learn more about the event in our Legislative section below and register to participate.
Annual Conference Early Bird Registration Ends TODAY, Feb. 15
Register today before midnight eastern time for ASLRRA's Annual Conference and Exhibition. After midnight, prices increase for all rates and additional activities. Participants can add golf, golf club rentals and a port tour to their registration. They can also register a spouse, who would be able to attend conference meals and social events.
There is still time for attendees to book their hotel rooms online in ASLRRA's hotel room block at the Sheraton New Orleans. The cutoff date for booking a room in the block is March 6 unless it is sold out before then.
---

---
---

RRB's February Q&A Explains How Public Service Pensions Affect Annuities
The February edition of the Railroad Retirement Board's (RRB) Question and Answer (Q&A) series focuses on spouse and widow(er) annuities and public service pensions. In general, a spouse or widow(er) entitled to a public service pension will have a reduction in spouse and widow(er) annuities.
The Q&A explains what is considered a public service pension and how the RRB adjusts benefit payments to spouses and widow(er)s. There is also an explanation as to what exemptions exist for public service pension reductions.
Close Call Reporting System Issues Memo Concerning Blue Signal Protection
The Confidential Close Call Reporting System (C3RS) issued an alert message memo describing safety concerns over close call events involving blue signal protection.
The memo identifies several recent incidents involving blue signal protection, where railroad employees reported unsafe dropping of blue signal protection and inconsistent establishment of blue signal protection while on the job.
The C3RS is a partnership between the Federal Railroad Administration (FRA) and National Aeronautics and Space Administration (NASA) to improve railroad safety by collecting and analyzing reports which describe unsafe conditions and events in the railroad industry.
Short line railroads can participate in a joint C3RS program. If you are interested in learning more, contact ASLRRA Senior Vice President, Safety, Regulatory and Environmental Policy Jo Strang.
---

Illinois Representatives Introduce Freight RAILCAR Act
Representatives Darin LaHood (R-Ill.) and Brad Schneider (D-Ill.) have reintroduced the Freight Rail Assistance and Investment to Launch Coronavirus-era Activity and Recovery (Freight RAILCAR) Act, which would provide a tax credit for the purchase of new railcars or modification of existing railcars.
The goal of the bill is to offset the costs associated with taking outdated railcars out of service, helping railroad companies improve safety and fuel efficiency and modernize their rail fleets.
ASLRRA's government affairs team is reviewing the bill for its potential impact on the short line industry.
Sign Up to Attend Railroad Day on Capitol Hill on May 17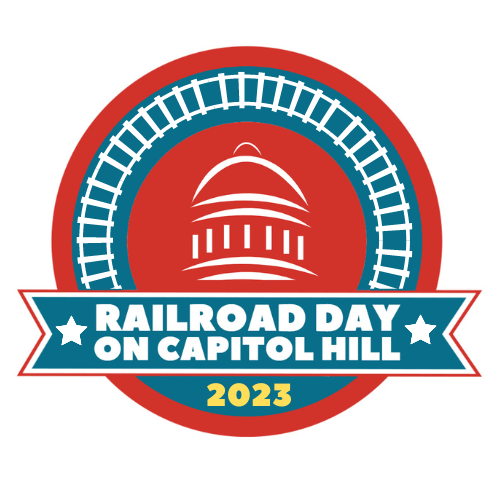 Registration is now open for the annual Railroad Day on Capitol Hill event, which will be held in person May 17 in Washington, D.C.
Railroad Day on Capitol Hill is one of the most organized and comprehensive industry days in Washington, allowing freight rail industry representatives to make connections with D.C. lawmakers responsible for formulating legislation that affects freight rail operations and business practices. ASLRRA encourages its members and their employees to consider participating in this year's events.
All Class I, II, and III railroad personnel, shippers, labor rail representatives, state and local government representatives are welcome to attend this event, as well as members from the supplier community who have an interest in furthering the policy priorities of the railroad industry.
In addition to registering for appointments with congressional offices, participants can attend an evening reception held after the day's meetings, which provides further opportunities to network with legislators, congressional staff and fellow railroad industry professionals. Click here to register today.
---

---
---

ASLRRA's Conference Expo Hall is Going Green
Things are shaping up in the Expo Hall for our Annual Conference and Exhibition in New Orleans. More than 215 booths have been reserved and more are in the pipeline.
One of the highlights this year is the expanded Green Zone, which features companies that provide products and services that improve the environment and promote sustainability. Lubricants, batteries, recycled products, engines and other equipment, cutting-edge technologies and much more are on display.
Find a list of all the companies currently signed up for a Green Zone booth at our conference website here. Learn more about their offerings before the show by using the links on our conference website, or visit them in the Expo Hall Sunday and Monday, April 2 and 3, during the annual conference. Their 65+ booths are easy to find: just look for the green carpet and pipe and drape.
Interested in a booth in the Green Zone or elsewhere? Please contact Kathy Keeney for more details.
This Week's Featured Award: The Safety Awards
Safe operations have always been a priority of the railroad industry and ASLRRA makes sure to honor those of its members demonstrating safe practices that result in stellar safety records. While ASLRRA recognizes entire railroad companies with its Jake Awards and President's Awards, the Association also honors individuals who are improving the safety culture of their railroad and rail safety within their community.
The Safety Person of the Year award recognizes a non-management employee a member railroad who works with management on effective safety programs, exhibits a high degree of safety awareness and contributes of-duty time to activities promoting safety awareness in the community. Last year's winner, Nathaniel Mazo of OmniTRAX, was recognized for instituting regional safety programs to ensure employees knew about company safety goals, achieving exceptional safety results at all four of the railroads Mazo manages.
ASLRRA's Safety Professional of the Year award goes to a railroad management employee who is responsible for safety programs, training and the overall management of safe behavior and actions on their railroad(s). The 2022 honoree, Ross Grantham, who won while in his previous role as chief operating officer at Pioneer Lines, transformed the company's safety culture and halved the injury frequency rate in just a year. In March 2022, the company marked 12 consecutive months without a single injury across the network.
The Association is eager to highlight individuals' safety efforts through the Safety Person and Safety Professional of the Year Awards. Nominations for these awards are due March 3 and the winners will be recognized at ASLRRA's Annual Conference and Exhibition in New Orleans.
Find a nomination form for the Safety Person of the Year Award here. A nomination form for the Safety Professional of the Year Award can be found here.
Other ASLRRA Awards Also Accepting Nominations – ALL due March 3
ASLRRA is continuing to accept nominations for its other annual awards, which are also due March 3. Winners of these awards will also be recognized at the Association's conference in April. Follow each link to find award descriptions, criteria and nomination forms.
The Environmental Award will recognize an ASLRRA-member railroad that has enacted innovative and successful environmental initiatives in the small railroad industry.
The Business Development Awards, which honor railroad members whose ideas to build business and promote economic development have been a success.
The Veterans Engagement Award honors industry employers who demonstrate positive policies toward U.S. veterans.
---

Five Spots Remain for ASLRRA's July Training Seminar
In only a week, most of the spots for ASLRRA's locomotive and car compliance training seminar have been filled. Now, only five spaces remain for the event, which will be held July 11 to 13 in Waterloo, Iowa.
Instructors will focus on 49 CFR Parts 215, 229 and 232 from a mechanical employee's perspective, discussing commonly found defects and recommended actions for compliance. Federal Railroad Administration (FRA) representatives Patrick Merritt and Stephen Strong, along with ASLRRA's JR Gelnar and Iowa Northern Railway Company's Mark Vaughn, will provide classroom and hands-on field training explaining compliance requirements for locomotives and railcars.
This program is intended for short line railroad chief mechanical officers, shop foremen and inspectors. Click here to learn more or use this link to register.
Register Now for ASLRRA's May Training Seminar on Parts 228, 240 and 242
There are limited spots available for ASLRRA's May 23 to 24 training seminar focused on Federal Railroad Administration (FRA) hours of service requirements under Part 228 and the engineer and conductor certification process and audit findings under Parts 240 and 242.
FRA representatives William Smith and Kevin Lewis will lead the training along with ASLRRA's Vice President, Safety and Compliance JR Gelnar. The event will take place in Phoenix, Arizona. Follow this link to learn more or use this link to register.
---

---
ASLRRA's Grant Writing Preferred Providers Offer Customized Help for Association Members
ASLRRA's railroad members continue to have opportunities to apply for federal funding through various grant programs such as the Port Infrastructure Development Program (PIDP), for which the notice of funding opportunity was recently released. Federal agencies are taking steps to help with the application process, and while these government resources are useful, ASLRRA offers further assistance through its Member Discount Program, which features Preferred Providers Bergmann, HDR and Global Train Services (GTS) offering Association members help with grant applications.
ASLRRA's grant-writing Preferred Providers have years of experience helping short lines apply for federal funding programs and can help Association members while offering their services at premium prices. Go to ASLRRA's Member Discount Program homepage and click on the Grant Writing Services link to learn more.
---

Ogborn Testifies About Local Short Lines Before Colorado House Committee
On Feb. 7, ASLRRA Senior Advisor Mike Ogborn testified before the Colorado House Committee on Transportation, Housing and Local Government along with representatives from UP and BNSF to provide the members of the committee with an overview of railroads in Colorado.
Ogborn and his fellow railroad representatives were invited to testify before the committee to help inform its many new members about freight rail. The panel's presentation offered information about freight railroads operating in Colorado, their importance to the state and their economic effects on the state's economy. Ogborn testified about the number of short lines in the state, the fact they are known as the first mile/last mile of moving freight and interchanging that freight with BNSF and UP or both and about their stellar safety record.
---

Upcoming Webinars
Environmental Protection Agency Engineer Peter Smith will explain the EPA's compliance obligations for locomotive emissions under 40 CFR Part 1033 and 1068. He will be joined by Lake State Railway Company's Chief Mechanical Officer Roger Fuehring and ASLRRA Senior Vice President, Regulatory and Environmental Policy Jo Strang. All participants will have a chance to participate in a question and answer session during the webinar.
This webinar is free for both ASLRRA members and non-members.
This webinar will give an overview of the U.S. Department of Defense (DOD) Railroads for National Defense program and talk about rail lines designated as Strategic Rail Corridor Network (STRACNET) and Defense Connectors. Presenter Dan Zedack, project engineer with the Railroads for National Defense Program, will also discuss DOD's expectations for railroads designated as part of STRACNET and opportunities for DOD advocacy in Federal Railroad Administration discretionary grant programs.
This webinar is free for both ASLRRA members and non-members. Find a downloadable copy of the current STRACNET report and maps here.
MapleMark Bank Senior Vice President and Director, Government Programs Matt Peeler and Executive Vice President, Business Development W. Mack Renner will explain what options small railroads have for procuring funding from the U.S. Department of Agriculture (USDA).
On-Demand Webinars
Recorded Webinar Series Gives Overview of Railroad Retirement Eligibility and Benefits
Information from the Railroad Retirement Board (RRB) is important to ASLRRA members and webinars on the subject are popular. ASLRRA joined with the RRB to present a three-part series on railroad retirement eligibility and benefits and the recordings are available online. The following titles can be found in ASLRRA's On-Demand Webinar Library:
RRB General Eligibility and Employee Benefits
RRB Spouse Benefits and Working After Retirement
RRB Survivor Benefits and General Information
Find these and nearly 200 other recorded webinars covering a wide range of topics from regulatory compliance to environmental programs to the grant-application process in ASLRRA's On-Demand Webinar Library. Most of the recordings also have a copy of the accompanying PDF presentation available for download. Visit ASLRRA's webinar homepage and log in to view all the on-demand offerings in the Association's webinar library.
Click here to learn more about ASLRRA's education offerings.
---

March 7: Latest in FRA and FHWA Joint Webinar Series to Take Place
The Federal Railroad Administration (FRA) and Federal Highway Administration (FHWA) will hold a joint seminar on March 7. Representatives from the FRA will discuss the use of positive train control (PTC) at highway-rail grade crossings, while the FHWA will provide information about the Section 130 program.
Participation is free but registration is required by March 3 in order to join the webinar. Follow this link to register for the webinar.
Click here for a calendar of industry events.
---
Views & News is published by American Short Line and Regional Railroad Association.
Please contact Amy Krouse, editor, with questions or comments.