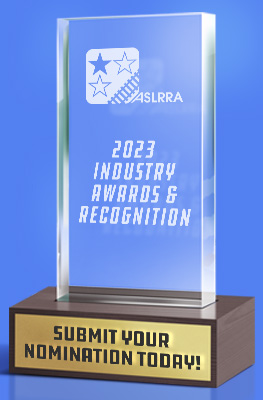 Last Call for Award Nominations – Due March 3
Nominations for ASLRRA's annual awards are due this Friday. These awards include the Business Development Awards, Safety Person of the Year and Safety Professional of the Year awards and the new Environmental Award.
Winners of these awards will also be recognized at the Association's conference in April. Follow each link to find award descriptions, criteria and nomination forms.
Please note: The due date for the Veterans Engagement Award only has just been extended to March 10.
---

ASLRRA Welcomes Two New Annual Conference Speakers, Mitch Landrieu and Skip Elliott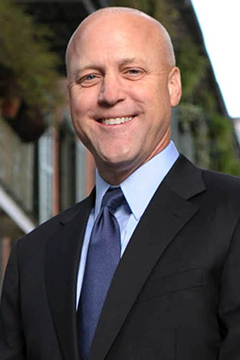 The Honorable Mitch Landrieu will be a featured speaker at ASLRRA's Annual Conference and Exhibition, addressing attendees at Monday's General Session. Landrieu is currently serving as a senior advisor to President Joe Biden and is the White House infrastructure coordinator, assisting with implementation of the Bipartisan Infrastructure Law (BIL).
Landrieu was mayor of New Orleans, Louisiana from 2010 to 2018, where he oversaw continued recovery from Hurricane Katrina and dealt with the Deepwater Horizon oil spill. Landrieu received national recognition for his leadership as mayor, which included securing billions of dollars in federal aid to help New Orleans rebuild schools, hospitals and other critical infrastructure.
Prior to his role as mayor, Landrieu served two terms as lieutenant governor and was a state representative for 16 years.
ASLRRA is also looking forward to hearing from Skip Elliott, former administrator of the Pipeline and Hazardous Materials Safety Administration, who will speak during an educational session on April 4. In light of the ongoing events in East Palestine, Ohio, Elliott will discuss the need for community planning and outreach, and the railroad's responsibility for providing an acceptable and adequate community standard of care effort after an incident.
Elliott also served as acting inspector general of the U.S. Department of Transportation. Before his roles in government he was vice president of public safety, health and environment at CSX. Elliott is currently president of HRE Integrity LLC, a management consulting firm.
Register today to hear from Landrieu, Elliott and the many other industry and subject-matter experts participating in various conference sessions.
Hotel Block Cutoff Date is March 6
Space in ASLRRA's hotel room blocks is extremely limited, with conference rate rooms available at the Sheraton New Orleans. The cutoff date for booking a room in the room block is March 6 unless the block is sold out before then. Room rates will increase after the cutoff date.
---

---
FRA Issues Safety Advisory Concerning Hot Bearing Wayside Detectors
The Federal Railroad Administration (FRA) has issued a safety advisory evaluating policies and procedures related to the use and maintenance of hot bearing wayside detectors.
According to the advisory, investigations suggest a cause of or contributing factor to several recent derailments including the recent Norfolk Southern derailment in Ohio was a burnt journal bearing mechanical failure. The advisory makes several recommendations to railroads, including that they evaluate thresholds for inspections based on hot bearing detector (HBD) data; ensure proper training of personnel responsible for calibration, inspection and maintenance of HBDs; and improve organizational safety culture in particular as it pertains to operational decisions based on HBD data.
The advisory also presents relevant background information and encourages railroads to take steps to take actions consistent with the advisory's recommendations and evaluate their organization's safety culture.
---

FRA SOFA Working Group Releases Information Sheet
The Federal Railroad Administration (FRA) Switching Operations Fatality Analysis (SOFA) Working Group released a SOFA Lifesavers safety brief that provides recommendations for railroad workers making shove moves, or a push on cars with the engine.
The document offers tips for safe shove moves and provides a list of questions every crew should be able to answer at pre-move job briefs. Such efforts to ensure safety are crucial, as the working group describes two recent fatal accidents and points out 27 of 34 SOFA fatalities analyzed from 2011 to 2021 involved a shove move.
Economic Development Administration Grants Serve as Potential Funding Source for Railroads
The U.S. Economic Development Administration's (EDA) Economic Adjustment Assistance (EAA) program provides funding for a wide range of technical, planning, workforce development, entrepreneurship, public works, and infrastructure projects, and short line railroads can be eligible for these grants through a partnership with an eligible public or nonprofit entity.
The program has funded rail projects in the past, including construction of a new industrial rail spur facility in Wynne, Arkansas and enhancements made to the Lubbock Rail Port in Texas.
There is no submission deadline for this grant opportunity. Applications are accepted on a rolling basis, but due to a significant increase in interest in this program potential applicants are strongly encouraged to contact their EDA Regional Office representatives to discuss their needs and funding availability.
The EDA has produced a webinar that provides more information about the EAA program. Find a recording of the webinar and a copy of the webinar slides here.
Updated Information Available for Those Seeking GCOR Rulebooks
ASLRRA members will now have an easier time getting General Code of Operating Rules (GCOR) rulebooks using updated contact information. ASLRRA Vice President, Safety and Compliance JR Gelnar worked to clarify the process for acquiring GCOR rulebooks.
Those needing rulebooks must create a user account to access the GCOR online ordering system. Users who already have an account can log in at this link. Individuals who need help with an existing account or who need to create an account should contact James Davis at James.Davis2@TaylorCommunications.com or Bob Lavender at Bob.Lavender@TaylorCommunications.com. Please note that this is the correct email address for James Davis; do not use the email on the GCOR Klic Orders website.
Members needing further assistance should reach out to Gelnar with questions or concerns.
---

---
Cybersecurity Agency Unveils Newly Improved Website
The Cybersecurity and Infrastructure Security Agency (CISA) has updated its website in response to customer feedback, making the site more user friendly and important information easier to find.
In a Feb. 24 blog post, CISA Director Jen Easterly gives an overview of the website's new structure and useful features. This includes a Spotlight section that highlights trending issues, a News and Events page with press releases and other communications, a page for all CISA cybersecurity alerts and advisories and a Resources and Tools page with free training, technical assistance and more.
CISA has also produced a video that provides an overview of the new website.
New Confidential Close Call Reporting System Report Discusses Train Movements
A Confidential Close Call Reporting System (C3RS) report discusses train movements at passenger stations. In the shared examples, close call events occurred when multiple trains occupied a passenger station simultaneously.
According to the report summary, deviation from possible rules led to the close call events. Rail employees voluntarily reported the situations, after which C3RS shares deidentified reports with the appropriate authority for evaluation and any necessary follow-up.
C3RS is a cooperative effort between the National Aeronautics and Space Administration (NASA), the Federal Railroad Administration (FRA) and participating railroad carriers and labor organizations to collect and analyze reports of safety issues or close calls.
Several ASLRRA railroad members participate in C3RS and the Association features C3RS reports on its website alongside other industry safety documents. Contact ASLRRA Senior Vice President, Safety, Regulatory, and Environmental Policy Jo Strang for more information about the program.
---

Evening Reception for Railroad Day on Capitol Hill to Take Place in Rayburn Building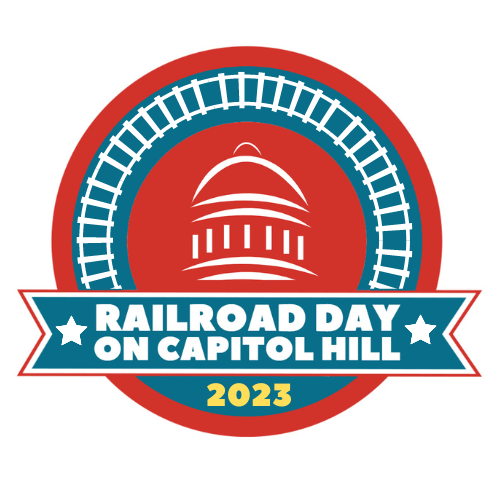 Following a full day of meetings with lawmakers and representatives from congressional offices, participants in the May 17 Railroad Day on Capitol Hill can join fellow attendees, Congress members and staff at an evening reception in the Rayburn House Office Building.
The evening reception will include light appetizers and drinks, offering an opportunity for those in attendance to build further connections and reflect on the day's events.
Railroad Day on Capitol Hill will begin at The Monocle Restaurant, where participants can drop in between 7 and 9 a.m to grab coffee and refreshments, pick up meeting materials and connect with those joining them for the day's first appointments. Meetings themselves will take place from 9 a.m. to 5 p.m.
Register here for Railroad Day on Capitol Hill. As a note, participants will be responsible for their own lunches the day of the event. In addition, ASLRRA has not designated an official hotel, nor has it reserved a room block. Attendees needing accommodations can click here to view a list of hotels near the Capitol.
ASLRRA Staff Continues to Monitor Legislative and Regulatory Fallout from NS Derailment
The legislative and regulatory implications of the Norfolk Southern derailment and hazardous materials spill in New Palestine, Ohio are becoming more apparent each day. The National Transportation Safety Board (NTSB) recently issued its preliminary report on the accident, suggesting the derailment was caused by a mechanical failure, specifically overheated wheel bearings, but that has not stopped a push by lawmakers for increased federal oversight of the railroad industry.
Yesterday, Representatives Ro Khanna (D-Calif.) and Chris Deluzio (D-Pa.) introduced a bill meant to tighten safety measures for trains carrying hazardous materials. It is the first bill introduced by Congress in response to the Norfolk Southern accident and ASLRRA staff is reviewing it for its potential impact on the Association's small-railroad members.
Today, a group of lawmakers led by Senators JD Vance (R-Ohio) and Sherrod Brown (D-Ohio) also introduced their own bill addressing railroad safety. The bill includes a number of provisions including establishing requirements for wayside defect detectors, creating new procedures for trains carrying hazardous materials and increasing maximum fines for safety violations. As with the House bill, ASLRRA staff is reviewing this legislation closely.
Hearings in both the House and Senate are also expected. There will be one, likely next week, held by the Senate Committee on Environment and Public Works to discuss the environmental and public health impact of the chemical release and cleanup resulting from the derailment.
There will be more hearings and more legislation to come. ASLRRA staff is working diligently to ensure any new policy recognizes the small business constraints of short line and regional railroads.
---

Second Port Tour Added to Slate of Conference Activities
ASLRRA and New Orleans Public Belt Railroad have added a second port tour by bus to the special events available to those attending the Association's Annual Conference and Exhibition in New Orleans, Louisiana.
Tour participants will get a behind-the-scenes look at multimodal cargo operations on a landside tour of the Port of New Orleans. The guided bus tour will show attendees the Port's breakbulk and container terminals that include on-dock rail with the Mississippi River Intermodal Terminal and nine ship-to-shore gantry cranes.
The second tour starts at 4:30 p.m. and ends at 6, giving attendees enough time to get dinner before the Tuesday night party at the Hilton hotel.
Tours are only available to conference attendees. Register here for the conference and add on the port tour when prompted.
Procurement Panel Joins ASLRRA Annual Conference Lineup
Suppliers and railroads alike will not want to miss a special education session organized by the Supplier Committee on navigating the current procurement and sourcing landscape. Panelists will discuss what they are seeing in the marketplace and offer suggestions for suppliers on how to get more business.
Speakers include OmniTRAX Procurement Manager Jessica Lynn and Jaguar Transport Holdings Procurement Manager Tyler Sargent. The session, scheduled for 8AM on April 4, will be moderated by RailPros Vice President-Training Services Erika Bruhnke and CDL Electric National Sales Director Shea McLaughlin.
---

Hotel Block for ASLRRA's May Training Seminar Nearly Full
The hotel room block for ASLRRA's May 23 to 24 training seminar in Phoenix, Arizona is almost full, as is registration for the seminar itself. Individuals wanting to attend to learn about Federal Railroad Administration (FRA) hours of service requirements under Part 228 and the engineer and conductor certification process and audit findings under Parts 240 and 242 should register and book their hotel room soon.
FRA representatives William Smith and Kevin Lewis will lead the training along with ASLRRA's Vice President, Safety and Compliance JR Gelnar. Follow this link to learn more or use this link to register.
Training Scholarships are Available
Employees at small railroads earning $10 million or less in annual revenue could be awarded a scholarship of up to $1,200 to help pay for registration fees, travel and lodging costs for training seminars such as those provided by ASLRRA.
Follow this link to learn more about the scholarship program, or click here to apply. Applications are accepted and evaluated on a rolling basis.
---

---
Members Receive Preferred Pricing on Drug and Alcohol Testing Services with Spark TS
Spark TS is the exclusive Preferred Provider of drug and alcohol testing services in the Association's Member Discount Program. Spark is passionate about helping railroads and contractors meet FRA drug & alcohol testing requirements, delivering key differentiators for drug and alcohol testing services including railroad industry-specific DAT expertise, online tools and key national partnerships.
Spark TS's expert team has built a program to offer drug and alcohol testing services and programs to support railroads and contractors in finding the most effective strategies to manage their company, Part 219, and other DOT-regulated programs. Spark's drug and alcohol program services include clinic and mobile and onsite testing services; laboratory and medical review officer (MRO) services; electronic chain of custody forms; and third-party administrator (TPA) - random testing and consortium.
Visit www.aslrra.org/discounts and click on the Spark Training Solutions logo to learn more!
Access ASLRRA's Program Templates to Ensure Compliance with Federal Regulations
To help members fulfill federal regulatory requirements, ASLRRA has developed a variety of compliance templates for different parts of 49 Code of Federal Regulations (CFR). Some of the areas of focus include:
Part 213 (Continuous Welded Rail)
Part 214 (Roadway Worker Protection)
Part 228 (Hours-of-Service)
Part 232 (Brake System Safety Standards)
These are only a few of the template programs available to members in the Safety & Compliance section of the ASLRRA website. Members can log in under "Compliance Templates" and choose from a variety of resources. Additional information concerning requirements for record retention, contractor safety training and more can be found in this section.
All templates are available at no cost to railroad members, and select templates are available free to associate business members and for a fee to non-member railroads. Visit www.aslrra.org/safety to access the complete collection of safety and compliance tools, resources and information available from the ASLRRA.
---

Upcoming Webinars
Environmental Protection Agency Engineer Peter Smith will explain the EPA's compliance obligations for locomotive emissions under 40 CFR Part 1033 and 1068. He will be joined by Lake State Railway Company's Chief Mechanical Officer Roger Fuehring and ASLRRA Senior Vice President, Regulatory and Environmental Policy Jo Strang. All participants will have a chance to participate in a question and answer session during the webinar.
This webinar is free for both ASLRRA members and non-members.
This webinar will give an overview of the U.S. Department of Defense (DOD) Railroads for National Defense program and talk about rail lines designated as Strategic Rail Corridor Network (STRACNET) and Defense Connectors. Presenter Dan Zedack, project engineer with the Railroads for National Defense Program, will also discuss DOD's expectations for railroads designated as part of STRACNET and opportunities for DOD advocacy in Federal Railroad Administration discretionary grant programs.
This webinar is free for both ASLRRA members and non-members. Find a downloadable copy of the current STRACNET report and maps here.
MapleMark Bank Senior Vice President and Director, Government Programs Matt Peeler and Executive Vice President, Business Development W. Mack Renner will explain what options small railroads have for procuring funding from the U.S. Department of Agriculture (USDA).
Click here to learn more about ASLRRA's education offerings.
---

SLSI Offers HazMat Safety Training Incorporating Area First Responders
The transportation of hazardous materials by rail has a strong track safety record. Partnerships between railroaders and local first responders are crucial to ensuring the safety of the communities the railroads are a part of. Training and exercising response plans help ensure both are prepared.
The Short Line Safety Institute offers several programs that are scheduling now for 2023. All programs are provided at no cost to railroads.
ALERT First Responder Training
Through an Assistance for Local Emergency Response Training (ALERT) grant from the Pipeline and Hazardous Materials Safety Administration, the Short Line Safety Institute now provides no-cost hazardous materials training directly to first responders. It provides a winning combination of instruction, hands-on training, and interactive experience-based discussions tailored to meet first responders' needs.
Hazardous Materials Safety Training
The Hazardous Materials Training Program is designed to enhance and elevate a railroad's current training. The Program ensures employees are conversant and compliant with the latest regulations guiding the transportation of hazardous materials, provides function specific training, and reviews emergency response procedures.
For railroads who want to put their learning to the test, SLSI can build upon the training by designing and running an Emergency Preparedness, Reporting and Response exercise or drill specific to their location.
Put the Short Line Safety Institute's well over 600 years of combined experience in moving HazMat materials safely to work for your community. Contact hmit@shortlinesafety.org today to find out more about these programs.
Interested in downloadable materials for Safety Briefings and Training? Check out the Fast Class Videos, and Safety Tips today.
Click here for a calendar of industry events.
---
Views & News is published by American Short Line and Regional Railroad Association.
Please contact Amy Krouse, editor, with questions or comments.