---

Railroads Experiencing Damage from Natural Disasters Can Inform ASLRRA's Advocacy Efforts
ASLRRA's government affairs team is advocating for policies that would provide emergency relief funding for short line railroads affected by natural disasters. In garnering support for this effort, the Association wants to hear from railroads that may be affected by current flooding in California or any other severe weather events.
In December, Representative Byron Donalds (R-Fla.) introduced the Short Line Railroad Relief Act. The bill would authorize emergency relief funding for short line railroads through the U.S. Department of Transportation. While similar funding exists to help other transportation modes like highways and transit recover from disasters, there is no such program for small freight railroads.
ASLRRA strongly supports the bill but, due to timing of its release, the bill was not passed before the end of the 117th Congress. Still, ASLRRA anticipates a similar legislative effort will advance over the coming months.
The impact of Hurricane Ian on ASLRRA member Seminole Gulf Railway, which operates in Donalds's district, encouraged the lawmaker to act. Seminole Gulf Railway suffered over $20 million in damage to its rail line, bridges and other infrastructure. Without the railroad, which regularly shipped construction materials and other building supplies, communities devastated by Hurricane Ian also found recovery difficult.
Railroads currently struggling with damage incurred by natural disasters as well as railroads with stories about how they could have benefitted from emergency relief funding should contact ASLRRA's Vice President of Congressional Affairs Zach Radford.
ASLRRA has also developed a suite of disaster preparedness resources for its members. Learn more about what is available in our Announcements section below.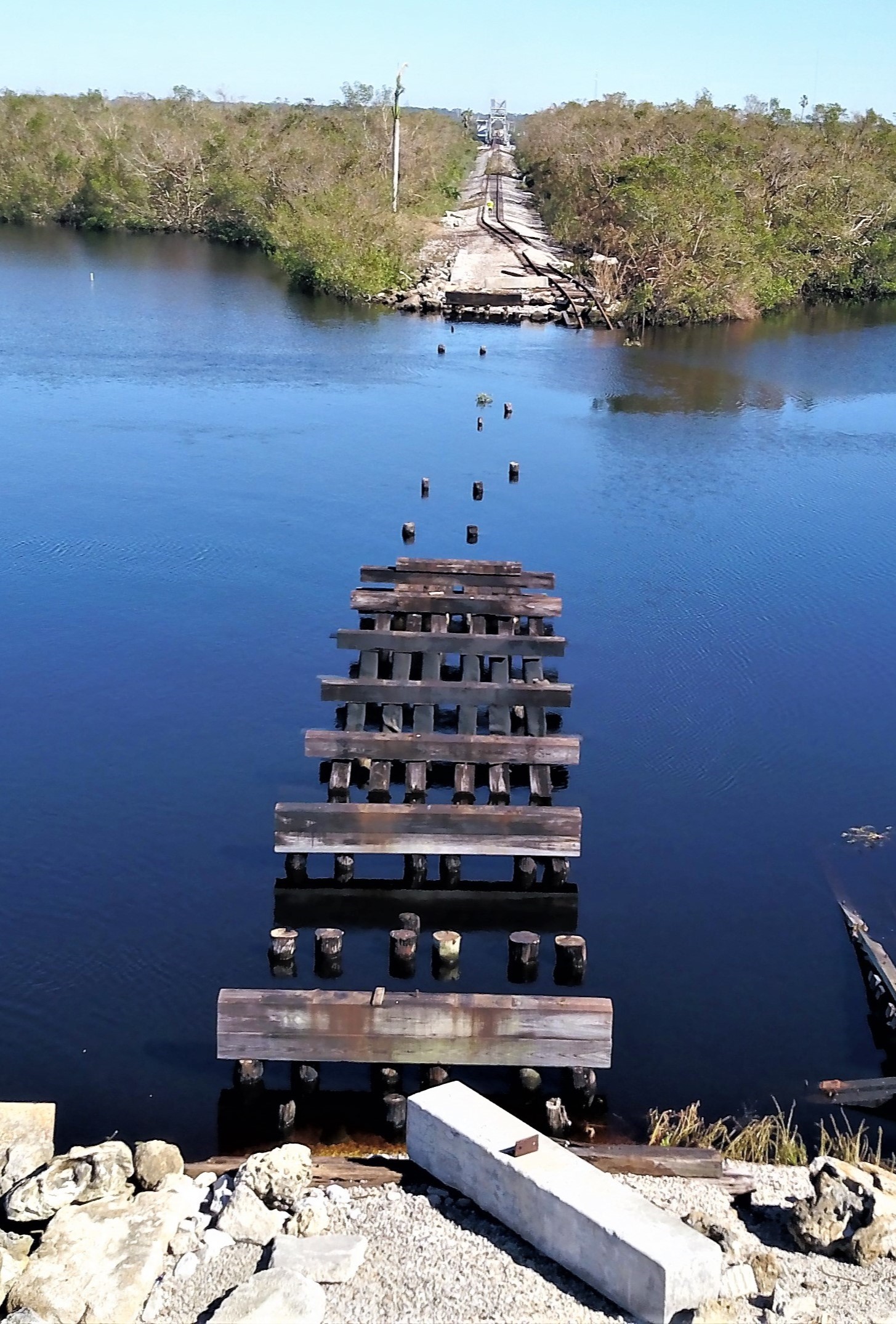 Hurricane Ian destroyed a significant portion of ASLRRA member Seminole Gulf Railways' infrastructure, including this bridge over the Caloosahatchee River. The damage to SGLR helped inspire the Short Line Railroad Relief Act and ASLRRA wants to bolster its advocacy efforts by learning more from other members that have experienced similar situations due to natural disasters.
---

---
---

ASLRRA Updates Part 240 and 242 Template Programs
ASLRRA, in cooperation with the Federal Railroad Administration (FRA) has updated its Part 240 and 242 template programs. These programs concern federal regulations governing locomotive engineer and conductor qualification and certification.
If a railroad has updated its program in the last two years, there is no need to submit the new program to the FRA. If a railroad needs to update a program, it should utilize the latest template programs. The programs are available to members on ASLRRA's website in the Compliance Templates section under the Safety & Compliance tab. Please contact ASLRRA's JR Gelnar with any questions.
Comments from Small Business Administration on Two-Person Crew Rule Reported in Industry Publications
Comments submitted by the Small Business Association (SBA) concerning the Federal Railroad Administration's (FRA) proposed two-person crew size rule are gaining attention in the wider railroad community, with industry publications Freight Waves and Progressive Railroading reporting on the SBA's assertion that the proposed rule will severely impact small freight railroads.
The Office of Advocacy recommends that the FRA revise and republish its Initial Regulatory Flexibility Analysis (IRFA) or develop a supplemental IRFA to include further consideration of regulatory alternatives.
In particular, the Office of Advocacy points out that the FRA appears to have "significantly understated" the impact of the proposed rule on small businesses. The FRA counted only seven short line railroads currently operating with one-person crews, but survey data collected by ASLRRA and shared with the Office of Advocacy notes that number is closer to 420.
The many affected railroads would then need to allocate resources to apply for an exemption, for which some railroads are not even eligible, or incur burdensome costs to comply with the regulation. The increased costs threaten the viability of small business short lines, with some predicting their customers will move to truck shipments. These short lines point have operated with one-person crews for long periods with few safety incidents and technological advancements like positive train control (PTC) only further enhance operational safety.
ASLRRA's advocacy efforts on this matter included compiling member data concerning the impact of the proposed rule and sharing that information with entities like the SBA's Office of Advocacy. The Association also submitted its own comments on the FRA's proposed rule, which can be viewed here. In addition to posting a copy of its comments online, the Office of Advocacy published a Fact Sheet summarizing the comments' main points. Find the Fact Sheet here.
The SBA's Office of Advocacy submitted its comments a month ago prior to the deadline for stakeholder input. The comments present several issues noted by the Office of Advocacy during roundtable discussions and public hearings on the matter.
---

---
CISA Access Coordination Request Letter Issued for California Severe Weather
The Cybersecurity and Infrastructure Security Agency (CISA) has issued an Access Coordination Request (ACR) letter concerning the atmospheric river event currently affecting much of California.
The ACR letter is meant to help owners and operators of critical infrastructure engage local officials to coordinate necessary access and support when restoring infrastructure services. The current ACR letter is effective from Jan. 6 to 31, 2023. However, CISA could issue a new letter for this incident if recovery activities extend beyond the effective dates.
Find a copy of the ACR letter here and an ACR Fact Sheet with information about letter best practices here.
---

Republican Transportation and Infrastructure Committee Members Announced
Representative Sam Graves (R-Mo.), chairman of the House Transportation and Infrastructure (T&I) Committee, has announced new and returning Republican T&I committee members. Also, House Appropriations Committee Chair Kay Granger (R-Texas) announced individual subcommittee chairs, including Representative Tom Cole (R-Okla.) as head of the Transportation, Housing and Urban Development subcommittee.
Ranking Member Rick Larsen (D-Wash.) has yet to announce Democrats' T&I committee members. Democratic membership and leadership on other key House committees and Democratic committee membership in the Senate is still being determined.
As mentioned last week, ASLRRA will soon begin reaching out to these members of Congress to help them understand more about the short line freight rail industry and its impact on local, state and national economies.
---

Environmental Issues to be Featured at ASLRRA's Annual Conference
Sustainability will be a focus at this year's ASLRRA Annual Conference and Exhibition, with environmental issues being discussed in education sessions, the exhibit hall and through the Association's new Environmental Award.
The education sessions at this year's conference will again feature an environmental track. Last year's sessions discussed topics like environmental, social and governance (ESG) reporting for railroads and improving sustainability.
In addition, the exhibit hall will feature a Green Zone with companies demonstrating environmentally friendly practices or offering environmentally friendly products and services. Thanks to increased demand ASLRRA has expanded its Green Zone again this year and those companies interested in purchasing a Green Zone booth should contact ASLRRA Senior Vice President of Membership and Business Development Kathy Keeney.
ASLRRA is also accepting nominations for its new Environmental Award sponsored by the Association's Environmental Committee. Whether joining initiatives such as the Environmental Protection Agency's SmartWay program, implementing more eco-friendly practices or investing in sustainable infrastructure and equipment, ASLRRA's railroad members are taking significant steps toward reducing their environmental impact.
The Environmental Award will recognize a Class II or III railroad that "has designed and enacted the most innovative and successful environmental initiative in the small railroad industry." Nominations are due March 3. The winner will be recognized at the Annual Conference and Exhibition, which takes place April 2 through 4 in New Orleans, Louisiana.
Submit Nominations by March 3 for ASLRRA's Annual Awards
ASLRRA is accepting nominations for all annual awards, including the new Environmental Award. Nominations are due March 3 and winners will be recognized at the Association's conference in April. Follow each link to find award descriptions, criteria and nomination forms.
The Environmental Award will recognize an ASLRRA-member railroad that has enacted innovative and successful environmental initiatives in the small railroad industry.
The Business Development Awards recognize railroad members whose innovative ideas to build business and promote economic development have been a success.
The Safety Awards include Safety Person of the Year and Safety Professional of the Year. The Safety Person of the Year recognizes a non-management employee, while the Safety Professional of the Year goes to a railroad management employee.
The Veterans Engagement Award honors an ASLRRA member demonstrating policies and practices that support veterans and active-duty members of the U.S. Armed Forces.
---

ASLRRA Welcomes New Senior Accountant Alexis Kudlak
Alexis Kudlak has joined ASLRRA as the Association's new senior accountant.
Kudlak is responsible for revenue and dues processing, payables and departmental budgeting. She comes to ASLRRA with a deep expertise in financial reporting and experience working in both the corporate and small business environments, notably the Public Company Accounting Oversight Board (PCAOB) financial reporting team as well as Paulding & Associates, P.C.
Kudlak holds a BS in Intercultural Studies from Liberty University. She enjoys a variety of activities, from novice carpentry to puzzles and sailing. She is a black belt in Goshin Jutsu and was once a successful sport-martial arts competition fighter. Kudlak also has a Doberman named Sasha and a black cat named Lex Luthor that she reports are best friends.
Nominations Sought for ASLRRA Associate Member Board Seat
ASLRRA is seeking nominations by Feb. 17 for individuals wishing to run for election to the Association's board of directors representing Associate Business Members (suppliers).
There are two board seats representing Associate Members and there is one board vacancy that will need to be filled at the ASLRRA Annual Conference in New Orleans. Kareen Gray from Wabtec and Lucas Brewer from Bergmann are the two Associate Board Members elected by the supplier membership. Gray will run as an incumbent seeking a second term.
The term for a director is two years. The board responsibility involves two in-person board meetings annually and several conference calls throughout the year. Board members are also expected to attend the annual conference and fall regional meetings, and are urged to attend Railroad Day on Capitol Hill. The newly elected board member will also work closely with the Supplier Committee and provide agenda items to benefit the membership.
A member wishing to suggest themselves or nominate a candidate should contact Nominating Committee Co-Chairs Steve Friedland of Short Line Data Systems or Beth Garguilo of Lincoln Transportation Insurance Brokers. Garguilo can be reached on Beth.Garguilo@lincolnins.com or (315) 768-6110 and Friedland can be reached on sfriedland@sdsrocs.com or (973) 769-6505. ASLRRA's Senior Vice President of Membership and Business Development Kathy Keeney will assist with the election process.
Interested candidates would need to supply a short bio, photo and a few sentences about why they would like to serve on the ASLRRA Board of Directors. They are also welcome to provide a 2-minute video outlining their qualifications.
Access Disaster Preparedness Tools on ASLRRA's Website
Severe weather in California and the general hazards that manifest themselves during the winter season underscore the need for railroads to develop or review and update their disaster plans.
With support from railroad and supplier members, ASLRRA has assembled essential templates and checklists to assist members in developing response plans that can be put in place and used as training tools before disaster strikes, as well as emergency response tools and resources to aid in the recovery process in the aftermath of a catastrophic event.
Available resources on the Association's Disaster Preparedness page include disaster planning, hazmat response and instructions on accessing an emergency docket, in addition to links to other government websites. ASLRRA members may download materials directly from the website. Find the Disaster Preparedness page under the Safety & Compliance tab.
ASLRRA also has a robust selection of recorded webinars available for members in the On-Demand Resource Library that may be used to prepare and train for emergency situations. Topics range from Crisis Communications and Media Training to Hazardous Materials Incident Reporting and Emergency Notifications Section Review.
---

---
ASLRRA Members Save Money with Vetted Preferred Providers
ASLRRA's Member Discount Program leverages the buying power of all Association members to secure discounted pricing on essential business products and services. ASLRRA members receive exclusive access to programs tailored specifically for the short line railroad industry with discounted pricing, special offers and guaranteed exceptional service. Visit our Member Discount Program page for details and to learn more about ASLRRA's Member Discount Program Preferred Providers.
Interested in becoming a Preferred Provider? ASLRRA is seeking to add new products and services to its Member Discount Program offerings. The program is open exclusively to ASLRRA associate members, and Preferred Providers benefit from a broad range of marketing/promotional activities, including visibility on ASLRRA's website and in print and electronic communications. Interested companies may contact Sabrina Waiss for more information on becoming a Preferred Provider.
Short Line Training Center Combines Online Courses with Mobile Simulators for On-Location Learning
The Short Line Training Center, a collaborative project created by ASLRRA and member Iowa Northern Railway Company, is a comprehensive training resource for short line railroads that combines an online Learning Management System (LMS) with a Mobile Technical Training Center equipped with locomotive simulators.
The LMS is an online platform and hub that is available at any time to deliver and track industry-specific training and assessments. Features include interactive coursework and assessments and the ability to assign courses to employees, manage team reports and upload training records.
The Mobile Technical Training Center is equipped with two FRA Type II locomotive simulators plus classroom space for six students and an instructor. The center can deliver personalized, instructor-led seminars and locomotive simulator training on location anywhere in the continental United States.
The training center includes generic profiles to match all types of railroad topography to run simulations that closely resemble a railroad's territory without the need to build custom track, enabling railroads to meet a wide range of training and regulatory requirements.
Training is also available at Iowa Northern Railway's Training Center in Waterloo, Iowa, where attendees have access to four FRA Type II locomotive simulators and full classroom facilities for up to 30 students.
View full details online or contact ASLRRA Senior Vice President of Education and Business Services Sabrina Waiss for more information.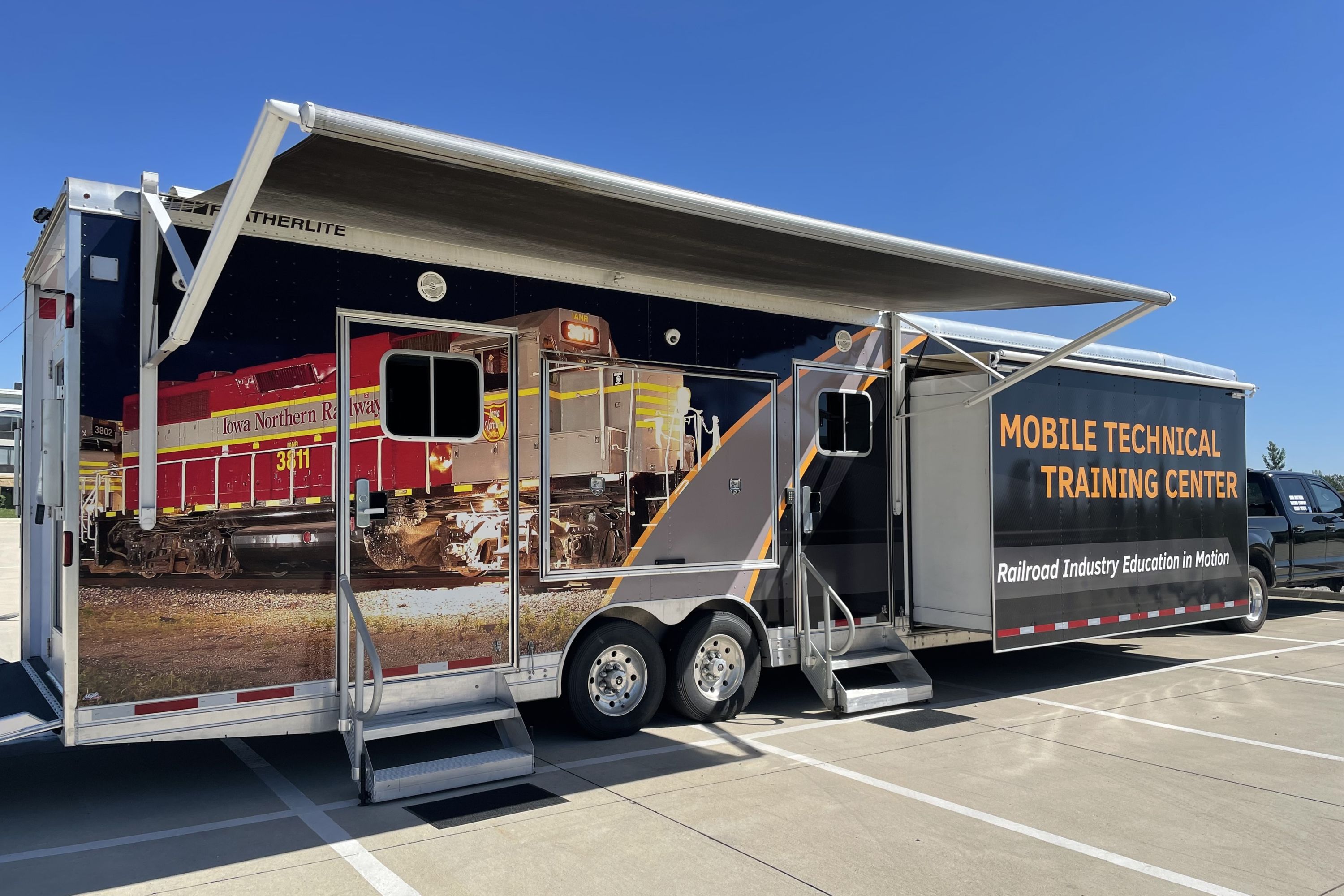 ASLRRA's Mobile Technical Training Center features two FRA Type II locomotive simulators plus classroom space for six students and an instructor. The center can deliver personalized, instructor-led seminars and locomotive simulator training on location anywhere in the continental United States.
---

Safety and Training Committee Meets in California
ASLRRA Senior Vice President-Safety, Regulatory, and Environmental Policy Jo Strang and Vice President-Safety and Compliance JR Gelnar traveled to California this week to participate in an ASLRRA Safety and Training Committee meeting.
---

Upcoming Webinars
2022 Economic Update and What to Look for in 2023– Jan. 25, 2023
Association of American Railroads (AAR) economists Luisa Fernandez-Willey and Dan Keen will discuss what happened in 2022 with freight traffic and the economy and learn what economic indicators to watch for as we enter 2023. This webinar is free for ASLRRA members.
On-Demand Webinars
ASLRRA's In-House Experts Offer Webinars to Bolster Understanding of Regulatory Issues
ASLRRA's own subject-matter experts have presented several webinars on regulatory issues, including Federal Railroad Administration (FRA) requirements. ASLRRA members can access these recordings in the Association's On-Demand Webinar Library. Look for titles like:
Emergency Docket Waivers
FRA Penalties and Violations
FRA Regulatory and Program Requirements for Short Lines, Parts 1 and 2
Find nearly 200 recorded webinars covering a wide range of topics from regulatory compliance to environmental programs to the grant-application process in ASLRRA's On-Demand Library. Most of the recordings also have a copy of the accompanying PDF presentation available for download. Visit ASLRRA's webinar homepage and log in to view all the on-demand offerings in the Association's webinar library.
---

Click here for a calendar of industry events.
---
Views & News is published by American Short Line and Regional Railroad Association.
Please contact Amy Krouse, editor, with questions or comments.